This A-Z guide will help you to land on your feet on your working holiday in Canada.
As you plan a working holiday in Canada, your mind will no doubt be racing with a mixture of excitement and nerves. There's simply so much to do and to plan, it can sometimes be hard to know where to begin. But don't worry, we're here to help! We've created this A-Z guide of top tips which will help you to get set up in Canada.
(1) Ask for advice
You're not the first person to go on a working holiday in Canada. Chances are you know someone who is either currently in Canada or has returned home from their trip. Talk to them. Ask them questions. The information you get from them is often more valuable than anything you'll find in a guide book.
(2) Banking in Canada
Setting up a bank account should be high up on your list of priorities once you arrive in Canada. Do some research as to which bank and account suits your needs best and never be afraid to shop around! Some important questions to ask are:
Does the bank have a location near my home or work?
What are their hours of operation?
Is banking free?
(3) Canadian CV
Got a killer CV? Good for you! But be aware that your CV may not perform as well in Canada as it does at home. You may have to do some tweaking to bring your résumé in line with the style preferred by Canadian employers. Fortunately, the Irish Canadian Immigration Centre in Toronto runs weekly courses on résumé style.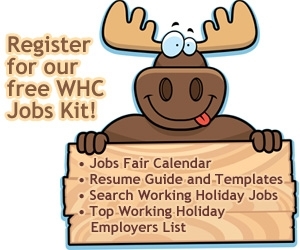 (4) Driving license in Canada
Good news! Getting a driver's license in Canada is fairly straightforward – although the rules do differ depending on which province you are in.
It's can be especially easy if you already have a license. Canada has reciprocal agreements with the USA, Ireland and the commonwealth countries (England, Scotland, Wales, Northern Ireland, Australia, South Africa) whereby residents of these countries can simply transfer their license – often without the need to sit a test.
Also, a number of provinces have individual agreements in place with various countries. Take Ireland as an example.
There is an agreement in place between the emerald isle and the licensing authorities in Ontario, Manitoba, Newfoundland and Labrador to mutually exchange licenses. British Columbia, Saskatchewan, and New Brunswick will also exchange Irish licenses.
However, Ireland does not automatically swap these licenses. So, if you learn to drive in New Brunswick you may have to sit a new test when you return to Ireland.
No arrangements are in place for Irish license holders in Alberta, Nova Scotia, Quebec or Prince Edward Island. It's a good idea to examine your country's relationship with Canada regarding driving licenses.
Finally, you should bring a copy of your driving history from home before you go to Canada. This document is important in many provinces for determining your driving experience and will make getting a driver's license in Canada much easier.
(5) Education in Canada
'I've heard that my degree won't translate to Canada. All that work for nothing!'
It's true that not all foreign university degrees and qualifications are not automatically recognized in Canada and to work in certain sectors you may need to do a 'refresher course' or sit an additional exam to demonstrate your qualifications. Don't get too down though. Ultimately, your education and skill set will help you to land the right job in Canada.
---
You May Also Like:
TOP 10 REASONS TO STUDY IN CANADA
---
(6) Flights to Canada
Typically direct flights from Europe to Canada can cost €300 – €600 on average. It's easier to get direct flights to Toronto than any other Canadian city. You can fly direct to Toronto from airports across Europe, including Ireland, the UK, France, Germany, and Spain.
You may find a potential saving if you stop over somewhere. Although, if you are going to stop along the way, it may be best to stop in another Canadian airport rather than flying through the US.
All travellers going through US immigration are required to collect their luggage in the US and go through customs. You may also need an ESTA visa if you intend to travel through the US. This is in addition to the Canadian visa requirements that you will have before you travel.
(7) Geography lesson
Time for a geography lesson! Here are some cool facts about Canada you may not know.
Canada is HUGE! In fact, it's the second-largest country in the world (after Russia)
There are parks in Canada that are bigger than countries (for example Wood Buffalo National Park in Alberta is larger than the Netherlands and Switzerland!)
Despite the country's size, 90% of Canadians live within 200km of the border with the United States – leaving vast expanses of wilderness to the north
(8) Health
Canada is renowned all over the world for its free healthcare system, and each of its 10 provinces and three territories, finances and runs a state-wide health insurance program.
Medicare covers most basic medical services, such as doctor visits, diagnostic tests, hospital stays and most surgeries. Although, it is not entirely comprehensive and residents incur costs to cover supplementary services, such as dental and drug coverage, or maternity services.
However, if you are hoping to move to Canada on a working holiday visa, having adequate health insurance is a box that must be ticked in order to be eligible.
(9) Insurance Number
When you arrive in Canada, it is a good idea to get a Social Insurance Number (SIN) as soon as you can. You can't work in Canada without one! You'll need to have a mailing address in Canada before you can get a SIN.
(10) Jobs in Canada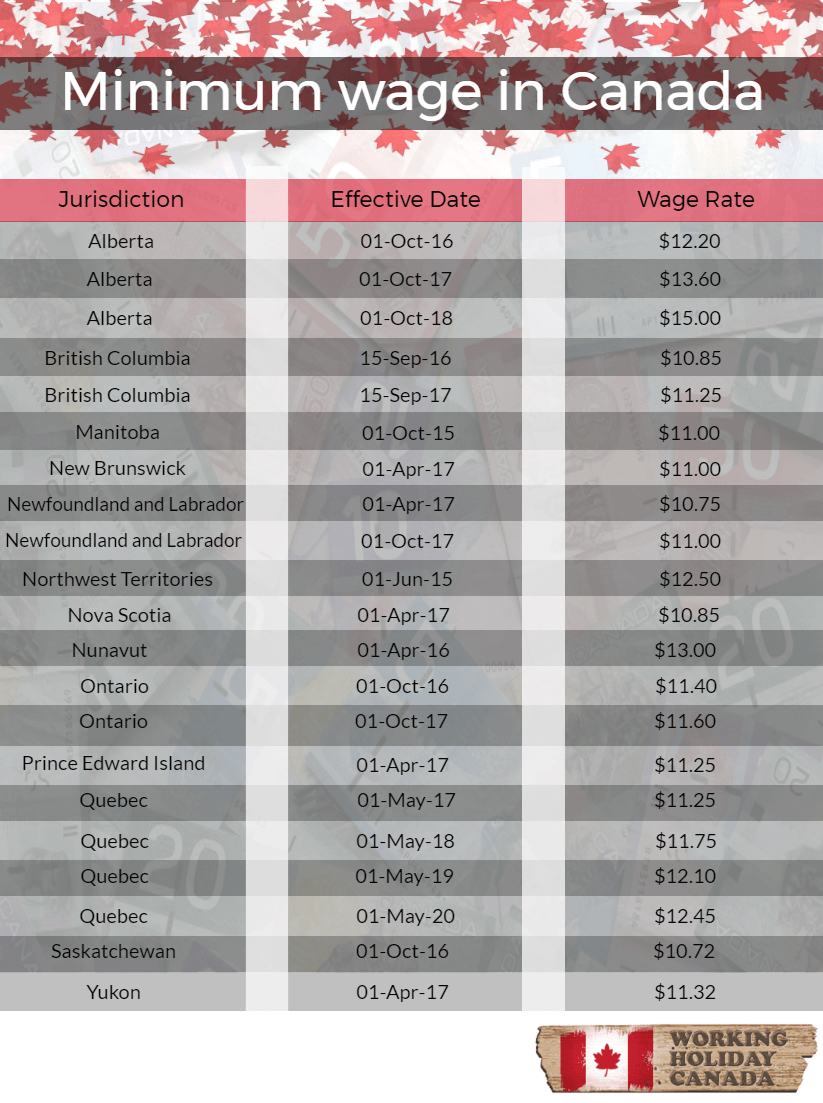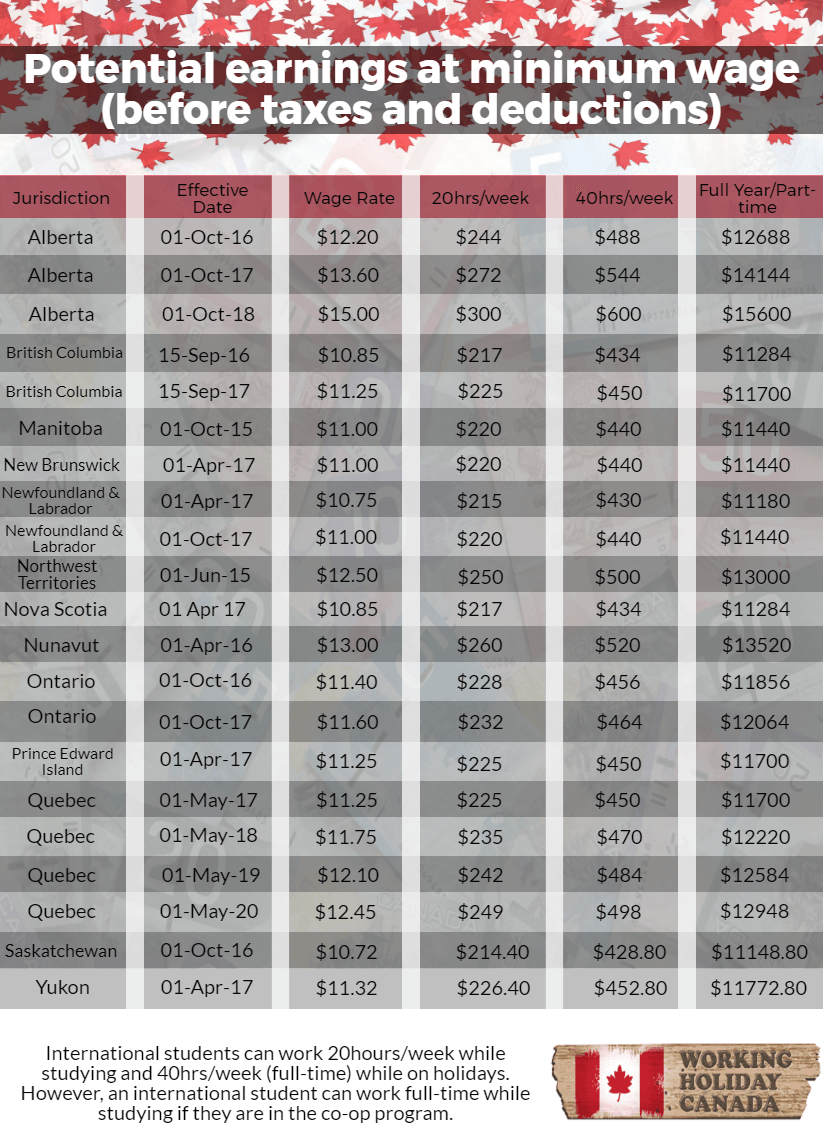 So what kind of jobs can you get in Canada? From positions in the oil & gas industry and embassy work to teaching fellow tourists how to ski – the list of potential employment opportunities is indeed long.
As for finding one, a good place to start is by attending a job fair like Napp Canada in Toronto. Currently, there are two of these fairs coming up – one in Woodbine Centre Mall on 28 September and the other on 2 November in Scarborough GKM Community Centre.
Job fairs are always a great opportunity to network and get your foot in the door with potential employers.
But the earlier you begin your search the better. If you are looking for casual summer work, there is no point in arriving in July and starting your search. Research online and begin sending CVs even before you go. Most seasonal employers will begin their summer recruitment drives in March or April if not earlier.
Canada is a massive country and employment opportunities vary from city to city. Further details of city-specific roles are listed below. But remember, all of these are major cities. They all offer employment opportunities in cafes, shops, bars, restaurants, offices and building sites.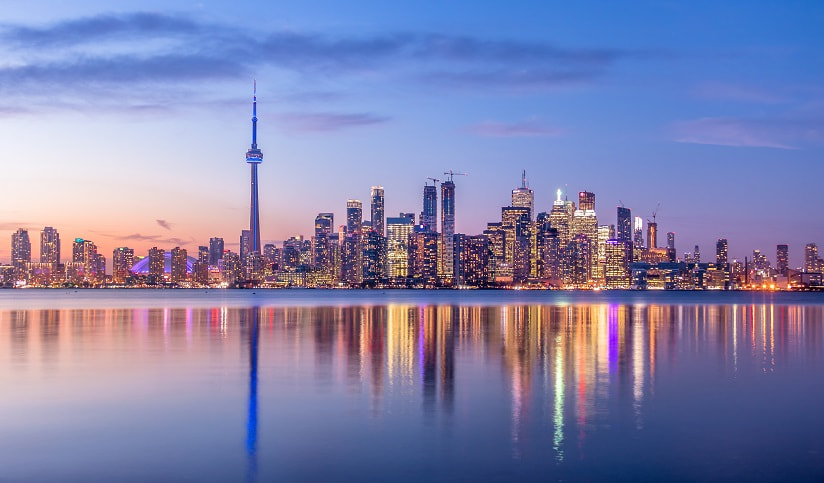 Work in Toronto is really varied. From working on the cruise ships in the harbour or waiting tables downtown to careers in high finance – Toronto is the place to be no matter the skillset.
The city is the financial hub of Canada and there are plenty of jobs in finance and accounting. Also, Toronto has the third-largest concentration of IT companies in North America – so if you like computers you'll like Toronto.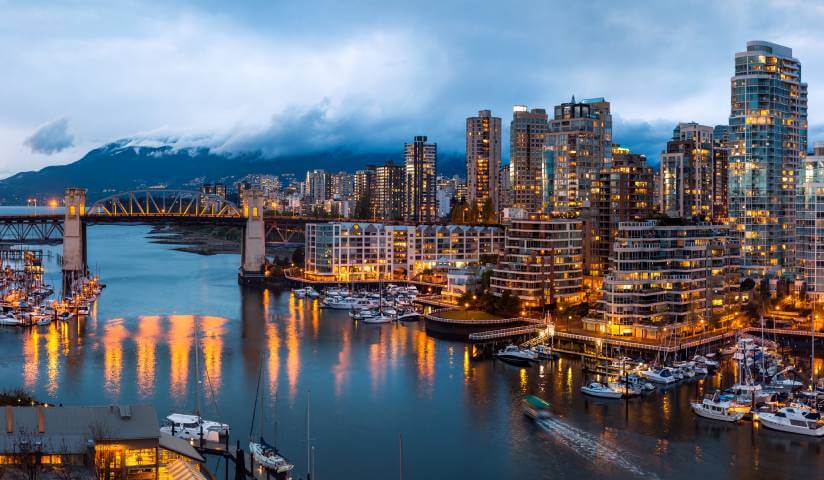 Vancouver's jobs market offers plenty of opportunities for those looking to work in trading, logistics and shipping. This is partly due to the fact that the Port of Vancouver is the largest in Canada. Forestry is another very active industry in Vancouver. You've always fancied yourself as a lumberjack, right?!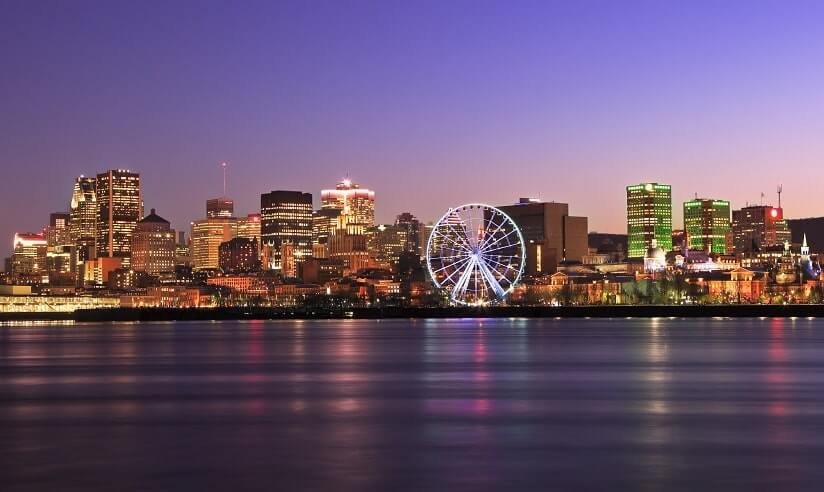 Career opportunities are available here in:
Electronics
Software
Manufacturing
Transportation
And more
Although, you're probably going to need a decent level of French to land a job here!
Some seasonal work is also available – in hospitality, tourism and retail.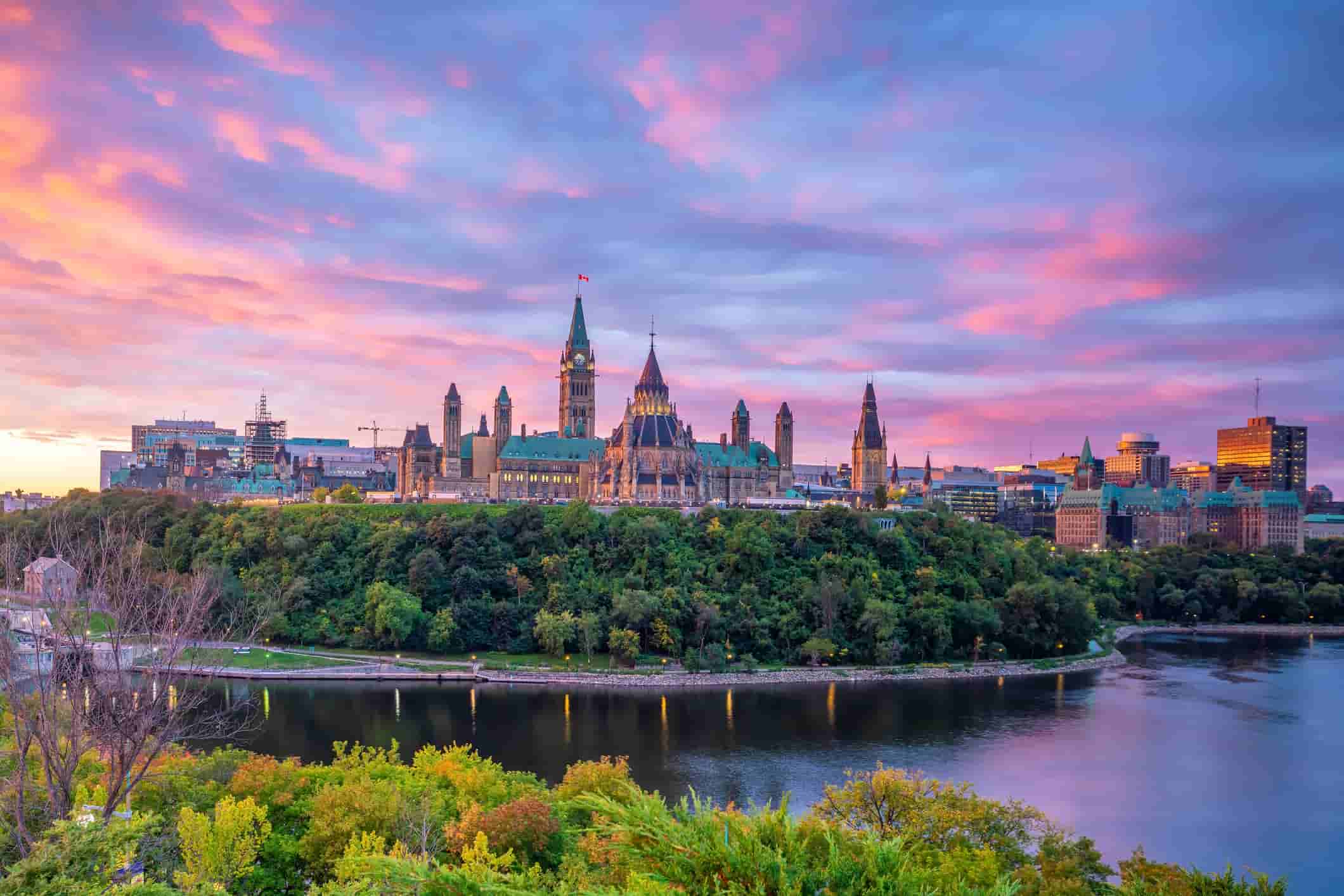 Ottawa is the capital of Canada and is a good choice if you're looking for work in IT or scientific and manufacturing services. Plus, if you want casual work, there are plenty of jobs in administration and office temping.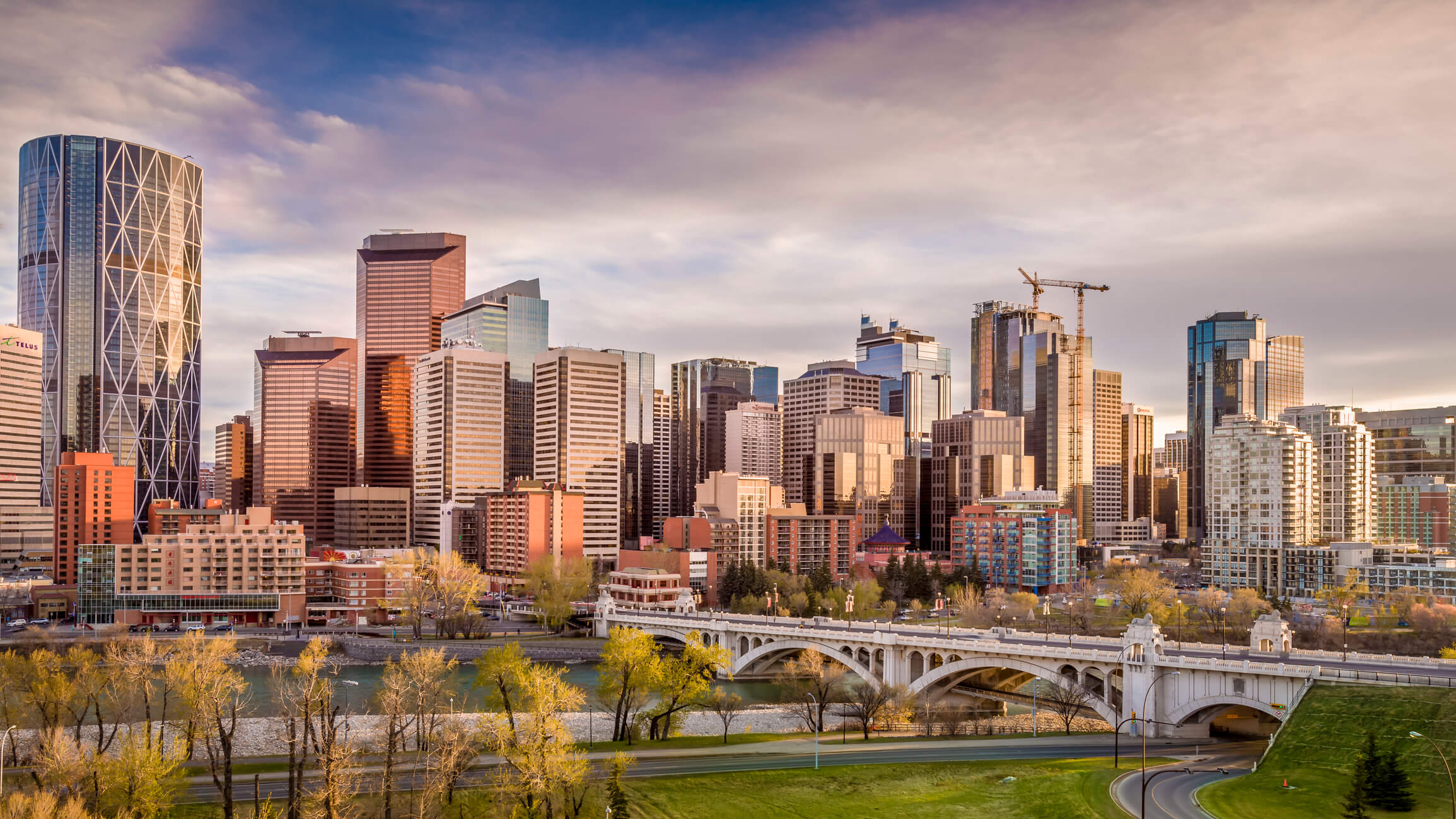 Calgary is also one of the wealthiest cities in Canada. This is thanks largely to its lucrative oil sands. Naturally, the oil & gas industries are big employers here. Keep in mind that many of these jobs will require specialized skills.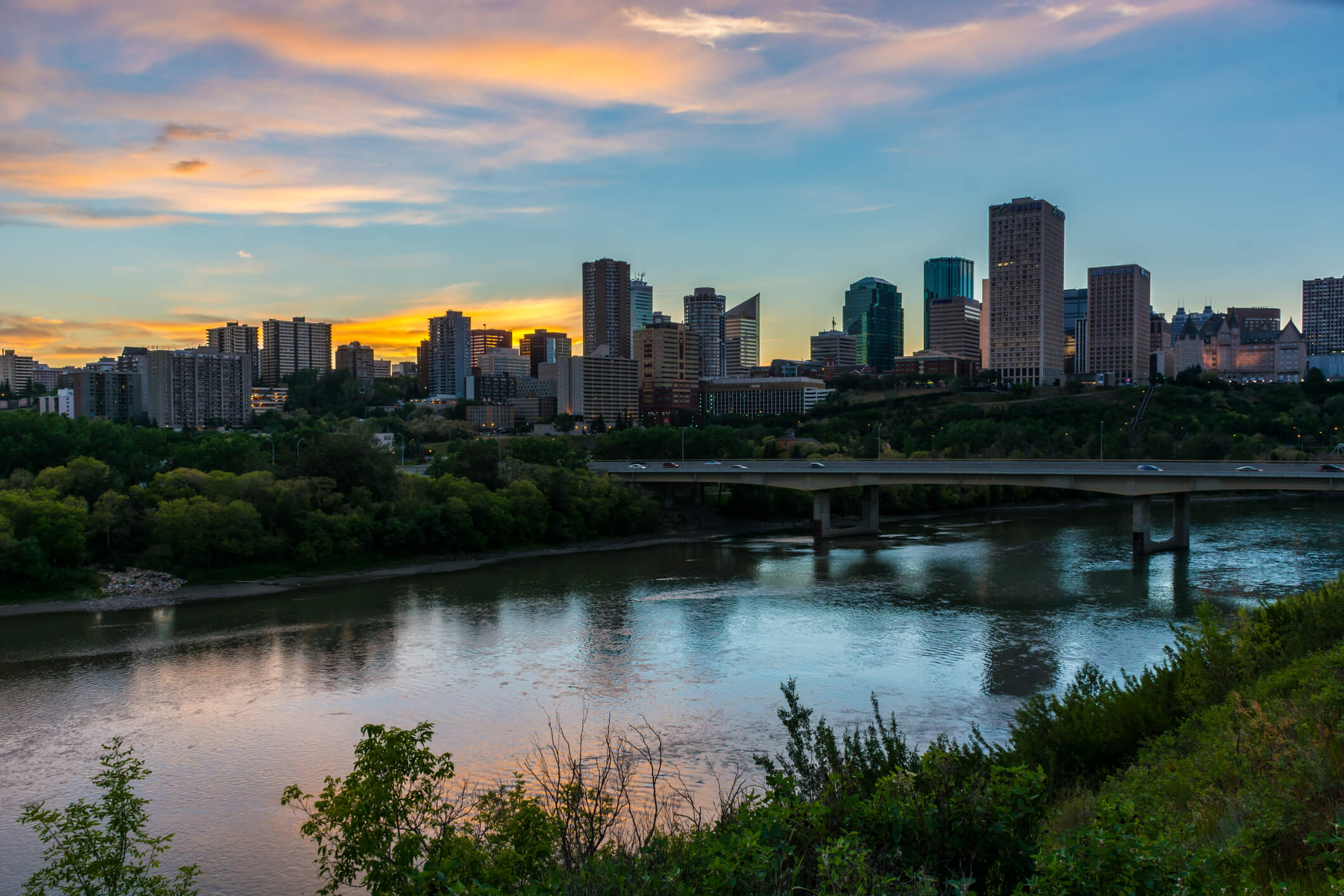 The oil & gas industries are a large employers in Edmonton also. The largest industry in this city is petrochemicals but, again, you will need relevant skills in order to apply.
That said, there are also jobs in other job sectors such as
IT
Banking
Biotechnology
Retail
Hospitality
And more
Hitting the Slopes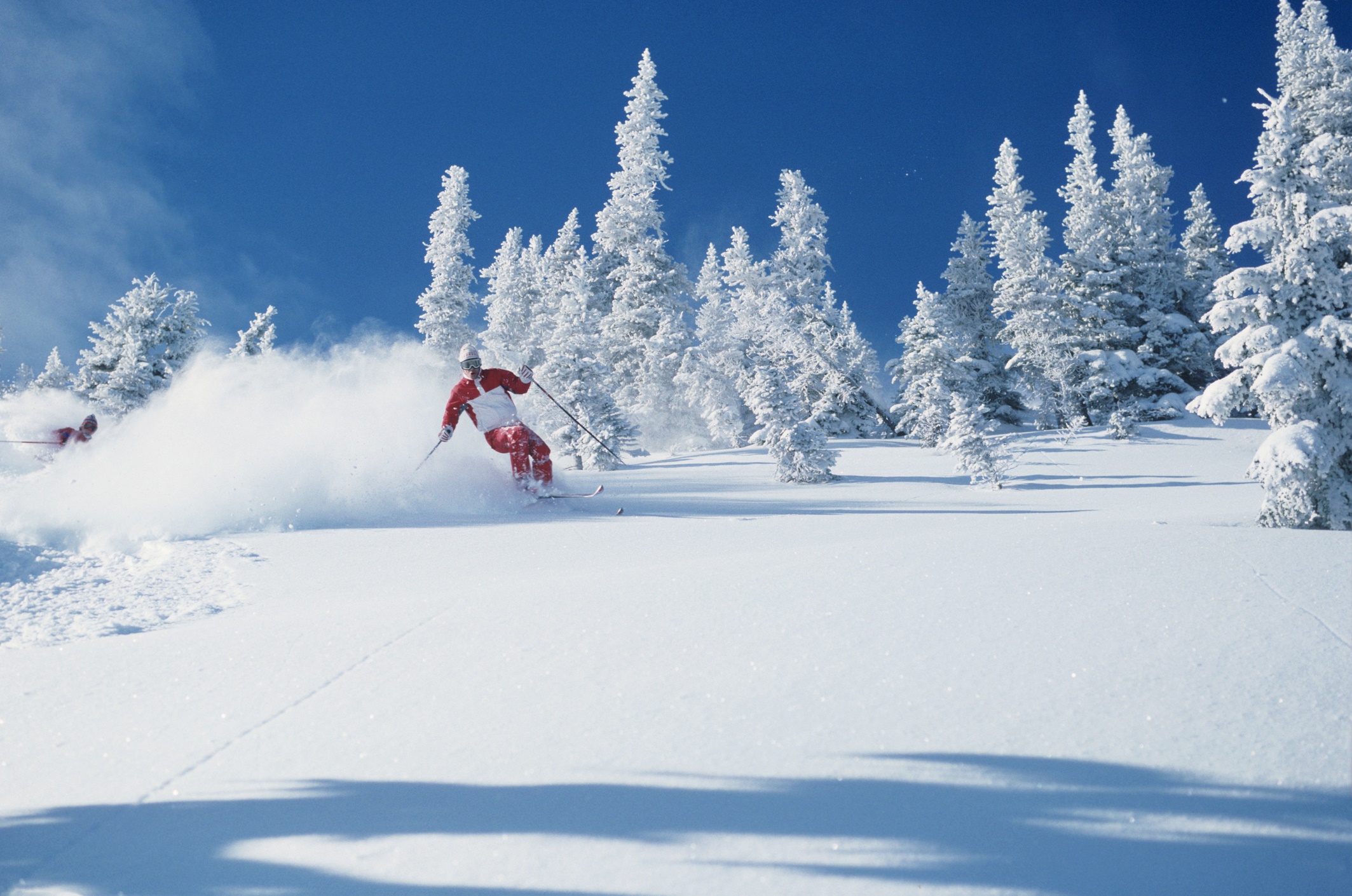 If you are more interested in adventure and life experience than the progression of your professional career, working at a ski resort could be right down your alley. Gnarly, right?! This is a very popular option for working holiday tourists and offers an opportunity to meet new people, experience a real Canadian winter and, of course, hit the slopes.
Typical jobs include:
Lift operator
Ski instructor
Server
Bar person
Retail assistant
Barista in a café
Ski/Board technician in a rental shop
Local guide
Most large Canadian ski resorts are located in British Columbia and Alberta. There are also some smaller resorts in Quebec, such as Mont Tremblant, so it's worth doing a bit of research on which option suits you best and also allows you to land a job.
In BC, the main resort is Whistler – one of the world's best ski resorts, routinely getting over 10 meters of snow a season. Generally, Whistler takes on in the region of 1,000-2,000 international workers every season.
In Alberta, there are three main resorts located around the beautiful town of Banff; Sunshine Village, Norquay and Lake Louise. Banff and all the surrounding resorts are located within the Banff National Park. There are many types of wildlife roaming around, including grizzlies, black bears, moose, elk, deer, and cougars – so be careful!
Although the wages are often far from sky-high, there can be lots of perks to working in a Ski resort. For example, many employers will cover a portion of the entire cost of your season's ski pass. And some employments offer staff housing at a subsidized rate, as well as food and gear in some cases.
The vast majority of jobs available in the ski resorts will be casual and seasonal in nature. Hiring usually starts in October so get there early. That said, you may not start work until late November or early December – start dates will depend on when the snow starts falling and tourists start arriving.
Some resorts close entirely for the summer months so be sure to research how long the resort stays open and how long your employment will last. Many people who do a winter season will then head to Vancouver or one of the other cities in search of work for the summer. But be warned, plenty of people have this plan so it's a good idea to leave before everyone else in order to get a head start on the city job hunt.
If working on the slopes sounds appealing to you there are a number career of fairs that could help you to land employment including:
Sunshine Village Ski & Snowboard Resort
Web: www.skibanff.com
Lake Louise Ski Resort
Job fairs TBC visit www.skilouise.com for further details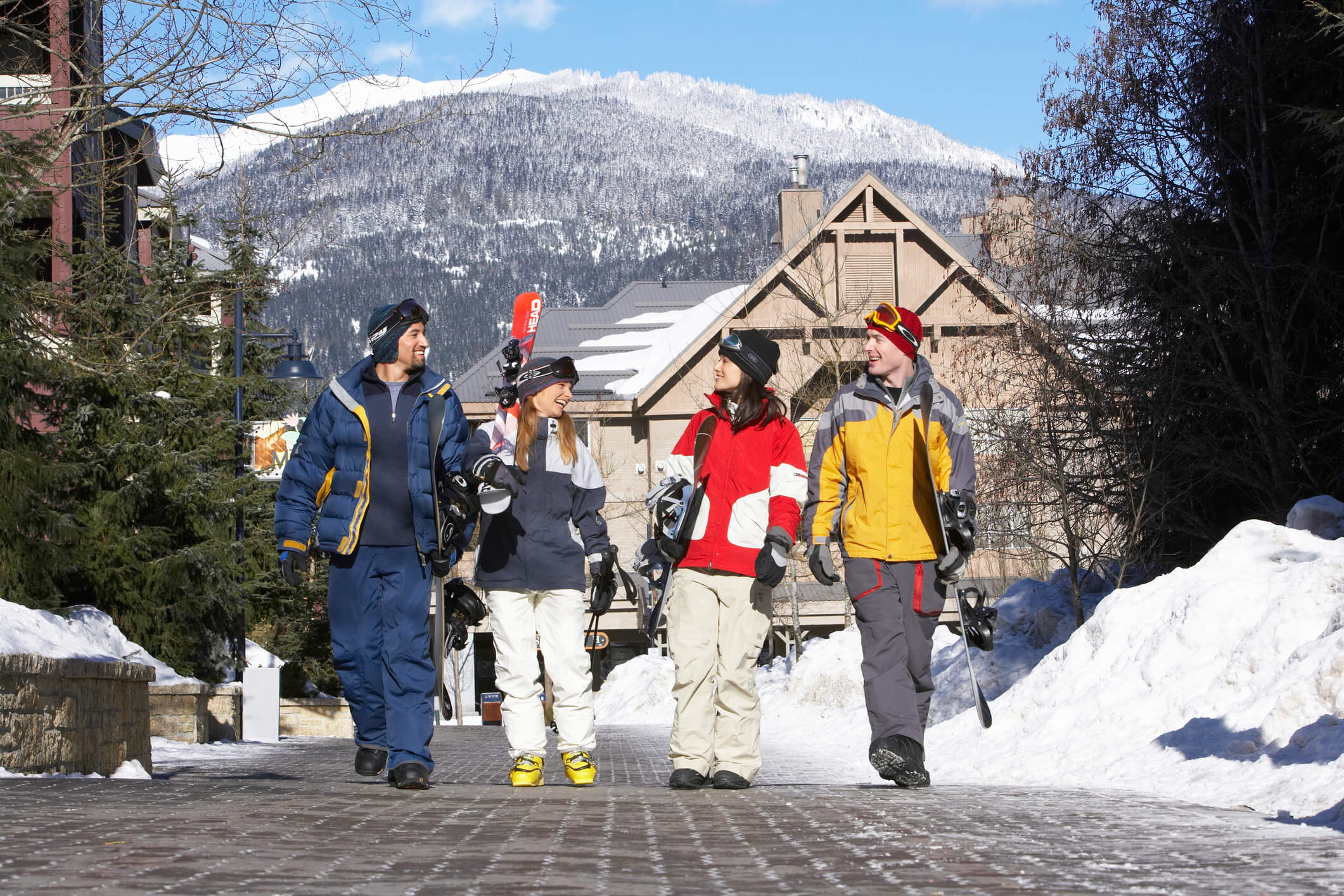 Marmot Basin
If you are looking to work on the slopes check out www.skimarmot.com/work-marmot-basin who are hiring numerous positions right now!
Whistler Blackcomb, Ski Resort
Web: https://www.whistlerblackcomb.com/jobs
Crystal Mountain Resort
Details of the winter job fair are coming soon. Visit www.crystalmountainresort.com for more.
Fernie Alpine Resort
Fernie Alpine Resort will be announcing details of available positions and upcoming job fairs in September. Be sure to check out www.skifernie.com
Kicking Horse Mountain Resort
Check out www.kickinghorseresort.com for details of open positions and upcoming job fairs.
Kimberly Alpine Resort
Visit www.skikimberley.com/careers for details of open job positions and upcoming job fairs.
Are you on a working holiday in Canada? Sign up here for our free jobs kit!
(11) Keep warm!
If you are embarking on a working holiday to Canada, make sure you are prepared for a Canadian winter. Or to put it a different way – layers are your friend!
Canada's winter varies depending on where you are in the country. From -40C with no humidity or wind on a bright day in Winnipeg to – 15C with windy and humid conditions in Montreal, you'll need to be prepared for a range of eventualities depending on where you are living. Meanwhile, if you are spending the winter in Vancouver, you'll need to prepare for rain (and lots of it!).
In Montreal or Toronto, you can manage with an outer waterproof shell, fleece, woolly hat, scarf, and gloves. You may not need boots but your shoes should at least be waterproof (try to invest in anti-skid soles too!).
In Winnipeg or Saskatoon, in mid-winter, an outside layer of a knee-length jacket and a layer of thermal underwear are recommended.
And it's probably best not to leave the house without earmuffs, scarf, heavy gloves, and at times a full-face mask and warm boots. And if you intend to drive to work, you'll need good quality sunglasses to shield your eyes from the winter sun in the morning and late afternoon.
(12) Living
Canada is a popular destination for migrants from all over the world. But it's by no means a cheap destination. Although, if you are moving from Dublin it compares well.
According to a worldwide cost of living survey from Mercer, Dublin has been ranked the second most expensive city in the Eurozone for expat workers, and 66th on the list overall.
Canadian cities are much further down the list. For example, Vancouver (107) is the most expensive city in Canada, followed by Toronto (119), Montreal (129) and Calgary (143).
The cost of living in Vancouver, for example, can be high. When it comes to food, good quality is expensive and if you want to buy organic, it will probably cost far more than you are used to at home.
According to government statistics from 2017, the average household can expect to spend about CAN$8,109 a year on household groceries, or CAN$156 a week. In Alberta, this rises to CAN$168 but falls to CAN$149 in Quebec.
Alcohol is more expensive too. A decent bottle of wine will set you back at least CAN$17 and CAN$12-13 for a six-pack of beer, while bars are also expensive.
Tax rates vary depending on the province and it's important to be aware of them before you move over.
(13) Mobile
One of the first things most newcomers to Canada do when they arrive is to arrange a mobile phone plan. There are a number of differences in Canadian mobile plans to European plans. For starters, you may end up paying more than you are used to. As of 2015, the average cost of a mobile phone plan in Canada was CAN$48.68.
Telus and Bell are amongst the biggest mobile phone companies in Canada. Companies such as these normally offer discounted rates on phones if you commit to a one or two year contract.
You should be aware that if your plan does not have unlimited calling then your monthly limit could be used for incoming calls as well as outgoing calls depending on your network.
Canada is a big country, and many of the cheaper mobile phone plans don't include long-distance calls. This means if you want to call outside your city, you may incur big charges.
Although, when you first move over you're likely to be on the job hunt in the local area so it's probably best to sign up to a mobile phone plan with data and unlimited texting and calling – at least for local calls. This will help you to network and get on the job hunt.
In short, before you sign up to any deal, it's important to ask; which locations are included in your mobile phone plan, is it limited to your locality, or is it Canada-wide, and if it's limited, where is it limited to?
Finally, many mobile phone plans include international calling or texting in the cost, so you can keep in touch with home. If it's not included in an offer you're interested in, you may be able to get it included as a cheap add-on.
(14) Networking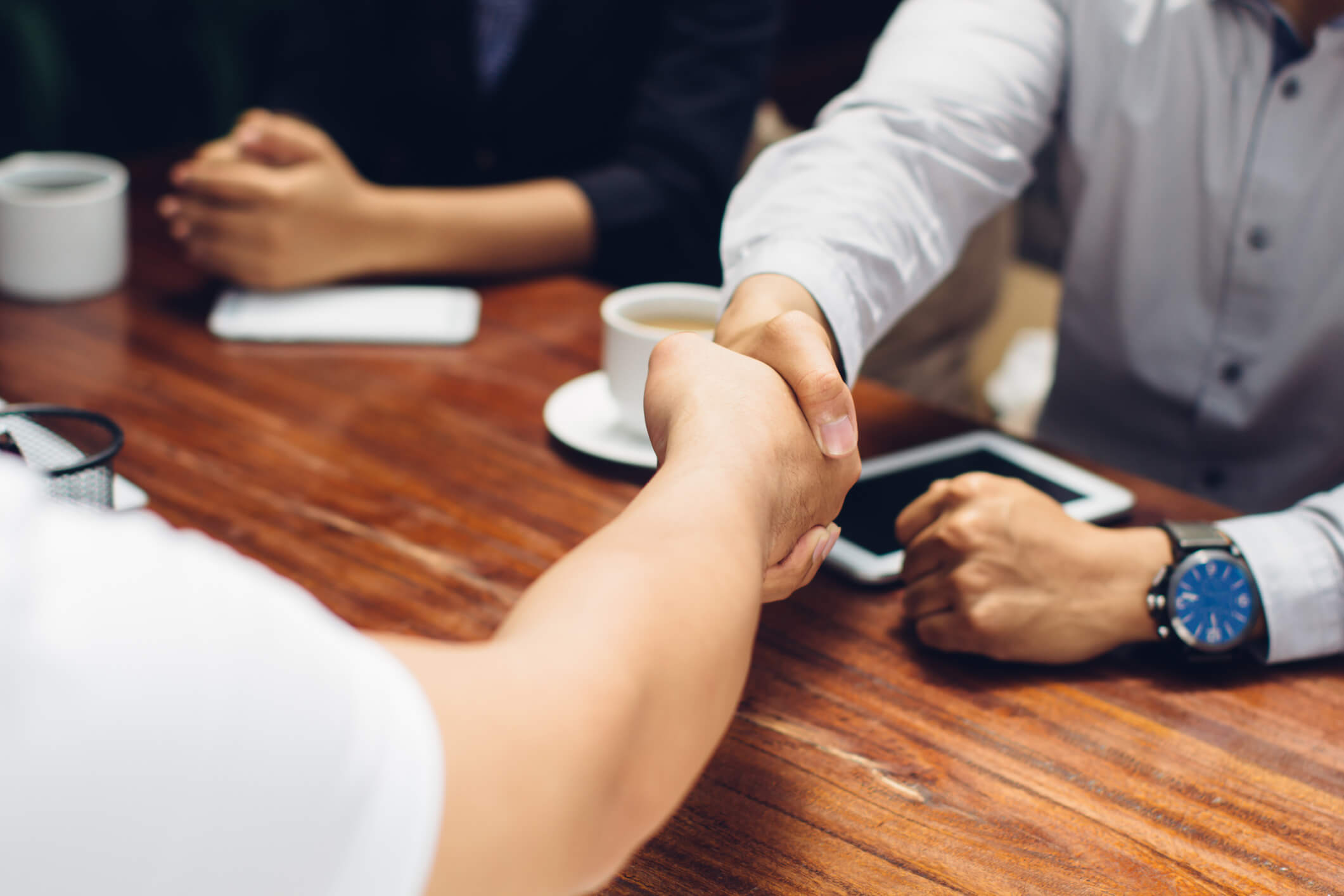 Did you know that, according to a study by Harvard Business School, 65 per cent to 85 per cent of all jobs are found through networking? So, when you are looking for a job in Canada, it's definitely worth leaving your laptop and email behind and getting yourself out there. Here are some top tips to prepare you for your first networking event.
Push yourself outside your comfort zone – get out there and don't be afraid to mingle, talk to and interact with people
Dress to impress – appearance counts so ensure you dress smart
Get business cards – it won't cost you very much and they can keep you in the thoughts of a potential employer. And be sure to ask for a card from everyone you talk to. You can then build up a list of contacts.
Arrive early – think of a networking event like it's a job interview. Arriving late can really leave a bad impression
Be sure to ask questions – the art of successful networking is to ask questions of, and listen to, the other person
Follow up – ensure you email/call your contacts within a few days while your meeting with them is still fresh in your mind, as well as theirs
(15) Official languages
Canada is a bilingual country with 'co-official' languages. English and French enjoy equal status as the official languages of all federal government institutions in Canada.
(16) Picking a place to live in Canada
Canada boasts a variety of different cities to choose from when you are picking a new accommodation for your working holiday. No matter which city you choose, it is probably best to stay in a hostel, Airbnb or with a friend for the first couple of weeks of your holiday. This will give you a chance to set up an apartment or house viewings and also to suss out which neighborhood you would like to call home.
Searching online is a quick way to find rentals and websites such as www.rentboard.ca and apartmentscanada.com should come in very handy. It's a good idea to bring references from previous landlords you've had at home if you have them.
Be aware though, the cost of renting can vary greatly from city to city. Check out our guide on how much renting costs in the different Canadian cities.
(17) Quota of visas
There is a quota for the number of visas issued to each country every year. For example, in 2016, Ireland was offered 10,700 visas in total – 7,700 for working-holiday makers, 2,500 for "young professionals" (who must have a signed letter of offer or contract of employment before applying), and 500 in the "international co-op" category for full-time students to take part in an internship and work placement programs, for up to 12 months.
People who participate in this stream will also be eligible to apply for an additional two years on a second visa, meaning they can stay in Canada for three years in total under a working holiday visa.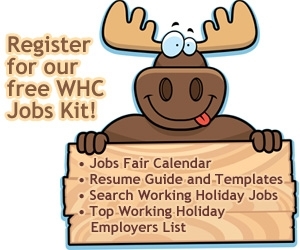 (18) Canadian Residency
If you decide you'd like to become a Permanent Resident in Canada there are a number of options open to you:
Canadian Experience Class (CEC) – offers permanent residency to 8,000 lucky applicants every year. To be eligible you must have at least 12 months' skilled work experience in Canada in the three years before you apply. You must also apply at least four months before your visa expires, and pass a language and medical test.
It takes six months to process but it is possible to get a bridging visa until the CEC is issued. You will need to save up some money before you apply as it can cost up to CAN$1,200 in the application and medical fees.
Provincial Nominee Programme (PNP) – this is an alternative option to the CEC for those who want to stay permanently. Workers can be nominated for permanent residency based on the immigration needs of the specific province and their intention to settle there.
Business Immigration Programme – this is open to experienced investors, entrepreneurs and the self-employed.
(19) Shipping
When you move to Canada you can bring your personal goods with you without paying duty. For example, you won't have to pay duty on:
books
linens
clothes
jewelry
furniture
silverware
musical instruments
gifts worth CDN$60 or less each
and more
(20) Tax back in Canada
As soon as you begin employment in Canada you will have to pay tax. No surprise there! What might surprise you is that many people overpay tax and are due a refund.
This is where Taxback.com comes in handy. Their team can review your personal circumstances to see if you're eligible to claim any tax-deductible expenses. They will also ensure you get the maximum legal tax refund while remaining compliant with your visa conditions.
And, as they're average refund of Canadian tax is CAN$998, it is definitely worth investigating!
(21) Unfurnished
With the exception of sub-lets, almost all rental properties in Canada are unfurnished! So don't expect a comfy bed to be waiting for you when you move into your new home.
Cheap furniture can be found in thrift shops and on websites like Craigslist.ca, especially towards the end of the month when people are preparing to move house. Alternatively, you could always make tracks for your local Ikea outlet. They are located in, or close to, most major cities.
(22) Visas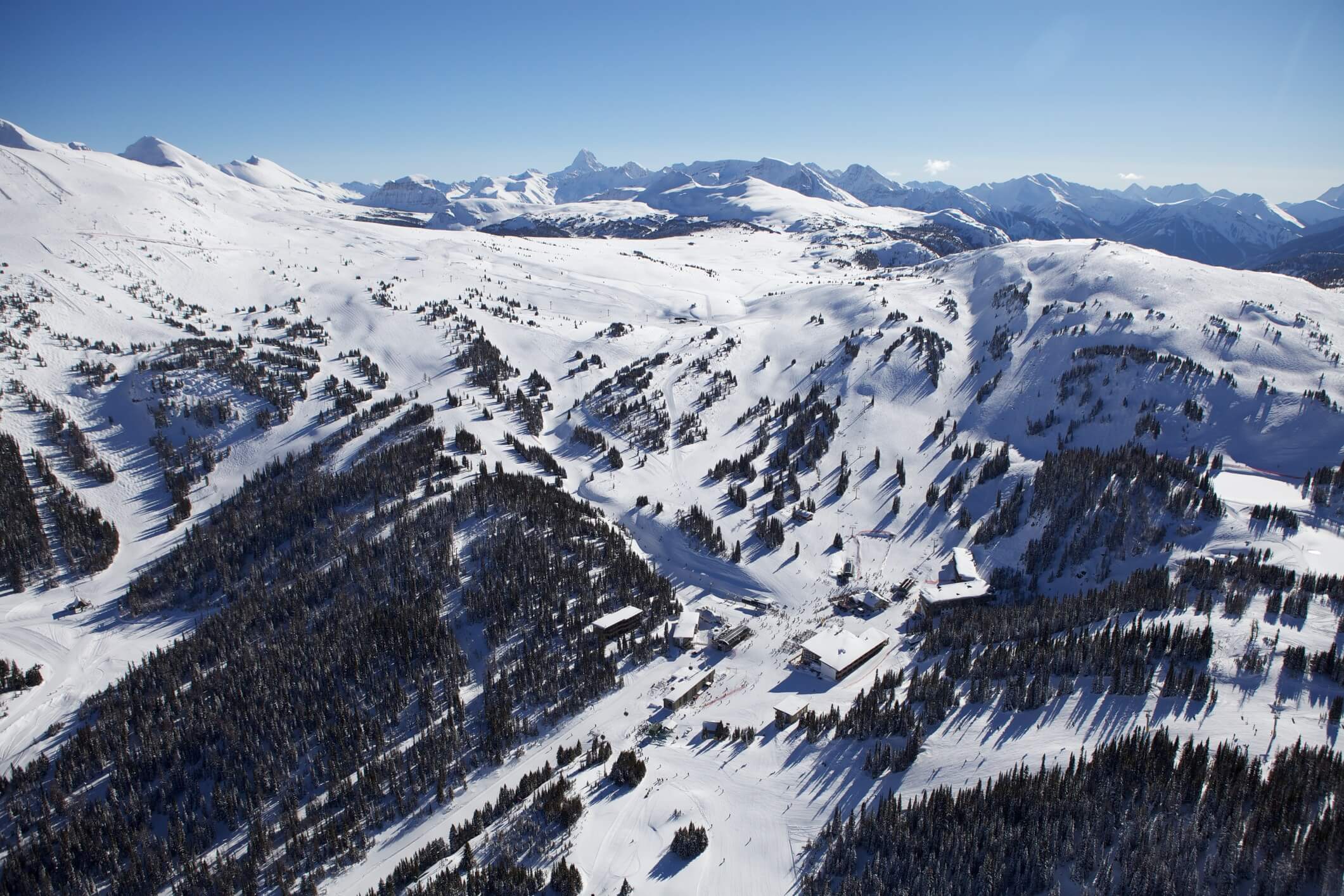 The official name for Canadian working holiday visas is International Experience Canada (IEC).
The IEC program allows citizens of 32 countries between the age of 18 and 35 to live and work in Canada for up to two years. Applicants must have a passport that is valid for the duration of their stay, health insurance, and a clean criminal record. They must also have money to support themselves in the form of C$2,500 (€2,450) in a bank account on arrival.
If a working holiday in Canada sounds like it's something for you there is a step-by-step process that you must follow.
Before you can apply for an IEC visa, you first need to register your interest. Invitations are then issued, and if you are lucky enough to receive one, you will have 10 days to accept or reject the offer before it expires – so move quickly.
Should you choose to accept your invitation, you must then get your work permit documentation submitted and pay the required immigration fees. Processing takes roughly 8 weeks.
After reviewing your application, Citizenship and Immigration Canada (CIC), which is in the process of rebranding to Immigration, Refugees and Citizenship Canada (IRCC), may request more documents. If your application is approved, you will be sent a letter of introduction (LOI) which you need to present to immigration when entering the country in order to be granted the work permit.
If you are unfortunate enough to miss out on an invitation, don't worry, there other options open to you including the 'Young Professionals' visa and the 'International Co-op Internship'.
If you are unsure about your application, you can always apply with a trusted independent visa agency like Visa First. You won't need to worry about missing a document or any other requirement as they guide you through the entire process.
Their agents will support you before, during and after your visa is granted.
Young Professionals
This is slightly different to the working holiday visa in that it is an employer-specific work permit.
This category may be of interest to you if:
You have a job offer in Canada that contributes to your professional development
You'll work for the same employer in the same location during your stay in Canada
International Co-op Internship
The International Co-op Internship is also an employer-specific work permit.
This category will be for you if:
You're a student registered at a post-secondary institution
You have a job offer for a work placement or internship in Canada
You need to do this work placement or internship to complete your studies
You'll work for the same employer in the same location during your stay in Canada
(23) Wrap up life at home
Even if you're only moving to Canada on a working holiday visa you'll still need to round up a few things before you leave. Once you have made your decision to travel, be sure to leave yourself plenty of time to tie up every loose end. From work to bills – the last thing you want is to be chasing things up from Canada.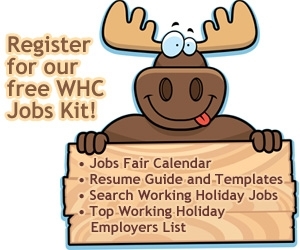 (24) Xing the street!
Be careful when crossing the street in Canada. It could cost you CAN$700! Fines for jaywalking vary across Canada. For example, if you live in Toronto the penalty is between $35 and $90, it's $100 in Vancouver and $410 to $697.50 in Nova Scotia.
(25) Your documentation
There are a number of documents you'll need to bring with you on your working holiday in Canada. These include:
Passport
Visa documentation
Bank balance letter
Evidence of travel insurance (e.g. a printed copy of your policy)
The address of a place to stay
Driver's license or some other form of ID for a night out
Resume
Accommodation reference letter
Motor insurance letter
Copy of student transcripts
Prescriptions (if necessary)
Some of these will need to be accessible at the airport, so when packing, don't bury them too far down in your bag!
(26) Zones
Canada is vast. The tip of the east coast of Newfoundland to the western tip of Yukon Territory (on the border with Alaska) is 5,514km. Naturally, this means the country spans six different time zones. From east to west they are Newfoundland Time Zone (GMT – 3h30m), Atlantic Time Zone (GMT – 4h, Eastern Time (GMT – 5h), Central Time Zone (GMT – 6h), Mountain Time Zone (GMT – 7h), and the Pacific Time Zone (GMT – 8h).
Are you on a working holiday in Canada? Sign up for our free jobs kit!