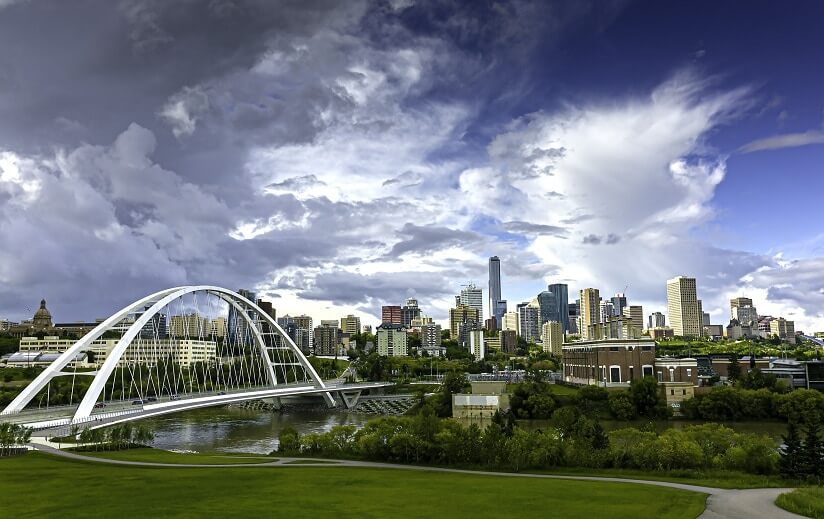 Are you looking for a job in Edmonton?
Did you know that Edmonton was recently found to be the best place in Canada for young people to work?
The Alberta city came out on top of a national index conducted by Youthful Cities, a Toronto based social enterprise group.
The index ranked 21 Canadian cities based on the health of their job market for people aged 15 to 29.
Four criteria were used to determine the final ranking – education, entrepreneurship, career-oriented employment and affordability. Edmonton ranked particularly highly for affordability.
So what kind of job can you find in Edmonton as a working holidaymaker?
Well, in the 1940s Edmonton was nicknamed the 'Oil Capital of Canada.'
Today the city is the service and supply centre for the oil industry and a petrochemical hub for western Canada.
Oil and gas pipelines radiate from the city, and its international airport, major airlines, and highways support its role as the wholesale, retail and distribution centre of north-western Canada.
So, if you are looking for a job in the oil and gas industry, you will find plenty of opportunities here as skilled labourers are always in demand.
Away from the oil fields, you will find a diverse economy with opportunities in many sectors.
Take tech for example. Edmonton is considered one of Canada's main research and education centres and this sector is growing all the time.
The city is also a hub of science and is home to the Alberta Innovates building (formally known as the Alberta Research Council).
Edmonton' s geographical location and transportation links make it ideally suited to logistics, distribution and freight services.
Teachers and educators are regularly in high demand by the many schools and higher educational institutions.
The city is also the state capital and there are numerous government jobs located in Edmonton.
Some of the biggest national and international employers in Edmonton are IBM, General Electric, Intuit Canada, Afexa Life Sciences, BioWare, Canadian Western Bank, Telus, TD Canada Trust and Stantec.
---
Check also:
Taxes in Edmonton
---
Casual work is also plentiful in Edmonton. It has a thriving cultural scene which includes galleries, theatre's and concert halls all who of whom must be filled with employees.
After all, these miners and engineers need places to shop, eat, drink and socialise!
What's more, Edmonton also boasts the largest and busiest shopping mall in North America – the West Edmonton Mall.
Here you will find countless stores (there's over 800!), restaurants, pubs and even an amusement park! There are a plethora of employment opportunities here – but be prepared to do the groundwork and hand out resumes.
The minimum wage in Edmonton is $15.00 per hour although this, of course, depends on various factors.
It is important to also keep in mind that employment vacancies can often be offered on a first-come-first-served basis. This can be especially true in the retail sector where prospective workers can apply in-person with their resumes and receive offers of employment almost immediately.
While you will find most job adverts on the websites listed below, government jobs are slightly different.
Government jobs are advertised on the City of Edmonton website and on the Alberta government website.
Although it is worth approaching companies directly with your resume, especially for graduates and those with specialist skills and experience.
---
Register for your WHC Jobs Kit for lists of the top ski resort employers in BC and Alberta, our working holiday jobs search tool and much more!
---
Websites that can help you source a job in Edmonton
Alberta Jobs
Indeed
Job Bank
Job Post
Jobillico
Job Gurus
Wow Jobs
Updated Feb 19, 2020