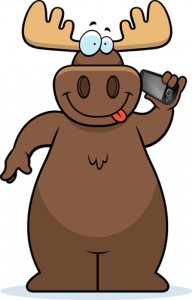 To be clear, we are not going to go into landline telephones here. We are far too futuristic for that with our SKYPE and our smart phones. For further clarification, this section is about mobile phones, or as they are called in Canada: cell phones, eh!
The first thing to note is how charges work for cell phones in Canada. Not only are you charged to make calls, but you also get charged for receiving calls. It doesn't really sound very fair, I know, but in the words of the late great poet of our times "…that's just the way it is."
You will then want to consider which provider to go with. There are three main or national mobile phone operators in Canada: Bell, Telus and Rogers. Each has their own spin off brand such as Roger's Fido, Bell's Solo and Telus's Koodo. The mobile industry is highly competitive, and there's always new companies popping up here and there, so for a current and comprehensive list of all mobile phone companies check out our friends at Wikipedia.
Cell Phone Billing Plans
The next thing to consider is what type of billing plan you want to go with.
The best option is to bring your own phone and to get a Canadian sim when you get here. Do yourself a favour and don't ever ever under any circumstances by a pre-paid sim. You'll pay extortionate prices and chances are that your $25 top up will last you about an hour on the phone.
We highly recommend signing up for a contract (sounds scary, but there are some great companies that offer month to month contracts – this is what you want!)
If you want a brand spanking new phone, contracts with any of the big companies like Telus, Bell and Rogers are all generally for 2-3 years. You will get a lovely shiny phone and a decent enough deal on minutes if you choose this option but a three year contract might be a bit excessive for most.
If you don't feel like tying this moose (sic.) around your neck (they are very hard to get off) you can choose one of their spin off companies such as Fido, Koodo or Solo. These offer monthly plans that don't tie you down. The only difference here is the quality of the phone you will get with your deal – it won't have emails or Facebook but you can play Tetris on it.
Our Recommended Mobile Networks
Personally, I would go with Fido or Phonebox. The phone itself will make and receive calls just as well as any shiny phone will. Both companies have very flexible packages: $60 a month should get you 200-300 minutes, unlimited texts, and maybe some long distance or international minutes too. When you are getting ready to home, you simply need to give a months notice and Bob is your uncle! (Who is Bob?)
PhoneBox is a provider that many newcomers to Canada use. You can choose how long to use our service and how much you want to spend. have no deposits, cancellation fees, or hidden fees that other mobile service providers have in Canada. They have locations in 4 major cities in Canada, Vancouver, Toronto, Calgary and Montreal. With their plans you can call home for free with free international calling. Check out the plans on their website, download their brochure or call into a shop and say "Hi", they are nice guys.
The main Cellphone companies: