Are you looking for a cell phone provider in Canada?
Just because you're having the time of your life on a working holiday in Canada doesn't mean you don't want to be kept up-to-date with life at home!
So when you arrive in Canada, it's pretty likely that getting a cell phone and plan in order will be a fairly high priority.
Canadian cell phone plans may be somewhat different from what you're accustomed to at home.
For instance, did you know that in Canada you are charged for both making and receiving calls? Not fair!
For this reason, we hope you'll find this to be a useful introduction to what you should assume to pay for a plan and how much bang you should expect for your buck!
---
You May Also Like:
THE BEST CANADIAN CITIES TO LIVE IN
---
The Canadian mobile industry is highly competitive. The main cell phone providers are Bell, Telus, Rogers, and PhoneBox.
However, new companies are constantly popping up with interesting offers. For a current and comprehensive list of all mobile phone companies, we suggest you check out our friends at Wikipedia!
Cell Phone Billing Plans in Canada
With so much on offer, how can you work out which cell phone company in Canada is the right one for you?
A good place to start is to list everything you would like from a cell phone plan and set a budget for what you're willing to pay for it.
Bringing your own phone on your working holiday and getting a Canadian SIM when you arrive is always a good option. But do your homework before purchasing a pre-paid sim.
They can often be expensive and you may not receive good value for the amount you top-up.
Signing up to a contract is usually a better idea. Yes, the prospect sounds scary! But many companies offer month-to-month contracts and these are what you should be aiming for.
If you want a new phone, contracts with any of the big companies like Telus, Bell, and Rogers are all generally for 2-3 years.
While you can get a nice phone and a decent deal on minutes with this option, the three-year contract is a bit excessive for most.
If you are seeking a more casual arrangement and would rather not be tied down to anything longer than a monthly plan, be sure to check out some of the spin-off companies from the big players such as Fido, Koodo or Solo.
Alternatively, by signing up for PhoneBox and entering the Promo Code 'Taxback2020' you can enjoy special discounts!
---
You May Also Like:
Traditional Canadian Dish Every Working Holidaymaker Should Taste
---
Our Recommended Mobile Networks in Canada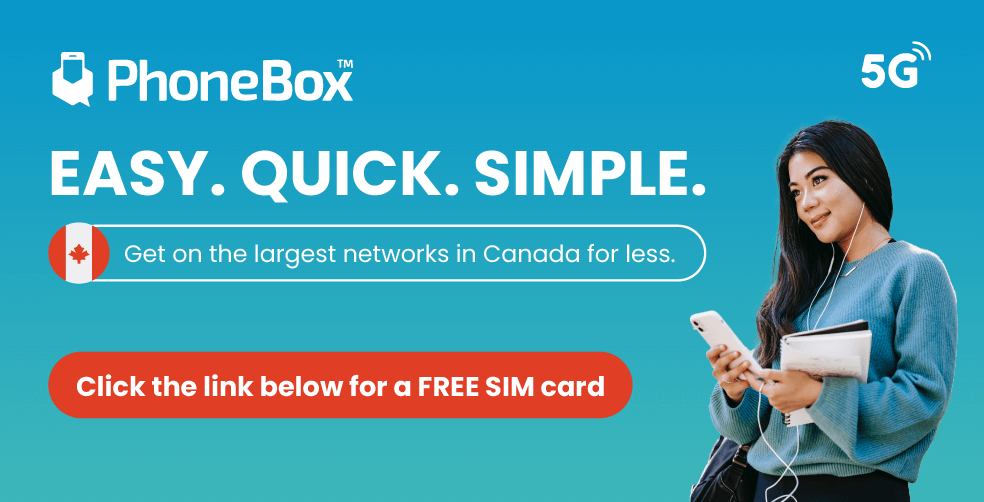 PhoneBox is a provider that many newcomers to Canada use. They have locations in 2 major cities in Canada – Vancouver & Toronto – and you can choose how long to use their service and how much you want to spend. One of the big advantages for working holidaymakers is that many of their plans offer free international messaging so you never have to lose touch with home!
Regardless of your circumstances, they offer a range of plans to suit your needs.
Have your own Smartphone?
Their plans range from $30/month – $65/month. A selection of these is listed below:
Unlimited Canada-wide calling + unlimited international messaging + 1GB data – $30/month
Unlimited Canada-wide calling + unlimited international messaging + 5GB data – $50/month
Unlimited Canada-wide calling + unlimited international messaging + 8GB – $60/month
Why choose PhoneBox?
Get started online. No need to queue in-store!
Free SIM Card shipping
Receive your new sim card before you leave your home country!
Best Network in North America
No Contracts / Credit History
Multilingual Support
Student Friendly Prices
Full details on PhoneBox plans and offers can be found at www.gophonebox.com and use the Promo Code Taxback2020 for special deals!
The main Cellphone companies:
Bell Mobility
Solo Mobile
Rogers
Telus Mobility
Mobilicity
Wind Mobile
Virgin Mobile
PhoneBox