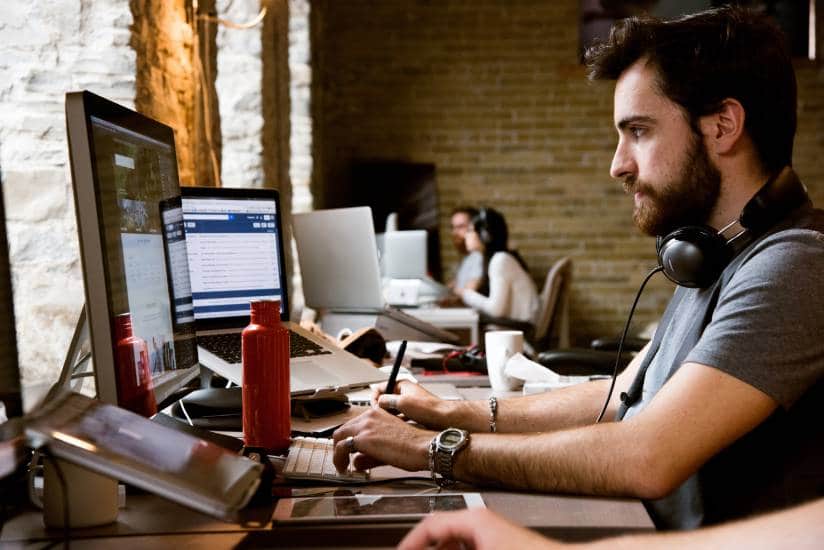 Jobs in Toronto range from casual jobs to careers just like any other city. You can spend your summer working on the cruise ships in the harbour or waiting tables downtown. Alternatively, if you are looking for a career in high finance or IT, this is the place to be.
More than 1.5 million people were employed in Toronto in 2019 and Toronto's unemployment rate is 5,4% (its lowest in 40 years).
As the financial hub of Canada and the second biggest financial centre in North America, Toronto offers plenty of opportunities to anyone pursuing a career in finance and accounting.
The Toronto Stock Exchange is the 7th largest in the world, and the top 5 Canadian banks have their headquarters there.
Toronto also has the third-largest concentration of IT companies in North America with only San Francisco and New York having higher nerd populations!
If you want to work for some of the biggest companies in the world – Facebook, Microsoft, and Google, all have offices in the Old Toronto district.
Other big industries are media, tourism, entertainment, education, and the start-up scene.
The tech market continues to grow and around 2% are employed in this field. Toronto is the eighth most popular destination for global tech workers.
Nearly half of Toronto's employees are working in the office category. Those working in the service industry are 12,6%, in retail 9,8% and in manufacturing 8,7%.
---
You May Also Like:
Taxes In Toronto
---
Taking a job in retail, tourism or hospitality while you are searching for that dream role is well advised. These jobs are generally easier to get and more readily available.
Some of the most in-demand jobs in Toronto are sales associate positions, admin assistants, developers, drivers, and receptionists.
You can expect to be paid between $52,000 and $62,000 CAD for a job as a sales assistant. The average salary in Toronto is $59,000.
Toronto is a city that welcomes newcomers and immigrants and is one of the most multicultural centres in Canada with half of its population born outside of the country.
Toronto is friendly to immigrants and getting a visa in Canada is relatively easy compared to other countries.
The entire process can be completed online and you will need to have scanned copies of the necessary documents.
To apply for a work permit for Canada, you need a job offer letter, an employment contract, a copy of your LMIA ( Labour Market Impact Assessment), and your LMIA number.
Even if you are a native English speaker, you will need to go through a formal language exam. Accepted language exams are CELPIP and the IELTS.
You can search for summer jobs in Toronto and casual or professional jobs too by using our unique job search tool for working holidaymakers in Canada.
Simply register for your free WHC Jobs Kit to access the job tool and lists of top employers in Toronto and other cities across Canada.
Some of the most popular sites to search for a job in Toronto are:
Toronto Job Sites You Can Check Out
---
You may also like:
---
Top Recruitment Agents in Toronto
Many recruitment agents specialize in certain industries so you should do your own research in addition to what we have below.
Don't forget to register for your FREE WHC Jobs Kit with a list of Toronto's Top Working Holiday employers, a working holiday job search tool, our resume guide and jobs fair calendar.