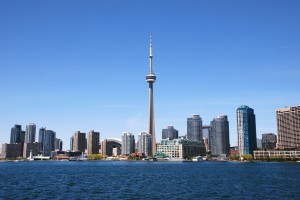 Work in Toronto ranges from casual jobs to careers just as any other city. You can spend your summer working on the cruise ships in the harbour or waiting tables downtown. Alternatively, if you are looking for a career in high finance or IT, this is the place to be.
Seach for summer jobs in Toronto and casual or professional jobs too by using our unique job search tool for working holiday makers in Canada. Register for free to access the jobs tool and lists of top employers in Toronto and other cities across Canada.
As the financial hub of Canada, Toronto offers plenty of opportunities to anyone pursuing a career in finance and accounting. The Toronto Stock Exchange is the 7th largest in the world, and the top 5 Canadian banks have their headquarters there.
Toronto also has the third largest concentration of IT companies in North America with only San Francisco and New York having higher nerd populations.
Taking a job in retail, tourism or hospitality while you are searching for that dream career job is well advised. These jobs are generally easier to get and more readily available and while sitting at home you might think you will walk into that career job in the first 3 weeks – reality could well be different.
Register for your free WHC Jobs Kit with a list of Toronto's Top 25 Working Holiday employers from 2010, a working holiday jobs search tool, our resume guide and jobs fair calendar.