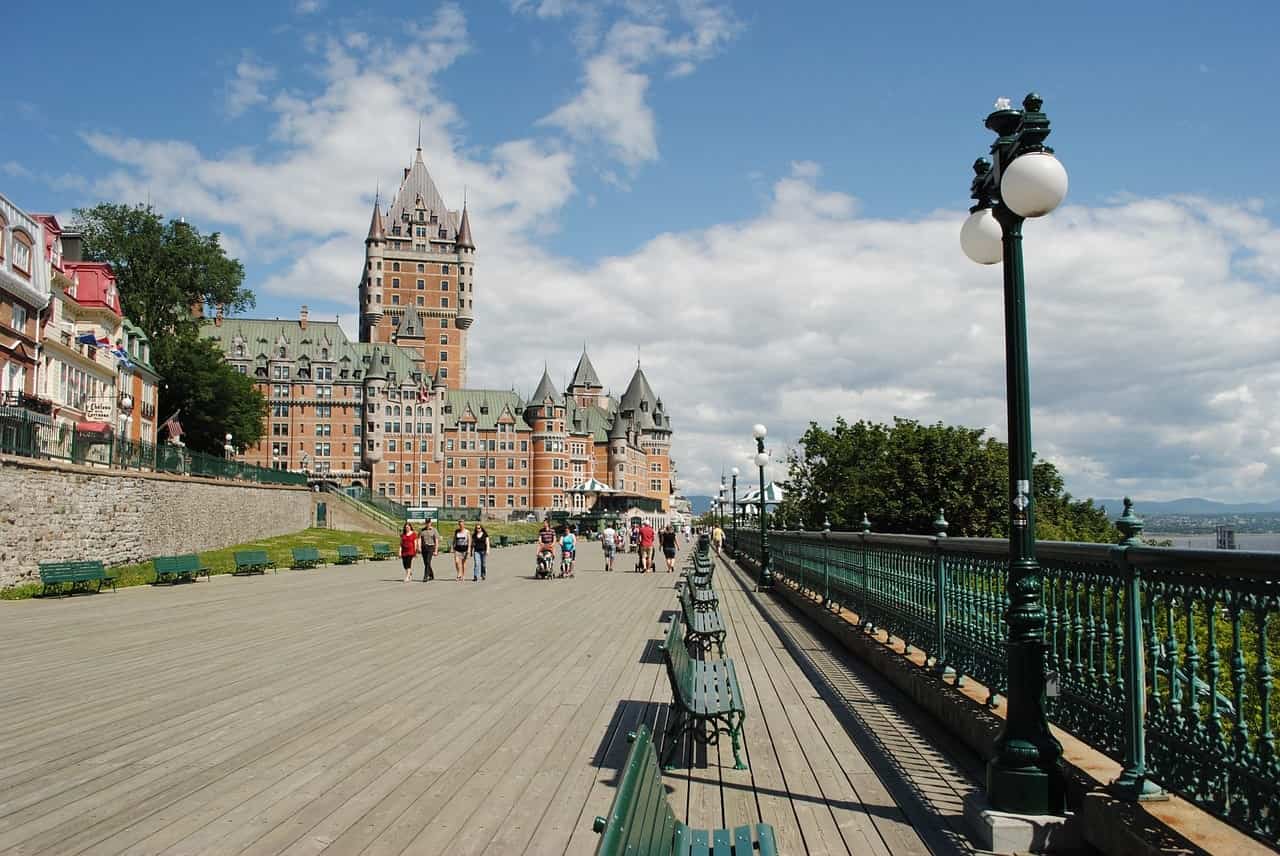 Québec City is the capital city of Québec and has a population of more than 530,000, making it the second-largest city in Québec after Montreal.
The city's landmarks include the Château Frontenac hotel which dominates the skyline, and the Citadelle of Quebec – an intact fortress that forms the centrepiece of the old defensive walls surrounding the old city.
Climate wise it's classed as 'humid continental' and has four distinct seasons. Summers are warm and occasionally hot and winters are often cold, windy, and snowy with average high temperatures of −5 to −8°C and lows of −13 to −18°C.
---
You May Also Like:
TAXES IN QUÉBEC CITY
---
When You Arrive
Hostels are a good option for a short-term base when you first arrive. Some of the best options in the city include:
HI Auberge Internationale de Québec is in the heart of Old Québec inside the old walls and fortifications.
It's a short walk to Château Frontenac, the shopping area, great nightlife, and all the main cultural attractions.
This is the largest hostel in Canada and offers private rooms as well as shared. Some of the features of the hostel include:
Sheets and towels
Windows that can be opened in summer
Onsite café-bistro
Wi-Fi in all areas
A full kitchen
Private terrace
Continental buffet breakfast in the morning (not included with dorm room)
And friendly staff, too!
---
Register for your WHC Jobs Kit for lists of the top ski resort employers in BC and Alberta, our working holiday jobs search tool and much more!
---
Located just 3 km from Québec City, this is one of the top hostels on Hostelworld. There is a free shuttle service to the old town 3 times a day.
In this hostel you'll find:
Clean and comfortable rooms and dorms
Communal kitchen
Free linen
Free WI-FI
Low-cost healthy breakfast
Firepit
No curfew once registered
And friendly hosts!
Around the hostel, you'll find bars, pubs and restaurants, and a shopping centre. Less than 1 km away is the famous Parc des Chutes Chaudières with breathtaking views of the 35 meter-high waterfalls.
---
Read Also:
TOP 15 CANADIAN WATERFALLS YOU SHOULD VISIT DURING YOUR WORKING HOLIDAY
---
This affordable hostel is in the heart of Old Québec where there are lots of sites and activities on offer.
The Auberge de la Paix has been increasingly popular with customers who like social interaction with staff in a cool and relaxed atmosphere.
There's self-catering facilities, free Wi-Fi, linen, and free breakfast.
University Rooms
You can also choose to stay in university rooms outside term times. For example, the Univeristé Laval offers options for a short-term stay of less than 30 days or long-term over 30 days.
---
You May Also Like:
TOP 10 REASONS TO STUDY IN CANADA
---
Choosing your neighborhood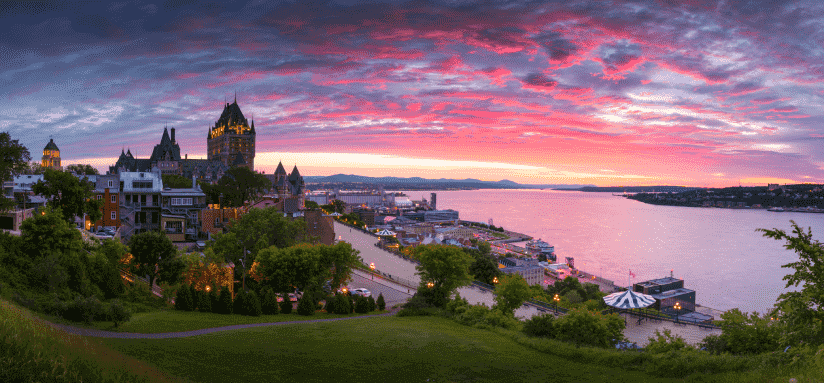 If you plan on staying in Québec City for a while, then your best bet for long-term accommodation is an apartment.
Saint-Roch is a refurbished downtown neighbourhood that has undergone a bit of a face-lift in the past 10 years.
The formerly working-class area is now a stylish district where you can explore art and fashion, trendy restaurants, and a mix of cafes and bars.
Vieux-Québec: Haute-Ville (Upper Town) & Basse-Ville (Lower Town) are among the most popular tourist destinations in the city. Basse Ville is an extension of Haute Ville and the Château Frontenac is one of its major landmarks.
You'll see plenty of street performers as you pass through the cobblestoned streets with vendors selling crafts and artwork.
Québec City's gay village is located in Haute Ville and the neighbourhood hosts a three-day gay pride festival every September.
Oozing character and old-world charm, Montcalm is southwest of Vieux-Québec and is a nice residential area that's home to plenty of restaurants with great rooftop terraces, bars, and galleries.
Saint-Jean has more of a bohemian vibe with various boutiques, cafés, restaurants, and markets, and you'll see sites such as the oldest grocery store in North America. If you keep going along Rue Saint-Jean you'll eventually enter Haute Ville.
One of the oldest commercial districts in North America is Quartier Petit Champlain which forms part of Vieux-Québec.
The Breakneck Stairs is Québec City's oldest stairway and built-in 1635, its name is derived from the steepness of the 59 stairs.
| Rent Per Month 2018 | Average | Range |
| --- | --- | --- |
| Apartment (1 bedroom) in City Center | $692.35 | $570.00-850.00 |
| Apartment (1 bedroom) Outside of Center | $512.50 | $400.00-650.00 |
| Apartment (3 bedrooms) in City Center | $1,076.07 | $900.00-1,500.00 |
| Apartment (3 bedrooms) Outside of Center | $830.13 | $650.00-1,000.00 |
*The information above varies by area and rates is subject to change.
Tips for renting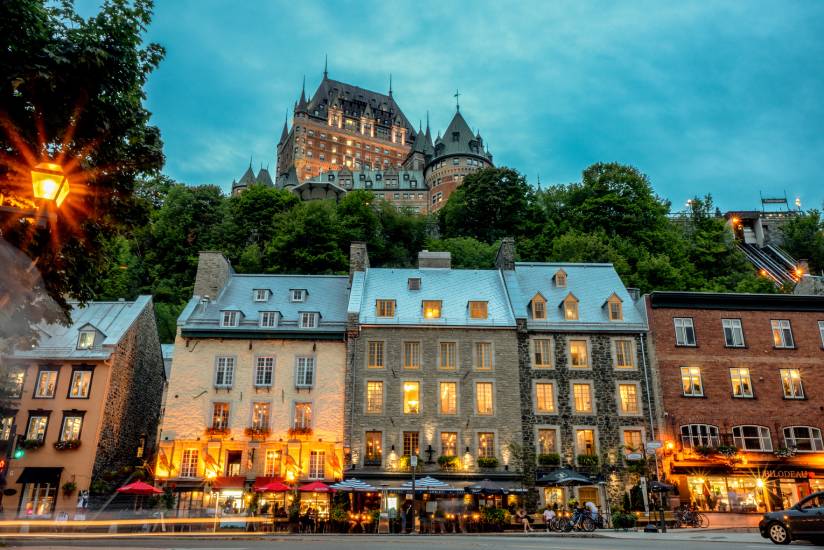 Always book temporary accommodation for when you arrive
Do not sign a lease for longer than you intend to live there
Have enough money for a month's rent and a deposit
Accommodation is often un-furnished so be aware this can be an additional expense
Bring a reference letter from a previous landlord if you can
Check out boards in hostels and outside buildings
Don't hand over money before you see the apartment
Sites for Accommodation
Apartments
Louer.com
rentquebecapartments.com
caprent.com
Hostels
If you're going on a working holiday in Canada, don't forget to sign up to our jobs kit!