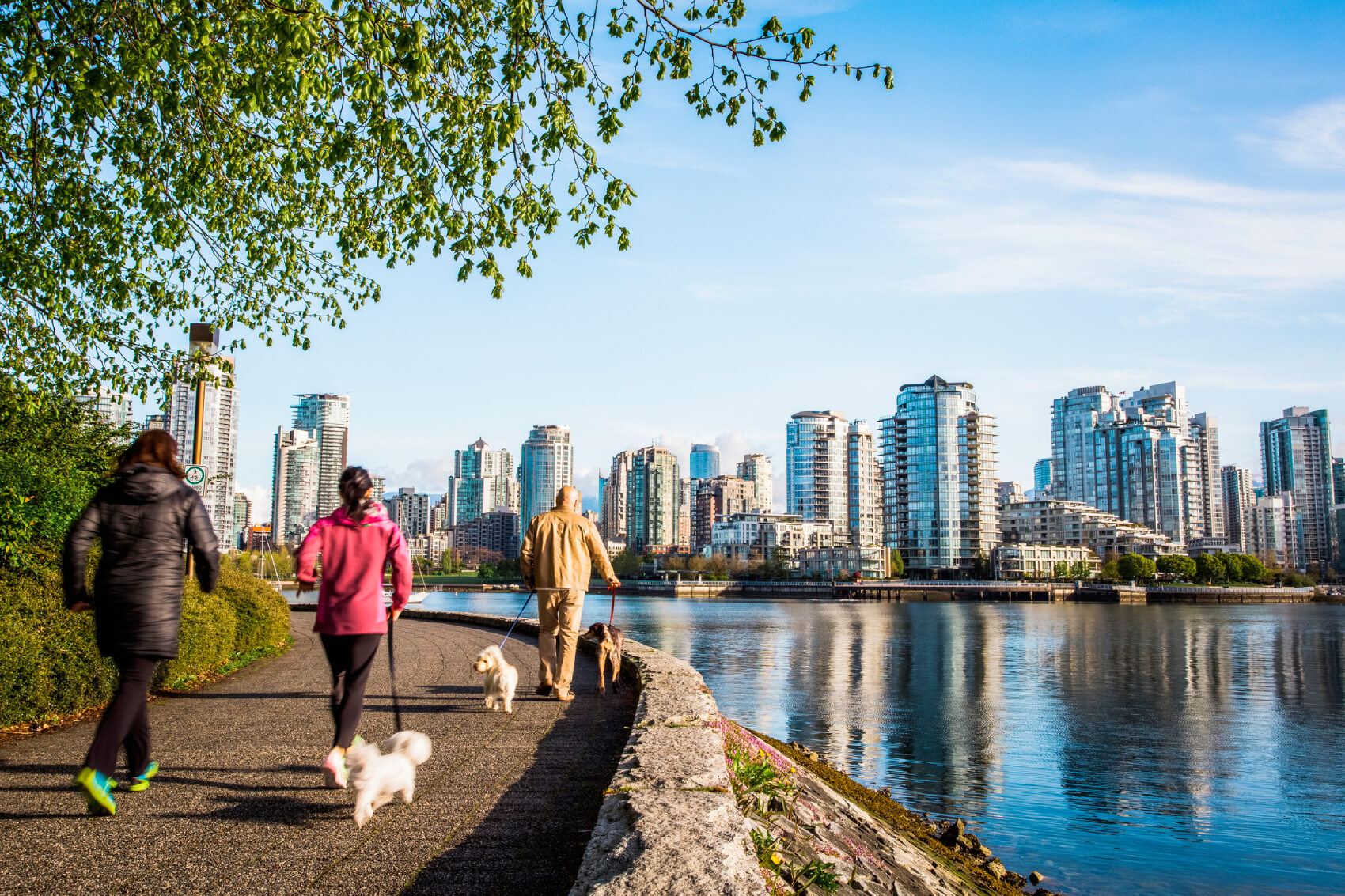 OK, it's time to call it. Vancouver is the ultimate destination for a working holiday! Yes. That is quite a big statement. But it's actually pretty easy to back it up. Let's break it down.
What are the key elements of any great working holiday?
The first has surely got to be, well…. work! And Vancouver has plenty to offer working holidaymakers in that department.
Check out our guide to the Vancouver jobs market.
Next up, every good working holiday destination needs a vibrant nightlife. Vancouver ticks this box too. Whether you're looking for a few quiet drinks or a lively night on the tiles, the city has a myriad of options for you.
Another non-negotiable, particularly for a Canadian working holiday, is access to the slopes. And Vancouver is a mere 90-minute drive from the picturesque ski resort of Whistler.
But that's just skimming the surface of what Vancouver has to offer.
It's the city's versatility that sets Vancouver apart and there is so much for working holidaymakers here. No matter the mood you're in, or what your interests are, Vancouver has something to offer you – from hidden gems to great value options and must-not-miss attractions.
Let's take a closer look.
1. The City Itself
British Columbia, with Vancouver as its commercial center, has one of the most prosperous economies in Canada. The city is one of Canada's largest industrial centers, with a diverse economy.
It's no secret that Vancouver is consistently ranked as one of the world's most livable cities.
According to the London-based Economist Group, which publishes the Economist magazine, Vancouver is not only the best place to live in Canada, but also one of the best cities to live in the world.
Because of its diverse cultures and beautiful surroundings, Vancouver is a popular destination for a working holiday in Canada. It has a population of 52% non-native English speakers.
But since English is spoken by more than half of the population, it is an ideal location for English speakers to resettle.
The city's economy is thriving, and there are numerous job opportunities in mining, hospitality, tourism, telecommunications, construction, technology, finance, and forestry, to name a few.
As the largest city in British Columbia and the third-largest metropolis in Canada, Vancouver is a major gateway for trade across the Pacific Ocean, and this creates a lot of job opportunities in the long run.
2. The Vancouver Lifestyle
Vancouver is ideal for those who prefer laid-back cities. It is relaxed, progressive, wellness-focused, bohemian, and, above all, green.
Vancouver appears to be less hectic than Toronto, with a more relaxed vibe. It is also the tenth-cleanest city in the world, according to Forbes.
The city itself has all of the essential conveniences you'd expect (festivals, shopping malls, theaters, sports arenas), plus a number of other opportunities you wouldn't expect!
Vancouver's coastline has breathtaking views and beautiful beaches, and the mountains have hiking trails and snow sports.
People in Vancouver, in particular, are often referred to as "two cities in one" because they enjoy both the bustling nightlife and heading out into nature for entertainment. Vancouver has something to offer almost everyone.
3. Vancouver's Natural Beauty
If you enjoy being outside, you'll fall in love with Vancouver's natural beauty.
There are over 230 parks. Vancouver is one of the world's greenest cities.
Over 90% of Vancouver residents are now within a 5-minute walk of green space or a park, and the hope is that all Vancouver residents will be within the 5-minute walk mark soon.
Then, the mountains, for starters: three local peaks, Cypress, Grouse, and Seymour, provide excellent hiking and biking in the summer and skiing, snowboarding, and snowshoeing in the winter.
Whistler, home to North America's number one ski resort, is a scenic 90-minute drive from downtown via the Sea to Sky Highway.
There are far too many hikes near Vancouver to cover in a single article. Within a 2-hour drive of downtown Vancouver, there are over a hundred spectacular hikes. Whistler, Squamish, North Vancouver, and Chilliwack are the most popular destinations.
There is also Stanley Park, the city's jewel urban greenspace, which is surrounded by a 10-kilometer loop popular with walkers, cyclists, and rollerbladers.
There are trails, an aquarium, beaches, a pool, and a water park in the park. It is great for people of all ages.
Looking for some sand and sun? Vancouver has nine beaches, including the popular Kitsilano Beach, which has North America's longest swimming pool.
Vancouver has it all, from skiing and hiking to biking and beaching.
4. Stanley Park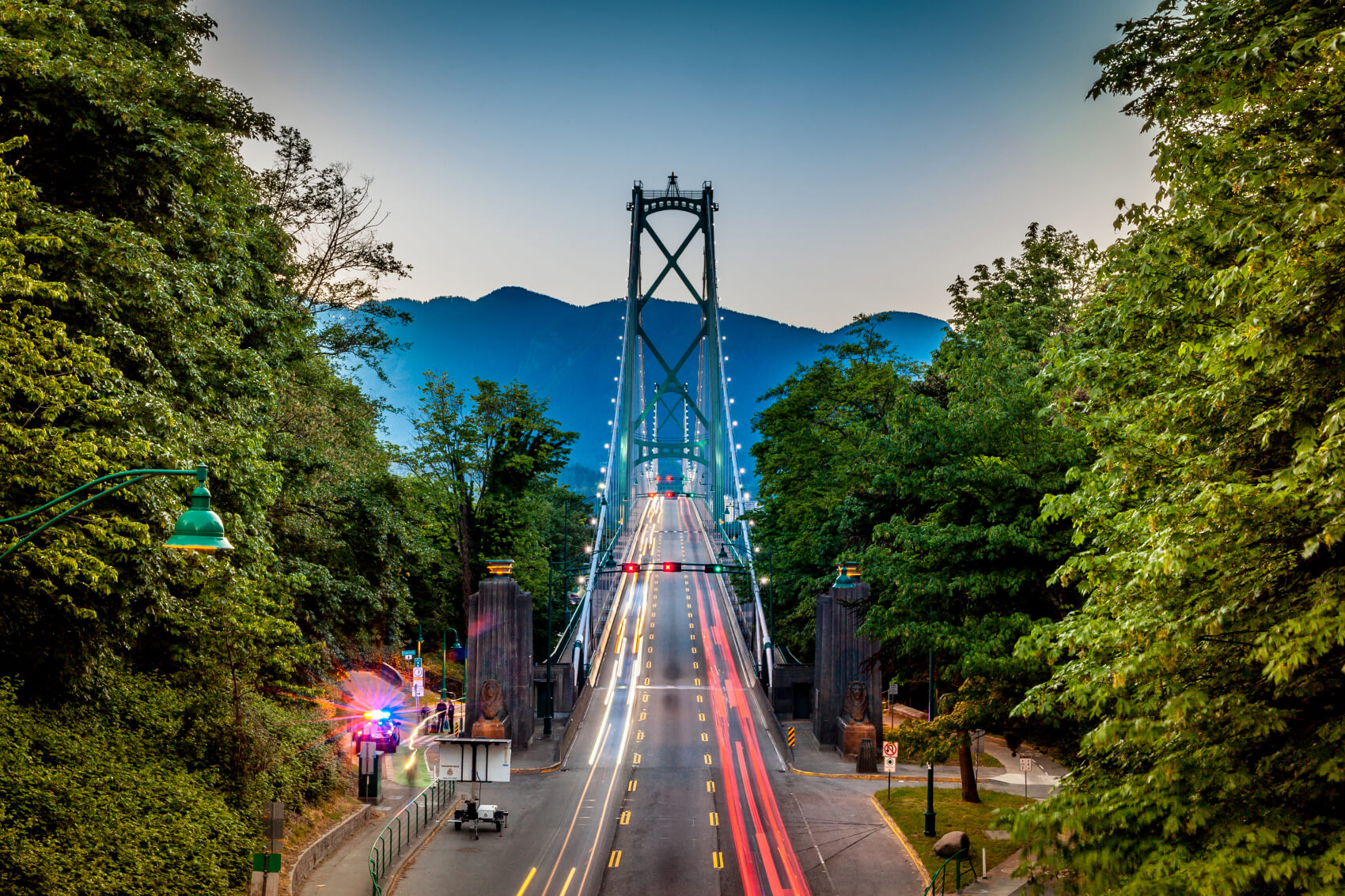 Think about a forest: deep green with blue skies peeking out from above the densely packed trees, some of which are over 50 meters tall and centuries old. The Pacific Ocean surrounds the forest, and mountains can be seen across the water.
Stanley Park, Vancouver's first park, has lived up to its "greenspace" designation for nearly 130 years, with its ever-blooming gardens, pristine coastal areas, and roughly 500,000 cedar, fir, and hemlock trees. There are hiking trails, beaches, and wildlife to see. This tranquil oasis is the ideal city escape for all of these reasons and more.
There are also several restaurants, the Vancouver Aquarium, Totem Poles to admire, and gardens to explore, making Stanley Park an ideal place to meet friends on the weekend or cycle after work.
And yes, it's often bustling with people (the park attracts roughly 8 million visitors every year). But you'll still find plenty of room to kick back and chill out!
One of the best places to sit back and relax in Stanley Park is Second Beach, on the park's south-eastern coast. Here you can laze around in a heated pool and take in magnificent views of western Vancouver.
5. The Seawall
The city's most famous outdoor recreational hub is undeniably Vancouver's Seawall. It's the world's longest uninterrupted paved path that wraps around the city's waterfront for 28 kilometers (17.5 miles).
It also serves as an important transportation pathway, connecting many of Vancouver's main attractions and best beaches. What a path it is!
The seawall is the most popular recreational area in the city, ideal for a walk, cycling, or jogging. In fact, spending the day exploring Vancouver's seawall is also one of the best ways to spend a day in the city after busy times at work.
6. Gastown
Gastown is one of downtown Vancouver's most picturesque neighborhoods. Every working holidaymaker in Vancouver should spend at least an afternoon in Gastown. There is so much to do there, from shopping to eating to sightseeing!
The attractions in Gastown are steeped in history. One of the best ways to see everything that Gastown has to offer is to take one of the neighborhood's walking tours.
Gastown has a vibrant selection of excellent joints to choose from, ranging from cool and casual cafes to chic and elegant restaurants. The cocktail scene in this neighborhood is vibrant, and if there's a wait at a restaurant, chances are you can get a drink nearby while you wait.
When the sun goes down, the energy in Gastown rises. Delicious pre-dance cocktails, a wide selection of import and craft beer to enjoy while watching the game, live music to relax to, and a few dance floors to make yourself at home can all be found here.
7. Lynn Canyon
Lynn Canyon looks like a postcard from every angle. It has one of the most beautiful suspension bridges, and wandering through the forest here is a complete escape from the city's hustle and bustle. It's hard to believe it's only 25 minutes from downtown Vancouver!
Aside from the famous suspension bridge, there's so much more to do at Lynn Canyon Park—it is packed with stunning scenic beauty (including waterfalls) that can be explored via its many hikes. In the summer, there is also a swimming hole for those who want to cool off!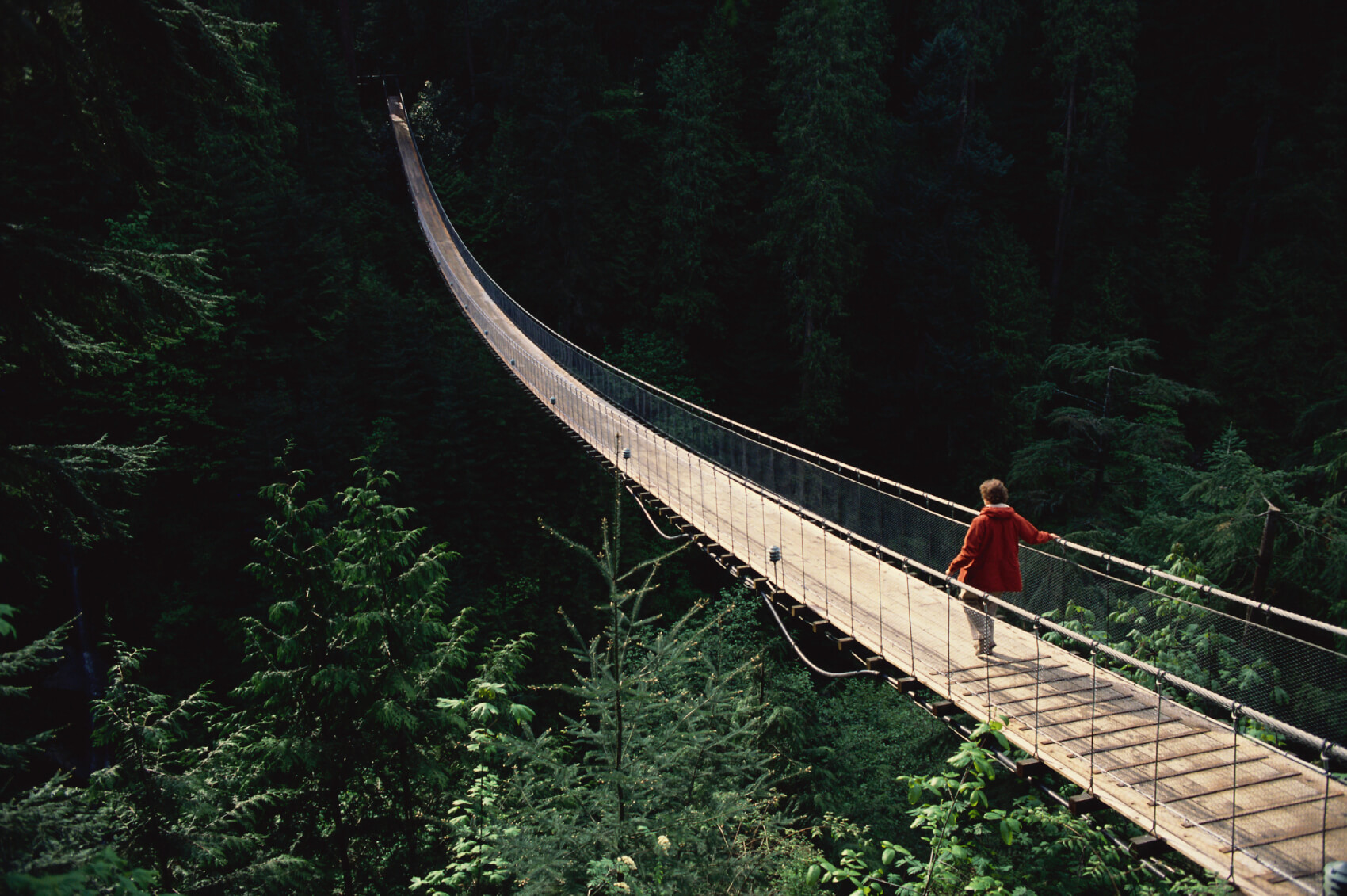 8. Norvan Falls
Who could resist standing at the bottom of a stunning waterfall in the middle of the forest, especially after a 7-kilometer hike?
Norvan Falls is a spectacular waterfall located in the lush green forests of Lynn Headwaters Regional Park. It is an ideal hike that can be completed at any time of year.
This is a 15-kilometer round-trip hike that will take between 4 and 6 hours to complete, depending on your level of fitness and how much time you spend at the falls. The trail is long but not difficult because there are no particularly steep or difficult sections.
The trip to Norvan Falls is long but well worth it. Not only for the reward at the end of the trail but also for the beautiful forest and panoramic North Vancouver mountains you'll see along the way.
9. The climate
Vancouver has relatively mild winters with little snow, which is unusual for a Canadian city. The cold Arctic air that surrounds the rest of Canada in winter is unable to reach Vancouver. The Rocky Mountains hinder it.
When you combine the lack of Arctic air with the mildness of Vancouver's location on the Pacific Ocean's shores, it's no surprise that Vancouver is the warmest of Canada's major metropolitan cities in winter.
To compensate for the wet winters, Vancouver usually has excellent summer weather, with very pleasant, warm days and plenty of sunshine.
In Vancouver, there is nearly as much to do in the winter as there is in the summer. There are events all year, so you will never be bored while living and working in Vancouver!
10. The food
In Canada, Vancouver is a bit of a foodie mecca. People in this town know how to live a balanced, healthy, and happy life. Vancouver is the ultimate example of a melting pot, providing the best foods from all over the world.
Working holidaymakers will find all types of cuisine here due to Vancouver's ethnic diversity. Fine-dining restaurants and inexpensive eateries are all around. Main Street, particularly around Broadway, and Kitsilano's West 4th Ave are also popular dining areas with a variety of price points.
Commercial Drive and East Van also have some excellent deals. Working holidaymakers can find good-value food on Davie and Denman streets and in the West End.
Also if you go to any festival, farmers market, or busy street, you will almost certainly find a food truck! Food trucks offer a wide range of cuisines, including Indian, Asian, Latin American, hot dogs, Mexican, breakfast foods, health food options, and even dessert trucks.
11. Vancouver Art and Culture
If art lights your fire, Vancouver is the place for you. The city's cultural heritage and diverse population have contributed to an impressive range of artistic expression and a thriving creative community. The city has music, dance, festivals, film, theater, design, exhibitions, museums, galleries, and special events.
Three of Vancouver's largest live venues are also exquisitely preserved Art Deco structures worth seeing for their own aesthetic value.
The Vancouver Mural Festival features eye-catching public art displayed on city buildings and streets. And the Vancouver International Film Festival (late September to mid-October) is one of the continent's largest film festivals, supported by VIFF Immersed, which invites creators, industry leaders, and the general public to immerse themselves in the world of XR (extended reality) storytelling.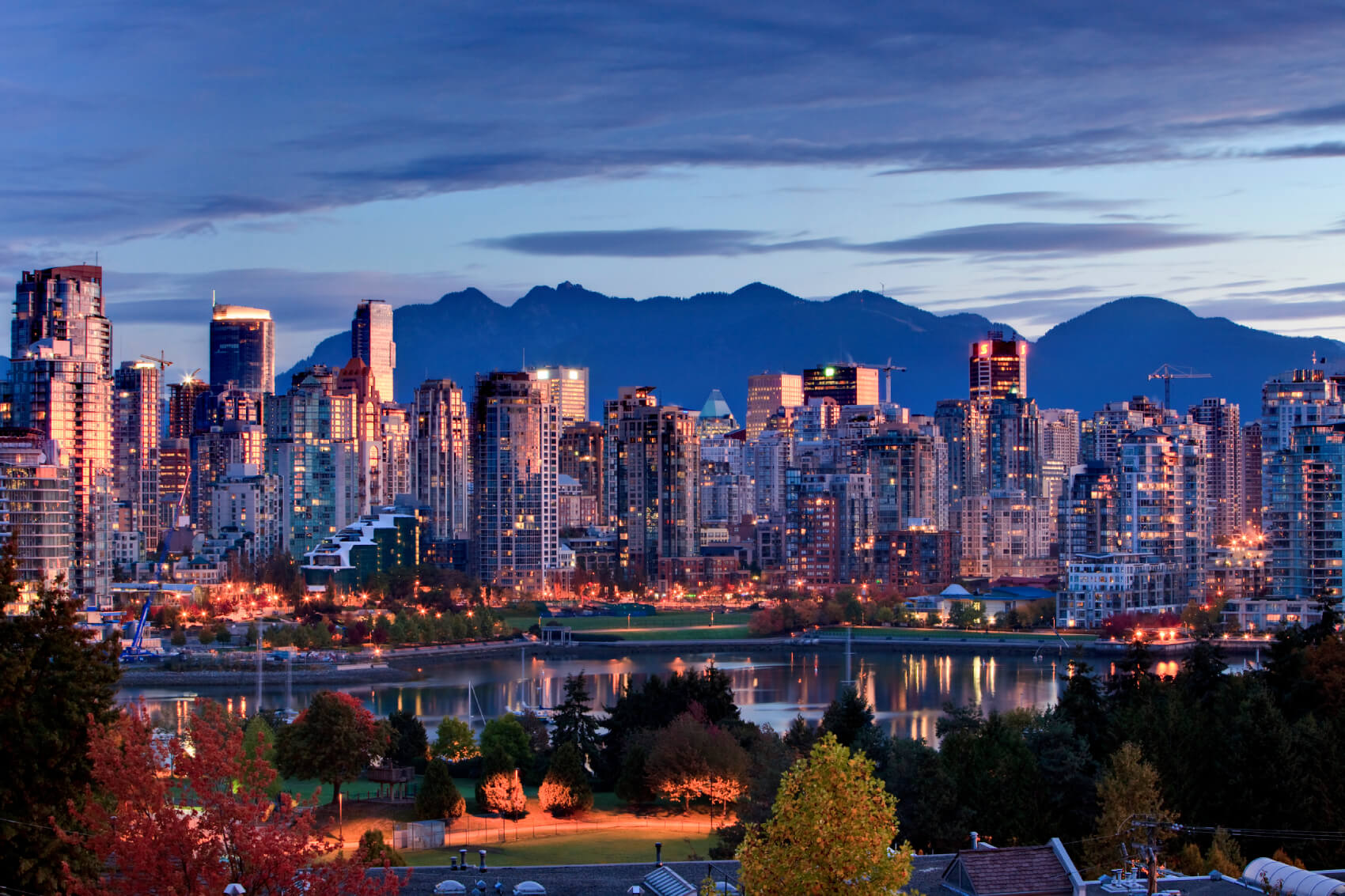 Strapped for cash?
Do you know that while on a working holiday in Canada, you can get some cash back in your pocket?
Every year thousands of Canadian working holidaymakers miss out on getting their tax refund and millions of dollars go unclaimed. When you consider that the average Canadian tax refund with Taxback.com is $998, it's definitely worth finding out how much you're owed.
Getting your tax refund is super easy so it would be a shame to miss out!
Want to claim a tax refund from Canada?

Updated On: 16.11.2022