Canada has so much to offer and it is not a surprise that the country has one of the highest per-capita immigration rates globally.
There are breathtaking views, beautiful national parks, and friendly locals all across Canada.
The country often ranks at the top of lifestyle lists. It offers employment opportunities and a decent standard of health care and education.
If you are planning to move to Canada, one of the most difficult choices will be deciding where you want to settle down.
In this guide, we share some of Canada's best cities to live in for new immigrants.
10. Montreal, Quebec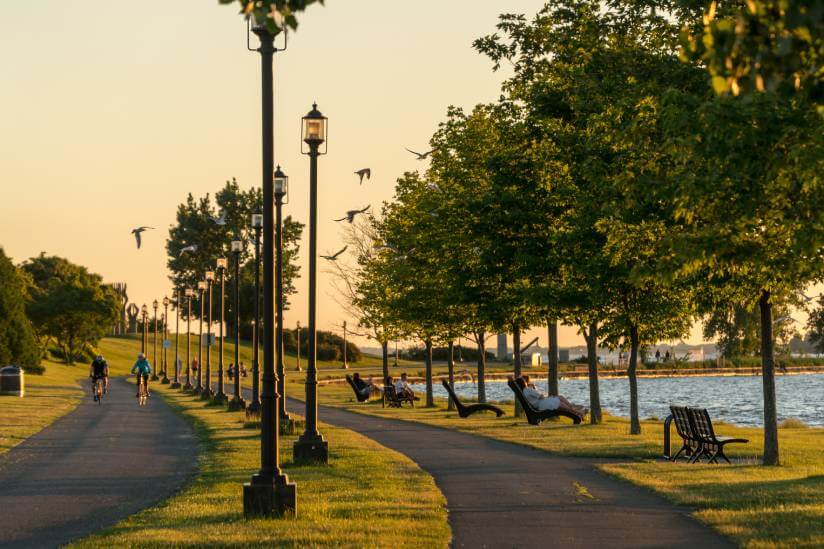 Montreal is a predominantly French-speaking city in Canada, and it ranks highly as a preferred destination for immigrants.
Montreal has Canada's second-largest economy and is also one of the best places in Canada to raise children. Kids in Montreal are highly likely to grow up speaking two languages.
Montreal is the second-largest city in Canada and is a multicultural centre. It is often considered as the cultural capital of Canada. There are numerous options that you can choose from if you are looking for things to do or places to hang out.
Compared to Vancouver and Toronto, Montreal offers affordable property both for purchase and rental purposes. A home in a Montreal neighbourhood can be rented for as little as CAD $400 per month and some one-bedroom apartments starting at CAD $550-$600.
Living costs in Montreal are more affordable than in other Canadian cities. The city has a convenient metro and bus service that adequately serves the needs of all inhabitants.
Household utilities are generally charged per month and are quite reasonably priced.
---
Read More About:
Accommodation In Montreal Taxes In Montreal
---
9. Vancouver, British Columbia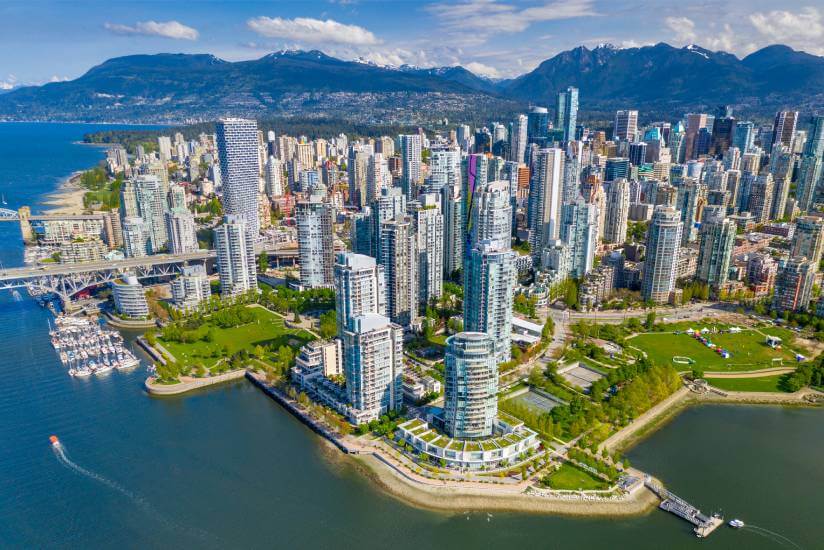 Vancouver is a famous destination for immigrants moving to Canada due to its diverse cultures and natural landscape. 52% of its population are not native English speakers.
Vancouver has the Pacific Ocean and breathtaking mountain views which makes it great for a wide range of outdoor activities such as whale watching, surfing and skiing.
Vancouver is family-friendly and full of fun things to do with your loved ones. The city offers world-class education and healthcare facilities as well as a multicultural environment which makes it one of the best places to live in Canada and to raise children.
The fact that more than half of the population speaks English makes it ideal for English speakers to relocate to the country.
The multicultural nature of the city makes its people highly tolerant of other nations and their unique cultures. Settling down in the city is therefore quite easy with plenty of places to interact with people.
---
Register for your WHC Jobs Kit for lists of the top ski resort employers in BC and Alberta, our working holiday jobs search tool and much more!
---
Vancouver has a strong economy and plenty of employment opportunities in a number of industries such as mining, hospitality, tourism, telecommunications, construction, technology, finance and forestry.
The average income and style of living in the area are high, but the cost of living and housing prices compared to other places are high as well.
However, it is important to know that Vancouver is one of the most expensive Canadian cities.
---
Read Also:
Taxes In Vancouver Accommodation in Vancouver
---
8. Toronto, Ontario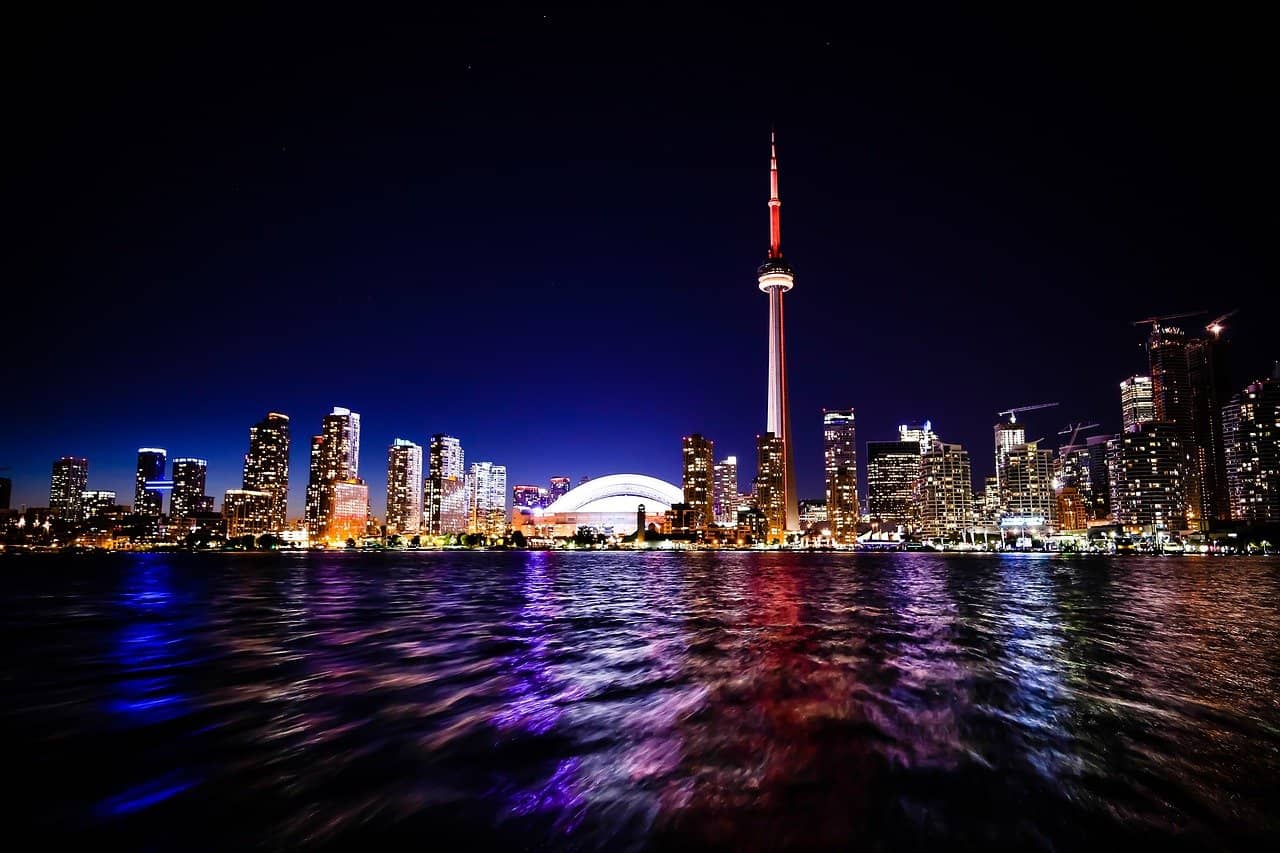 Toronto is the biggest city in Canada and it is the fourth largest in North America in population.
It is often considered as one of the happiest places to live in the world.
Toronto is Canada's financial capital and has a very high quality of life.
The city also demonstrates excellence in health, safety, security and innovation.
The cost of living in Toronto is high compared to other regions and the city has the most expensive property prices in Canada and even in the world.
The city has an extensive public transportation system and moving in the city is very easy.
The unemployment rate in Toronto is very low and many people find satisfaction in their personal incomes with a variety of job opportunities in the area.
---
You May Also Like:
ACCOMMODATION IN TORONTO TAXES IN TORONTO
---
7. Calgary, Alberta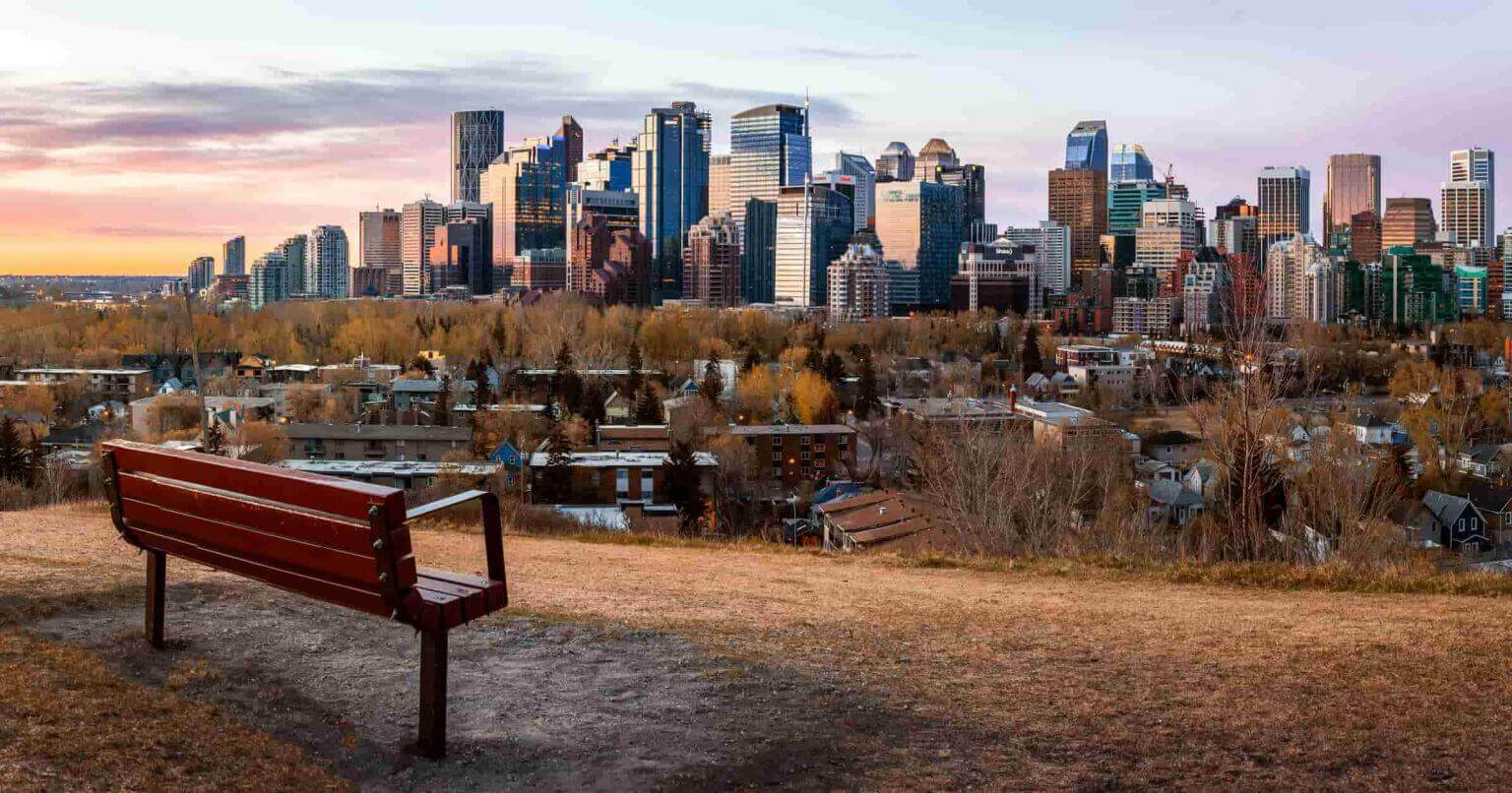 Calgary is one of the most livable cities in the world and is the warmest and youngest city in Canada.
The city has some of the most breathtaking views in North America.
It is a great choice for you and your family if you like the big city with all the amenities that can be offered.
The relocation company Movinga evaluated 150 major cities and Calgary was named one of the best cities in the entire world to live for families.
The city is well known for being attractive, especially for engineers, minors, mechanics and entrepreneurs.
Housing is affordable and car ownership is necessary since it is a sprawling city.
The progressive school system and abundance of parks and playgrounds make it the perfect place to raise children.
The crime rate in the area is low and unemployment is slowly improving when more and more new immigrants are coming to work and live in Calgary.
---
Read Also:
Jobs In Calgary Accommodation In Calgary
---
6. Kingston, Ontario
The province of Ontario has more than fifty cities and they have their own unique lifestyle, features, and communities.
One such city is Kingston. It is considered one of the most romantic cities in Canada. Only one hundred and forty thousand people share this beautiful place, which is well-known for its historic architecture.
This Canadian city is popular with locals and tourists and has a lot of character.
This is also one of the safest cities in the country and the best place to retire.
Kingston offers low property taxes, a good variety of new and resale housing at reasonable prices.
Also, medical care in the city is inexpensive.
---
Register for your WHC Jobs Kit for lists of the top ski resort employers in BC and Alberta, our working holiday jobs search tool and much more!
---
5. Hamilton, Ontario
Hamilton has a population of 536, 917 people and is 58 km away from Toronto. It is the third-largest area in Ontario.
There is a lot to do in Hamilton. A multi-cultural background is starting to be created in Hamilton as more people move there, so there are niche artisan stores, themed bars, restaurants, galleries and unique stores.
The rent prices are lower than in Toronto and there is a growing community of younger people, and McMaster University is in the downtown core.
The economy is growing in Hamilton and is opening a lot of job opportunities.
It's a safe community and is a great location for families with lower rent prices.
There is an abundance of natural areas and the city has a lot more space than people.
There are over 100 waterfalls and beaches. There is plenty of hiking and walking opportunities as Hamilton is connected to the Bruce Trail.
---
You May Also Like:
TOP 15 CANADIAN WATERFALLS
---
4. Burlington, Ontario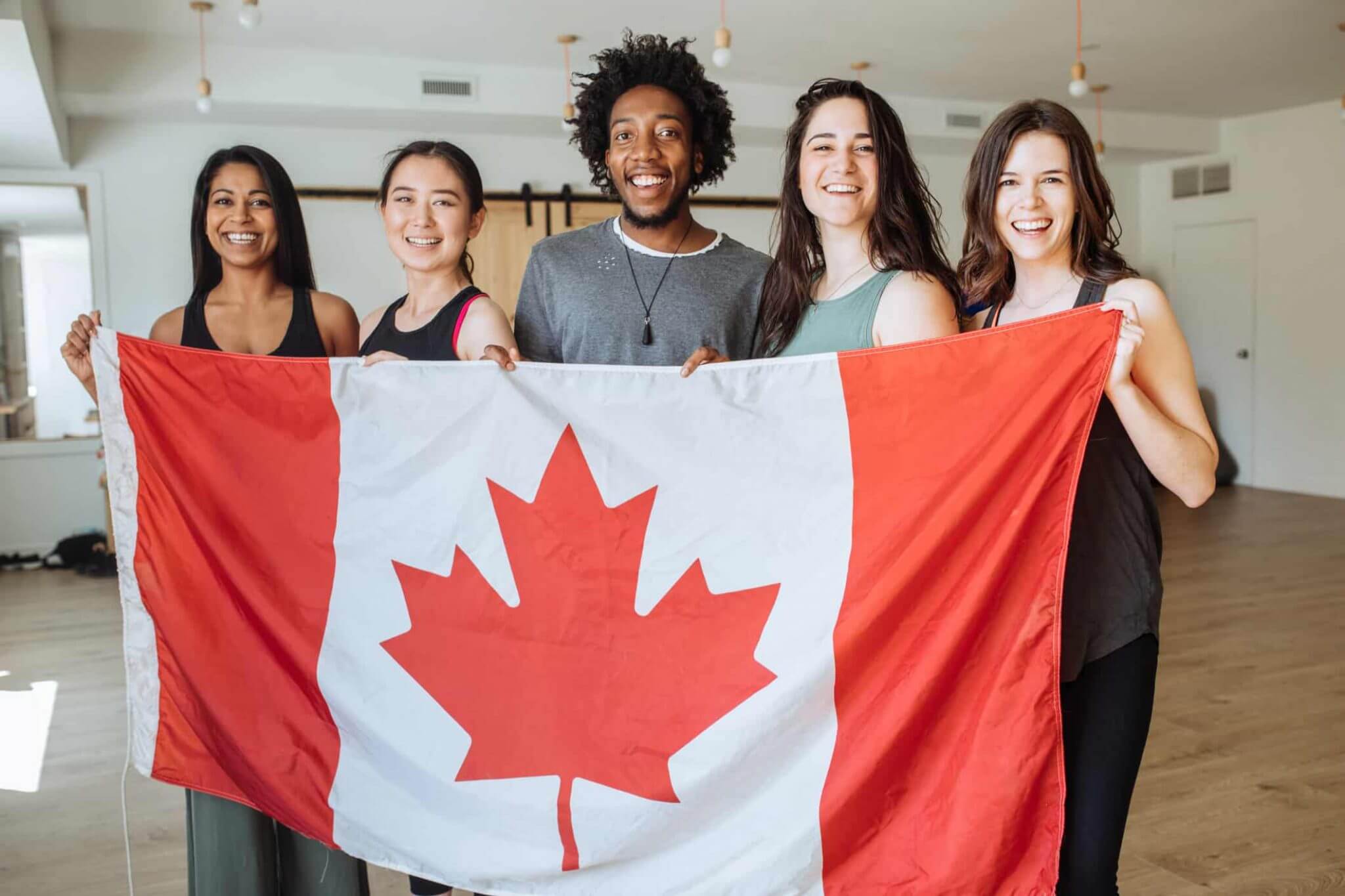 Burlington is a perfect place for those who want a big city living in close proximity to the great outdoors and nature.
The lifestyle available is great with plenty of healthcare facilities, schools and colleges available to residents.
Burlington offers a great balance between fun activities and family-oriented ones. If you want to go out, there's good nightlife, but also great shops and restaurants in the downtown core.
Finding a job is fairly easy. The leasing industrial sectors are food processing, transportation, business services, electronics, chemical and environmental sectors.
The city is also one of the most expensive Canadian cities in the ranking. However, this city earns high marks for low unemployment, pleasant weather, low crime, high incomes and good traffic.
3. Quebec City, Quebec
A UNESCO World Heritage Site, Quebec City is a beautiful town and is historically rich.
Quebec City has all the amenities that go along with urban living but is also one of Canada's least expensive cities, as well as one of the lowest crime rates in the country.
French is the predominant language of conversation in Quebec city and the surrounding region. The people here are known for their respect for diversity, friendliness and conviviality.
The city has plenty of access to nature and a very international feel. In addition to its beauty, Quebec City also offers a great quality of life for newcomers.
Prices for day-to-day amenities are very competitive, while tuition fees are affordable and healthcare is free of charge.
Every year, people from around the world decide to unpack their bags here, simply because, Quebec is a great place to live.
---
Read More About:
Jobs In Quebec City, Canada Accommodation In Quebec City, Canada Taxes In Quebec, Canada
---
2. Oakville, Ontario
Oakville is a great city located halfway between Hamilton and Toronto. Its population is almost 200,000 people.
Oakville has consistently been ranked as one of the best places to live in Canada, and here are some of the reasons why.
One of the many things that draw people in is actually its proximity to Toronto.
Oakville is only 33km away and is well-connected to Toronto via the GO transit and the highways.
It is a lovely suburban town in Southern Ontario that allows its residents to experience both small-town life while not being detached from bigger urban areas.
The city allows easy access to the amenities and job market in both Toronto and Hamilton while maintaining the benefits of a smaller town.
The prices of real estates are very affordable and the weather is the best in Canada.
Oakville is a popular location for life science companies, specialising in eldercare and pharmaceuticals.
---
Register for your WHC Jobs Kit for lists of the top ski resort employers in BC and Alberta, our working holiday jobs search tool and much more!
---
1. Ottawa, Ontario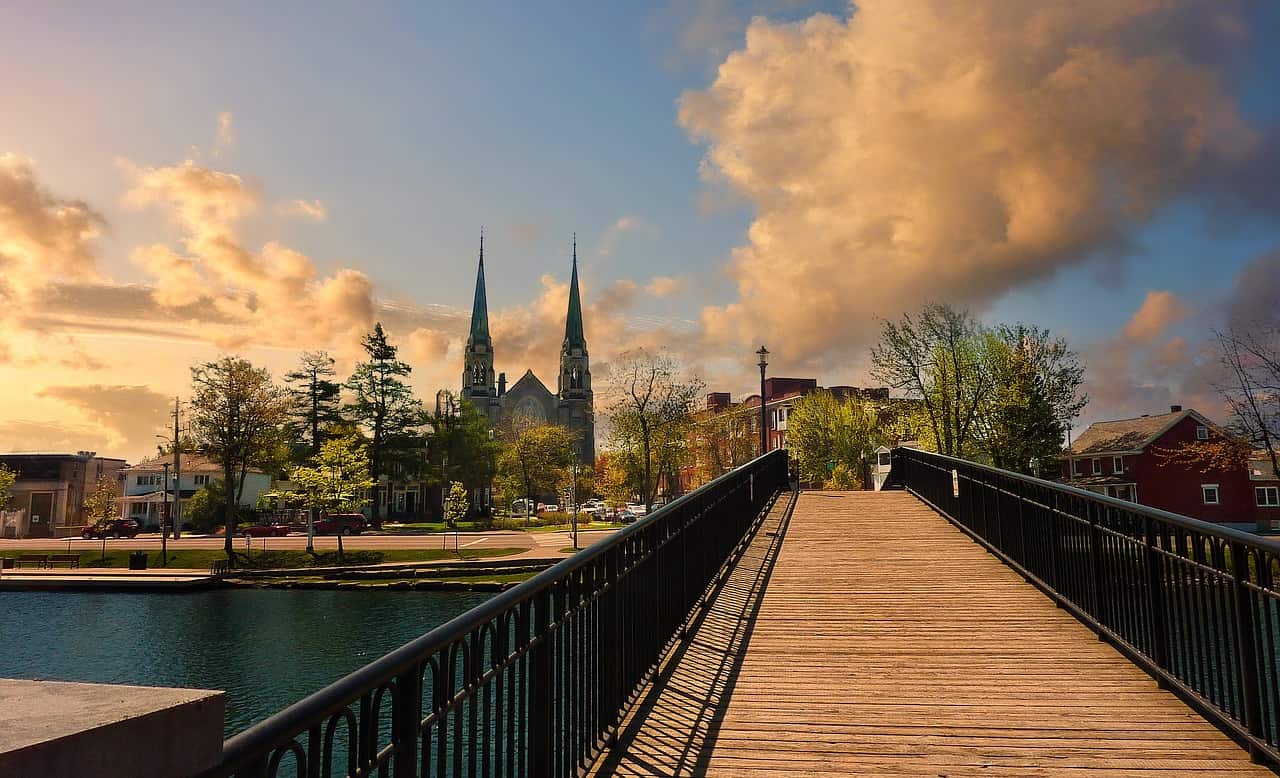 Ottawa is Canada's capital and the city is multicultural and is home to many technology startups.
The city is becoming more and more popular as a destination in Canada among ex-pats from all around the world.
The cost of living is higher than average but is still quite affordable.
Ottawa constantly ranks high for the quality of life it offers, cleanliness, the best community to live in the world and a very low crime rate.
The unemployment is relatively low and stands at 5.3% The most growing areas of employment are natural sciences, law, community and management occupations.
There is a large number of young people attracted to the city by its cultural diversity and two universities – Carleton University and the University of Ottawa.
English is understood everywhere but learning French might benefit you in terms of getting a certain type of job or integrating faster in the community.
Ottawa is a youthful and vibrant city with stunning architecture, lovely neighbourhoods and a prosperous city centre.
The city is also known as one of the most educated cities in the country as it is home to high-profile universities.
Property prices are high and are on the rise. The city is prone to traffic congestion although the latest launch of the light rail system is expected to help with the movement of people.
Visa First is a leading international immigration consulting company. They can help you to apply for your visa or work permit fast and hassle-free today.
They provide fast and convenient service – removing the stress, and time associated with applying for travel visas and employment permits.
Their team will answer all the questions you may have and help you through the entire process securely from start to finish.