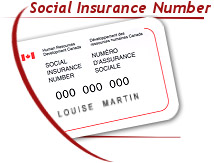 If you are going to work in Canada, you will need one of these to get paid.
SIN stands for Social Insurance Number and is the same as your Tax File Number in Australia, your Social Security Number in the USA or your Numéro de Sécurité Sociale en France.
WARNING: Get this sorted as soon as you arrive in Canada. It is not difficult. The application form even comes with instructions!!!
Alternatively, pick one form up in the airport when you arrive or in any Post Canada or Service Canada office.
Then it's as simple as finding your nearest Service Canada office on arrival and dropping in the form.
Don't forget to bring your passport and work permit to prove you are you. They will also ask for a permanent address, but you can use your place of work, hostel or a friends address if you don't have one yet.
You will receive you SIN on the same day. It's a piece of paper that is very easy to lose, so don't! Staple it into your passport, take a picture of it and email it to yourself, or keep it some place secure.
It's not easy to get this back if you lose it. Your SIN will expire on the day that your visa expires.
The next thing you need to be sure you get paid is a bank account. We suggest walking out of the Service Canada office and crossing the street to your nearest bank the same day. Check out our banking section to read more on this.