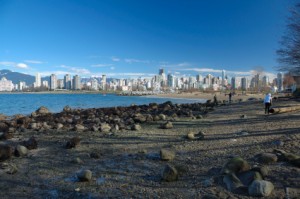 Vancouver is picturesque, laid back and all outdoors! It has ocean and mountains and Stanley Park all of which combine to make for a picture perfect setting for your working holiday adventure. In fact, there is so much to say about the place, we don't have space – so check out Tourism Vancouver who have pulled the best descriptions together for us.
Of course, such a talked about place, desirable lifestyle and wonderful setting all comes at a price making downtown rental rates quite high compared to the rest of Canada. We will go into the cost of accommodation in more detail below. For now – just keep thinking about the fact that this must be one of the only cities in the world where you can catch a bus up to one of 3 ski hills in the morning, "shred some powder" and be back sipping espresso in Gastown by late afternoon.
You cannot talk about the weather in Vancouver without talking about the rain! People here are obsessed with it. The climate on the west coast is a lot milder, so once your rental accommodation has a roof on it, you should be a happy camper.
Average January temps: 2.7 to 6.8 Celsius
Average July temps: 14.1 to 22 Celsius
NOTE: Don't venture further east than Hastings and Main St., particularly after dark. It's nothing to worry about, just be aware and the locals will fill you in!
Read More: