In British Columbia (BC) you'll find the picturesque and laid back city of Vancouver.
The ocean, the mountains and Stanley Park all combine to make for a picture-perfect setting for your working holiday adventure.
Plus, can you think of any other city where you can catch a bus to one of 3 ski hills in the morning, "shred some powder" and be back sipping espresso in the city by late afternoon?
Of course, this desirable lifestyle and wonderful setting come at a price. Downtown rental rates are quite high compared to the rest of Canada.
BC has a mild climate generally, but the winters can be cold.
For example, summers on the coast are warm with daytime temperatures averaging around 20ºC. B.C.'s coastal regions have the mildest winters in all of Canada and temperatures rarely drop below freezing.
You cannot talk about the weather in Vancouver without talking about the rain! People here are obsessed with it.
The climate on the west coast is a lot milder, so once your rental accommodation has a roof on it, you should be a happy camper.
Average January temps: 2.7 to 6.8 Celsius
Average July temps: 14.1 to 22 Celsius
No matter what time of the year it is, there are plenty of activities to take part in – from hiking, sightseeing, and dirt-biking in the summer to skiing and snowboarding in the winter!
Hostels
If you land a job in one of the ski resorts you may be lucky enough to have accommodation included in your employment. This can often consist of shared dorm accommodation.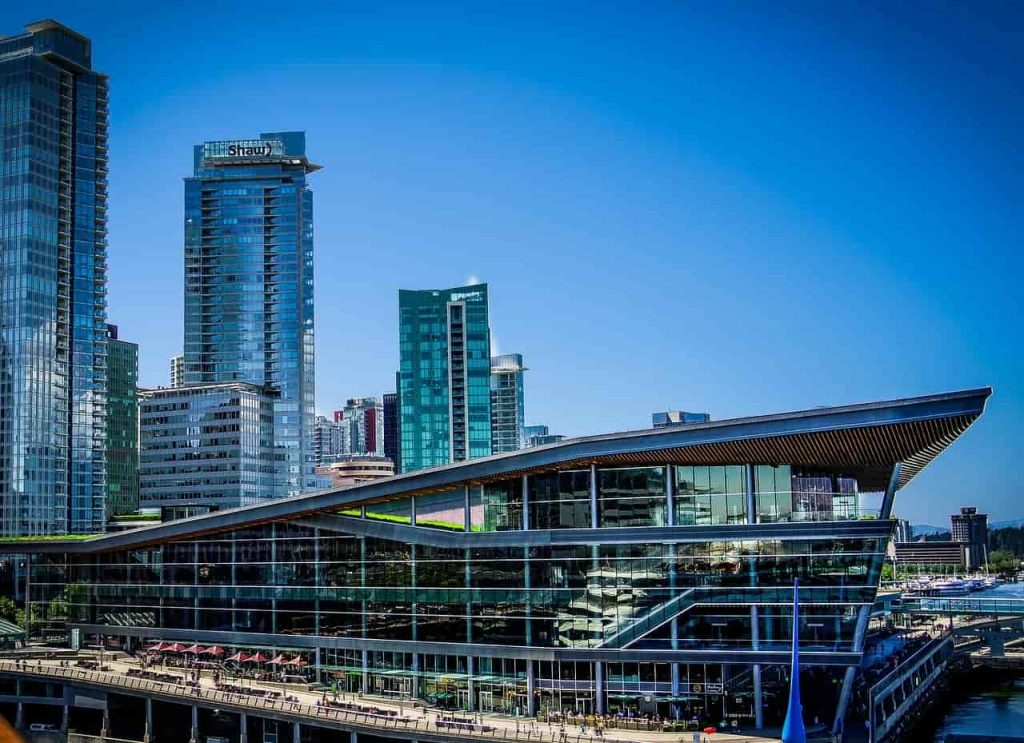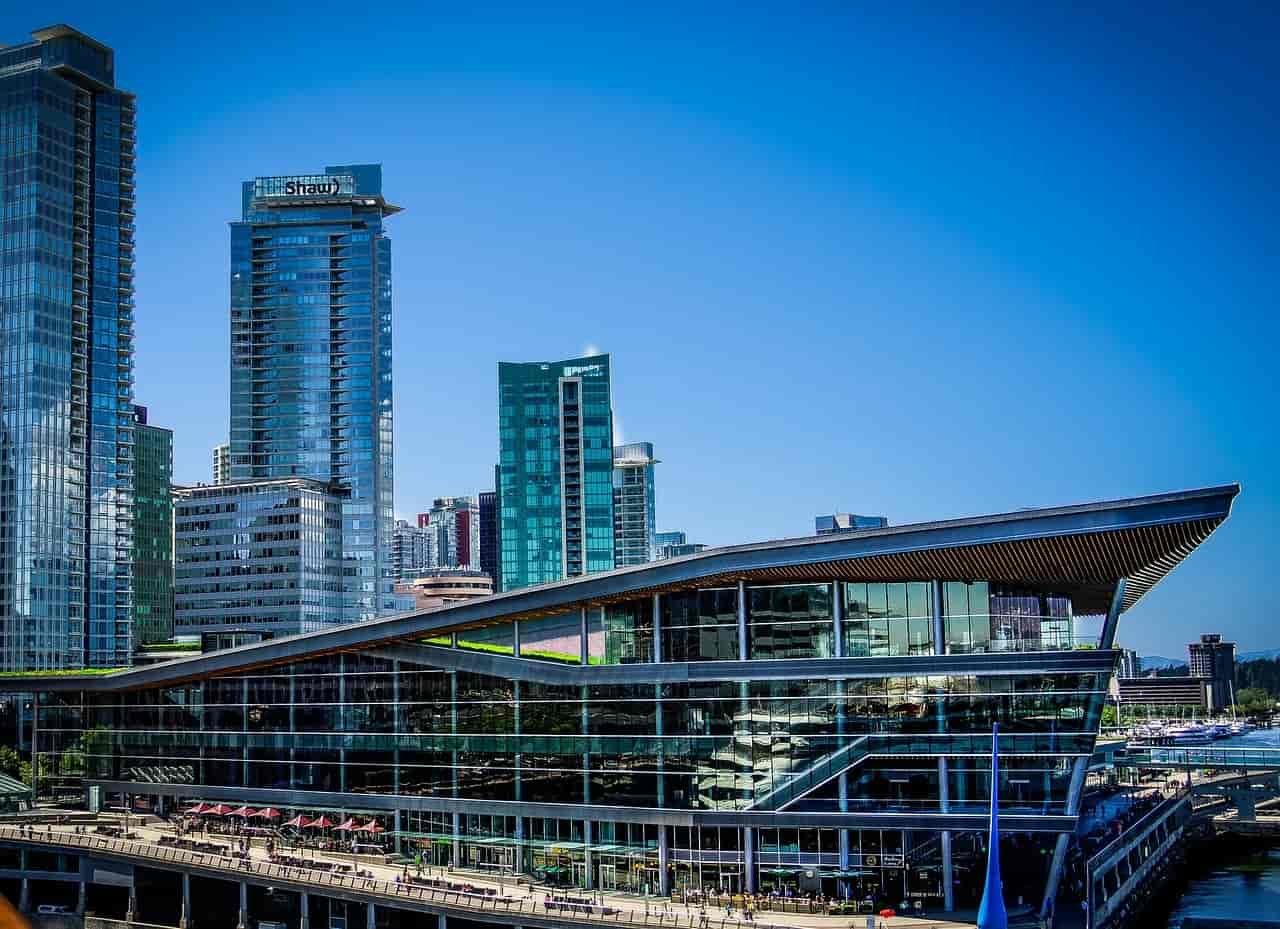 If you don't have accommodation as part of your employment, you can book a hostel before you arrive. Hostels in Canada can vary in the facilities they offer.
Many include:
Free Wi-Fi
Laundry facilities
Free breakfast
Shared kitchen
Shared bathroom/shower
Hostels to check out:
Read the reviews and book a week minimum for your arrival, as it can take some time to find longer-term accommodation.
If you want to settle down somewhere for a while, however, then your best option is to find longer-term rental accommodation.
Sharing with a few friends will be even better and help save you some cash!
Choosing your neighborhood
Hopefully, our guide to accommodation in the city here will help you get a roof over your head.
To avoid crazy downtown rents, a lot of working holidaymakers move south across Granville Bridge towards Oak St, Broadway and even the trendy, beachfront neighborhood of Kitsilano.
Vancouver really has so many great places to live and it really is worth putting the time in and doing your research before you set off.
On arrival, it's advisable to stay in a hostel or with a friend for a week or two during which time you can arrange apartment viewings in the neighborhoods you have picked out.
Some of our favorite hangouts are Gastown, Yaletown, West End, and Kitsilano.
Unfortunately, all of these come with a big price tag – Kitsilano probably being the most reasonable and only just over Granville Bridge with great public transport.
Burnaby is another area just outside of downtown that attracts a lot of working holidaymakers so it's well worth considering.
Even out by Metrotown is a good idea as it is on the Skytrain and as Metrotown is Canada's largest mall it offers plenty of casual retail and similar type jobs.
If you are just going for summer, do consider the student residence at the University of British Columbia (UBC).
They may also rent their accommodation out to working holidaymakers and international students. Again, it's central and well serviced by public transport. Check out the summer residence at UBC here.
Average rents per month
Table: See below some of the recent average rents for the most populous cities in BC.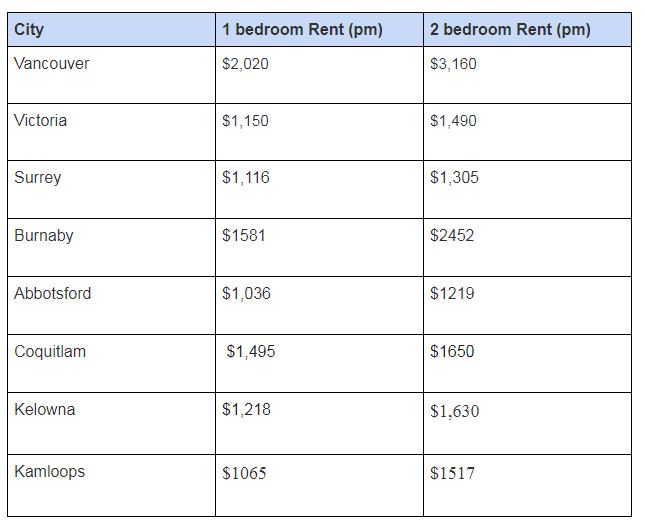 *These are estimates and subject to change.
Tips for renting accommodation in Canada
Arrange temporary accommodation before you leave for Canada.
A lease begins at the start of the month and is legally binding.
Don't sign a lease for longer than you want to live there.
Have enough money for a month's rent upfront and a month's rent as a deposit.
Accommodation is often un-furnished so this can be an additional expense.
Bring a reference letter from a previous landlord, as you may be asked for one.
Check out boards in hostels and outside buildings.
Be wary of anyone asking for money before you see the apartment.
Top Accommodation Sites for Vancouver