Toronto is big, busy and bustling!
It is Canada's largest city and has a population of over 2.73 million, while the Greater Toronto Area (GTA) is home to 6.19 million. If you're headed here on your working holiday visa, you won't be the only foreigner on the block though, as almost 50% of Torontonians have moved here from overseas.
The city of Toronto has a humid continental climate in summer and cold winters. A lot of older accommodations in the city does not have air conditioning.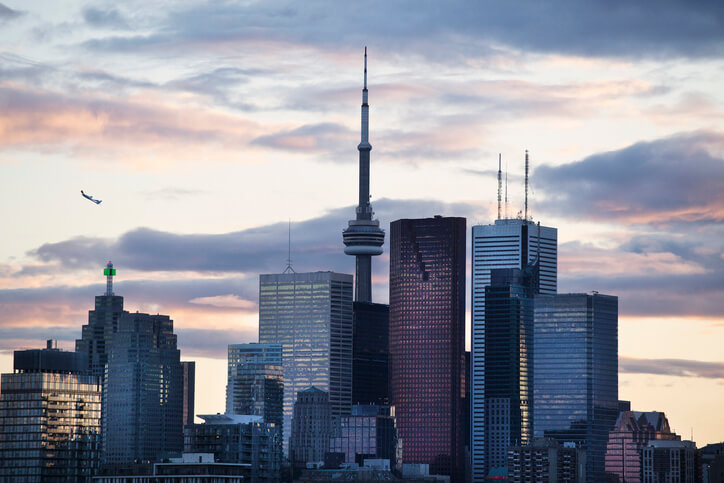 Winters here can be brutal with heavy snowfall and not a ski hill insight to make use of it. Although monthly average temperatures only dip as low as -7.3 Celsius, the reality of the wind chill makes it feel a lot colder.
Here are some of the average monthly temperatures, according to research from Environment Canada:
Average January temps: -6.7 to -0.7 Celsius
Average July temps: 17.4 to 25.5 Celsius
Hostels
Hostels are a great way to save money when you arrive and you can stay in one of these while you search for longer-term accommodation. When you stay in a hostel, you'll either be in a dorm room or a private room (which is typically more expensive) or share a bathroom and showers. You will be able to cook your own food and some hostels even offer a free, basic breakfast.
Suggested hostels:
Located in downtown Toronto, this hostel has a bar and restaurant on-site and is recommended for solo travellers as you'll find many friendly fellow working holidaymakers and tourists staying here. It's also within easy walking distance of sights like the CN tower and Entertainment District. There's a laundry room, 24h front desk, free Wi-Fi, and daily activities.
One of the cheapest hostels in Toronto, the All Days Hostel is just a few steps from Sherbourne subway station & main shopping centre. The staff are super friendly and have a travel desk where you can find information on tours around Toronto.
If you're looking for a party look no further than The Only Backpackers Inn. They are proud of their chilled vibe and their pub stores over 200 types of beer. Breakfast is included and they have two large balconies where you can relax with fellow travellers.
Book at least a week minimum for your arrival, as it can take some time to find longer-term accommodation. However, if you want to settle down somewhere for a while, then your best option is to find longer-term rental accommodation.
Choosing your neighbourhood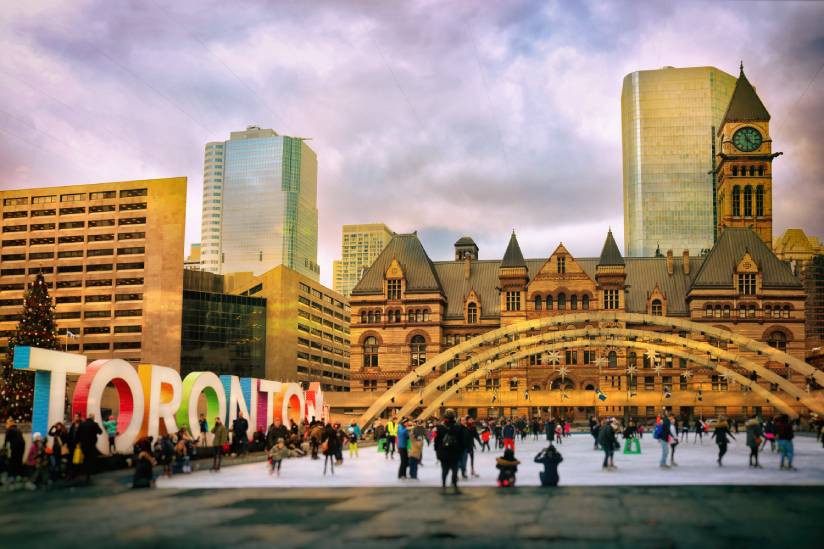 Choosing a neighbourhood can be difficult if you have a limited knowledge of the city. On the grander scale, Toronto can be divided into Downtown, Midtown, West End, East End, and North End.
Little Italy, Kensington Market, The Annex, Roncesvalles, and of course, Cabbage Town (aptly named after all the Irish who used to live there) all come highly recommended.
Do also check out locations near the University of Toronto as there are always places available and these areas are all within walking distance of downtown.
If you're just going for the summer, check out the student residence at the University of Toronto. They have a number of different buildings but all are near to the university which is in a great location and well serviced by public transport.
You can be lucky and find accommodation almost instantly, but it can take some time to find the right place, sign the papers and move in, so be patient and persistent with the hunt. All the hard work will pay off in the end!
There are also plenty of nice areas in Toronto and surrounding areas like Scarborough and Mississauga, just be sure that you do your research, check it out and go through the list of questions we have on our general accommodation page.
Average rents per month
In Toronto, you can expect to pay the below in rent per month:
Average Range
| | | |
| --- | --- | --- |
| Apartment (1 bedroom) in City Centre | $2,203.48 | $1,840-2,500 |
| Apartment (1 bedroom) Outside of Centre | $1,755.67 | $1,350-2,103 |
| Apartment (3 bedrooms) in City Centre | $3,532.95 | $3,000-4,500 |
| Apartment (3 bedrooms) Outside of Centre | $2,649.64 | $2,100-3,500 |
*These are estimates and are subject to change.
Tips for renting
Arrange temporary accommodation in a hostel or hotel before you arrive
A lease begins at the start of the month and is legally binding
Don't sign a lease for longer than you intend to live there as you may need to pay any lease balance
Have enough money for a month's rent upfront and a month's rent as a deposit
Accommodation is often un-furnished so this can be an additional expense
Bring a reference letter from a previous landlord, as you may be asked for one!
Be wary of anyone asking for money before you see the apartment
List of Top short-term/summer accommodation – TO
List of Top long-term rental sites – TO
List of Top Hostels – TO
---
You may also like: