All Canadian cities have their own unique flavour and something a little different to offer. The most populous municipality in Quebec is one of the cheapest cities in Canada when it comes to rental rates.
Montreal is a great centre of fashion, food, technology, art, and design and French is the official language. Needless to say, speaking French is a major advantage when looking for work in the city.
Montreal was incorporated as a city in 1832 and has four distinct seasons with warm to hot summers and cold, snowy winters. Summers are warm and humid with a daily maximum average of 26 to 27 °C.
Winter brings cold and snowy weather, averaging from −9 to −10.5 °C in January. Usually, the snow lasts from the first or second week of December until the last week of March.
Hostels
Hostels are a great way to save money on accommodation and probably the cheapest way to live until you secure a longterm place to stay.
This hostel is centrally located in downtown Montreal right next to Concordia University, the Museum of Fine Arts, the Bell Centre and the shopping district of Montreal. You can stay in shared or private rooms with a private bathroom and sit in the cafe-bar for breakfast, dinner or a drink with other travellers. They also have a fully-equipped kitchen that provides basic ingredients and free Wi-Fi.
The hostel also organises free daily activities including bike tours, urban walks and pub crawls so you can get a real feel of the city.
This modern and spacious hostel offers a chilled spot for travellers and won silver in the 2018 Hoscars for best extra large hostel WORLDWIDE. Their rooftop terrace offers fab views and has a hot tub spa pool.
The rooms have comfortable beds, immaculately clean facilities and the staff are welcoming.
Facilities include:
-Free Wi-Fi everywhere
– 24/7 Reception
– Free Breakfast (from 7AM to 11AM)
– Tourist information
– Working Area
– Public computers
– Laundry room
– Luggage room
– Female dorms
This hostel is close to the action nearby to the old town district in the Latin Quarter. Breakfast is included in the price of your stay along with Wi-Fi and laundry service.
The kitchen has three large refrigerators and the hostel is known for accommodating long term guests. The staff know the city very well and will ensure you get the most out of Montreal without breaking the bank!
Choosing Your Neighborhood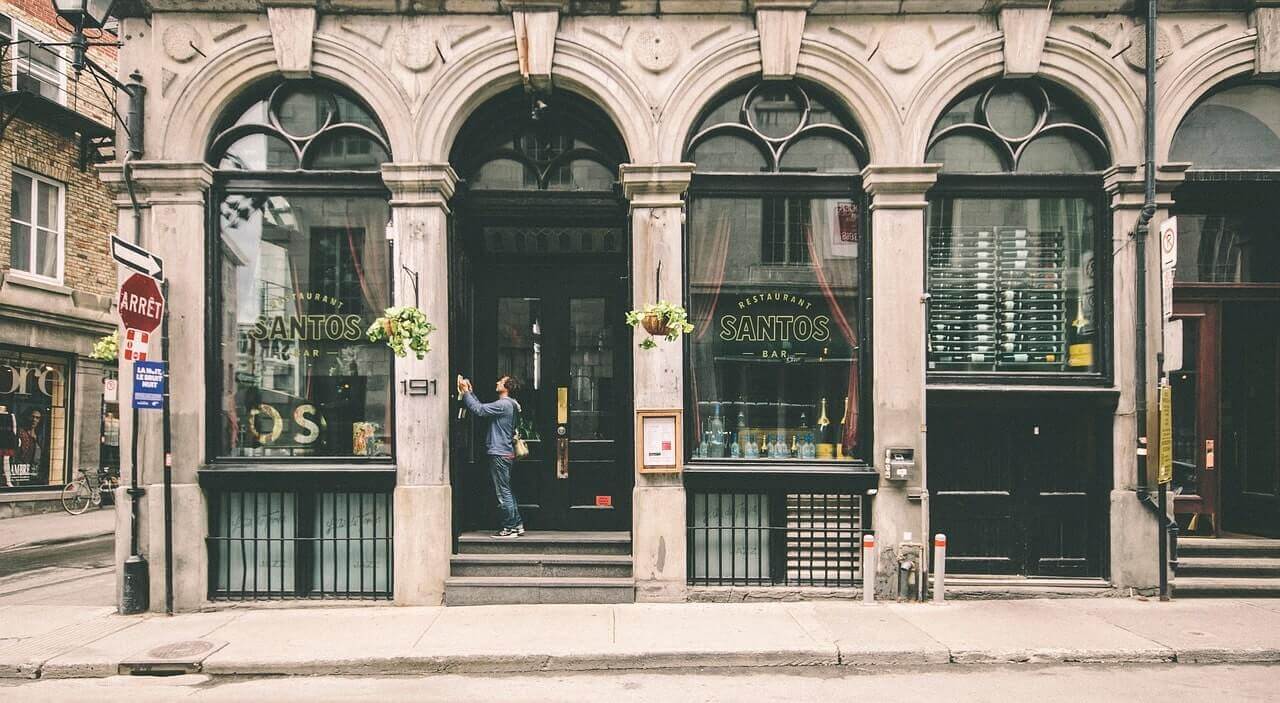 As with everything in this city, a good handle on French is a major advantage when you're hunting for a place to live.
However, there are some neighbourhoods like Westmount, Hampstead and Notre Dame de Grace that are more predominantly English speaking if that's what you're after. But why not 'jump in the deep end' at French-speaking Rosemont – what better way to learn the language?!
By staying in a hostel for your first week, you'll get a great opportunity to talk to other travellers and ask for their advice about where to live. You can also use the hostel as a base while you check out the apartments in the classified ads and start determining your favourite locations. Consider language ability, cost, accessibility and safety.
Neighbourhoods like the Plateau, Mount Royal and Rosemont have both low and high rise buildings and operate like the tiny self-contained cities.
They all offer affordable housing and low crime and the average rental price for an apartment in these areas can range from $1,000 to $2,000 per month for a 2 bedroom apartment.
Westmount and the Outremont have rental rates of approximately $1,200 to $2,500 for a 2 bedroom apartment and are considered high-end areas. These areas have small boutique-style food markets and less large grocery stores.
Popular moderately priced neighbourhoods to buy homes are outlining areas like Notre Dame de Grace, Laval and Kirkland.
Average Rents in Montreal
| | | | |
| --- | --- | --- | --- |
| Bedrooms | Average | Minimum | Maximum |
| n/a | $981 | $480 | $1,995 |
| 1 | $1,169 | $605 | $2,600 |
| 2 | $1,610 | $710 | $4,030 |
| 3 | $2,950 | $785 | $5,000 |
*These are estimates and subject to change.
Tips for renting
Book temporary accommodation for when you arrive
Don't sign a lease for longer than you intend to live there
Have enough money for month's rent and a deposit
Accommodation is often un-furnished so be aware this can be an additional expense
Bring a reference letter from a previous landlord if you can
Check out boards in hostels and outside buildings
Don't hand over money before you see the apartment
Accommodation Sites
List of Top Long and Short-Term accommodation – Montreal and Other Cities
Local Newspapers – Check out the papers when you arrive
Notice Boards – Check the notices boards in hostels and cafes
List of Top Hostels – Montreal and Other Cities
If you're going on a working holiday in Canada, don't forget to sign up to our jobs kit here!
Updated Feb 19, 2020
See more blog posts:
Taxes in Montreal