It's obvious why Canada is so popular with working holidaymakers.
For starters, the land of maple syrup was ranked as the second-best country to live in the world in 2018.
It is famous for friendly multicultural cities, breathtaking scenery, fascinating wildlife and the abundance of job opportunities that give you the chance to meet people from all over the world.
While it's always preferable to secure employment before you leave for Canada, don't worry too much if you leave your home country without a job.
You will find a wide range of opportunities when you arrive.
The best place to start is to research potential employers, reach out via email, apply online and arrange interviews via Skype.
Also, don't forget that some employers offer a job with accommodation, therefore, this option can save you a good chunk of cash!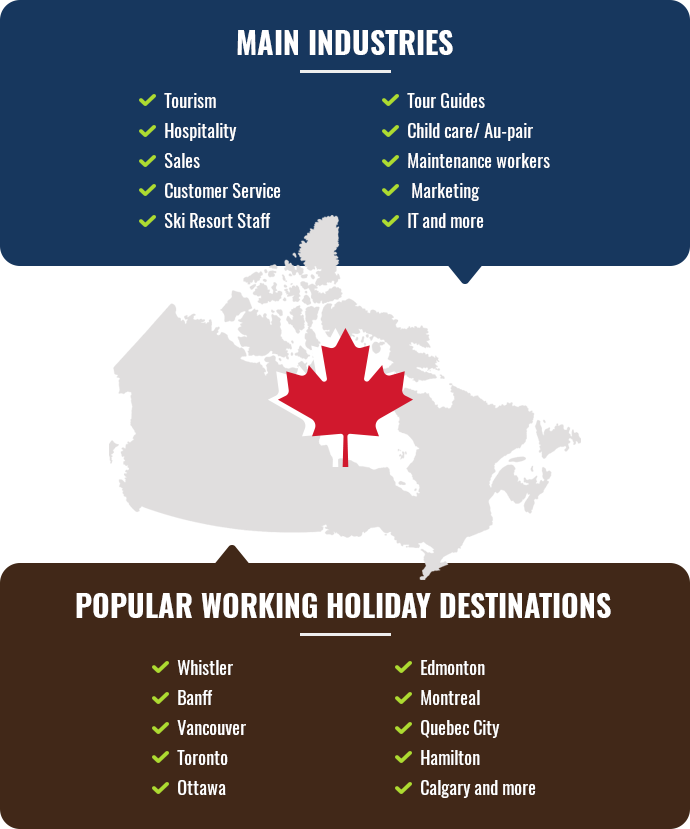 What are the job requirements for a working holiday visa?
19-35 years old
You must not have been on a Canadian work visa previously
High command of English
Friendly personality with some practical experience
What kind of job can you get on a Working Holiday in Canada?
Working in a ski resort
Before the season starts, many Canadian resorts recruit through an online application process. You can check out the resort pages for more information on the steps.
You will need a valid working holiday visa before applying, although resorts sometimes offer sponsored visas for some skilled roles, such as snowboarding or ski instructors.
You may need to contact the Canadian Ski Instructors Alliance and the Canadian Association of Snowboard instructors.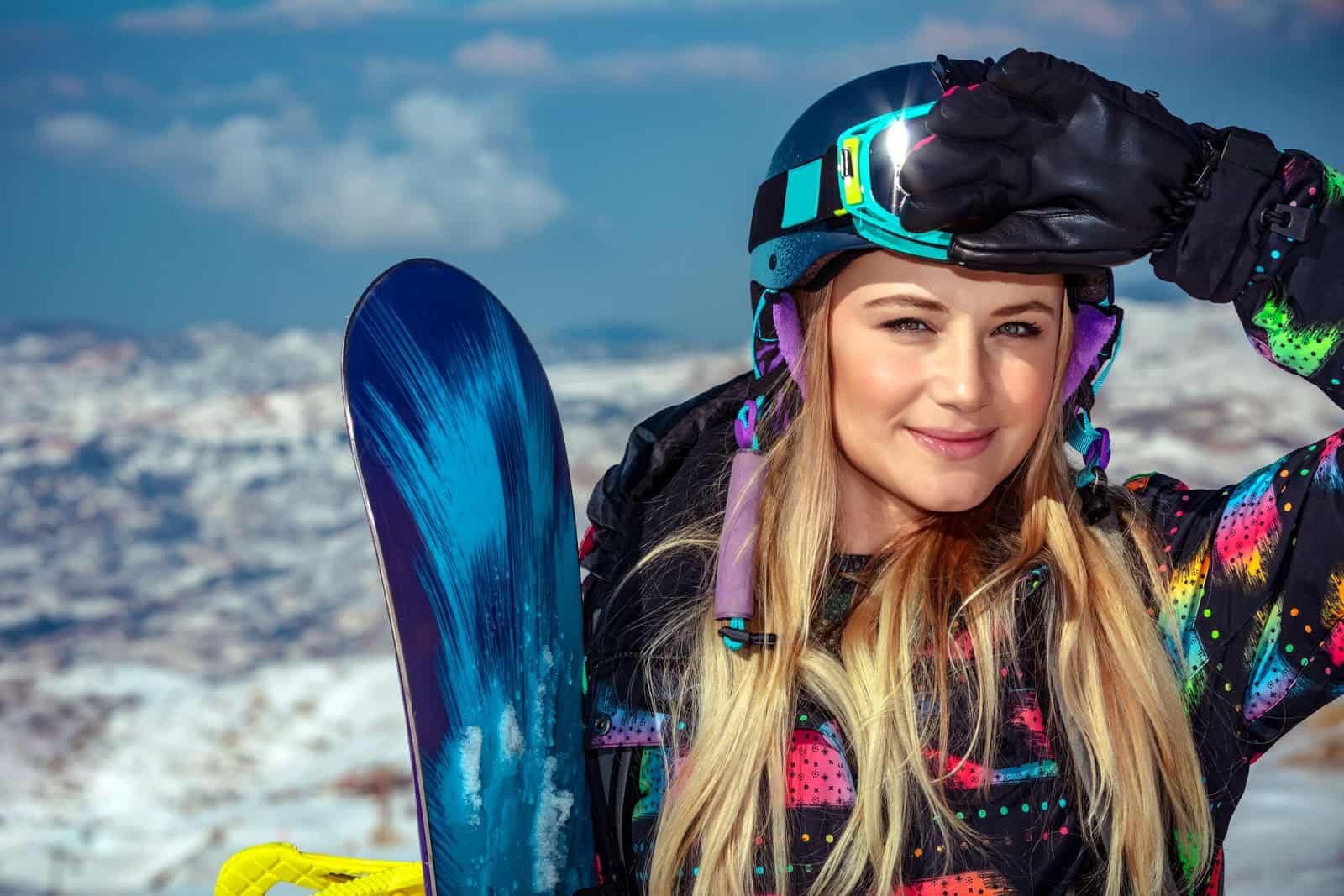 Many ski resorts have a job section on their website where you can apply:
In ski resorts, there are also plenty of opportunities in customer service, food, and drink, administration, retail, marketing and more.
Resorts are constantly opening new positions and December-April is the best time to find jobs here.
---
You May Also Like:
INTERVIEW QUESTIONS FOR SKI RESORT JOBS
---
Summer working holiday jobs in Canada
The list of summer jobs available in Canada is long and varied. You'll find employment opportunities everywhere from the hospitality and retail sectors to seasonal roles on farms and at festivals.
Hospitality industry in Canada
If you have experience or you are already working in a hotel chain, you will be able to use this experience to your advantage when looking for work in Canada.
Every year restaurants, pubs, coffee shops, bars, and hotels are all on the lookout for new staff. There is also plenty of work for administration and maintenance staff.
June to September is the best time to find jobs in tourist areas.
A good place to start is the Canadian Hostel Job Websites, such as: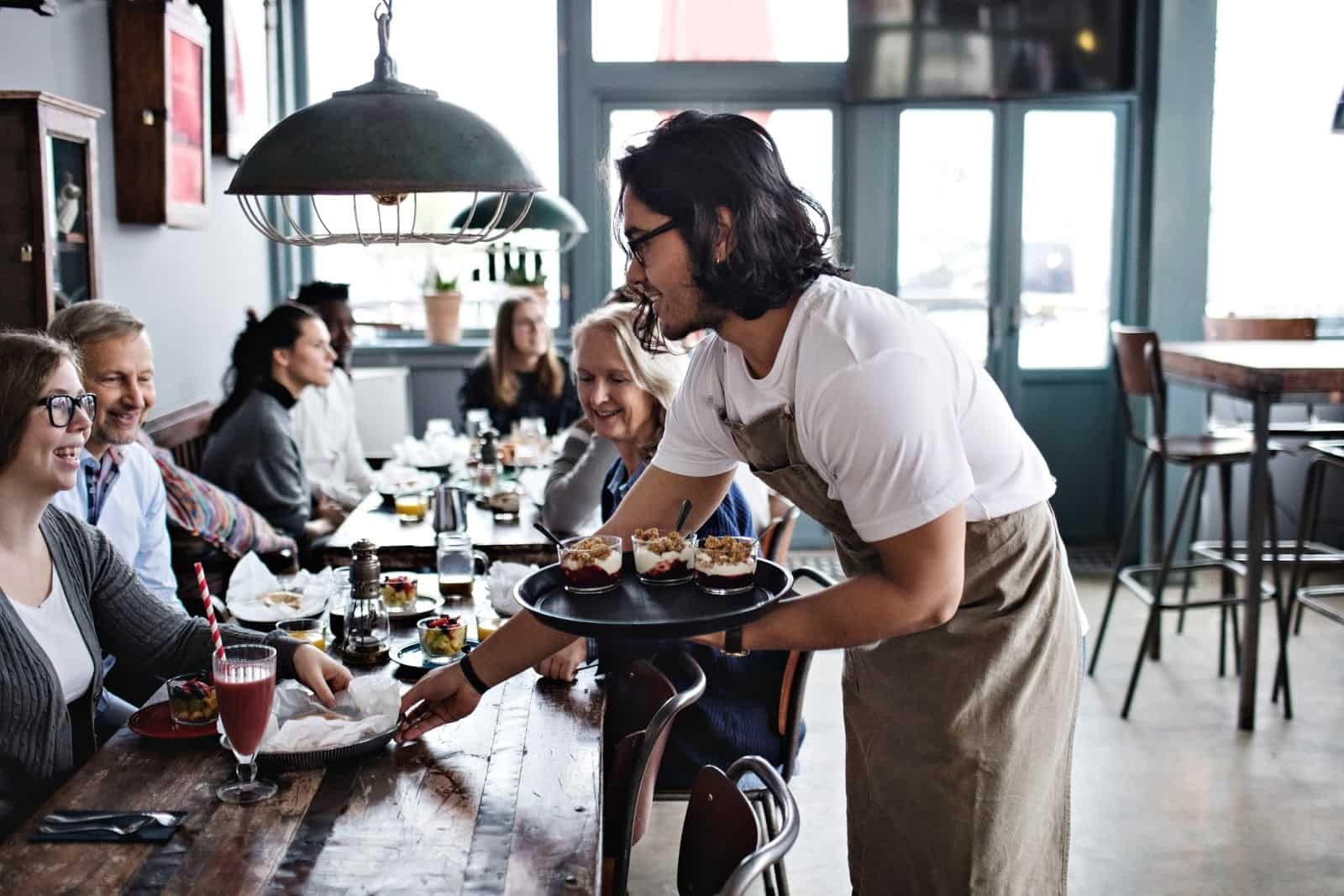 Tour guide in Canada
If you love sightseeing, hiking, and meeting with interesting people from all over the world- this job is for you. This is also a chance to do something different every single day. Just remember, that most of the tour guides are freelancers, which brings its own challenges.
---
You May Also Like:
THE COMPLETE CANADIAN RÉSUMÉ GUIDE
---
Au Pair in Canada
Au pairs can generally stay 12-14 months. And the typical salary for this position is around $250- $290 per week depending on the family. Your room and food will usually also be covered.
What do you need to be an au pair in Canada?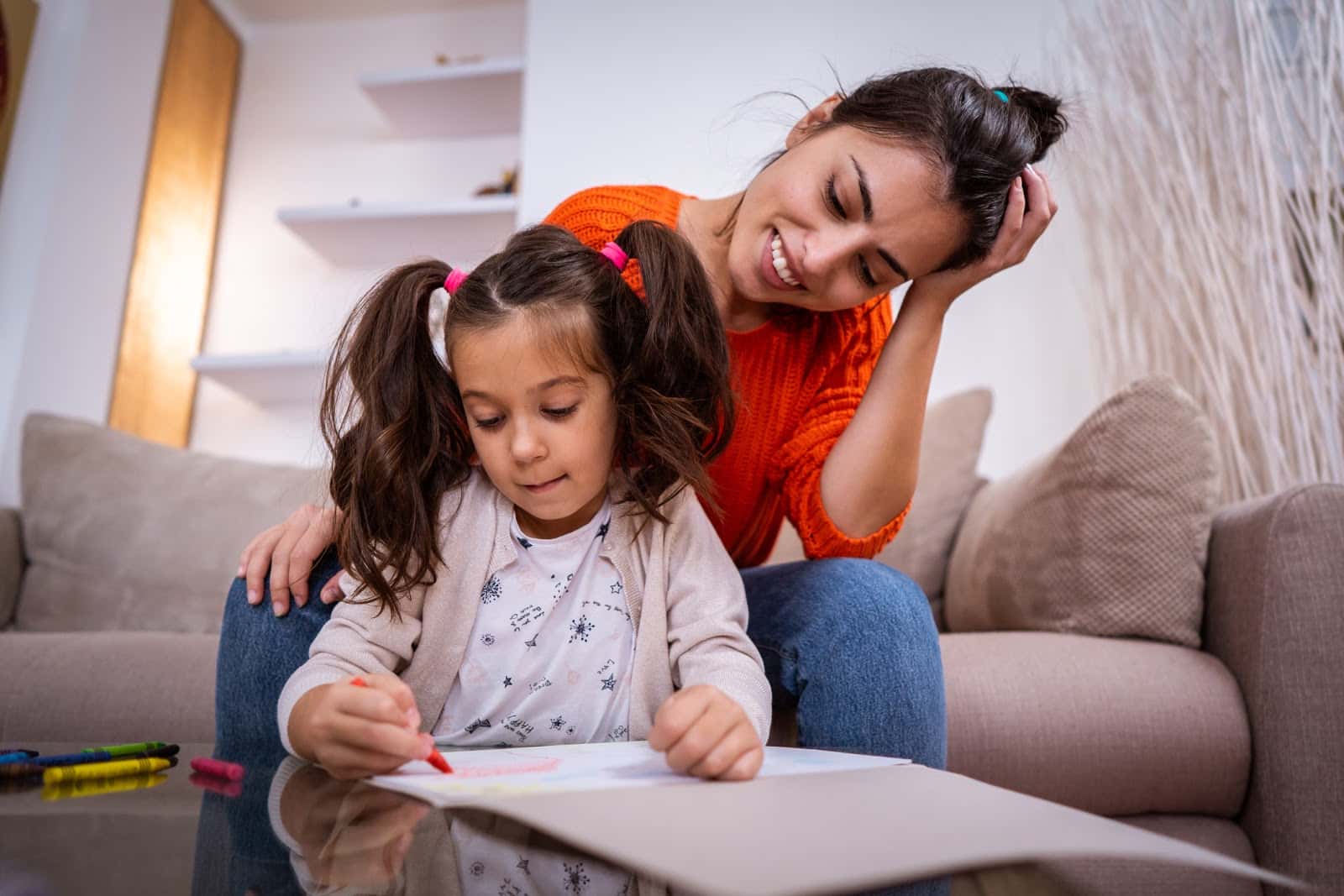 You must be at least 19 and no more than 30 years old
Entitled to a visa
You are not married and you don't have children
You are in good health
You have experience with children
WWOOF or farm hand in Canada
World Wide Opportunities on Organic Farms (WWOOF), as the name implies offers a job in organic farms, and Canada is full of them. Most of the jobs are available in late summer.
During your stay, you won't have to pay for lodging and food.
You will learn more about making wine, growing vegetables, animal husbandry, beekeeping and more.
You don't need any previous experience, but a love of physical work certainly helps!
How to join WWOOF?
Visit the WWOOF site
Select your country of choice
Fill out their membership application and pay the annual fee*
*You will have to be at least 18 years old.
Barista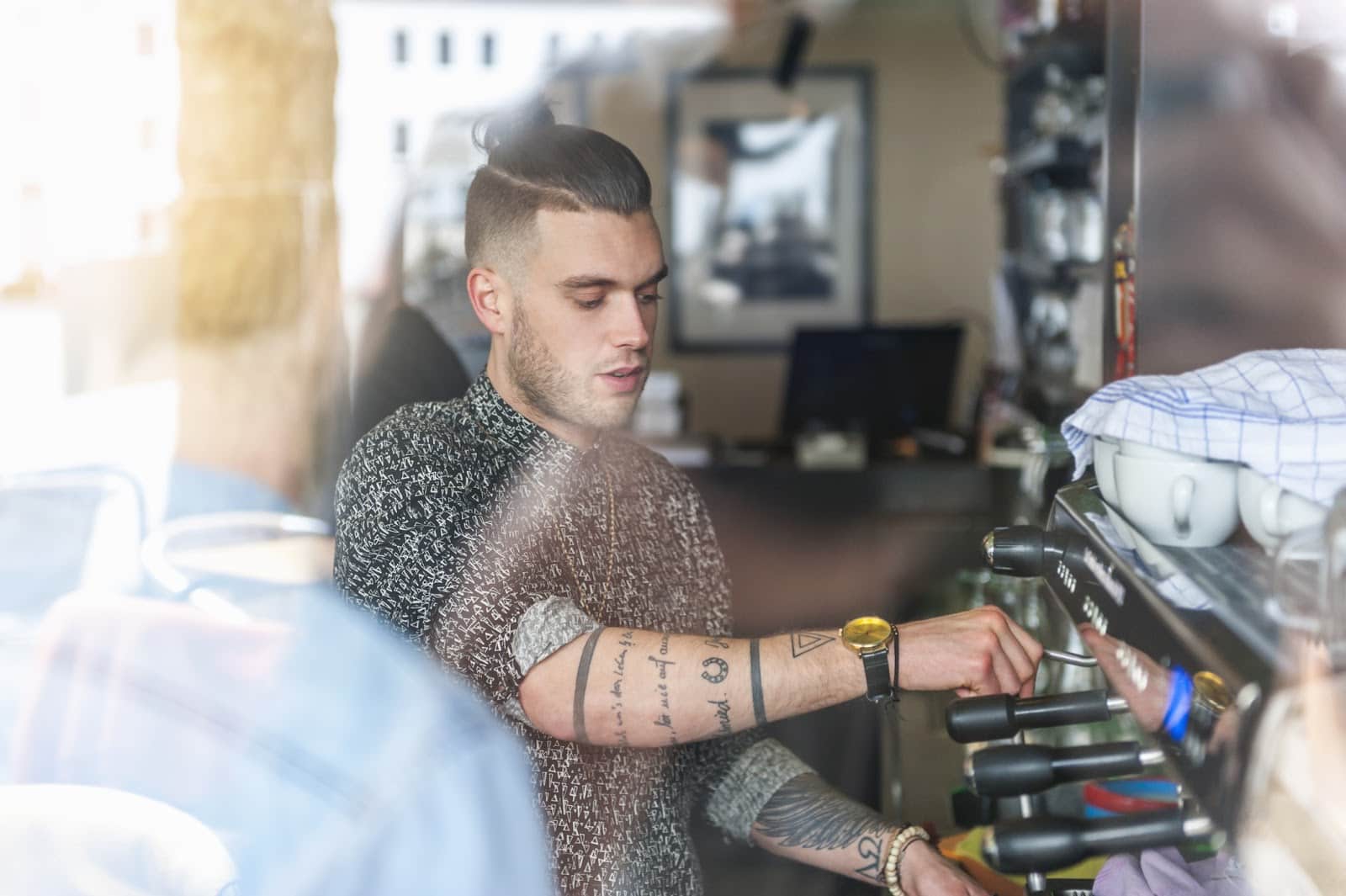 Do you enjoy making coffee? Maybe you should apply for a job as a barista!
Although the role may sound simple, it is not as easy as it may seem.
From foaming to steaming and roasting, each coffee demands its own unique set of skills.
You'll need an artistic side, too. After all, who doesn't love a pretty design on the top of their latte?
Retail Assistant in Canada
They can be found in shops, boutiques, and stores. Retail assistants prepare the store for the working day, execute sales and ensure that retail operations run smoothly on a daily basis.
Successful retail assistants must have good communication, interpersonal and problem-solving skills, a friendly manner, and a well-groomed personal appearance.
Prior customer service experience is also favourable when applying for this type of job.
---
Register for your WHC Jobs Kit for lists of the top ski resort employers in BC and Alberta, our working holiday jobs search tool and much more!
---
Can a working holidaymaker apply for a tax refund?
Yes, they can. Each year, thousands of working holidaymakers and international students in Canada overpay taxes and don't claim their tax refunds.
You may also be able to claim tax expenses (such as travel and medical expenses, tuition fees and more) and this will boost your refund.
Who can help me claim my tax refund?
Taxback have more than 20 years of experience claiming tax refunds on behalf of their customers.
They will help you deal with the boring tax paper, claim all the expenses you are entitled to and even help you restore some of your missing documents.
What's more, their policy is no refund, no fee. So, you have nothing to lose by checking how much money you are owed.
They also have 24/7 chat support with their tax experts.
The average Canadian refund with Taxback is $998.
Want to claim a tax refund from Canada?