Thousands of people choose British Columbia, Canada as their destination to live, work and travel. People from all over the world head to Vancouver on a working holiday every year. In 2019, Vancouver welcomed over 11 million visitors!
It's easy to see why so many people choose British Columbia as their destination, there's so much to see and do there!
'What is there to do in British Columbia?', we hear you ask. In this guide, we will outline some of the best activities and places to go to in British Columbia.
Also, before jetting off to Canada, make sure you have your visa sorted. Whether you need a Working Holiday visa or Tourist visa, VisaFirst can take care of this for you! They'll sort out the messy visa paperwork so you can focus on planning all of the different places you want to visit during your trip!
Summer in British Columbia
You can expect to experience lovely weather throughout British Columbia in July, August and September, with average temperatures being between 20 and 25 degrees Celsius. Perfect weather for exploring a new place! We will outline the best things to do in British Columbia in May, June, July and August below.
So, what should you do in British Columbia during the summer?
1. Canada Day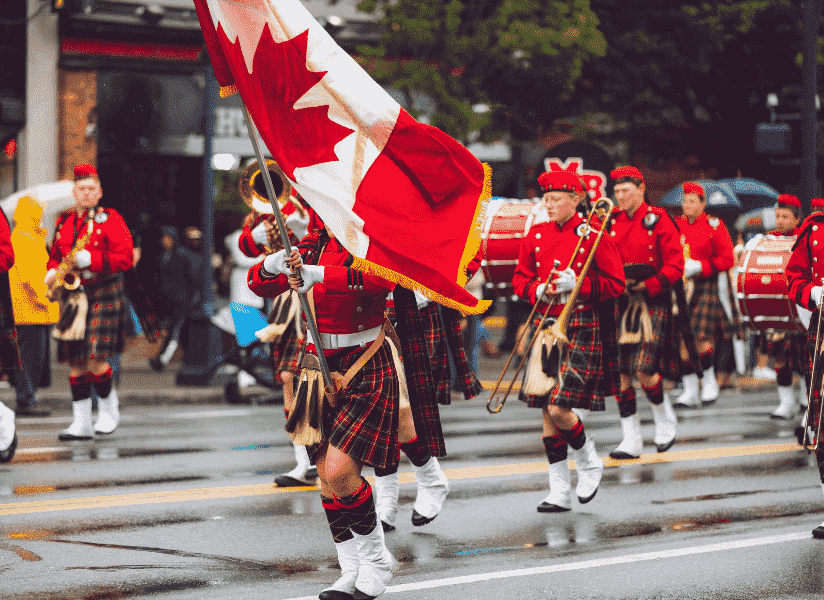 What is British Columbia known for? First and foremost, Canada Day is celebrated on 1 July. It commemorates the joining of Canada's original three provinces as one nation in 1867. So, it's a big celebration for Canadians, with plenty of street festivals, firework displays, parades and free events held throughout Canada!
In British Columbia, Surrey's Canada Day celebrations should not be missed! They are held at the Bill Reid Millennium Amphitheatre each year. Activities include carnival rides, kids' activities, vendor stalls, live entertainment and fireworks!
Surrey is just a quick 30-minute drive from Vancouver, or it takes roughly 50 minutes by public transport.
So, if you're in Canada on 1 July, you should definitely join in on the Canada Day celebrations!
2. Stanley Park
Stanley Park is a beautiful green park in the midst of the urban landscape of Vancouver. There's plenty to do in Stanley Park – you can visit the Vancouver Aquarium, bike or walk around the seawall.
You can also relax at one of its beautiful beaches, see the totem poles at Brockton Point or wander around the trails that wind through the park. The beautiful natural surroundings in the park make for the perfect city escape!
Enjoy a stroll around Stanley Park in the nice summer weather in July or August!
3. Kamloops BC Wildlife Park
This Wildlife Park located in Kamloops, British Columbia, is a non-profit organization and registered charity. It is a wildlife park and rehabilitation center for orphaned and injured wildlife.
The Kamloops wildlife park is home to a large variety of almost 200 animals and 65 species that are native to British Columbia. From cougars to bears and wolves, there are plenty of animals to see and learn about while visiting the park.
4. Lost Lake, Whistler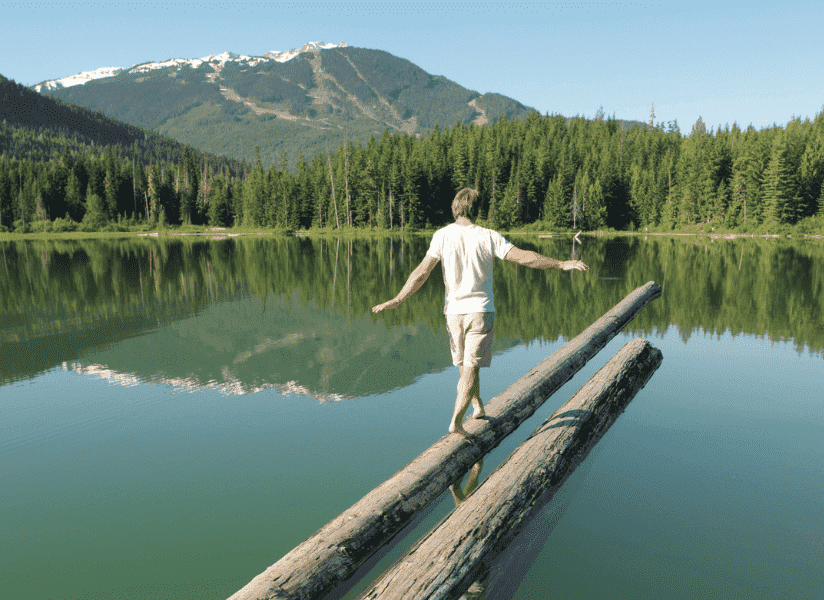 Lost Lake is nestled at the bottom of Blackcomb Mountain and boasts amazing views of the surrounding nature park and mountains, making for some beautiful scenery for visitors.
The peaceful lake is surrounded by Lost Lake Park. It's the perfect place to go for a hike and take a dip in the crisp, clear lake to cool off before stopping to have a picnic or to make use of the park's BBQ facilities.
There are also 55 different bike trails around Lost Lake – so for those of you who are adventurous enough to go mountain biking, this is the place for you!
What is there to do in British Columbia in May?
Head to Lost Lake in May or June to take advantage of the beginning of the mountain biking season after the winter ski months. The weather should be dry and getting warmer – the perfect weather for hiking if you ask us!
5. Lynn Canyon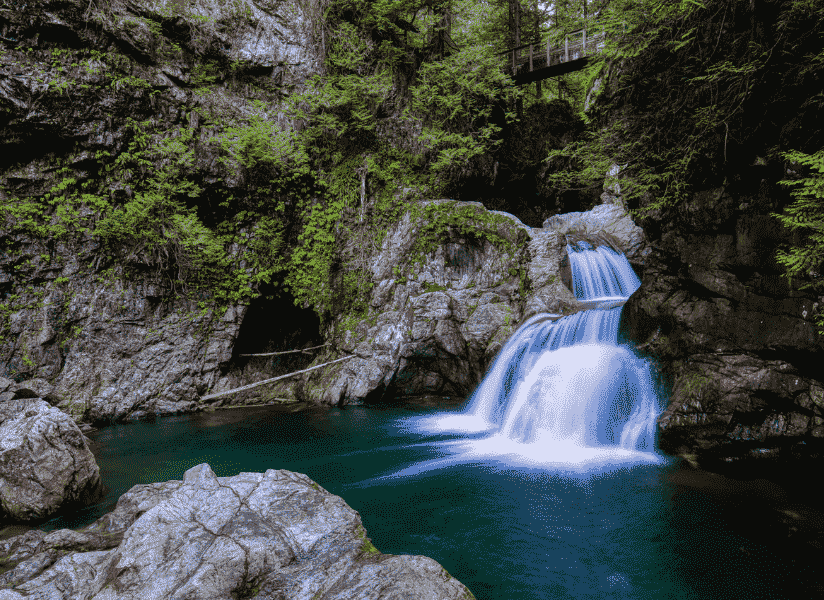 Lynn Canyon Suspension Bridge is located within Lynn Canyon Park, in the District of North Vancouver. The suspension bridge towers a great 50 meters over the canyon and is part of the Baden Powell Trail.
Lynn Canyon Park boasts some amazing hiking trails, waterfalls and swimming holes. Make the most of the nice sunny weather and visit Lynn Canyon in June or July.
Begin your trip to Lynn Canyon by exploring the hiking trails, there's some amazing scenery to take in along the way. Then take a pit stop at one of the waterfalls for a refreshing dip or even just relax nearby taking in the beautiful sounds of nature!
Winter in British Columbia
If you're visiting British Columbia in winter you can expect some fresh, cold weather and lots of snow in places. There are lots of things to do in British Columbia in December, January and February. It's the best time to take advantage of the amazing snowfall in many areas throughout the province!
So, what places should you visit in British Columbia during the winter?
1. Whistler Blackcomb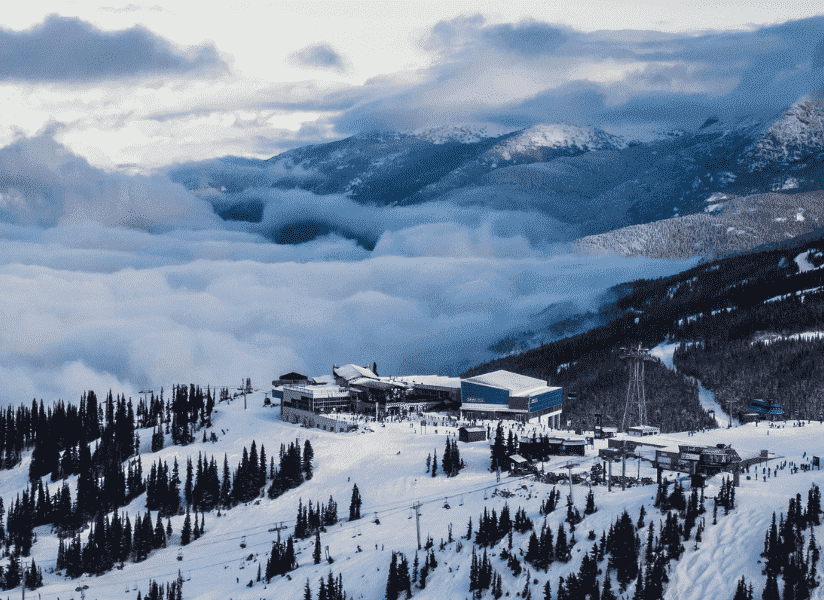 Located in Whistler, Whistler Blackcomb hosts two of the largest, consistently top ranked, side-by-side Ski Mountains in North America. The resort has one of the longest ski seasons in North America – starting from November through to mid-May.
Whistler Blackcomb offers reliable snow and consistent snowfall all winter long – music to the ears of any skiers out there planning to visit!
If you are an avid skier, the best time to visit British Columbia is in December and January to get the best of the snow season!
As well as the amazing snow, the energy in the pedestrian village draws many people to the resort. It offers world-famous après, five-star dining, spas, shopping and nightlife. It really tops off everyone's experience when they visit Whistler Blackcomb!
2. Sun Peaks Winter Okanagan Wine Festival
The ten-day festival takes place annually, in January. There are many different events held throughout the festival, allowing you to revel in all of the different wines on offer!
From grilled cheese and wine pairings (yes, you read that right, grilled cheese and wine…what more could you want?!) to snowshoeing and mulled wine – there's an event for everyone at this festival.
Some of the most well-known wineries in Okanagan Valley include Mission Hill Family Estate Winery, Summerhill Pyramid Winery, Burrowing Owl Estate Winery and Sumac Ridge Estate Winery. The wineries are a great place to visit in British Columbia during the winter months.
3. Canyon Lights at Capilano Suspension Bridge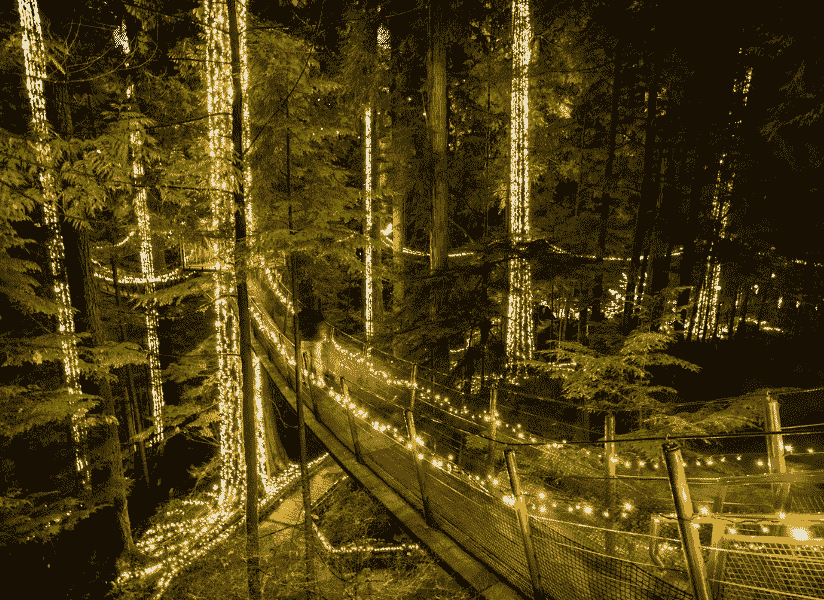 'What is the best thing to do in Vancouver?', we hear you ask. Well, one of the top attractions in Vancouver is Capilano Suspension Bridge. The suspension bridge stretches for an incredible 137 meters above the treetops and Capilano River. So, it should definitely be on your list of things to do in Vancouver!
During the winter holiday season, they have the Canyon Lights display where the suspension bridge, Treetops Adventure, cliff walk, rainforest and canyon are all lit up with festive lights.
Canyon Lights is set to amaze – so it's definitely worth a visit! Get into the festive spirit by visiting this amazing light display in December.
4. Nakusp Hot Springs
The Nakusp Hot Springs are nestled in the Kuskanax Valley, about an hour outside of Revelstoke. The resort has the cleanest, clearest soaking mineral pools, with 200,000 liters of fresh, filtered water entering each pool every day.
During the winter months, visitors can enjoy snowshoeing, cross country skiing and tobogganing on the trails surrounding the Hot Springs.
Head off for a day of outdoor adventures followed by a dip in one of the hot springs to refresh – sounds like utter bliss if you ask us.
You can also enjoy a stay at their cosy Cedar Chalets – the perfect base for all of your outdoor adventures!
5. Rossland Winter Carnival
The Rossland Winter Carnival first took place in 1898. It is Canada's longest running festival and the 3-day festival runs in January each year.
There are a number of events throughout the weekend, such as a winter variety show, a parade, a bobsled race, ice skating, musical performances and many more.
Rossland also boasts some of the best skiing slopes in the country, including RED mountain. So be sure to check out the slopes if you are in the city!
Applying for your Canadian Working Holiday Visa
So there you have it, 10 great things to do each month of the year in British Columbia, Canada that will make your trip unforgettable.
We really hope you enjoy your adventure to British Columbia and that these tips have helped you to plan your activities.
And don't forget, if you need help sorting out your visa before you jet off to Canada, VisaFirst can take care of this for you!