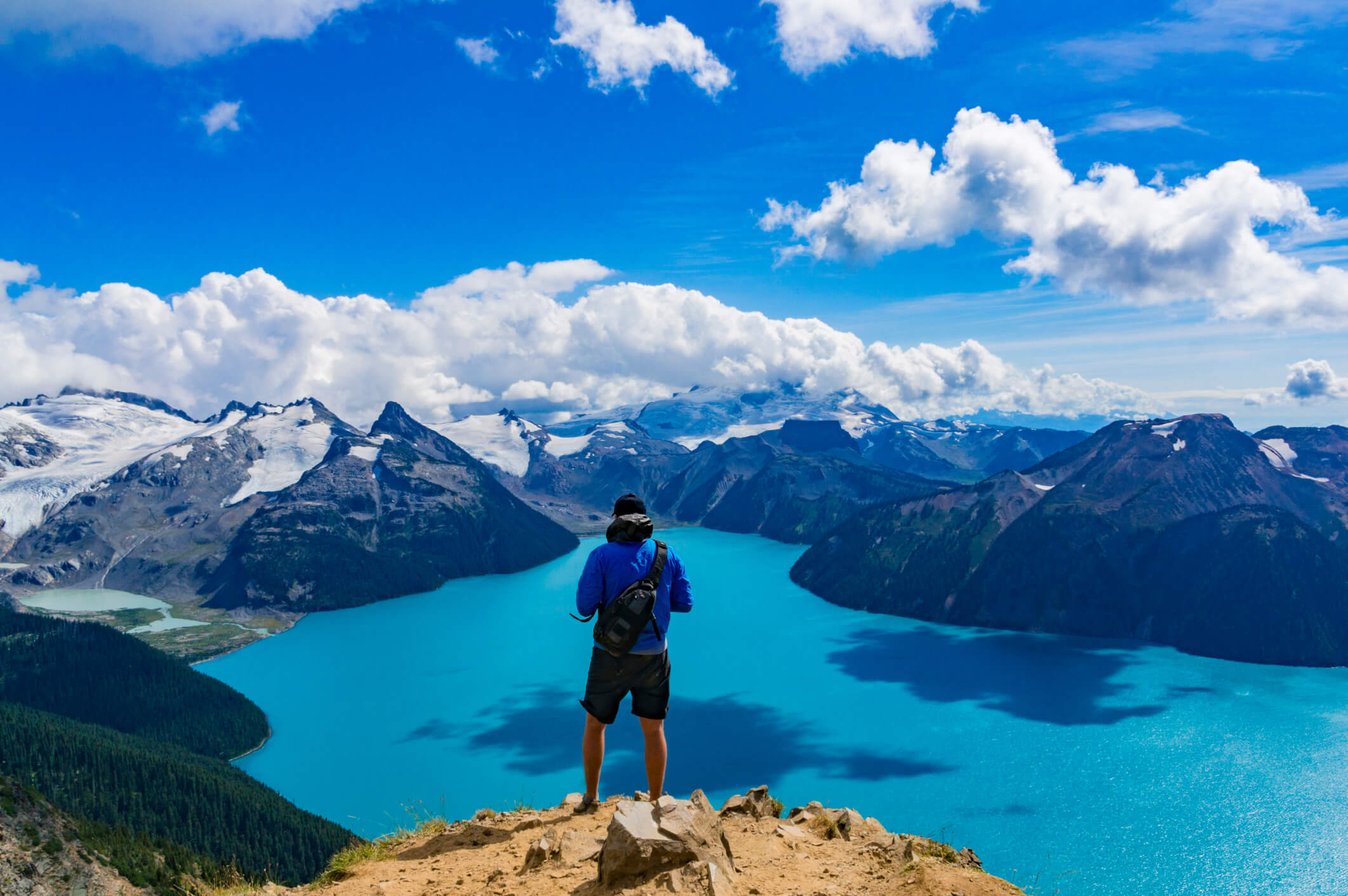 Do you want to know which trails in Canada are the best for hiking, mountain biking, climbing, or other outdoor activities? Let's go!
Canada is well known for its breathtaking nature: roaring waterfalls, enchanting forests, crisp blue glacier lakes, tall mountain peaks, and stunning meadows.
One of the best ways to explore these is by foot, so put on some good shoes, pack a lunch, pick one of our favorites below and take a hike!
Whether you prefer something short and easy or are looking for a challenge, this list of the best hikes in Canada has a trail for you.
Garibaldi Lake, British Columbia
Garibaldi Lake is one of Canada's most magnificent alpine lakes, with turquoise-colored water nestled between alpine mountains and a spectacular glacier as the backdrop. It is a great place to camp, swim, and hike some of the park's trails. Garibaldi lake is a very popular hiking trail from Vancouver.
To get there, you will need to drive north of Vancouver to Whistler and park at Rubble Creek. It's a nine-kilometer (one-way) climb from there to the pristine waters of Garibaldi Lake.
---
Register for your WHC Jobs Kit for lists of the top ski resort employers in BC and Alberta, our working holiday jobs search tool and much more!
---
Hike statistics
Difficulty – moderate
Total distance – 9 km (one way), around the lake – 1.6 km
Hiking time – 4 to 7 hours
Height – 1612 m
Lake Agnes Trail, Alberta
The trail is open all year and is a beautiful place to visit at any time. This 7.4-kilometer out-and-back trail is located near Lake Louise, Alberta. It is a moderately difficult route that takes an average of 2 hours and 49 minutes to complete.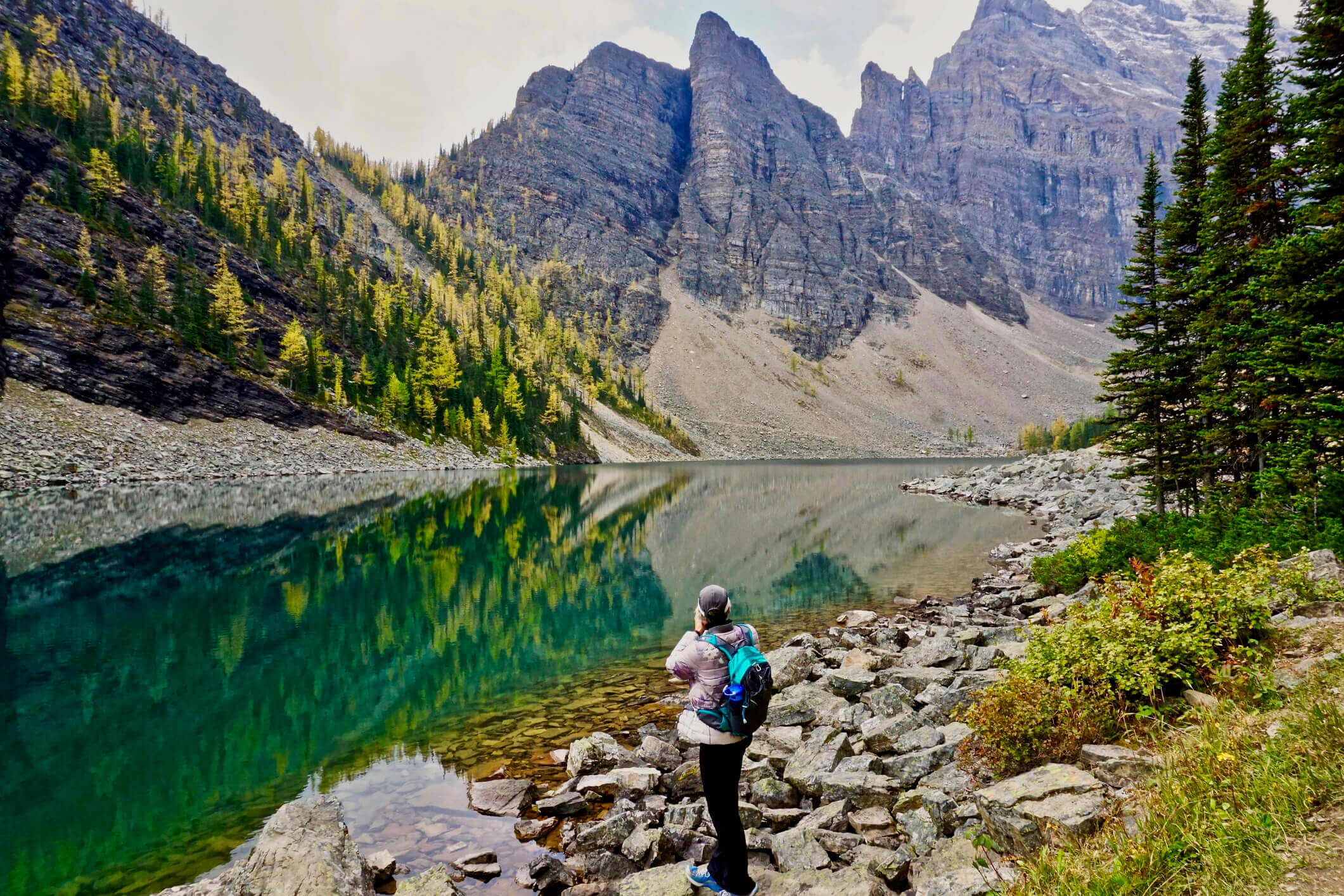 Because this is a popular spot for hiking, birding, and horseback riding, you'll almost certainly run into other people while exploring. Dogs are allowed but must be kept on a leash.
Mirror Lake is the first lake on the Lake Agnes hike. Mirror Lake is a small but lovely lake nestled beneath the Big Beehive, a massive rounded massif.
Lake Agnes is the second lake you come across. It is one of the most scenic lakes in Banff National Park, surrounded by magnificent jagged mountains.
Hike statistics
Difficulty – moderate
Total distance – 8 km (round trip)
Hiking time – around 3 hours
Elevation – 385 m elevation gain
Johnston Canyon & The Inkpots, Banff National Park, Alberta
Johnston Canyon to Ink Pots is a moderate 12km hike through the most beautiful landscapes of the Canadian Rockies. A half-day trip from Banff takes you through a deep canyon filled with waterfalls and even magical turquoise bubble pools at the end.
Waterfalls, mountains, vibrant cold spring pools, and massive canyon walls are all part of the Johnston Canyon Ink Pots hike. You can hike this trail in both summer and winter, but it's recommended to wear micro-spikes in winter because the terrain can become quite slippery.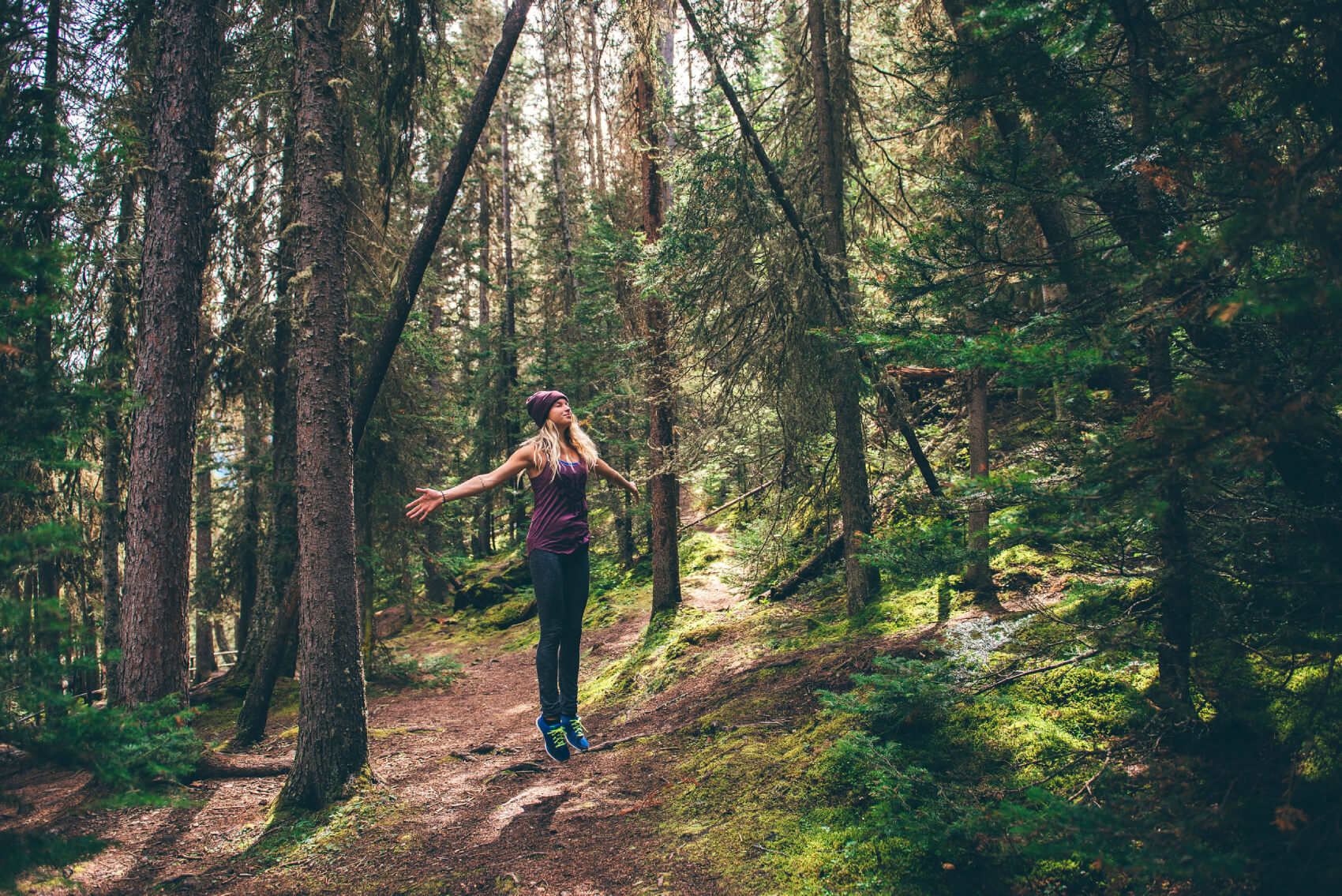 Johnston Canyon is a popular hike in Banff National Park and will be crowded as a result. Start early or go late in the day if you want to avoid crowds. Otherwise, you'll be stuck behind throngs of people and will have to wait in line to see certain sights or take photos.
---
Read Also:
Outdoor Activities In Halifax
---
Hike statistics
Difficulty – moderate
Distance – 11.7 km
Elevation Gain – 608 m
Estimated time – around 4.5 hours
Dogs allowed – yes, on leash
Valley of the five lakes, Alberta
The Valley of the Five Lakes is a 4.8-kilometer loop trail located near Jasper, Alberta. The hike is not difficult, but there are some steeper sections where young children may need to be held. Because of the berry bushes, bears frequent the area in the spring, so take all necessary precautions.
This stunning hike features five pristine lakes in deep jade and blue, which are a sight to behold beneath the surrounding mountain peaks. You'll start at the parking lot and follow the wide path through the forest.
There are two ways to extend the hike: add a loop around the first lake or do an out-and-back hike from Old Fort Point. However, the hike to and from Old Fort Point may become tedious due to the amount of time spent in the woods, so consider biking instead.
Hike Statistics
Difficulty – easy and family-friendly
Distance – 4.3km (one way)
Elevation gain – 80 meters
Joffre Lakes, British Columbia
Many people travel to this part of Canada just to hike to Joffre Lakes. It's one of the best things to do in British Columbia, and the lakes are the most beautiful in the entire region!
Joffre Lakes is made up of three lakes: Lower, Middle, and Upper Joffre Lakes. Each one is more stunning than the last! These lakes can be seen from the Joffre Lakes hiking trail, a 9.4-kilometer (5.8-mile) round-trip moderate hike.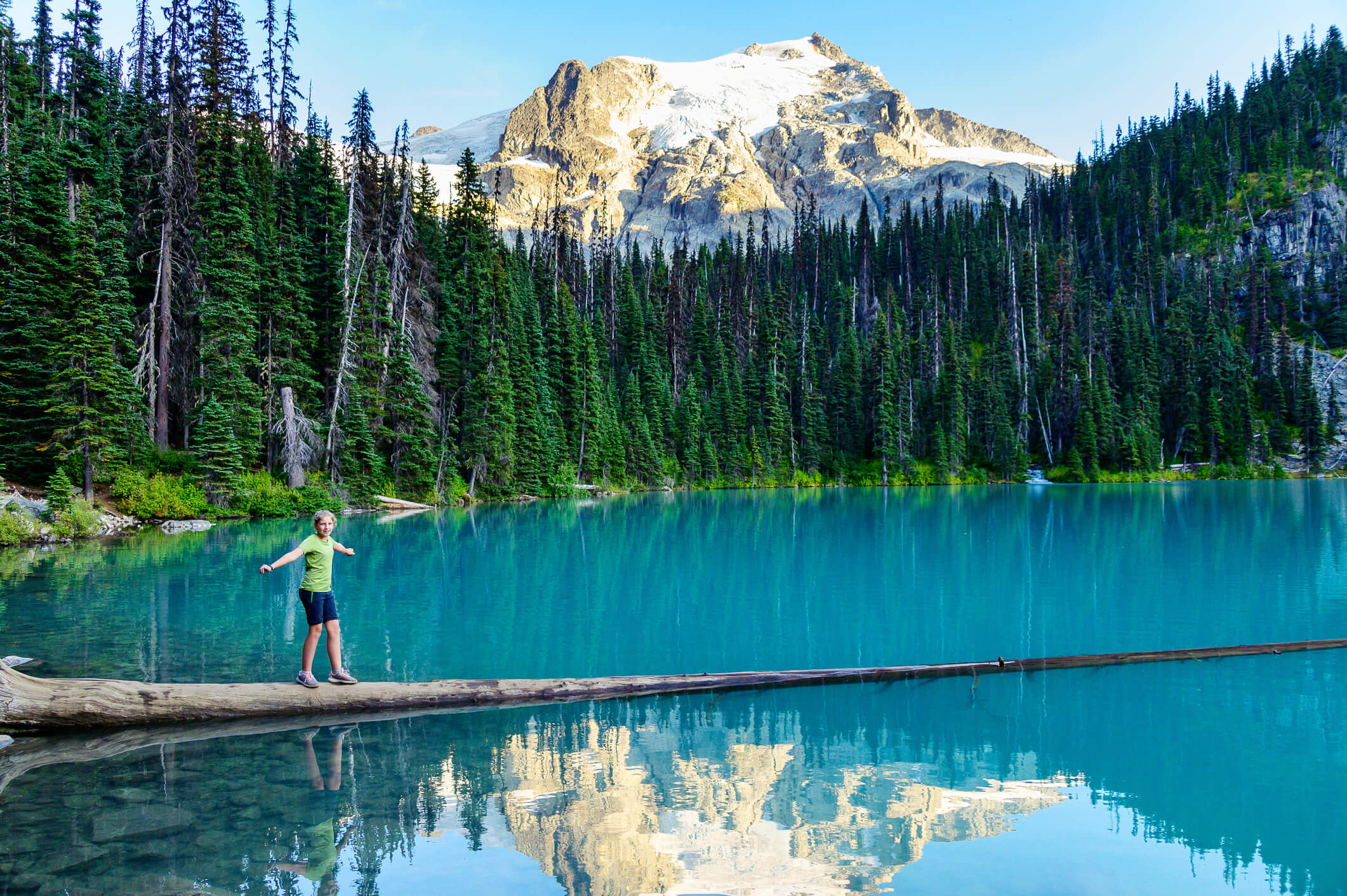 This area is a popular place for camping, hiking, and snowshoeing, so you'll almost certainly run into other people while exploring. The trail is open all year and is a beautiful place to visit anytime. Dogs must be left at home because they are not permitted on this trail.
Hike Statistics
Difficulty – moderate
Distance – 7.4 km
Elevation gain – 491m
Plain of Six Glaciers, Alberta
Plain of Six Glaciers is a traditional hike in Banff National Park that takes you alongside Lake Louise, up past a lovely Tea House, and ends with breathtaking glacier views.
It's a 14.6-kilometer out-and-back trail that's considered moderately difficult. It takes an average of 4 hours and 38 minutes to complete.
Because this is a popular spot for birding and hiking, you'll almost certainly run into other people. The trail is open all year and is a beautiful place to visit anytime. Dogs are permitted but must be kept on a leash.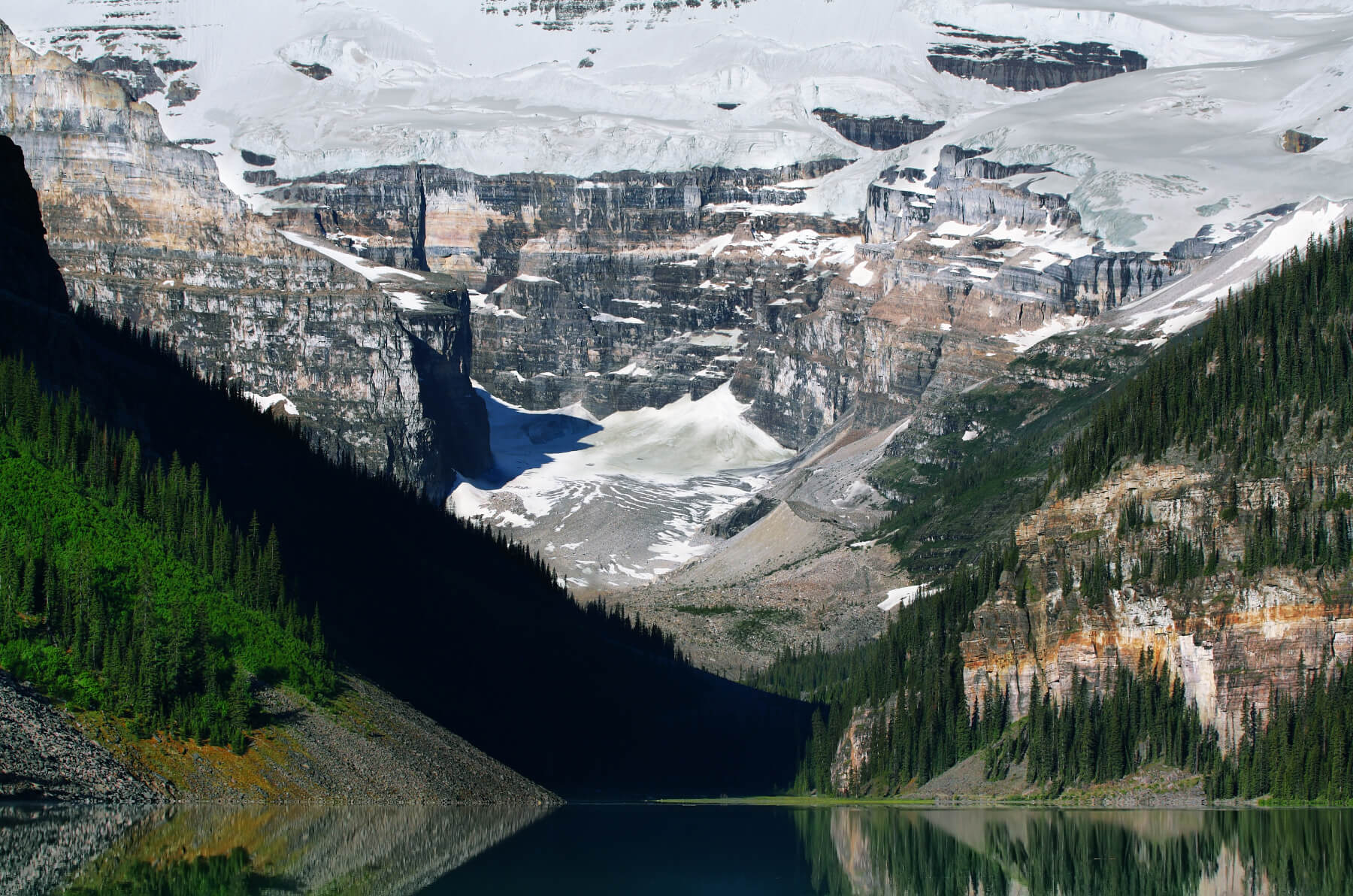 To complete the Plain of Six Glaciers hike, you should arrive early in Lake Louise to secure a parking spot or take a bus or taxi. If you arrive before 8 a.m., you should be able to find a parking spot in the Lake Louise parking lot, though it seems to fill up earlier and earlier every summer! If you are unable to arrive that early, take a bus or taxi from Lake Louise Village or the Lake Louise overflow parking lot.
---
Read Also:
TOP 10 NATURAL CANADIAN HOT SPRINGS TO VISIT
---
Hike Statistics
Difficulty – moderate
Distance – 15 km
Estimated time – 4 – 5.5h
Elevation – 420 m
The West Coast Trail, British Columbia
The West Coast Trail (WCT) is an iconic backcountry, multi-day backpacking trail that many hikers consider a bucket list challenge. Even the most experienced hikers might be brought to their knees by this experience because of the difficulty.
Here, you will enjoy magnificent views of the Pacific Ocean and cool off at the various waterfalls while strolling through a coastal rainforest with old-growth evergreens. This is a widely known trail for backpacking, birding, and camping, but you can still find solitude during quieter times of the day.
The iconic West Coast Trail, known as one of the best multi-day hikes in Canada, is a must for any avid hiker. The adventure takes about seven days to complete and spans over 75 kilometers inside the Pacific Rim National Park on Vancouver Island.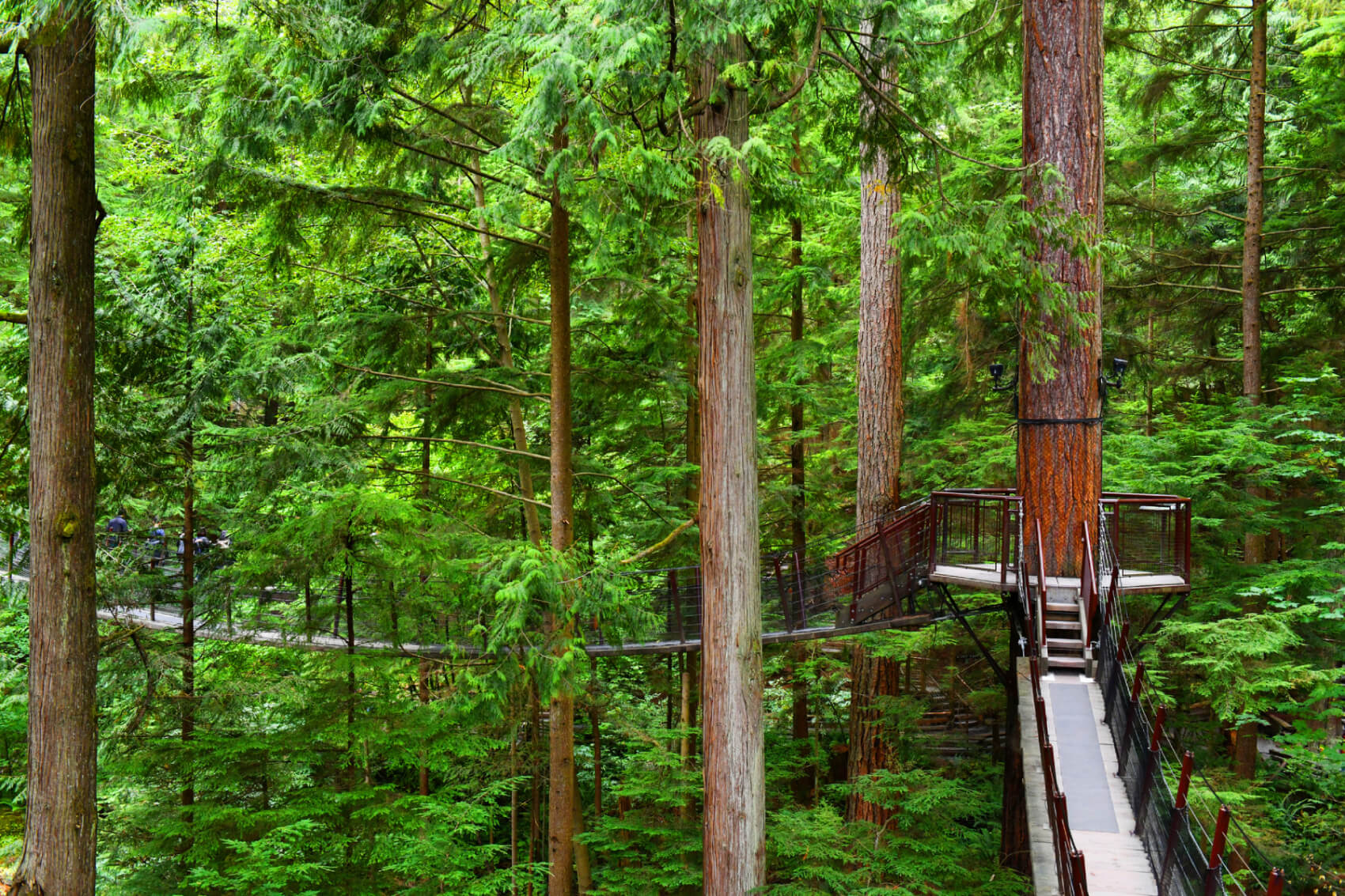 The West Coast Trail is one of Canada's most well-known hiking pathways. It travels 75 kilometers across some of the most difficult and scenic terrains in British Columbia's coastal rainforest.
It covers the southwest coast of Vancouver Island in British Columbia, Canada. British Columbia has some of the most gorgeous and dramatic landscapes in North America, and there is a lot to see and do there.
It is a difficult trek that can be difficult even for seasoned hikers. The West Coast Trail is relatively short in comparison to America's enormous Pacific Coast Trail (similar to the Appalachian Trail of the West), yet it is strenuous and extremely difficult.
Hike Statistics
Difficulty – very challenging
Distance – officially, 75 kilometers. However, it is unofficially at least 10km longer
The best times to hike – July and August
Elevation gain – 1.508 m
Estimated time – 19 – 20h to complete
Dogs are not allowed
Fundy Footpath, New Brunswick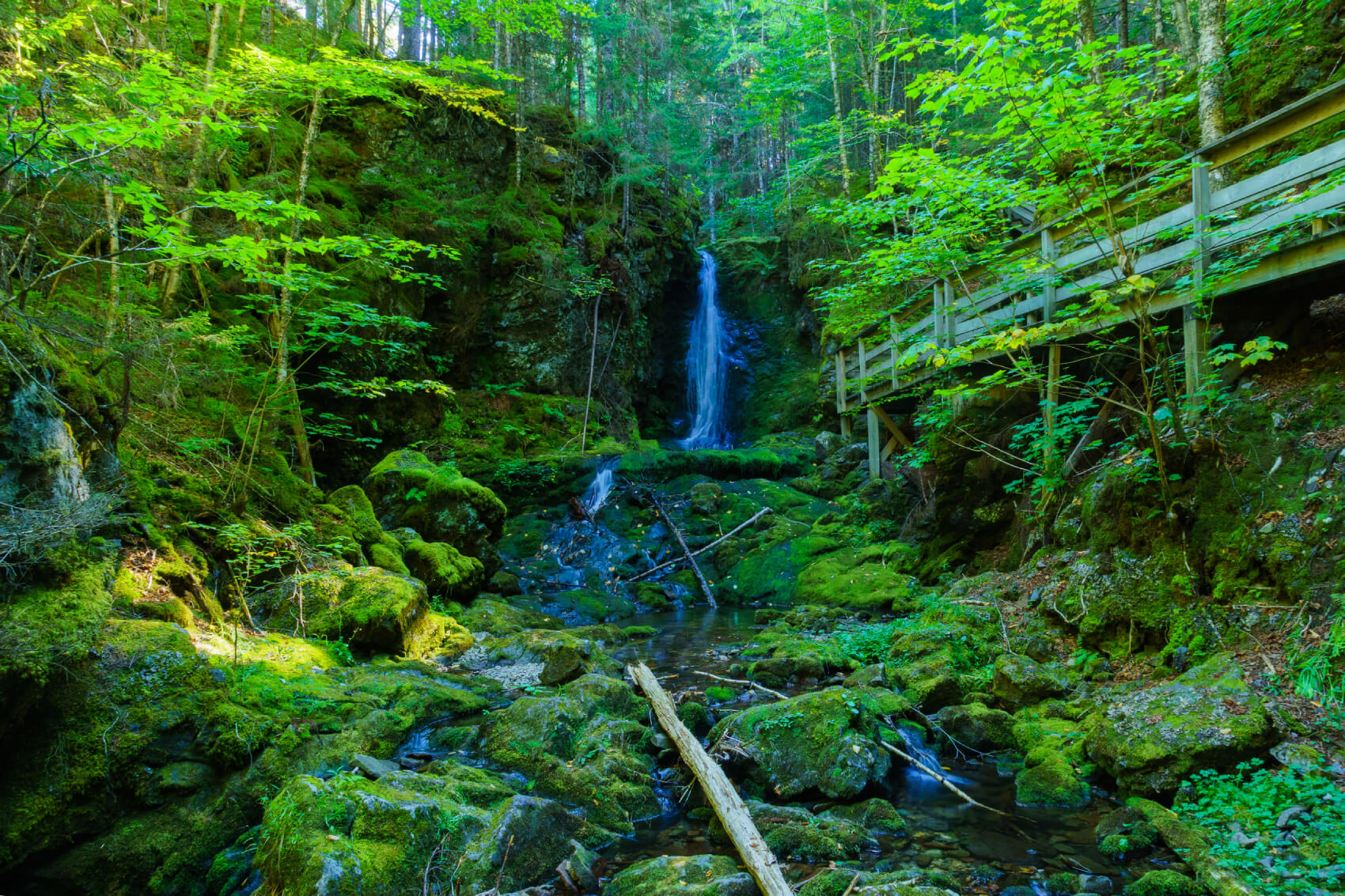 The Fundy Footpath is a strenuous multi-day hike along New Brunswick's Bay of Fundy. It is generally regarded as a difficult route, and it takes an average of 16 hours and 24 minutes to complete.
This trail is well-maintained and it's ideal for backpacking, birding, and camping, and you won't see many other people while exploring. This trail is best visited between May and October. Dogs are permitted but on a leash.
Most people do not hike the entire 64 km of the Fundy Footpath, preferring to cut the distance in half for a day trip or a one-night stay. Many people, however, do what I did and begin in Fundy National Park on the Goose River Trail and hike 54 kilometers over four days to the suspension bridge over the Big Salmon River.
Highlights include beautiful mixed forests, stunning headland views from atop 100-meter sea cliffs, and some exceptional beachfront campsites along the Fundy Trail's 64-kilometer journey from the Fundy National Park Visitor Centre to the Big Salmon River Visitor Centre.
Hike statistics
Difficulty – strenuous
Distance – 41 km one-way
Elevation gain – 214 meters
Estimated time – 4 days
Dogs – allowed on a leash
Cell reception – variable
Fees – Only donation
Skyline trail, Nova Scotia
If you're planning a trip to Cape Breton, Nova Scotia, you won't want to miss a hike on the Skyline Trail. This easy trek is one of the most exhilarating hikes along one of the world's most beautiful stretches of roadway.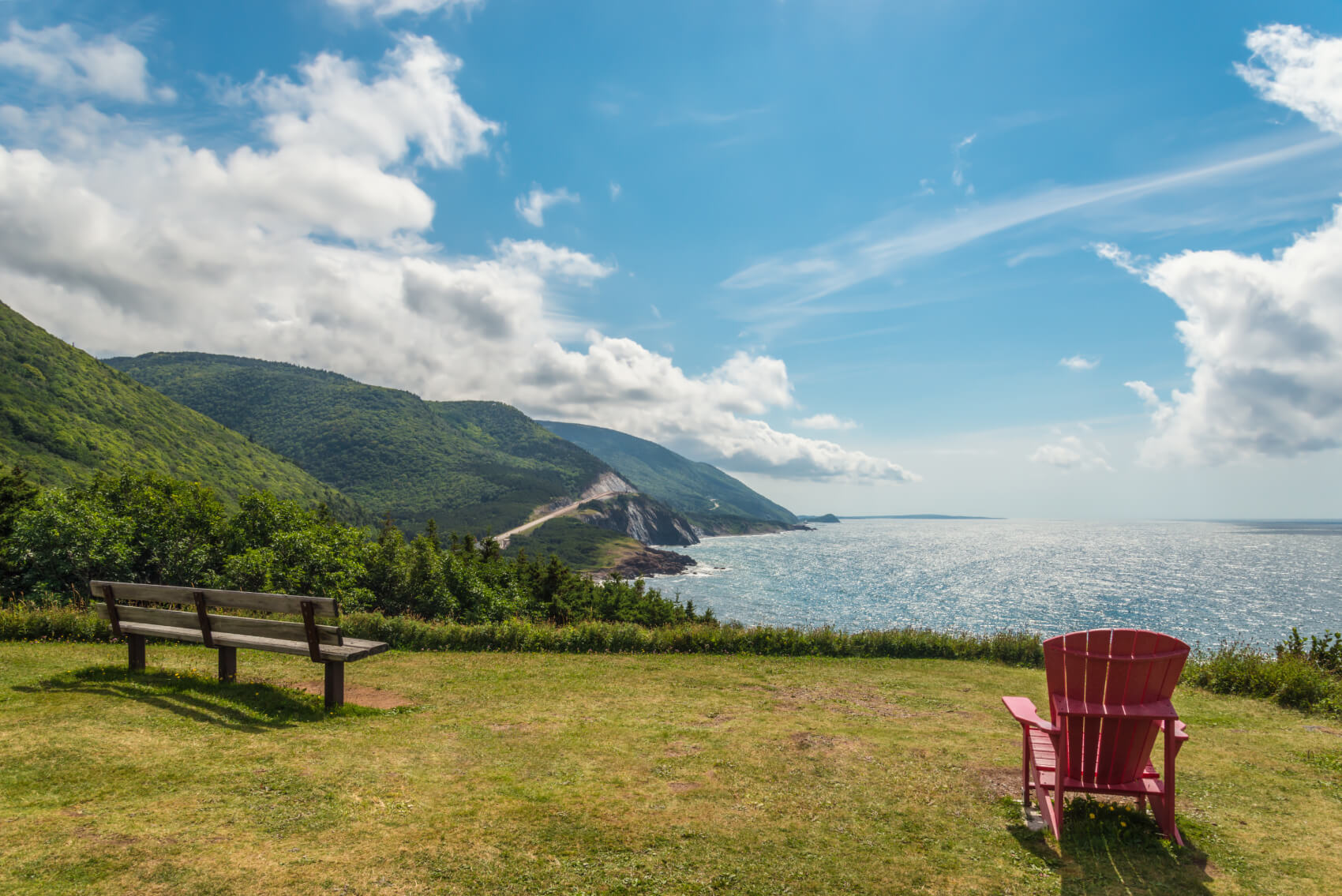 The Skyline Trail is located in Cape Breton Highlands National Park on the western side of Cape Breton Island, between the villages of Chéticamp and Pleasant Bay.
The Skyline Trail is best hiked at sunset when the sun sets over the Gulf of St. Lawrence and provides the most breathtaking views of Nova Scotia.
Hike statistics
Difficulty – easy to moderate
Distance – 8.7 km loop
Hiking time – 2-3 hrs
Elevation gain – 290 – 405 m
Banff National Park, Alberta
Banff National Park, one of Canada's most beautiful national parks, is a small slice of paradise. There's something for everyone here, with towering mountains, vivid fauna, gorgeous scenery, wonderful hiking, and an adorable tiny community.
Summer is the ideal time to visit Banff because it is a hiker's paradise. Whether you're a first-time hiker or a seasoned mountaineer, Banff has something for everyone. Tunnel Mountain Trail, a beginner trek with magnificent views of Banff and the surrounding area, is our favorite place to start. Because it only takes 1.5 to 2 hours, this short climb is ideal for starting or ending your day.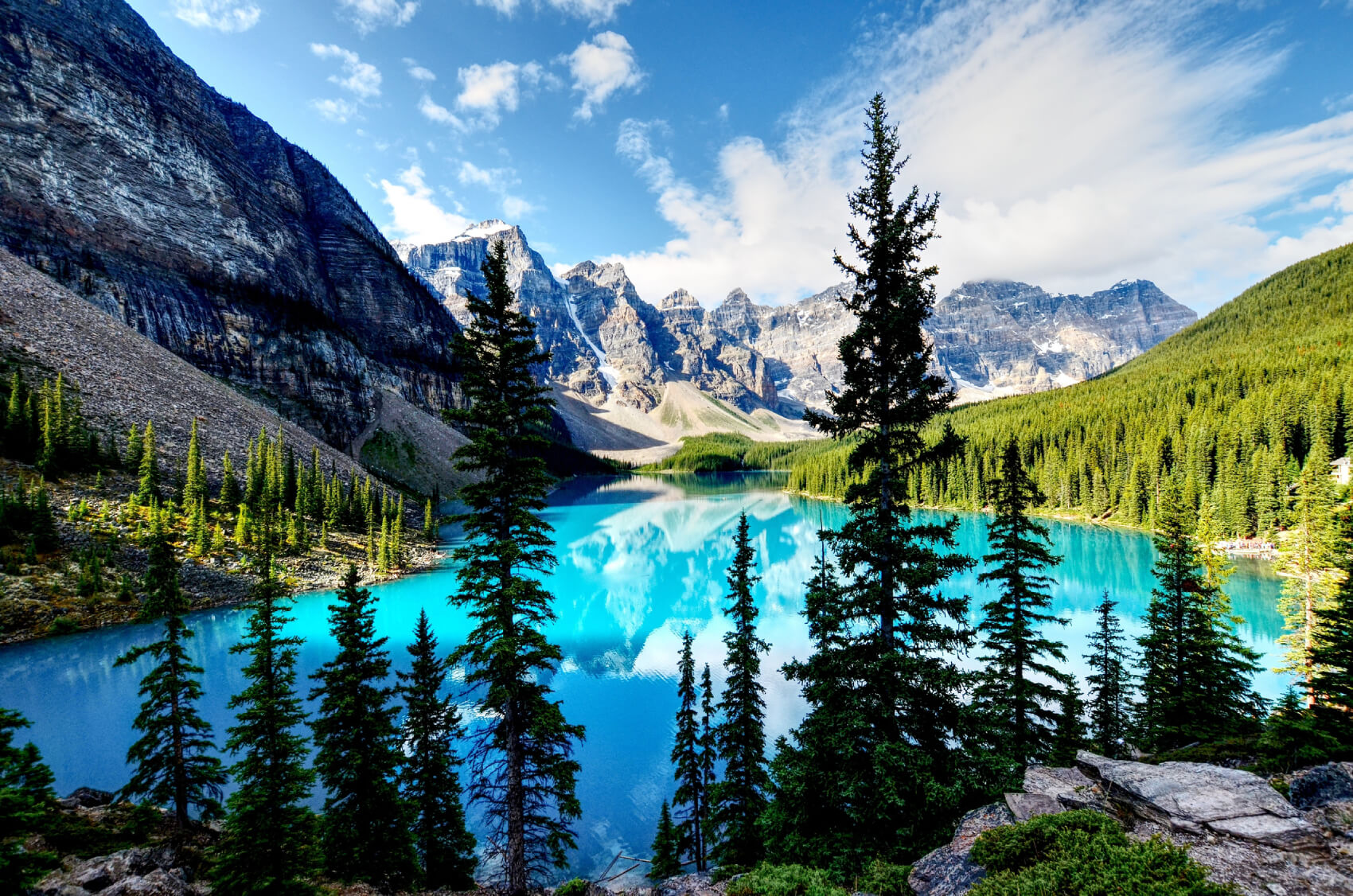 The first national park in Canada comprises 2,564 square miles of pure wilderness along the eastern edge of the Rocky Mountains spine.
Banff National Park, with over 1,600 kilometers (994 miles) of trails, provides explorers with some of the best hiking in the world, whether it's a simple trip to amazing panoramas or a more rigorous excursion deep in the wilderness.
Here are some of the best hiking trails in Banff:
– Cory Pass – Mt. Edith Circuit and Saddleback Pass – Mt. Fairview are some of the most difficult hiking trails there.
– Helen Lake, Larch Valley, Plain of Six Glaciers, Cascade Amphitheater, Bourgeau Lake & Harvey Pass, and Lake Agnes Teahouse are considered moderately difficult.
– Moraine Lake Shoreline is considered an easy hiking trail.
Cape Chignecto Coastal Trail, Nova Scotia
This three- to four-day excursion will give you enough time to see the beaches and vistas along the way.
Prepare for one of Atlantic Canada's most stunning adventures when you hike the Coastal Trail. The scenery is magnificent. It is possible to accomplish it in either direction (clockwise or counter-clockwise).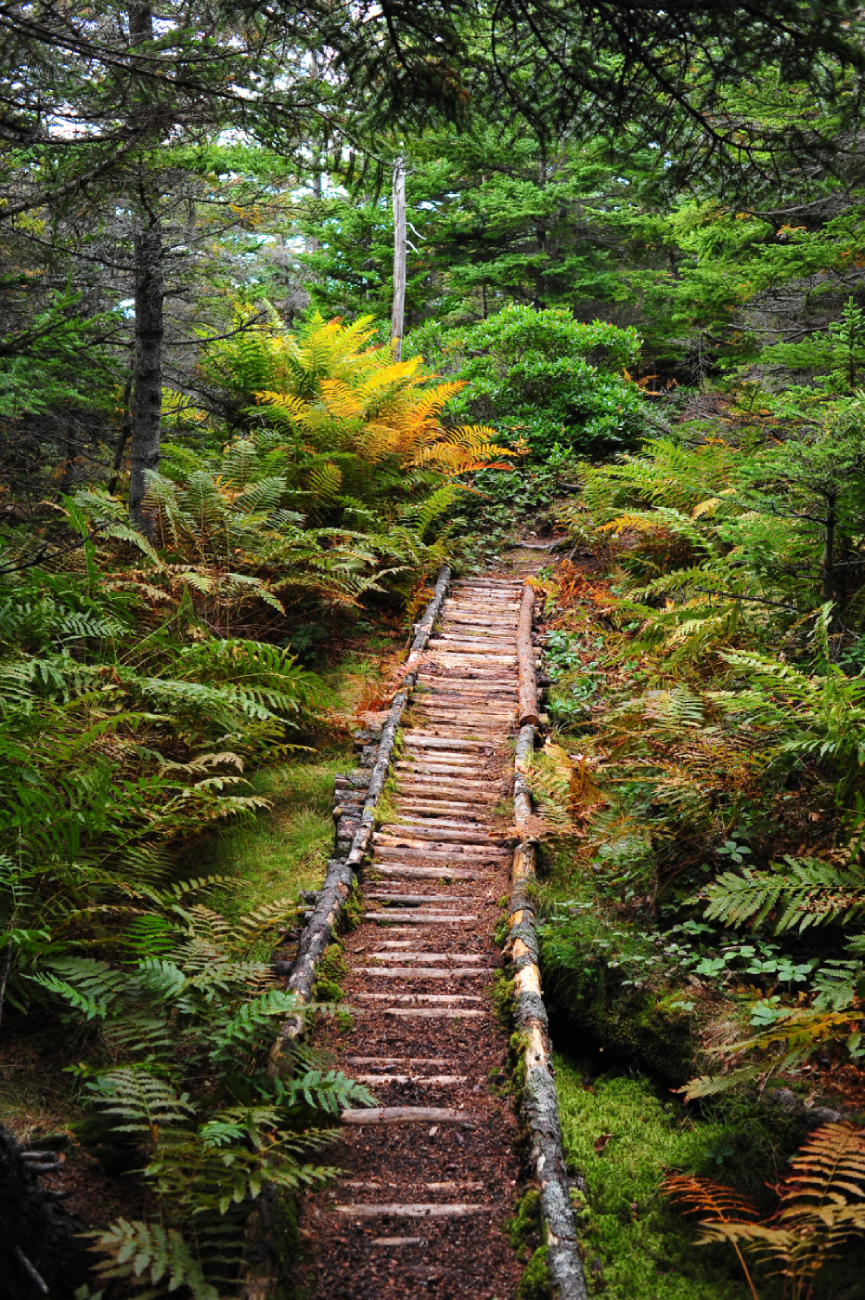 Cape Chignecto has a 52-kilometer (32-mile) and it's considered difficult. A three-night stay is advised to complete the loop. Unwary hikers may become trapped by the tidal range and high coastal bluffs.
Before you visit, check the tide times. The tide moves at a rate of one inch each minute.
When organizing your journey, keep in mind that elevation is an important consideration.
Hikers should be physically fit and bring proper wilderness travel supplies, such as first aid and survival kits, with them. When entering the park, visitors must leave a backcountry travel plan with park authorities.
Hike statistics
Difficulty – challenging
Length – 44.9 km
Elevation Gain – 1976 m
Time – 14 hours
Seasons – summer, fall, spring
Pukaskwa National Park, Ontario
Pukaskwa National Park is Ontario's largest.
Regardless of your ability level, Pukaskwa National Park is a hiker's dream, it's a must-visit for adventures in hiking and paddling.
Pukaskwa, a hidden jewel on Lake Superior's north shore, will alter even the most seasoned traveler. The park, which includes the 37-mile (60-kilometer) Coastal Hiking Trail, also provides automobile campers with peace and seclusion at the Hattie Cove Campground.
This National Park was founded in 1978 and is famed for its breathtaking vistas of Lake Superior. Pukaskwa National Park is located right off Highway 17 on the northern coast of Lake Superior.
Pukaskwa National Park has stunning granite coasts and sandy beaches. To experience local Indigenous culture in the heart of Pukaskwa, take a day hike to the White River Suspension Bridge or visit the Anishinabe Camp.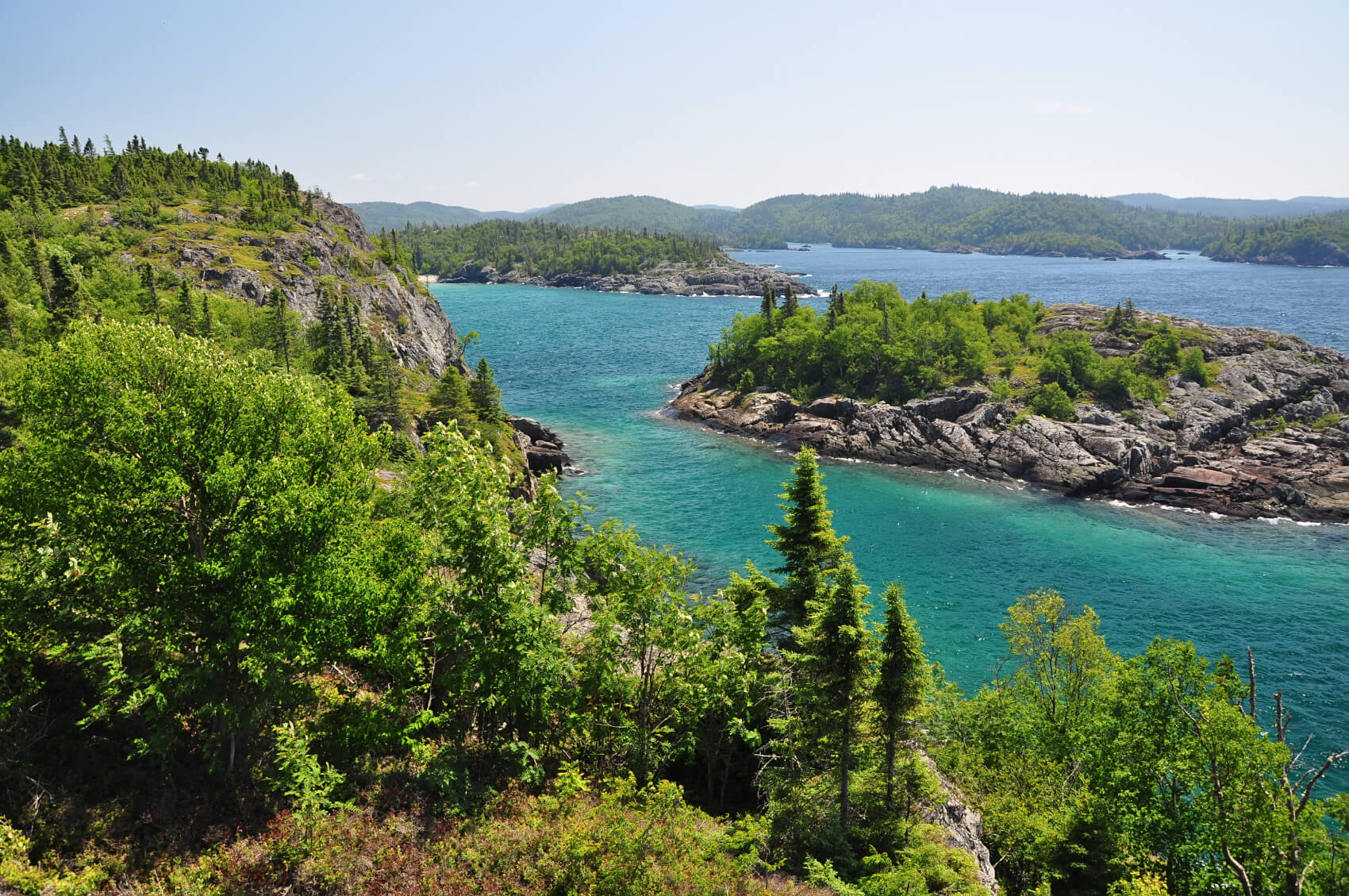 Forillon National Park, Quebec
Forillon National Park is located in Quebec's Gaspésie area. The scenery includes shores along the Atlantic Ocean, cliffs, salt marshes, beaches, dunes, woodlands, and a portion of the Quebec Appalachians, which are home to over 225 bird species as well as various mammals such as the black bear and beaver.
Forillon includes a variety of treks ranging from short to long, easy to difficult. These are excellent methods to enjoy nature while capturing the breathtaking vistas of the spectacular beaches.
The park has eight walks ranging from 0.6 kilometers to 17.6 kilometers in length. Les Graves, a trail that mostly follows the shore, is the one I selected to hike.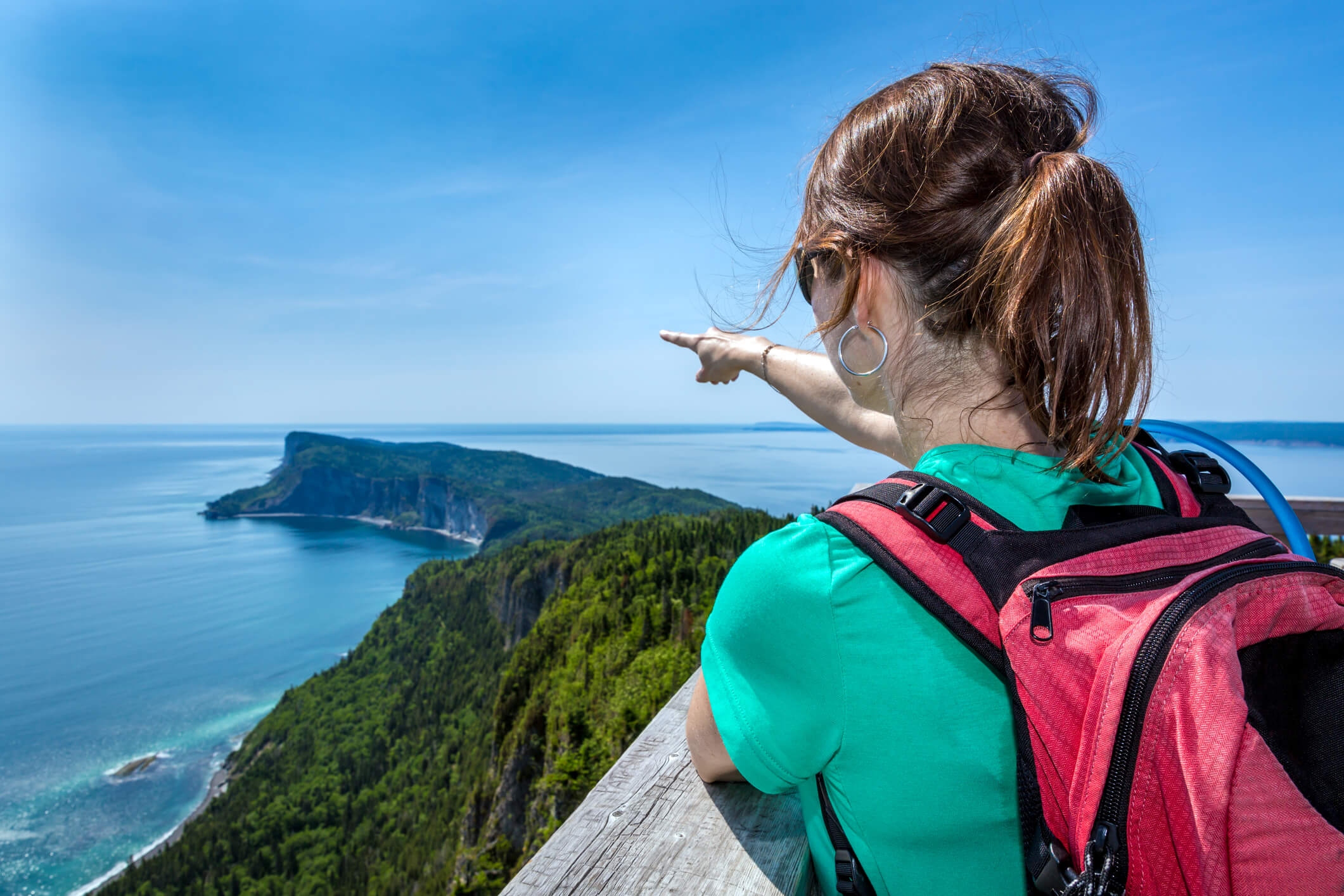 Johnston Canyon to Upper Falls, Alberta
One of the most popular attractions in Banff National Park is Johnston Canyon. There's a reason why the Johnston Canyon hike is on everyone's Banff bucket list. It's a short, easy Banff hike into a deep mountain canyon with numerous waterfalls. It's a fantastic Banff trip for hikers of all abilities.
Check out this 5.1-kilometer out-and-back near Banff, Alberta. It takes an average of 1 hour and 49 minutes to accomplish this moderately difficult route. Because this is a popular spot for birding, hiking, and skiing, you'll almost certainly run into other people while exploring.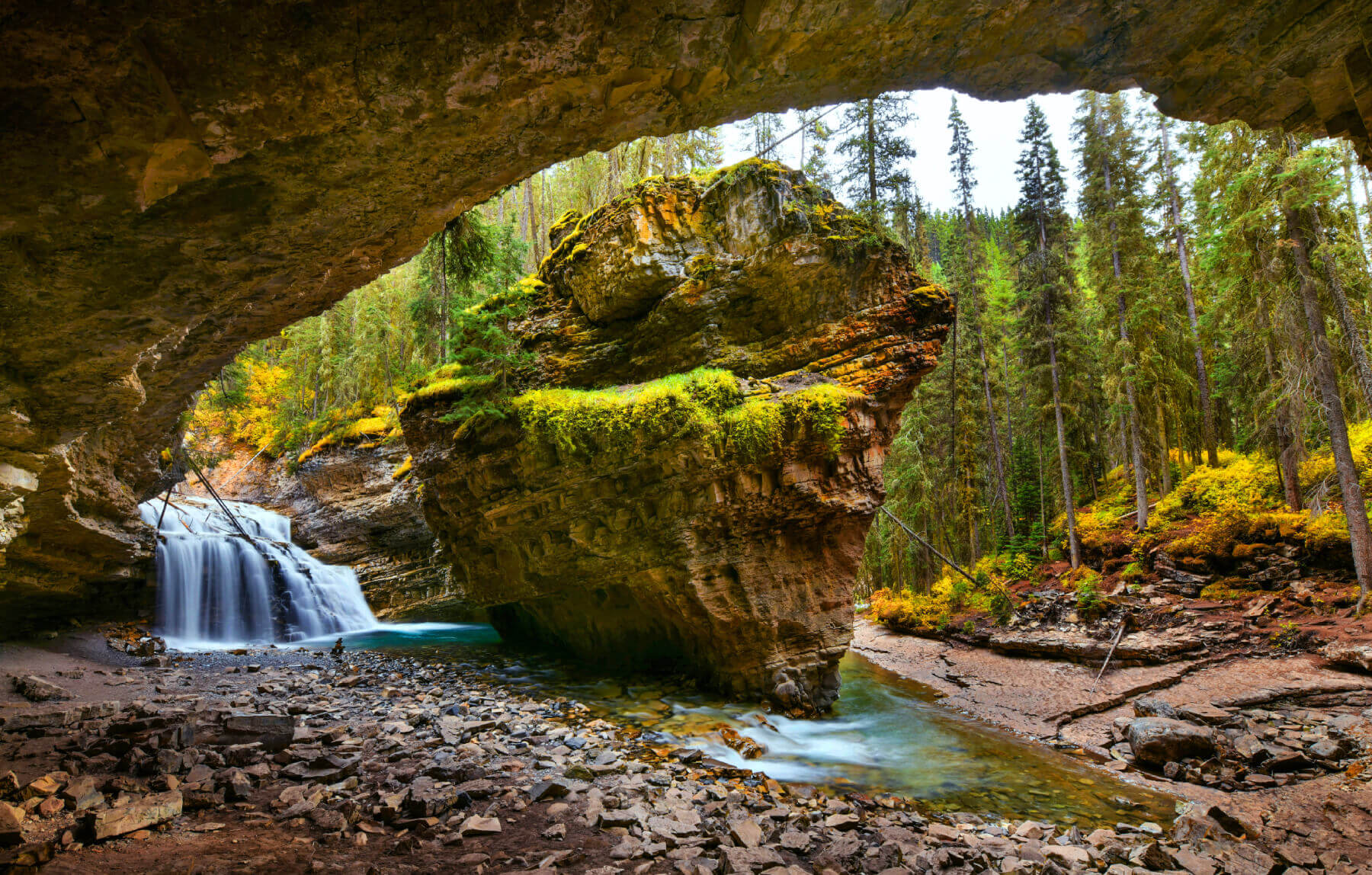 The route is available all year and is a great place to come at any time. Dogs are permitted but of course on a leash.
Hike statistics
Difficulty – easy
Length – 5.1 km
Elevation Gain – 262 m
Time – around 2 hrs
La Cloche-Silhouette Trail, Sudbury, Ontario
If you're looking for mountains in Ontario, put this one on your list. This 73.5-kilometer loop trail near Killarney takes an average of 20 hours and 58 minutes to complete. It is a popular backpacking, camping, and fishing trail, but you can still find solitude during quieter times of the day.
Aside from the white quartzite peaks and lakes, there is plenty of wildlife to see, such as moose, beavers, and porcupines. Because of its length and rugged terrain, the trail requires a high level of physical fitness on the part of the hiker and should be carefully planned. Due to the difficulty of the hike, it is not recommended that the backpacker attempt it in less than 5 days.
The average hiking speed is 2-3 kilometers per hour (this will vary depending on the section of the La Cloche being completed). If you're not up for the challenge, there are day hikes available throughout Killarney Provincial Park.
Hike statistics
Difficulty – challenging
Length – 78 km loop
Estimated time – 7- 10 days
Max elevation – 1312 ft
Necessary hiking gear
A day hike is a wonderful way to discover nature with friends and family, or even by yourself.
Consider how far you intend to hike, how remote the site is, and what the weather prediction is when deciding what to bring for a day hike. You will need more clothing, gear, food, and water you'll need, and the longer and/or more remote the trip is.
---
Read Also:
TOP 15 CANADIAN WATERFALLS YOU SHOULD VISIT DURING YOUR WORKING HOLIDAY
---
Our list of the most essential hiking gear includes:
Weather-appropriate clothing
Plenty of food
Plenty of water
First aid kit
Hiking boots
Map and Compass
Headlamp and extra batteries
Sun protection – sun cream 50 SPF and sunglasses
Firestarter
Emergency shelter
Extra batteries for your cell phone
Trashbag
Bug spray
Toiletries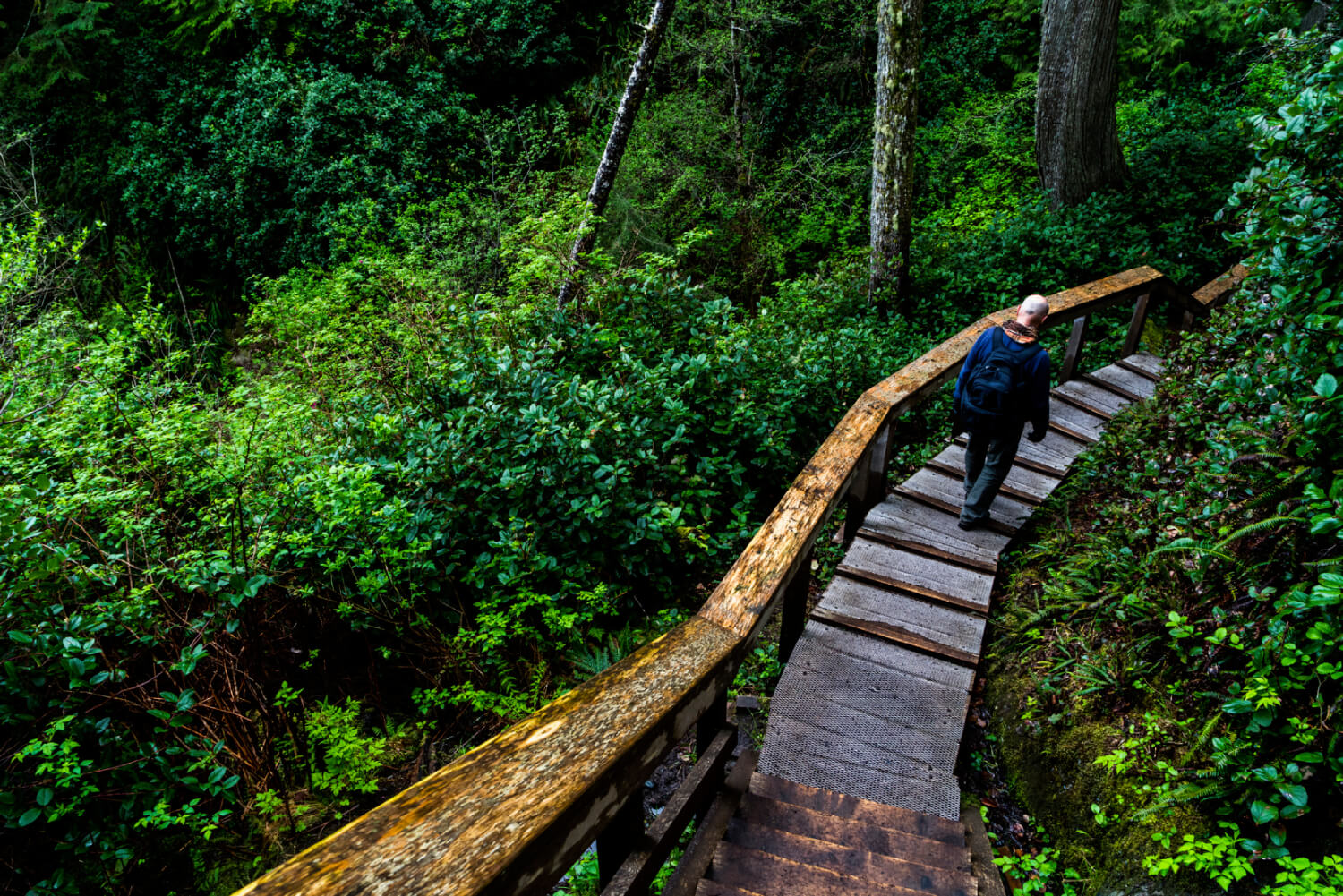 What you should know about hiking in Canada – useful tips
Here are some of our tips for beginners hikers
Research the trail before you go – A must-do for every first-time hiker is to research your Trail section before you start.
Let someone know that you are planning to hike
Hike with a partner
Always stay on the marked trail
Choose an easy trail and give yourself enough time to progress to more difficult trails
To preserve the battery- turn off your cell phone
Stretch your body and warm up before the hike
Do not dispose of waste or fruit peels
Time it right
Watch your feet
Check the weather
Do not be afraid of getting lost
It's never too late to turn back around
We hope you enjoyed our tips and recommendations! Happy hiking!
Updated On: 16.11.2022