Cover letters, CV'S, job applications… the joys of working holidays!
We know how hard it is to write a convincing cover letter to get you the job you dream of!
In this guide, you will find everything you need to know about writing the perfect cover letter for a working holiday job application in Canada.
What is a cover letter?
A cover letter is an additional document that you will send accompanying your resume when applying for a job. It provides the hiring manager with more information about your experience and skills.
Do I always have to write a cover letter for my job applications?
Well… this depends!
A strong cover letter is essential for all Canadian working holiday job applications.
However, if an employer specifies that you should not send a cover letter then you will not need to.
If your employer does not request a cover letter in the job description, we recommend that you still send one!
---
Register for your WHC Jobs Kit for lists of the top ski resort employers in BC and Alberta, our working holiday jobs search tool and much more!
---
What are the benefits of sending a cover letter?
Cover letters will allow the employer to gain a greater understanding of why you are suited to the position you're applying for.
Those who write a cover letter will stand out over those who haven't as it shows you have put time and effort into your application.
An employer's attention will be drawn to your application if you have prepared a well-written and informative cover letter.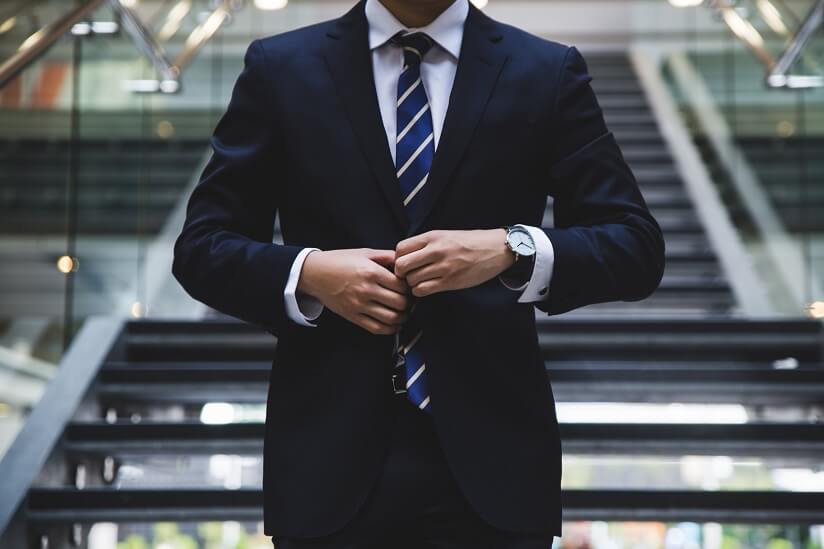 What is the format of a Canadian-style cover letter?
Wondering how to format a cover letter? To make it simple, we have divided it into four sections to explain what are the main parts of a cover letter and their purposes:
The Greeting
The Introduction
The Body of the letter
The Conclusion
The Greeting
If possible, you should personalize the greeting of the cover letter by using the hiring manager's name for example, "Dear" followed by their name.
If you are aware of the manager's gender, you should refer to this and greet them using "Mr./Mrs./Miss." followed by their surname.
If you are not aware of the hiring manager's name you should research it online to find it using, for example, websites, LinkedIn etc. If you can't find it online, you can contact the company's HR/Hiring department.
Please note, you should only do this if the hiring manager referred to themselves using this title in the job advertisement- do not assume their gender based on their name!
If the hiring manager's name and gender are unknown you can greet them with the title of their position, for example, "Dear Hiring Manager".
The introduction
In this section of the letter, you should introduce yourself briefly and then state the job you are applying for.
Ensure you personalize each cover letter for each job you apply for as the employer will recognize a generic cover letter and this may harm your chances of being called for an interview.
Give an explanation for why you want the job you are applying for. If you are not applying for a specific position you should state that you wish to work for the organization and give an explanation why.
The body
In this section, you should explain why you are qualified for this position. You should illustrate how your previous roles/experience make you suited to this position.
The conclusion
This is the final section of the cover letter. Here you should thank the hiring manager for their time.
If you are sending the cover letter via email you should state here that you have attached your resume. If you have a digital portfolio you should add a link to it here or if it is a hard copy you can inform them that you will email a link to your portfolio.
If you plan on following up with the employer, you should state this here.
You should then sign off the letter with a professional salutation, for example, "Sincerely or Kind regards", followed by your full name.
Sample Canadian-style Cover Letter Format
Below is a sample of a cover letter for a working holiday job in Canada: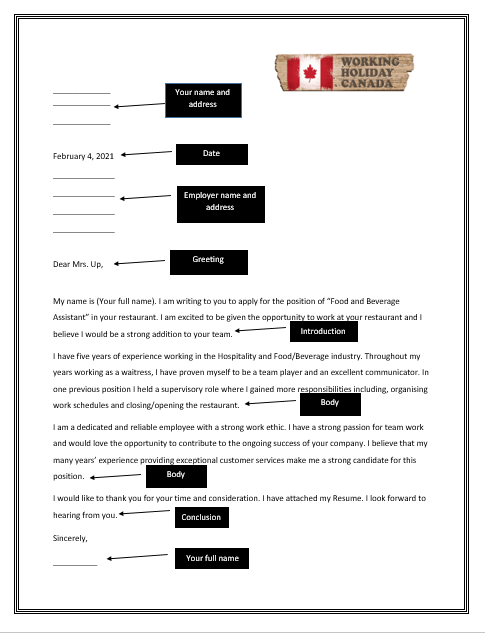 What mistakes to avoid when writing the cover letter?
Everybody makes mistakes and that's totally normal. Here are some tips on what you should pay more attention to in order to avoid sending a cover letter with mistakes.
Sending a generic cover letter
Sending a cover letter that is over a page in length
Grammar/Spelling mistakes- it is so important to proofread the letter thoroughly
Writing in an overly formal or casual tone- write in a friendly, professional manner
Our top tips for a Canadian style cover letter
Research the company you are applying to work with and try to demonstrate your knowledge in the cover letter
If your skills match those on the job description, ensure you mention this and if possible state how
Proof read your cover letter thoroughly before sending it – an employer will notice any grammar/spelling mistakes and this may decrease your chances of being called for an interview
Use a standard font size and avoid using any special effects like bold, italic etc.
Frequently asked questions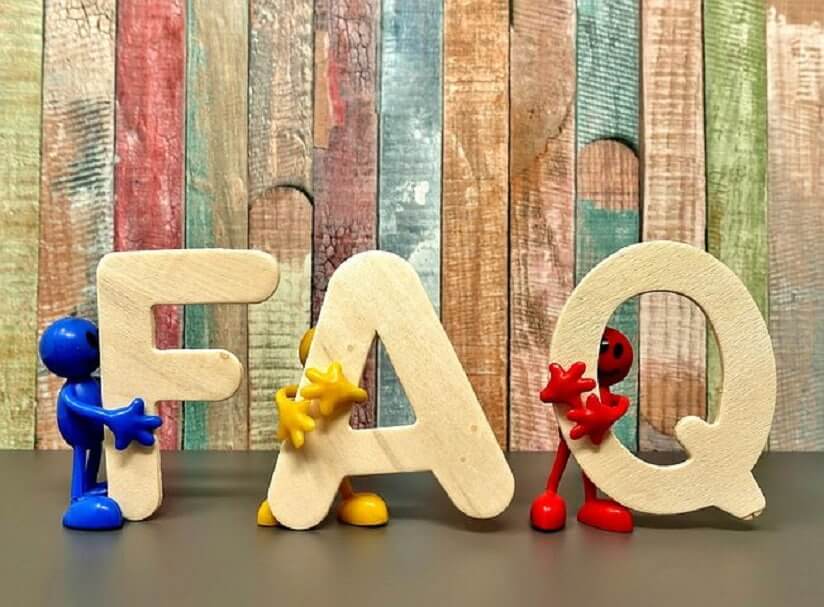 What information should not be included in the cover letter?
There are a number of things you should not include in your cover letter, such as:
An explanation of irrelevant work experience or a lack of experience
An explanation of why you are looking for a new job
Information that isn't true and honest
Negative remarks about previous or current employers
Information that is not related to the job itself
Irrelevant personal information
Should I include my salary information in my cover letter?
You do not have to include your salary expectations or information in your cover letter.
Some employers may not expect to see your salary information in a cover letter whereas others might.
If you're in doubt about including this information, you should leave it out unless it states to include it in the job description.
Should I follow up after sending my cover letter?
Yes, you can follow up with the hiring manager but we recommend you wait for roughly 7-10 business days.
This is because many employers will receive hundreds of resumes/cover letters and it may take time for them to get back to you.
If you choose to follow up, you should do so by email.