While it's no secret that Canada is an expensive country to live in, especially on a working holiday, that doesn't mean that you can't do Banff on a budget.
Banff is undoubtedly one of the most beautiful places that you could only hope to live in.
If the mountains, trails, wildlife and beautiful nature of the town doesn't excite you as a traveller, I'm not sure what will.
Whether it's summer or winter, Banff has a ridiculous amount to offer all year round.
Banff is home to two of the biggest ski resorts in Canada – Lake Louise Ski Resort and Sunshine Village Ski Resort – making it an ideal place for working holidaymakers to spend the winter season.
Every year, thousands of seasonal workers, tourists and snow sports aficionados flood to Banff to party, ski and make the most of being right in the middle of Canada's breath-taking wilderness.
Unfortunately, there are drawbacks to living in such a beautiful place – it's not cheap.
For groceries, you're looking at paying over the odds when you shop at the local Safeway or Nesters.
You will find that items such as meat and vegetables are a lot more expensive than in larger towns, however, there are some ways around the pricey nature.
We're so excited to share some of our favourite frugal travel tips for working holidaymakers. Let's see how we can do Banff on a budget.
Create a travel budget
Price everything before you go to Banff and carefully plan a budget. This will involve doing a lot of research on accommodation, activities, transport, groceries, phone bills.
All of these things cost money and if you're not careful, you'll burn through what you have in no time.
Look up the average wage, rent, transport, and general living costs.
If you're booking buses, activities or finding accommodation be sure to compare prices.
Find out where you can get the most bang for your buck and shop around for deals.
---
Top tip:
Travel bloggers often offer online discount codes. Check out some recent Canadian travel blogs for discount codes on activities and transport. You can also check general travel blogs for discounts on travel insurance.
---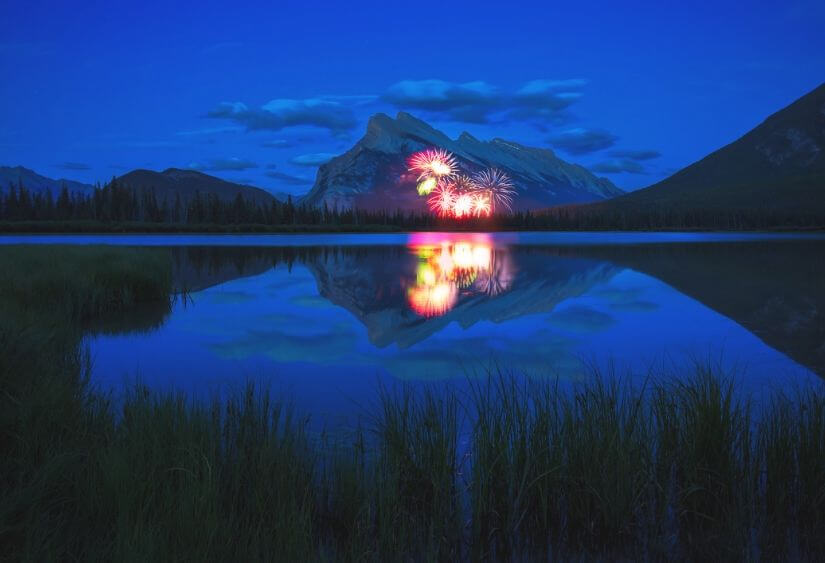 Accommodation in Banff
The very first thing you'll need on arrival is a place to rest your head at night. Unfortunately, finding a suitable place to live is often the most challenging part of moving to Banff.
Accommodation is hard to come by, especially on a shoe-string budget and newcomers are often taken aback by the high accommodation prices and the lack of availability.
One solution is staying in a hostel for a few weeks.
Bear in mind, there is usually a 3-week maximum stay during the busy season in these hostels so you might need to book an extra week elsewhere.
Most start dates for Banff's ski resorts are between October and December and end dates are usually between April and May.
This is when there will also be more job opportunities in Banff town, but fewer available rental properties.
Our advice to you is:
Book a hostel for your first week (at least).
Book your accommodation in advance of your stay by at least a couple of weeks.
Arrive before the busy season starts to give yourself a better chance of beating the competition and finding a job you like.
Look for a job with an employer who provides accommodation. This is a pretty regular occurrence in places like Banff and Whistler.
Check out online forums, Facebook groups, and Facebook marketplace to find a suitable place to live.
Choose employers carefully: Banff Lodging Co is a fantastic example of an employer who is sought after by all job seekers; they own a variety of bars and hotels in town and offer affordable staff accommodation and many other perks – something that is hard to come by due to the exceedingly high occupancy rate in Banff. With this in mind, it certainly tends to be the larger employers in town that offer better deals on accommodation and some even offer free food, so make sure you do your research on employers before accepting that easy job offer.
If you're having no luck finding somewhere in Banff, you can look to surrounding villages and towns.
For instance, Lake Louise is about 40 minutes away from Banff and most employers there offer accommodation. Canmore is another nearby town that's worth looking into.
It takes around 20mins to reach by bus or 30mins by car from the centre of Banff.
---
Read Also:
CANADIAN LAKES THAT WILL MAKE YOU SWOON
---
Transport in Banff
Bus
If you're living and working in Banff town, then great! There's a buzzing nightlife, tonnes of restaurants and bars and lots of things to keep you occupied when you have some free time.
Remember, it's a working holiday so try to make the most of your time off.
If you're staying elsewhere like, say, Canmore or Lake Louise, then you'll have to think about transport. There are buses to and from these places to Banff.
A return ticket from Banff Sunshine to Banff is free (woo!).
A return ticket from Canmore to Banff costs around $6.
A return ticket from Lake Louise to Banff costs $30.
---
Top Tip:
One thing you can do is make the short trip to Canmore on the local Roam bus which is a $12 round trip, where you can go shopping.
---
Car
There are busses to the ski resorts and surrounding areas/towns but they're expensive and the timetables aren't great since they leave you with little or no flexibility.
We would highly recommend picking up a cheap car if you're moving to Banff. Lots of working holidaymakers buy a car to make their way around and sell it off before they leave.
Having access to your own car is ideal if you want to get around somewhere like Banff where public transport is limited and often overpriced.
Visiting Calgary
One of the great things about Banff is that it's just a stone's throw away from Calgary so if you get sick of small-town life and want a break for a few days, you can hop on a bus and arrive in the city in a few hours.
If you're travelling by bus you can hop on the airport shuttle to Calgary airport and then catch a bus to Calgary city centre. The journey will take in and around 2hrs 30mins.
Despite being a relatively short journey, a return bus ticket from Banff to Calgary airport will cost $38.
If you don't have your own car, you should consider carpooling and chipping in for petrol costs with some of your new Banff buddies.
It will take around 1hr 30mins to drive there. If you have a license you can even consider renting a car.
If you want a little luxury you can pay $144 and catch a Brewster Express bus.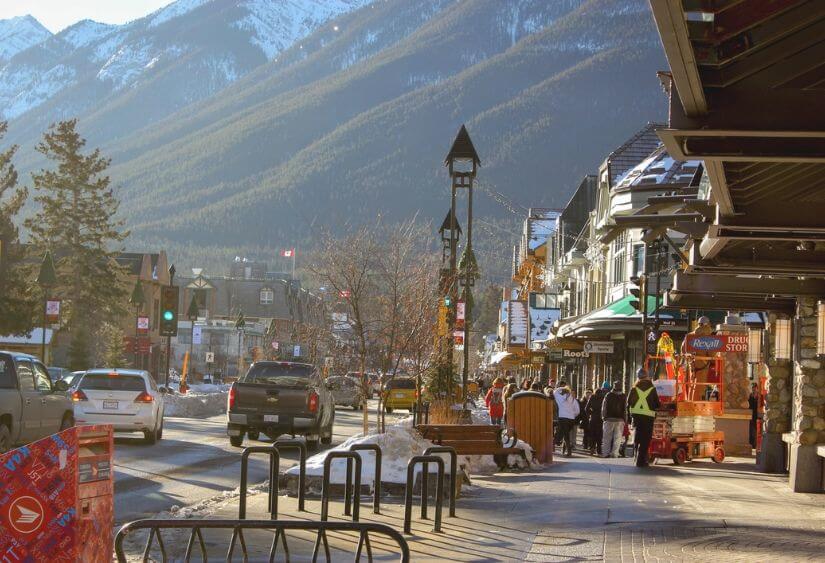 Jobs in Banff
Look for a job and accommodation before you go to Canada. This will free up your first few weeks meaning less stress for you!
Apply online, reach out by email and arrange interviews by Skype if possible.
Take any job to start with and if it's really not your thing, keep looking for something better.
That way you know you can start earning money as soon as you arrive.
Again, look for employers who provide accommodation.
Many employers in the Canadian Rockies do provide a place to stay.
Almost every employer in Lake Louise provides housing but spaces are usually limited.
This will save you money and time.
Banff Resource Centre
Banff Resource Centre is also a good place to look for jobs. They regularly post new positions on their website and Facebook page as well as advertising job fairs in town.
Another great thing about Banff Resource Centre is that they will also give you advice on your CV and how to ace a job interview.
Look for a job where you will receive tips
Many jobs for working holidaymakers will pay around $15 per hour, if you can receive tips on top of this you'll have some extra cash for travelling.
Keep in mind, if your job involves serving liquor, you'll receive just under minimum wage. If you want to legally serve alcohol in Canada, you will need the ProService certification which you can get online.
---
Read Also:
ARE TIPS TAXABLE IN CANADA?
---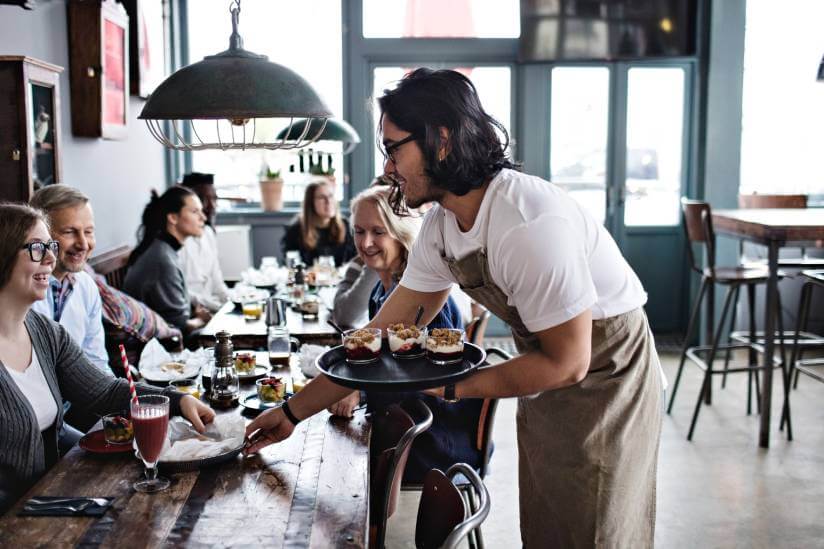 Saving Money
Get thrifty
If you're not the kind of person to turn your nose up at buying second hand, perfect! You can save hundreds on your time spent in Banff.
Furthermore, due to Banff's seasonal nature people are always coming and going, and with that change comes a massive amount of new and old stuff that needs to be bought and sold.
One final tip is to visit thrift stores and check online before purchasing anything!
Banff Buy & Sell is a Facebook community of people living or have lived in Banff that needs to sell every item you can think of, often reliable and much cheaper than buying first hand.
If you're coming from somewhere warm, buying second-hand means you won't have to cram your suitcase or backpack full of thick warm clothes. This will save you a lot on airline baggage fees.
If you're planning on doing a lot of outdoor activities; cycling, kayaking, snowboarding, fishing, the equipment you need will more than likely be available second hand for a fraction of the price.
There are some second hand and consignment shops scattered around Banff and tonnes more in Calgary if you're planning on venturing there for a day or two.
If you can't find what you're looking for in a thrift shop, check the Facebook marketplace. Bow Valley Buy, Sell, Giveaway and Take page is always a good start.
You can also check out some online buy and sell websites like Kijiji. Oh, and don't forget to keep an eye out for bulletin boards in hostels and public spaces.
Check out Taximike
Taximike is a pretty great website if you're looking for cheap deals on food/drink/tours and the likes. You might be surprised to hear that taxi Mike is a real-life taxi driver who is essentially an encyclopedia or local knowledge and spooky ghost stories.
Meal prep
Meal-prepping isn't just for gym addicts. You'll likely be sharing a kitchen with several other people depending on your living situation.
Preparing low-cost meals for the week ahead can save you a lot of money in the long run.
Buy and cook in bulk to save yourself time, money and stepping on your housemate's toes in the kitchen every evening.
Skiing in Banff
Lake Louise is about a 40-minute drive from Banff, and Banff Sunshine is around 20 minutes away by car or bus.
This makes Banff a prime skiing location. Mount Norquay is a resort based right in the centre of Banff.
It's a bit smaller but they hire a lot of working holidaymakers and there are regular shuttle buses to and from the resort.
The best way to ski for free is to get a job at a ski resort.
If you're an active outdoorsy type then you'll love working at a ski resort.
It's also a great way to meet new people.
If you're working elsewhere like say in retail or a waiting job, you should include a ski pass in your budget because they don't come cheap!
Check out tickets and passes for Lake Louise.
Check out tickets and passes for Banff Sunshine.
Learn the local's way of life:
Locals Deals
There are a variety of benefits and discounts that are available to locals, so asking after any discounts in bars and stores often pays dividends.
Roots, the clothing store, are a perfect example of a store where all Banff locals receive a discount on purchases, so be sure to ask when purchasing anything.
Locals nights
Your choice of the night to engage in festivities will greatly affect your bank account and your experience and there are two reasons for this.
You will find on weekends that the crowd in town is very different from that of locals nights (Sunday, Wednesday & Thursday) hence the vibe changes noticeably.
Sure there are a few bars that still attract locals, with Bruno's being a popular destination, but the influx of people from other areas changes the dynamic of Banff's nightlife.
Alternatively, Hostels such as the Samesun and the H.I all have their own designated bars and are full of travelers with affordable drinks. Definitely worth checking out!
---
Read Also:
Ski Resort Accommodation in Canada
---
Banff Life
Banff Life is a local initiative offering free dinners, games, events and other fun things for young people. It's an affordable way to meet people and have fun.
Get a tax refund
Another way to save money while in Banff is by applying for a tax refund. Taxback.com's average Canadian refund is $998. That's almost $1,000 and that can fund your Banff adventure.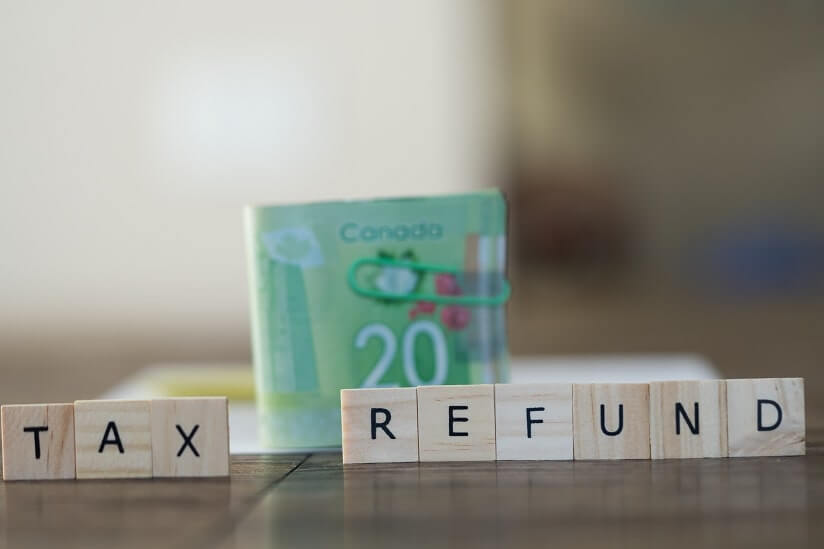 Travel insurance
Get travel insurance! If you break a bone skiing you could end up paying thousands to have it fixed up.
Travel insurance is essential just make sure you compare prices to find the best deal. It's a visa application requirement to have adequate travel insurance.
It's best to take care of this in good time before you leave for Canada. Oh, and make sure your insurance covers extreme sports like snowboarding and skiing.
So that's just about everything we can think of to make your Banff trip as cheap as chips.
Keep in mind that a lot of the time, saving money comes down to preparation.
When it comes to Canadian working holidays in places like Banff, the early bird catches the worm!
---
Check out also:
Finding accommodation in Banff
What to do During Your First Week in Banff
---