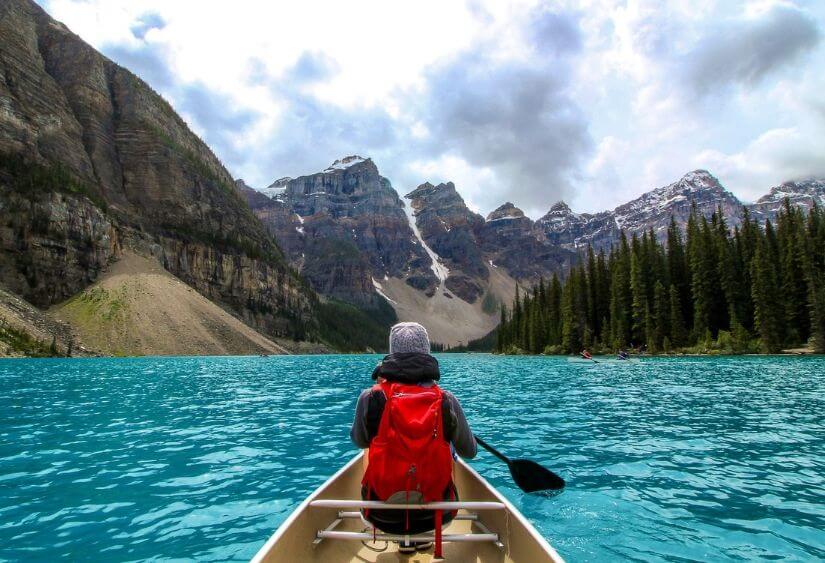 Headed to Banff as part of your Canadian working holiday?
Great! We have a whole bunch of cool stuff for you to do while you're there.
Banff is nestled between three great ski/snowboard mountains (Mount Norquay, Sunshine Village, and Lake Louise Ski Resort), just an hour drive north of Calgary.
Before you get a job and settle in, it's a good idea to take advantage of your free time and do the whole tourist thing for a week or two.
What you get up to during your first week in Banff will largely depend on the weather. Warmer seasons in Banff means hiking, fishing and biking are great options. Colder weather means you'll probably want to hit the slopes and brush up on your skiing skills.
If you are coming out to Canada to work in one of the top ski resorts more than likely some of you will end up living in this funky little town. We have put together our top attraction picks for you to check out during your stay or even if you are visiting for a weekend.
Here are 10 cool things to do in Banff during your first week!
1. Hop-on Hop-off Banff bus
View this post on Instagram
Ah, the old reliable hop-on hop-off bus tour. From Cape Town to Copenhagen, Bangkok to Belfast just about every city in the world has one.
If you ask us, bus tours are seriously underrated! If you're in a very hot country it can be nice to get some relief in a cool, air-conditioned bus. If you're in the depths of winter in a country like Canada, you can enjoy the scenery and learn about the city from the comfort the warm, toasty bus.
This particular tour is one of the most highly rated tourist activities in Banff. You'll get to explore Lake Louise and Banff's breath-taking national park with their friendly on-board hosts at the ready to answer any of your questions. They'll even help you book additional activities.
Find out more about Hop on a Banff.
---
Register for your WHC Jobs Kit for lists of the top ski resort employers in BC and Alberta, our working holiday jobs search tool and much more!
---
2. Ride the gondola up Sulphur Mountain
View this post on Instagram
If you've ever wanted to explore the Rockies, now's your chance! There are some truly awe-inspiring scenes to be enjoyed in this part of the mountains.
If you want to check out some seriously epic views from Sulphur Mountain's summit, you can get there by hopping on the Banff Gondola.
By the way, it's not all about reaching the top, you'll see some amazing scenery along the way too. When you do arrive at the 7,500ft peak, you'll be met with eateries, a gift shop, interactive exhibits and a 360-degree observation deck where you can see all of Banff and the Bow River Valley.
If you fancy a short hike, you can follow the boardwalk to see incredible panoramic views of the Bow Valley just be sure to bring comfortable footwear that won't leave you slipping if the boardwalk is icy.
If you're fit as a fiddle and you fancy hiking to the top of Sulphur Mountain, it'll take you around 2 hours.
Book your very own gondola experience.
3. Bankhead Ghost Town
Back in the early 20th century, Bankhead was a small but busy coal-mining town located at Cascade Mountain in Banff National Park.
The town was swiftly abandoned by its 1000 residents after the closure of the mine in 1922. The company who owned the mine also owned all of the property in the village, renting it out to the miners and their families. This resulted in 300 men becoming simultaneously unemployed.
The ruins of the town are still standing to be explored by curious tourists. One of the first things you'll meet on your ghost town adventure is a Lamp House. This is where miners would collect their lamps on the way into the mines. If at the end of the day there were missing lamps, a search party was quickly organised to find the missing person who failed to return their lamp.
This is a must-see for any history buffs out there.
You can read here more about the history of Bankhead.
4. Grab a bite to eat at Magpie and Stump
View this post on Instagram
---
You May Also Like:
7 SUMMER EXPERIENCES IN CANADA
---
Holy guacamole! It wouldn't be a listicle without a mouth-watering eatery or two.
Is all that adventuring giving you a hankering for a bite to eat? Well then, head on over to Magpie and Stump for some hearty Mexican cuisine. This locally renowned restaurant is one of Banff's oldest establishments. They've been serving up tasty Mexican dishes for almost 40 years and it's a favourite with the locals for good reason!
5. The River Explorer BIG canoe tour
View this post on Instagram
Ever wanted to go in a canoe with 11 of your friends? Yeah, ok, the thought has probably never occurred to you, but it really is a lot of fun! The River Explorer Tour is a brilliant way to paddle the river with a big group. They provide all of your safety equipment and teach you how to paddle that big old canoe up Bow River.
All the while you'll be entertained with anecdotes and fun facts about the area. This is a great way to explore Banff National Park's waterways. One of the best things about this tour is the chance to see beavers, muskrats, bald eagles and elk.
Book your tour at the Banff canoe club.
6. Skiing at Banff Sunshine (formerly) Sunshine Village
View this post on Instagram
Skiing in Banff can only mean one thing, Banff Sunshine! Banff Sunshine is located within Banff national park. It's one of three ski resorts in the national park but because of its prime location, it receives far more snow than neighbouring resorts.
To reach Banff Sunshine, you'll take a ride on an eight-person, high-speed gondola that will drop you off at Goat's Eye Mountain in 10 minutes or the upper village area in just under 20 minutes.
If you visit during the summer months you should take advantage of the shuttle bus service, it'll bring you to some seriously cool walking trails and alpine meadows.
7. The Vault
View this post on Instagram
Located in the town of Kananaskis, the Vault is a 30-minute drive from the centre of Banff. It's essentially a mysterious tunnel that leads into the mountain to two chambers around 80×20 feet.
There have been many rumours concerning why the tunnel exists. Some say the Canadian government tunnelled into the mountains to build a bunker that could keep government officials safe in the case of a nuclear attack during the Cold War.
In reality, three brothers named Joe, Stan and Ted Rokosh constructed the caves. The intention was to use the caves to store documents under the company name 'Rocky Mountain Vaults'. The vaults began construction in 1966. The plan was to protect the countries most important documents in the case of nuclear fallout. The vaults were going to be climate controlled to guarantee the protection of the documents. Even the Royal Bank of Canada got involved looking to house banking records.
Unfortunately, there were no fully committed clients, which meant the company eventually fell bankrupt. Despite its bummer of a backstory, The Vault does make for an interesting day out for hikers and tourists.
8. Banff Upper Hot Springs
View this post on Instagram
Hot springs are the perfect way to end your first week in Banff. These hot springs are located along the Banff Gondola ride so it's a good idea to pack your swimwear just in case. If you're expecting a blue lagoon scene but on a smaller scale you might be disappointed since this is more of a mineral-rich pool – but don't let that put you off. There's no better way to relax than in a hot spring!
It's quite small so enquire about off-peak times to get the most out of your relaxing hot spring experience.
The hot springs are a must for anyone visiting Banff. After a full day skiing or a night out on the town, this is a great spot to enjoy a soak in steaming hot mineral water. Hot outdoor pools and panoramic views of snow-tipped mountains, what's not to like!
Chill out at the hot springs in Banff by booking here.
9. Glacier Skywalk and the Columbia Glacier Icefield
Who doesn't want to say that they have walked on a glacier? This is your chance. The 918-foot drop from the glass floor to the bottom will get your heart racing. The skywalk has breathtaking views and is an unmissable opportunity to get a full panoramic view of the Canadian Rockies.
Bring a picnic and stop off for a scenic walk at the Columbia Glacier Icefield Centre. Shuttle buses to the skywalk operate every 15 minutes from the Centre.
10. Valley of the 10 Peaks
For any outdoor enthusiast, this is the hike of a lifetime. Wake up early to start this epic adventure. Follow the Larch Valley trail up onto the Sentinel Pass. Starting just behind Moraine Lake Lodge, guiding you in through the forest, the hike can take a full day, especially with all the stopping for some epic pics.
You will see plenty of wildlife en route and you might even see some bears. There are bear precautions in place in September when our big furry friends are stocking up on food for the winter.
You must travel in groups of four people upwards during this time. Top tips: Bring Bear Spray, try to avoid going on a Saturday as Moraine lake can get overcrowded and don't forget to bring your camera!
That concludes our list of things to do during your first week in Banff.
We hope this makes planning your Banff adventure a little easier.