If you are looking for a place with gorgeous nature and wonderful lakes to enjoy and stare at, Canada is the right place for you!
You know those pictures you see of Canadian lakes that look out of this world and immediately make you feel inspired to travel? You can now see them with your own eyes by visiting some of Canada's memorable lakes!
An interesting thing to know is that Canada holds some of the world's freshest lake water – 18% to be specific.
Visiting these lakes is an adventure in which you can enjoy lots of activities with friends or family!
Note that a lot of these lakes are accessed by national parks which can have an entry fee, parking fee, and camping fee.
Read on to find out more about some of Canada's most popular lakes which will include some of the largest ones in the world!
Spotted Lake
Spotted lake is located in British Columbia, northwest of Osoyoos.
This is a small lake but mother nature really made it noteworthy!
Why? Because of the minerals in the water that create the "spots" that are visible on the surface of the lake.
Here's the science: it consists of calcium, magnesium, and sodium, and during the summer the water evaporates with the minerals remaining and crystalizing creating these colorful "spots."
Note that this happens during the summer so it's the best time to visit if you want to ensure you see nature's manifestation of these strange spots!
You should also know that this lake has been seen as sacred for indigenous people in Okanagan and believed to have healing properties.
This area is now a private, protected area and if you visit you will only be able to view it from a fence – but you can take lots of pictures and it's well worth seeing!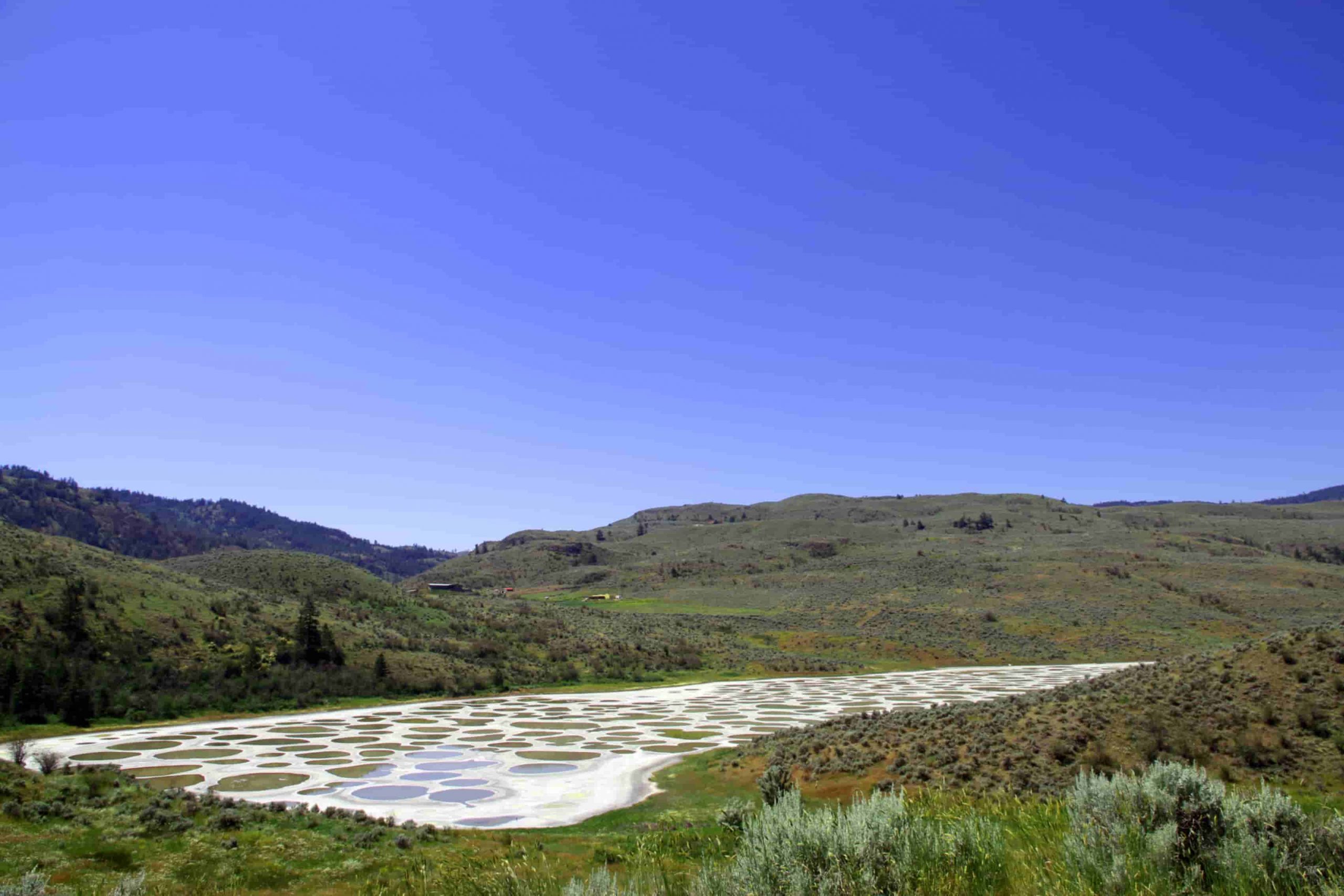 Emerald Lake
Emerald Lake is located in British Columbia in Yoho National Park.
Although there are 61 lakes in Yoho National Park, Emerald Lake is considered to be the largest and most beautiful!
The green lake is a popular tourist attraction and hence may be quite busy.
Nonetheless, there are many things to do while visiting this lake both during the summer and winter.
Firstly, there is an approximately 5km hike around the lake that is rated as easy, so it's beginner-friendly!
Wild orchids, eagles, ospreys, or even wildlife may be visible on your hike.
During the summer you can rent canoes and canoe across the lake.
You can also go mountain biking, climbing, and you can swim – but note that the water will be cold!
Activities differ during the winter – you can go ice skating, skiing, and snowshoeing!
You can also stay at Emerald Lake Lodge all year round (it can be booked online) – it'll be a great way for you to connect with nature.
Fee: The lake is free to access but Yoho National Park has a daily fee of $10.50 per adult.
Dogs: Allowed but not at the beach or picnic area. Your furry friends can also stay with you at the Emerald lodge!
Lake Louise
Another popular tourist attraction that you must see is Lake Louise located in Banff National Park, Alberta.
This is a small but stunning lake with turquoise water looking out onto alpine trees and mountains.
This lake can be enjoyed during the summer and winter with lots of activities at hand.
Some of which include hiking, skiing, mountain biking, horse riding, and also rock/ice climbing if you're keen on being up high!
A popular hiking trail is the Plain of Six Glaciers – it's 14km out and back.
You can also go swimming if you're prepared for the cold water.
You can stay in Fairmont Chateau Lake Louise, a renowned hotel that looks out onto the lake; however, it can be pricey.If you don't stay overnight, getting a meal there is also lovely!
---
Note: If you don't arrive before 7 am to the park, you will have to get a shuttle bus that's available every 15 minutes between 8 am to 6.30 pm – make sure to book it!
---
Fee: The lake is free to visit, however, Banff National Park has a daily admission fee of $10.50 per adult.
Dogs: Allowed on a leash.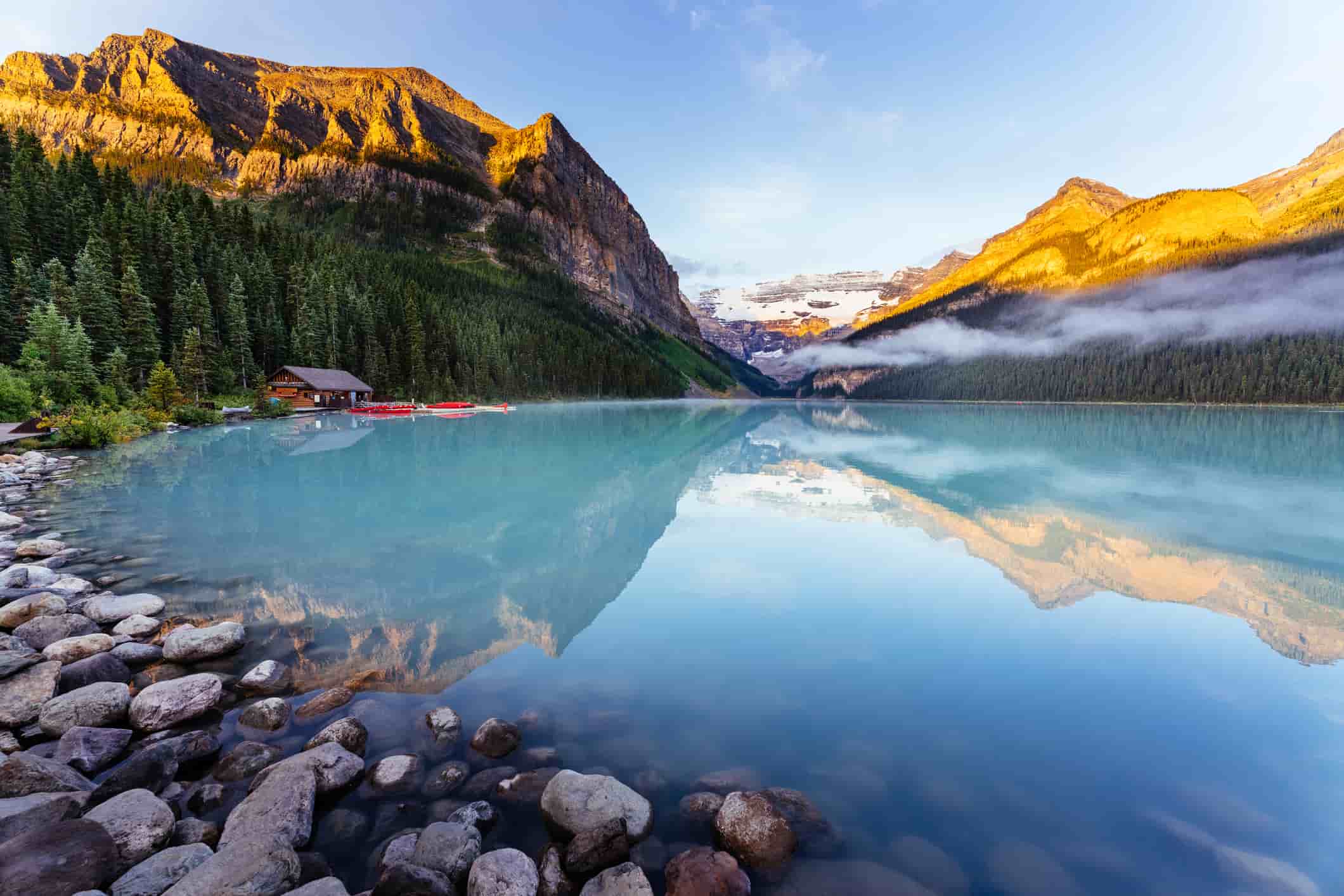 Moraine Lake
Moraine Lake is also located in Banff National Park, Alberta.
Despite the fact that Moraine Lake is smaller and isn't as popular as Lake Louise, it's still a sight many people are eager to see and some may even prefer it over Lake Louise!
It's close enough to Lake Louise, so you could enjoy the two lakes on the same day.
You may have seen the blue-green lake as a wallpaper or the back of old twenty-dollar bills, but don't leave it as a wallpaper fantasy, go visit it!
There are some worthwhile hikes to take while visiting this lake, for example:
Moraine Lake Shoreline Trail – 3km, beginner-friendly
Consolation Lakes Trail – 5.8km, beginner-friendly
Sentinel Pass Trail – 13.6km, difficult
Perren Route – 22.52km, difficult
Skiing is also an option here during the winter.
You cannot swim at this lake.
It can get quite busy so make sure you get there early to secure parking, otherwise, you may have to turn back!
Fee: The lake is free to visit, however, the national park has a daily admission fee of $10.50 per adult.
Dogs: Allowed on a leash.
Peyto Lake
Banff National Park, Alberta is also home to Peyto Lake.
Like Moraine Lake and Lake Louise this lake is also blue-green in colour due to the glacial rock flour in the lake – but know that the colour changes with the seasons being brighter during the summer.
This lake is third in popularity in Banff National Park, after Lake Louise and Moraine Lake – so it'll certainly be crowded, particularly during the summer.
To see the lake you can walk up for about 10 minutes to Bow Summit (buses are also available) and you can then walk down to the lake within 30-60 minutes.
Another viewpoint from which you can see the lake is Observation Peak which isn't as crowded.
Swimming is permitted in this lake but just like the others, it's quite cold!
You can also snowshoe from May to October.
Fee: Again, you have to pay a daily admission fee at the National Park but not to see the lake.
Dogs: Dogs allowed on leash.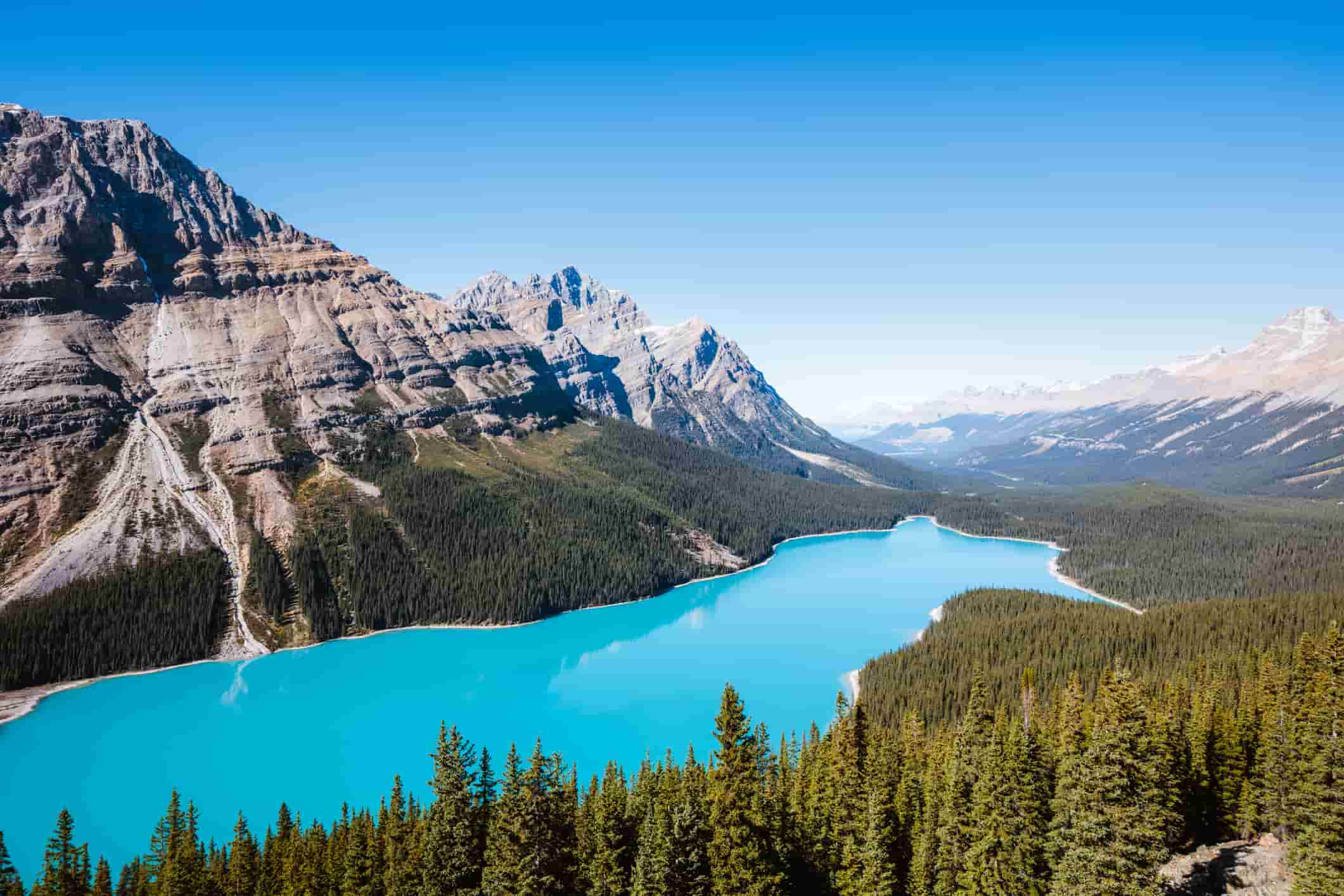 Maligne Lake
Another one of Canada's famous lakes is Maligne Lake located in Jasper National Park, Alberta.
You will be able to see three glaciers from the lake, mountains and of course Spirit Island.
A memorable thing to do is paddle or get a boat to Spirit Island. Boat tours take place from spring to autumn.
You also have the possibility to hike around the lake and try out some of the many trails Maligne Lake has to offer, such as:
Mary Schäffer Loop – 3.2km, beginner-friendly
Opal Hills Loop – 8.2km, difficult
Skyline Trail – 44.1m, multi-day hike
Wildlife spotting is another reason to visit this lake. You may see bears, deer, elk, moose, wolves, and mountain sheep – but remember to stay away, especially from the bears.
You can then go snowshoeing in the winter months.
Fee: The lake is free, but you need a Park Pass, which is $10.50 per adult for a day.
Dogs: Allowed.
Garibaldi Lake
Garibaldi lake is in the Garibaldi Provincial Park in British Columbia.
This is another beautiful turquoise lake encircled by mountains but it differs in that it can only be accessed by hiking for nine km – so this one is for the active folks!
You can start the hike from the Rubble Creek parking lot.
It's rated as moderately difficult as it's uphill.
You can either make Garibaldi Lake as a day trip or stay longer and camp by the lake – note that you will need to reserve your camping spot.
Once you get there, you'll have more trails to explore, like:
Black Tusk – 29km, difficult
Panorama Ridge – 30km, difficult
You can also swim in the lake or go canoeing and during the winter you can ski or snowshoe!
Fee: Free.
Dogs: Not allowed.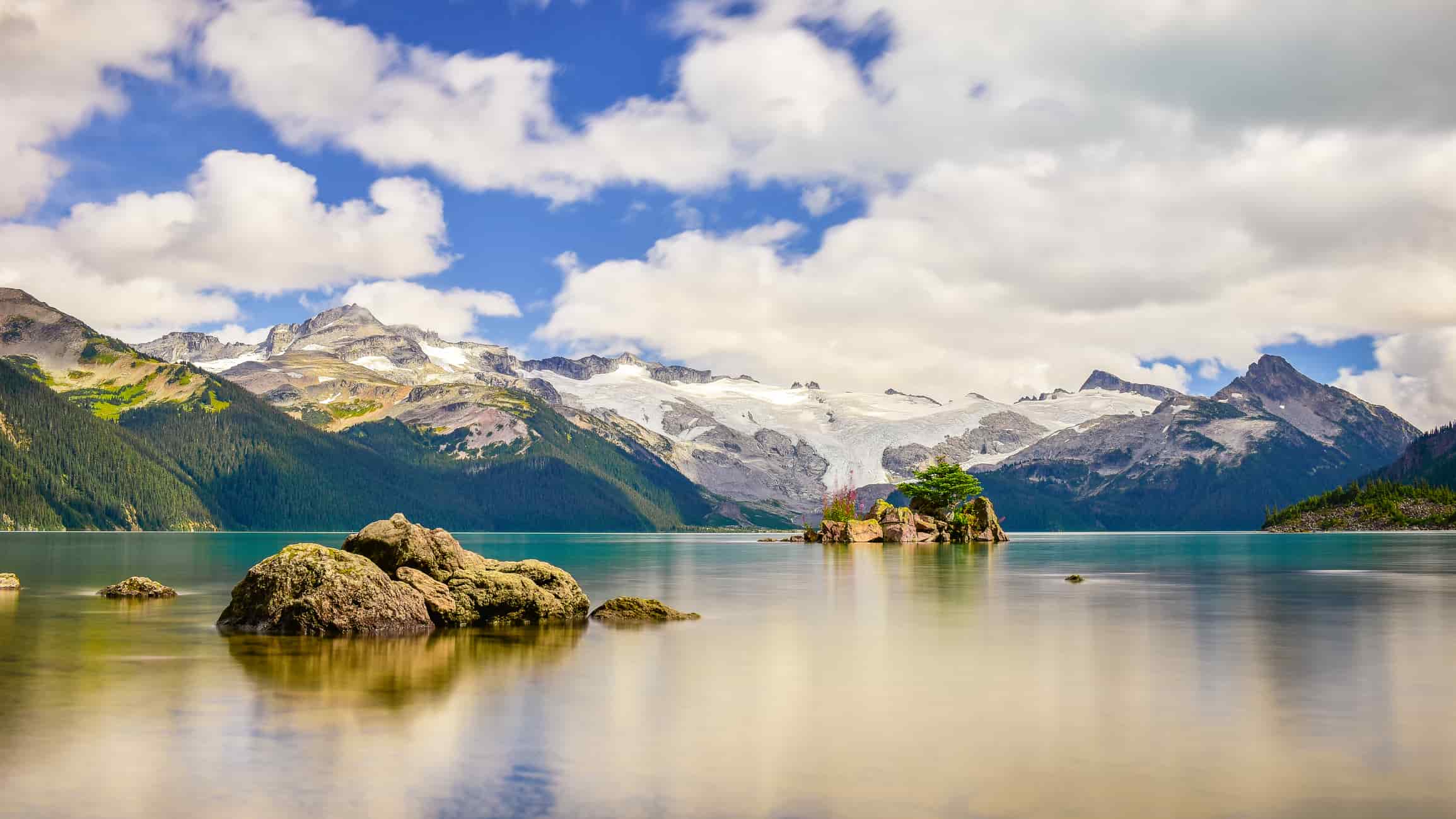 Abraham Lake
In western Alberta on the North Saskatchewan River, you will find Abraham Lake.
Despite the fact that this is called a lake, it's actually a man-made reservoir.
The water is blue during the summer but once it's icy during the winter you will notice ice bubbles below the surface.
Despite the fact that this will look attractive to the eye, the reason those ice bubbles form is because plants at the bottom of the lake start to decay and release methane gas that gets trapped in the ice.
Make sure you don't smoke close to the ice as methane gas is flammable!
It's also not regarded as safe to swim here.
Nonetheless, here are just a few of the hikes you can go on:
Crescent Falls – 4.9km, easy
Allstones Lake – 8.1km, some moderate sections but difficult
Siffleur Falls – 7.1km, easy
During the winter you can go ice skating.
Fee: Free.
Dogs: Allowed on a leash.
Lake Superior
Lake Superior is the world's largest freshwater lake, located in Ontario, Canada stretching out onto Wisconsin and Michigan in the US.
It's also the largest of the Great Lakes.
You can access Lake Superior in a couple of provincial parks (where you can also go hiking):
Lake Superior Provincial Park
Sleeping Giant Provincial Park
Nimoosh Provincial Park
Pukaskwa National Park
There's plenty you can do here!
There are over 200 rivers and rivulets that you can access by boat or seaplane!
You can swim, paddleboard, canoe, kayak, camp and you may even see some wolves or moose!
You'll have plenty of things to explore here including forests, beaches, and cliffs.
It mightn't be realistic to walk the lake's shoreline of approximately 2,783km, but you can drive around the Great Lakes Circle Tour.
Fee: Entry fees will differ based on what park you enter Lake Superior from.
Dogs: Allowed on a leash.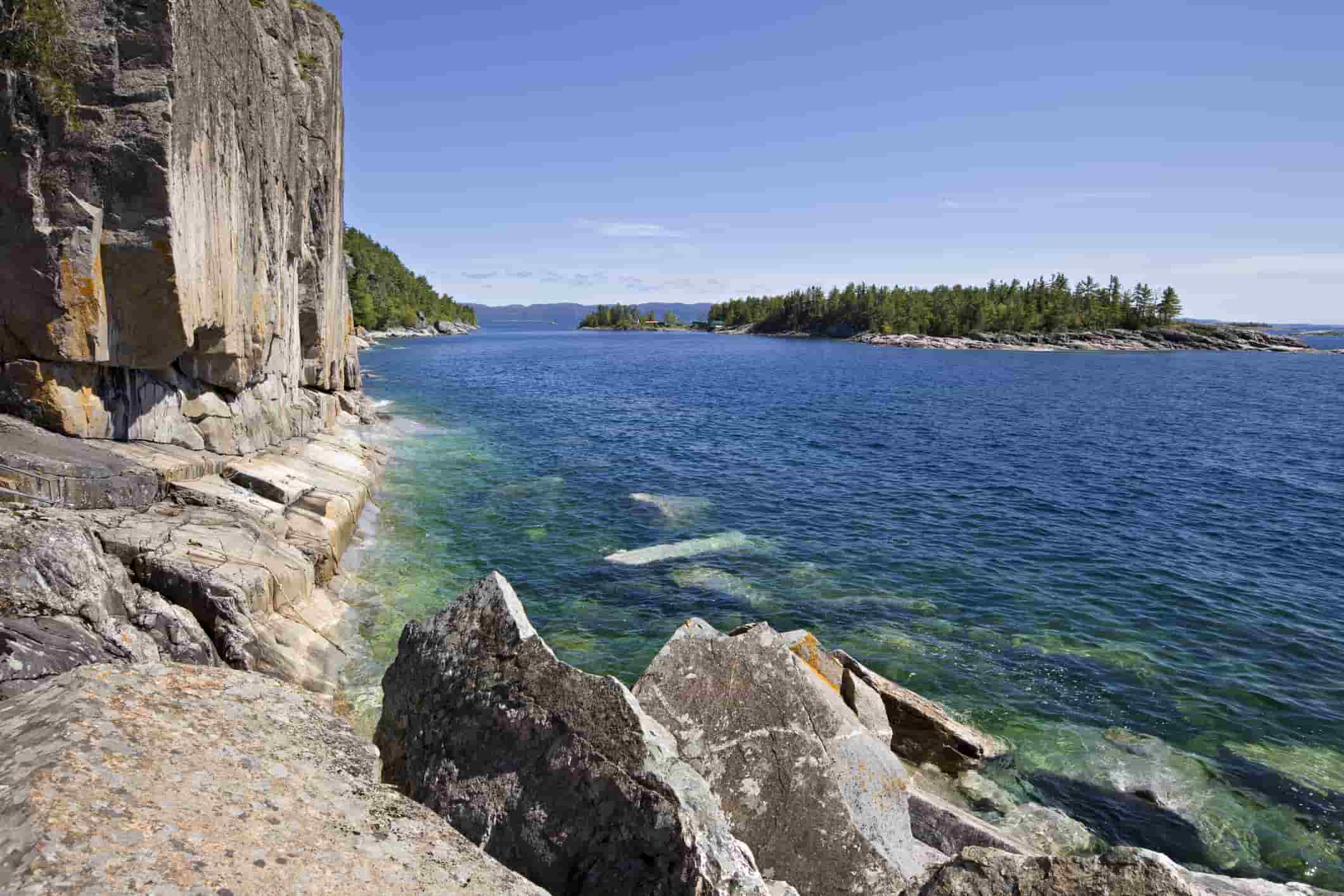 Lake Ontario
Another of the Great Lakes you should visit is Lake Ontario surrounded by Ontario in Canada and New York in the US.
Despite the fact that it's the smallest of the Great Lakes, it supplies more than nine million people in Ontario and New York with drinkable water!
To top it off it's still the 14th largest lake in the world!
There are a couple of little islands off the lake, some being:
Wolfe Island
Manitoulin Island
Pelee Island
Toronto Islands
You can take a trip to one of these islands by boat!
There are plenty of activities you can engage in here, such as kayaking, paddle boarding, windsurfing, canoeing, surfing, and even scuba diving where you can see shipwrecks.
You can also swim here and if you've got the courage and fitness for it, take the challenge of swimming across the lake which takes 24 hours – only 50 people have completed it before!
If you would like some peace and quiet, you can go to see the sunrise in Port Credit early for some beautiful pink, red and purple skies!
Fee: Not available.
Dogs: Allowed.
There you have it, 10 popular lakes you can visit in Canada!
There are many more lakes that you can visit, but these are certainly a few to note!
One very important thing to remember when you are visiting nature is don't litter and be respectful of the nature around you.
We want to have these beautiful and memorable areas for the generations to come and that's where we play our part.
Here are a number of things we can do:
Not taking plants or anything home with you, they are wild for a reason – plants disperse their seeds for new plants to grow and it can also be food for birds and insects
Not going off the trail – it can increase erosion
Bringing your rubbish home with you
If you are allowed to make a fire, make sure you keep it under control!
Here is another important thing we'd like you to do: have fun!
Join the activities that are available, take lots of pictures and really take in the scenery of these breathtaking places!
Have you applied for your visa yet?
If you are here scoping for things to do in Canada but don't have your Canadian visa yet, you could consider getting Visa First to help.
They are a group of visa professionals who can help you secure your Canadian visa, and increase your chance of a successful outcome!
Apply for your Canadian Working Holiday Visa today!
Updated on: February 1, 2022