We'll stick to the West coast for this one, so get ready to see the most incredible Canadian lakes that the West of the country has to offer.
If you've never seen a glacial-fed lake before, you're in for a treat.
Get your hiking boots ready, if you want to see the best of the best, you're gonna have to work for it.
But we promise that they're worth it – and totally instragramable too!
Lake Louise, AB
Tucked away in the Canadian Rockies, in Banff National Park, Lake Louise is known far and wide as the gem of the west.
Read more about Canada's national parks that are worth the visit in our detailed guide.
It's so popular, that the Fairmont snapped up some property and built this Chateau right beside it.
Luckily for you, Lake Louise is the exception. Hiking boots are not obligatory for this one, but afternoon tea is.
---
You May Also Like:
HIKING IN CANADA
---
Joffre Lakes, BC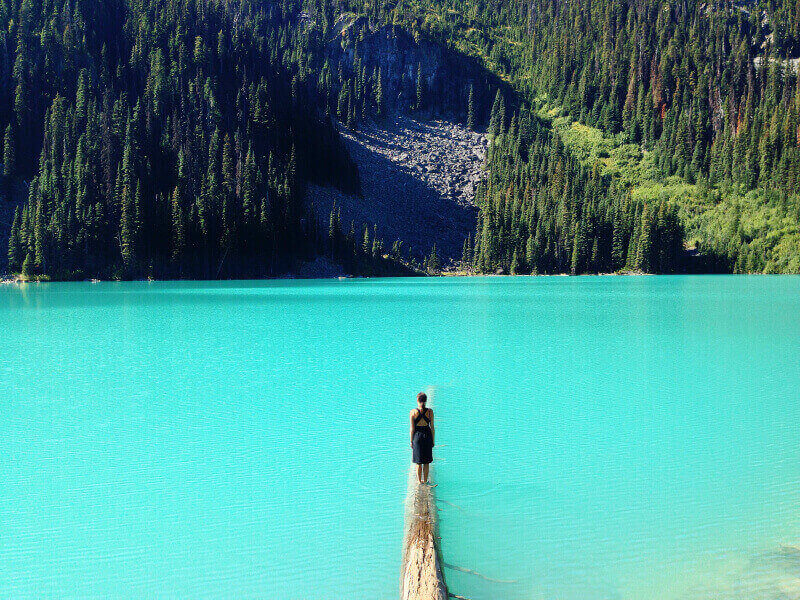 Bringing it back to BC, Joffre lakes takes the biscuit for taking your breath away.
Literally, it's so beautiful that you're going to want to swim in there, and people do.
But be warned, glacial water isn't the warmest!
Garibaldi Lake, BC
I know what you're thinking, they can't possibly get more turquoise?
Well, think again. Garibaldi lake has upped its game.
This hike and lake are so beautiful, it's a must-do.
If you're going to hike it, head to Panorama Ridge for the best views!
Make sure to prepare for this hike. It's an 11-hour round trip.
You can also make it a weekend trip so pack a tent and get there early to save a spot for your tent.
It's totally worth the 6 am start.
---
Register for your WHC Jobs Kit for lists of the top ski resort employers in BC and Alberta, our working holiday jobs search tool and much more!
---
Moraine Lake, AB
The little sister of Lake Louise, Moraine Lake is a beauty and one that is mostly overlooked.
If you're making the trip to Lake Louise, make sure to make it worthwhile and take the small detour and hike to this insanely picturesque place.
It has to be seen to be believed!
If you've been to any of the Canadian lakes above, let us know in the comments or tag us in your social media posts!
Happy hiking!