Are you planning a vacation or staycation in Nova Scotia, and wondering which are the top must-visit Halifax tourist attractions?
The huge variety of interesting things to do in Halifax contributes to the city's popularity as a top Canadian tourist destination.
This world-class city is steeped in history, and it's hard to settle on what to do.
Modern Halifax is now a blend of past, future, pleasure, and business.
As a place filled with heart and soul, it has been charming visitors with an abundance of art galleries, weekly festivals, live performances, delicious local seafood, and amazing outdoor adventures.
Wanna go surfing, shopping, or visit Halifax tourist attractions? Oh, and did we mention that Halifax is believed to have the most bars per capita of any city in Canada?
If you still need more reasons to visit this bustling trading hub on the Atlantic, start with these top things to do in Halifax to get you started.
---
Register for your WHC Jobs Kit for lists of the top ski resort employers in BC and Alberta, our working holiday jobs search tool and much more!
---
1. Take a harbor hopper tour
A ride with Harbour Hopper Tours should be the first on your list of outdoor activities in Halifax.
This 60-minute guided boat tour in and around Halifax's beautiful harbour is a great way to quickly familiarize yourself with the city.
You will enjoy its serenity, see it from many different angles and learn about its history and culture from an excellent tour guide.
This is simply one of the adventures in Halifax you cannot miss.
If you are on a budget, simply take the public ferry from Halifax to Dartmouth for only $2.50 each way. This is a more cost-effective option to travel out into Halifax Harbour.
---
Read Also:
ARRIVING IN CANADA – A GUIDE TO TRANSPORTATION IN CANADA FOR NEWCOMERS
---
2. Walk along the Halifax Waterfront
Probably one of the best things to do in Halifax is simply to wander around the waterfront which is always buzzing with energy and is one of the city's busiest areas.
The Harbourwalk is 4.4 km long and is a centre of activity all year long in Halifax.
It is surrounded by a gleaming ocean, a vibrant port, seasonal merchants, year-round businesses, and you simply cannot miss it when visiting Halifax.
Small sailboats, ferries, cargo ships, and navy vessels are common sights on the sea, while on land, there are endless possibilities to taste local cuisine and immerse in the culture, relax on a bench or in a hammock, or enjoy the salty maritime breeze.
Normal traffic is not permitted on the streets. When the weather is clear, visitors and locals alike gather here to take a leisurely stroll along the number one most-visited attraction in Nova Scotia.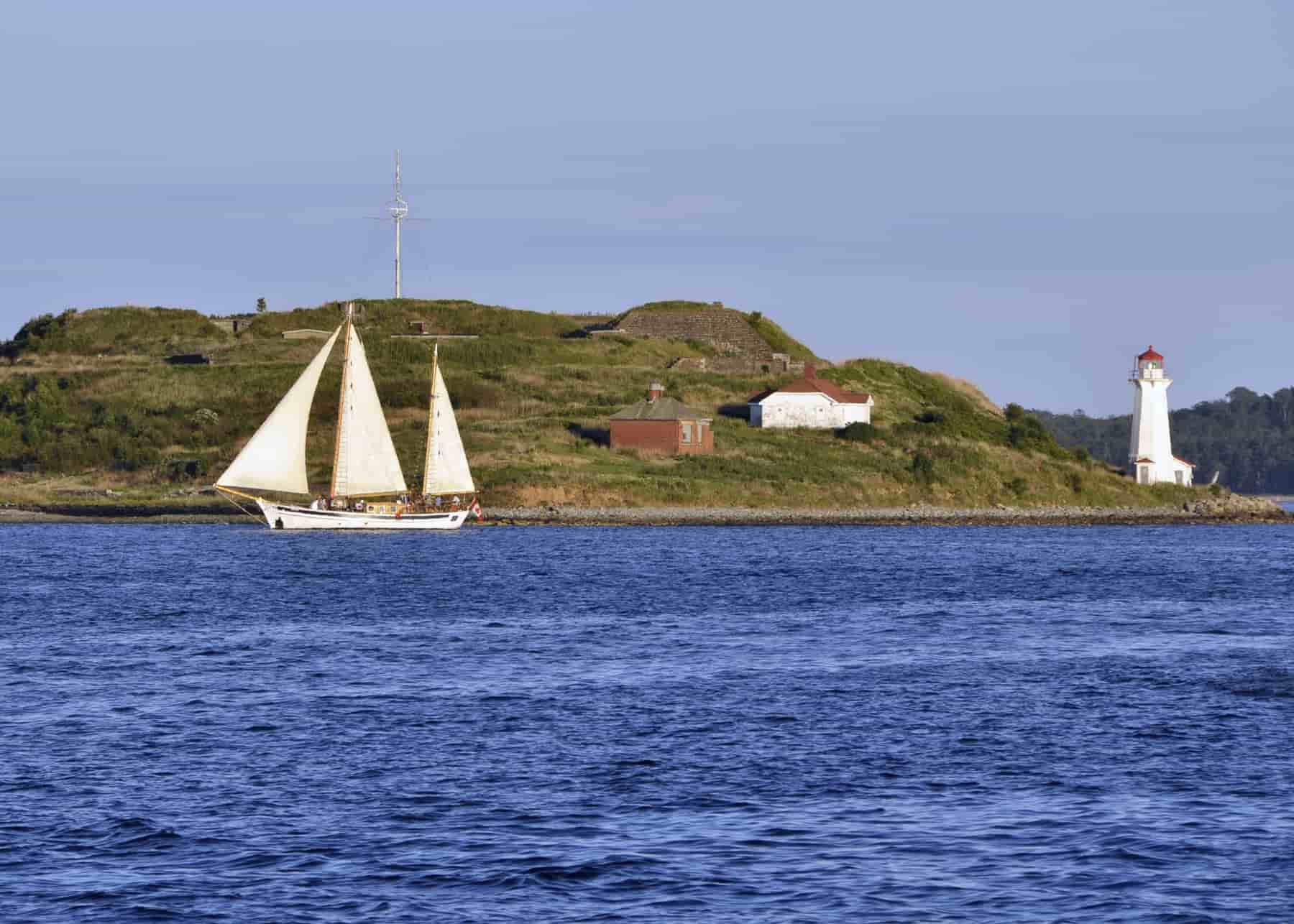 3. Visit Georges Island
This is one of the newest Halifax attractions.
For generations, Georges Island has shimmered just out of reach, always visible, but never accessible.
Set in the middle of Halifax harbour, this island has been a historic site since 1965 but it only opened to the public in the summer of 2020.
There, you can enjoy scenic views while immersing yourself in Halifax's rich history. You'll learn how this small island, its fortifications, and spooky tunnels played an important role as a prison in Nova Scotia's growth, and in Canada's defence.
Visiting George's Island in Halifax should undoubtedly be at the top of your list of must-do activities in Nova Scotia.
4. Attend a festival
Attending a festival or event is a must-do in Halifax during the summer.
Each week, the city hosts a variety of glittering and upbeat festivals, and most of them are held at the waterfront.
One of the most popular is the Halifax Jazz Festival, which is recognized for its spectacular outdoor concerts.
Many of these festivals have low ticket prices, and some are completely free, so go get grooving!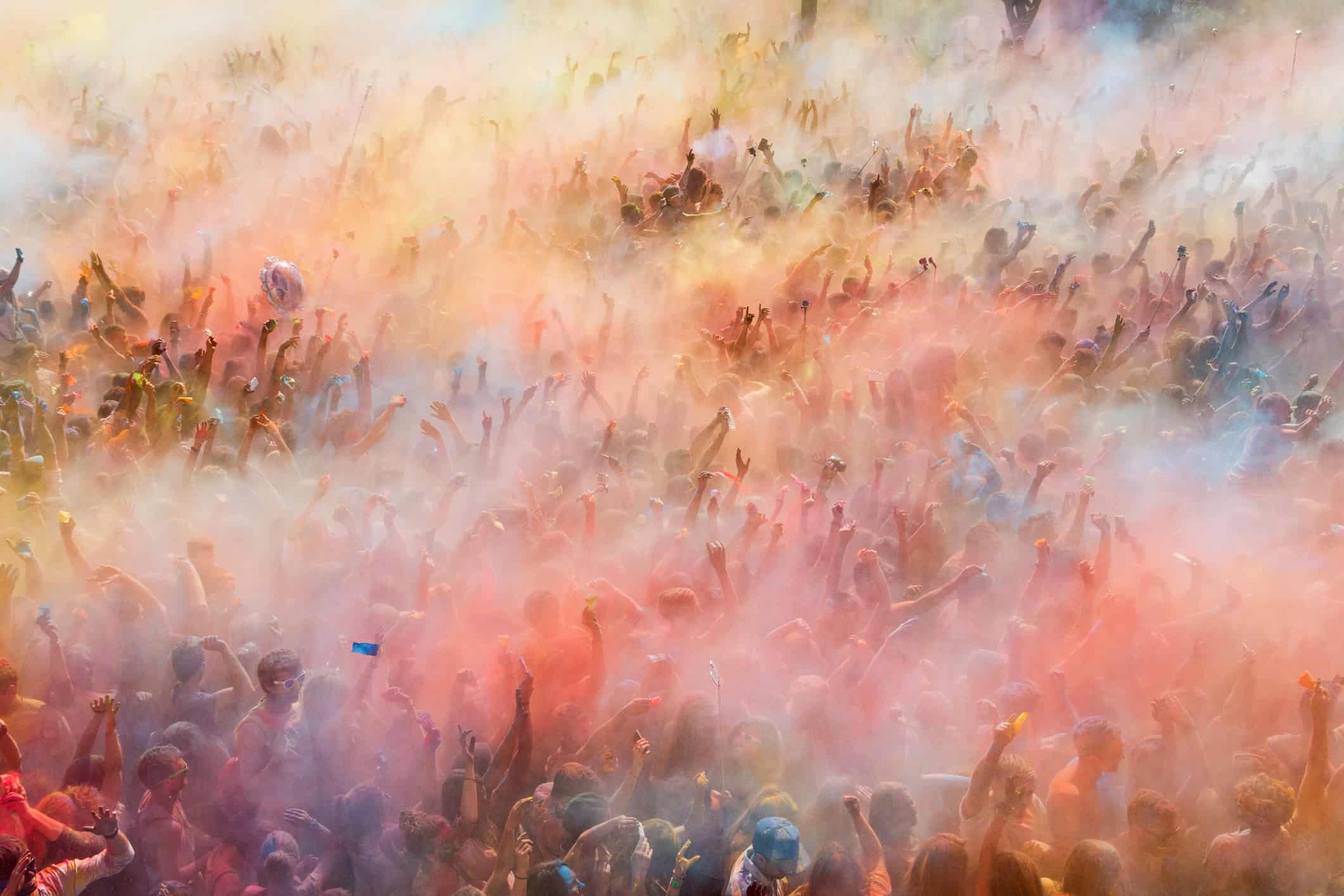 5. Take a stroll through the Public Gardens
One of the most captivating sites to visit in Halifax is the Halifax Public Gardens.
These gardens are not to be missed if you are a nature lover.
You'll come upon one of North America's oldest and most beautiful Victorian gardens.
It's the ideal spot to beat the summer heat while soaking in the beautiful scenery.
The gardens' attractiveness is enhanced by seasonal blossoms, quaint bridges, charming ponds, decorated fountains, ornate gates, and statues.
So, if you are there in the summer, go and see the beauty of these gardens.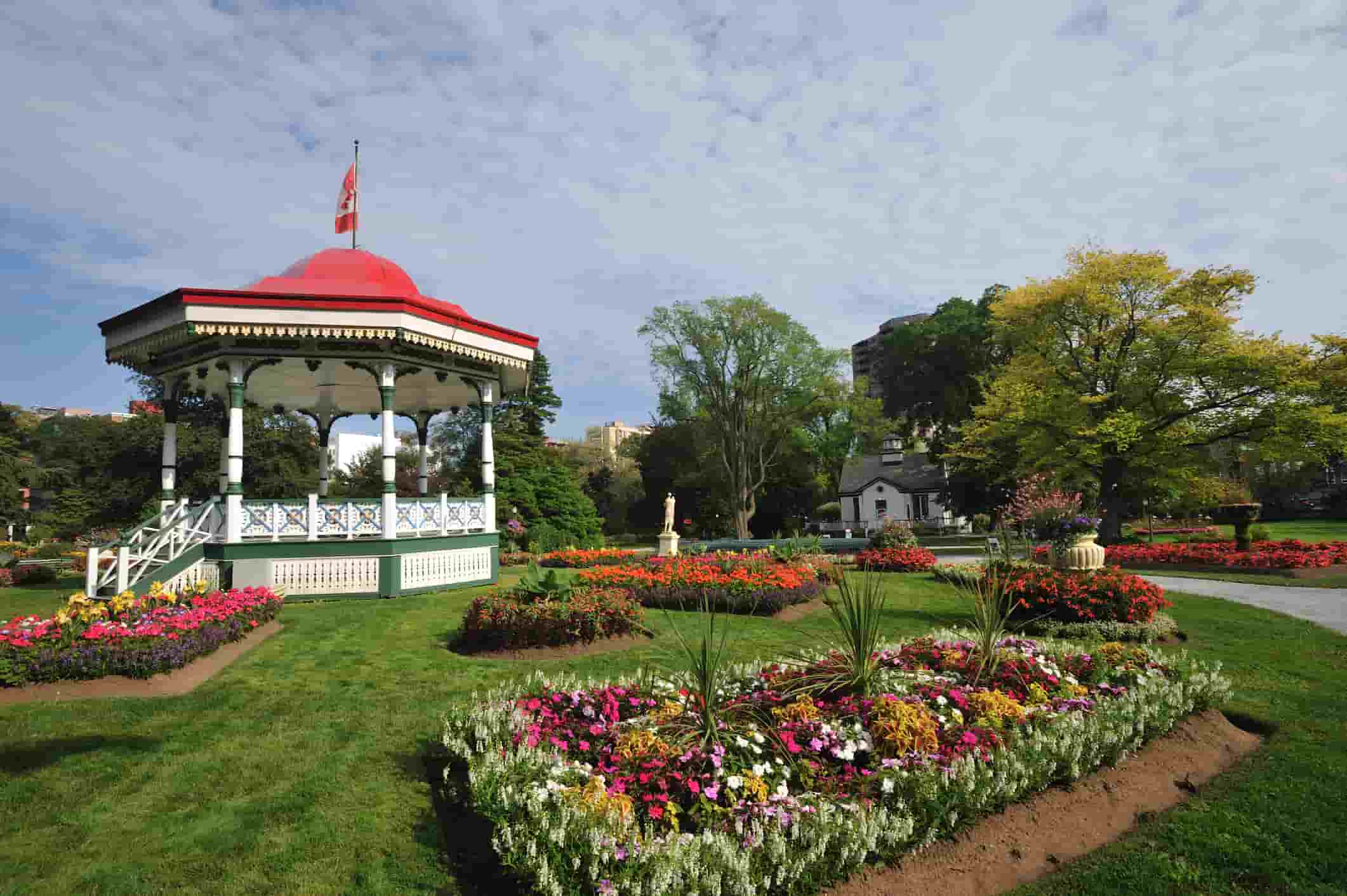 6. Visit the art gallery of Nova Scotia
The Art Gallery of Nova Scotia is Atlantic Canada's largest art museum and is an anchor of cultural tourism there. It focuses on contemporary and historic artworks.
If you go there, you will get a sense of a venue for temporary exhibitions that highlight the art of this region and country.
The art gallery of Nova Scotia is home to more than 17,000 iconic artworks that reflect Nova Scotia's culture to the world.
Located in historic downtown Halifax, it is a hub of cultural activity and offers staggering performances, parties, and presentations.
---
Read Also:
THE CROSS-COUNTRY CANADIAN ADVENTURE!
---
7. Go to Alexander Keith's Nova Scotia Brewery
Are you looking for fun things to do in Halifax?
Alexander Keith's Nova Scotia brewery opened doors in 1820, and is considered "a jewel in the crown of Halifax". It is also one of the oldest in North America.
Nowadays, a tour in the brewery is one of a kind, and that's why it is one of the most attractive destinations for tourists and beer fans alike.
The visit is guided by actors in costumes who will take you through the historic property, tell you about the history of the company and the brewing process, while you taste the yummy beer.
This all is combined with live music and entertainment.
Enticing, isn't it?
Going there should definitely be added to your list of unique things to do in Halifax.
---
Register for your WHC Jobs Kit for lists of the top ski resort employers in BC and Alberta, our working holiday jobs search tool and much more!
---
8. Spend time in the largest maritime museum in Canada
Not only is it the largest one in Canada but also the oldest!
The Maritime Museum of the Atlantic is located in the heart of Halifax's waterfront, and it is the best place to immerse yourself in Nova Scotia's rich maritime heritage.
The Shipwreck Treasures of Nova Scotia show is one of the most popular. Many artefacts recovered from the RMS Titanic can be found there.
This museum is well worth a visit if you are interested in history.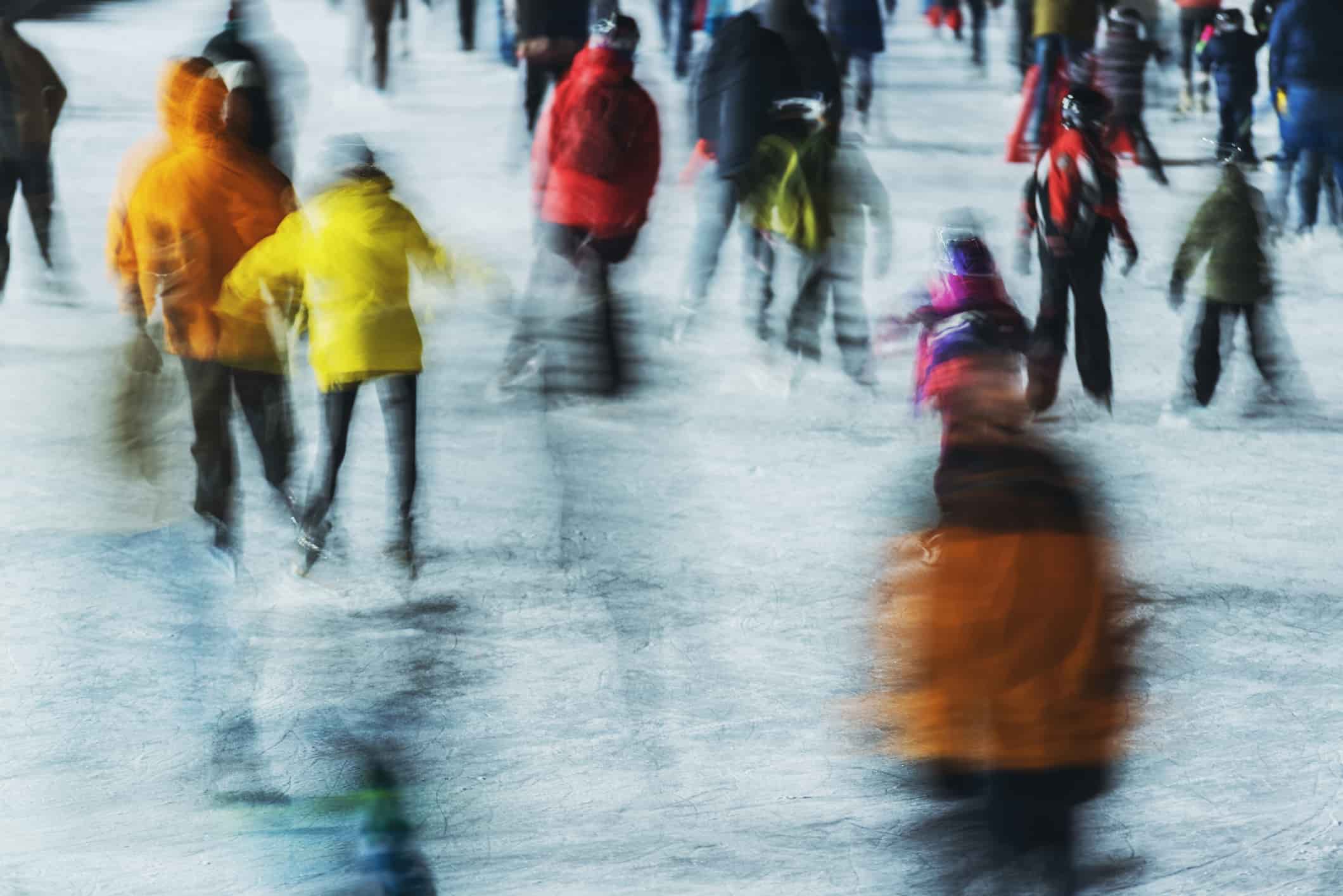 9. Go ice skating
If you are looking for fun outdoor activities in Halifax, skating at the Emera Oval is one of the most enjoyable during any season. What's more, it's completely free of charge!
Rollerblading/skating and biking are popular activities in the summer, while during the winter everything is frozen and you can enjoy ice skating.
Everything you need is an ID to get in all that fun(k)!
10. Visit the St. Paul's Church
Which is the oldest building in Halifax and the oldest Protestant church in Canada? It's the St. Paul's Church which dates back to 1749.
The structure may appear modest at first glance, but architecture enthusiasts and historians alike will enjoy its design.
When you walk around, you may notice a metal fragment embedded in one of the walls.
If you look closely, you can see a silhouette of a man in one of the stained glass windows, both of which are remnants of the legendary Halifax Explosion of 1917.
It's sinister, but it's absolutely worth a look!
You can drop in any time for a self-directed or guided tour of this fascinating building.
---
Register for your WHC Jobs Kit for lists of the top ski resort employers in BC and Alberta, our working holiday jobs search tool and much more!
---
Who can help me apply for my Canadian Working Holiday Visa?
Are you a foreigner who is ready to pack bags and go on an exhilarating adventure in Canada?
If you want to visit and experience some of the places mentioned above, you'll need a visa for your stay in the Great White North.
Visa First has over 17 years of experience in visa and immigration services and they are a trusted name in the industry.
Their visa specialists can deal with all the stressful documentation, and help you get your Canadian working holiday visa without any hassle.
How can I apply for a Canadian visa?
Easy! Simply visit VisaFirst.com and fill out the short form to get started.
Which one of the Halifax attractions above would you visit? Let us know in the comments below! 🙂