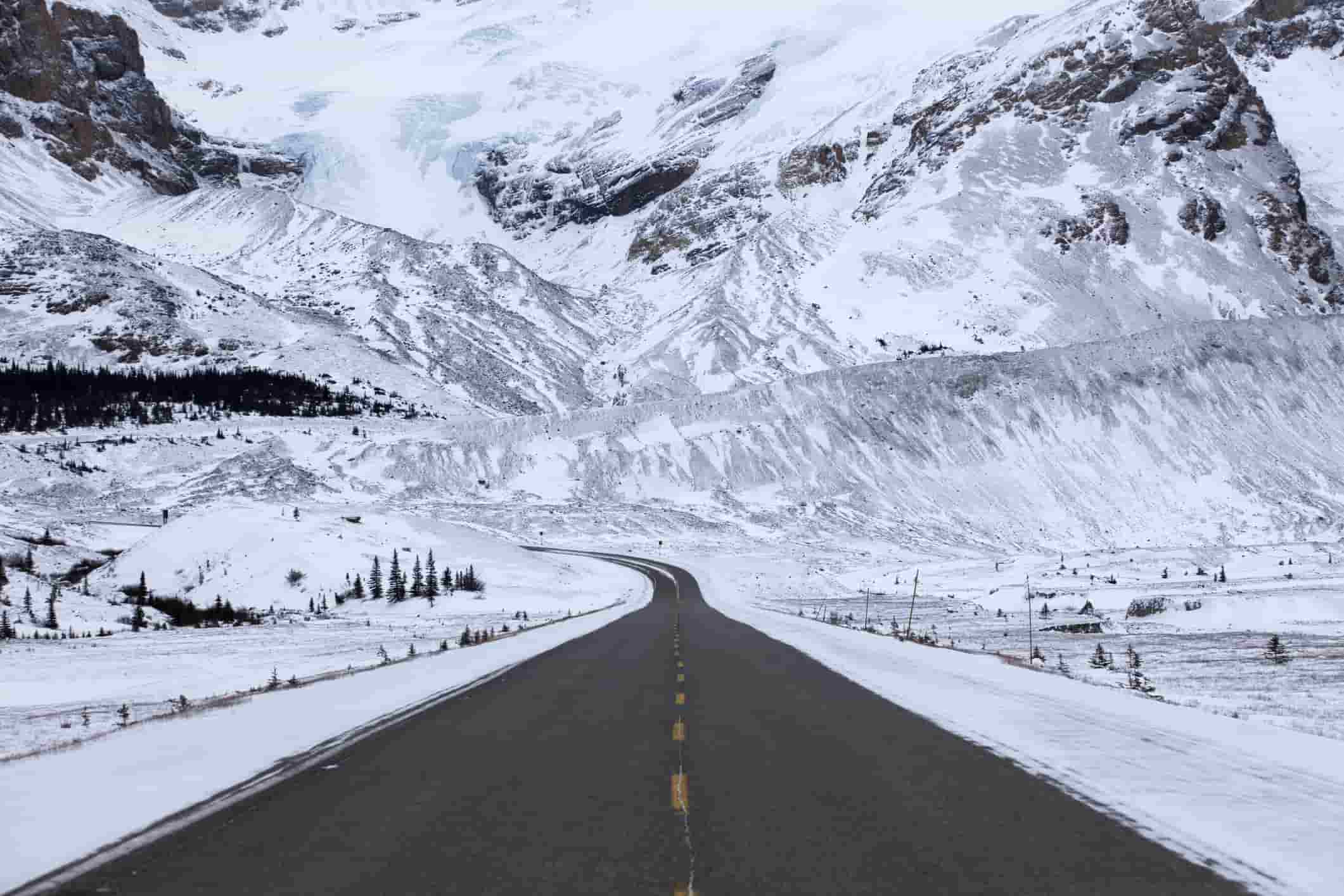 Planning a working holiday or a vacation to Jasper during the winter? It's one of the most popular destinations in Alberta for tourists!
In fact, Jasper National Park has more than two million visitors yearly – and for good reason!
There are plenty of things to do in Jasper in winter! Apart from Jasper being picturesque, there are endless places to visit and you also have the opportunity to unwind – so you get the best of both worlds!
Some of the things to do in Jasper in the winter include hiking, skiing, ice skating and even relaxing in a hot tub while looking out at the lake and mountains. People often get to see wildlife in Jasper on their trip too – quite the experience!
That's why for a great experience in Jasper during the winter, we've put together a list of 25 incredible things you can do!
Do the ice walk in Maligne Canyon
First on the list as one of the things to do in Jasper, Alberta, Canada in winter is the ice walk in Maligne Canyon. It's an absolute gem in Jasper National Park so definitely add this one to the top of your list!
This canyon that's once filled with water during the summer, freezes up during the winter leaving ice waterfalls and icicles around the canyon walls.
Not only can you go on your ice walk here but you can also enter inside the depths of the canyon. The canyon walls go up to 200 feet high – absolutely breathtaking!
The ice walk is 2.3 km and takes around two and a half hours to complete. It's also important to know that it's a moderate to challenging hike.
To go inside the canyon, you're required to have proper gear and equipment including:
Waterproof boots
Anti-slip ice cleats also known as crampons
Helmet (in case icicles fall)
Although you can go on this ice walk alone, for safety reasons it's recommended that you book a guided tour.
The ice walk tours take place from December to March. In saying that, December isn't always cold enough, so in that case, it could be January before the ice walk tours start. Therefore, it's best to visit between January to March to ensure you can see this ice paradise.
Visit Pyramid Lake
There are plenty of bodies of water in Jasper National Park, however, this one is well worth seeing – it's a magical place to photograph and the lake faces out onto Pyramid Mountain.
Unfortunately, you can't climb the mountain here as you can during the summer, but not to worry, you'll be occupied skiing and snowshoeing while you're here!
If you're looking to rent skis, snowshoes, etc. you can do so at Pyramid Lake Resort – a Swiss chalet-style resort.
Pyramid Lake Resort, which is open year-round, is a gorgeous place to stay while you're visiting as you have views of not only Pyramid Lake but also the Canadian Rockies.
In short, you'll be kept busy here while having a picturesque sight at your fingertips.
Another one of the things to do in Jasper during winter is hike the gorgeous Valley of the Five Lakes. During the winter you can go for either a hike or snowshoeing here.
From the name you probably guessed already that the hike will bring you around Five lakes, which takes around two hours to complete.
It's a moderate hike that certainly requires more from you than just the average stroll.
On your hike, you'll have views of the frozen lakes and the surrounding areas which are well worth the trip!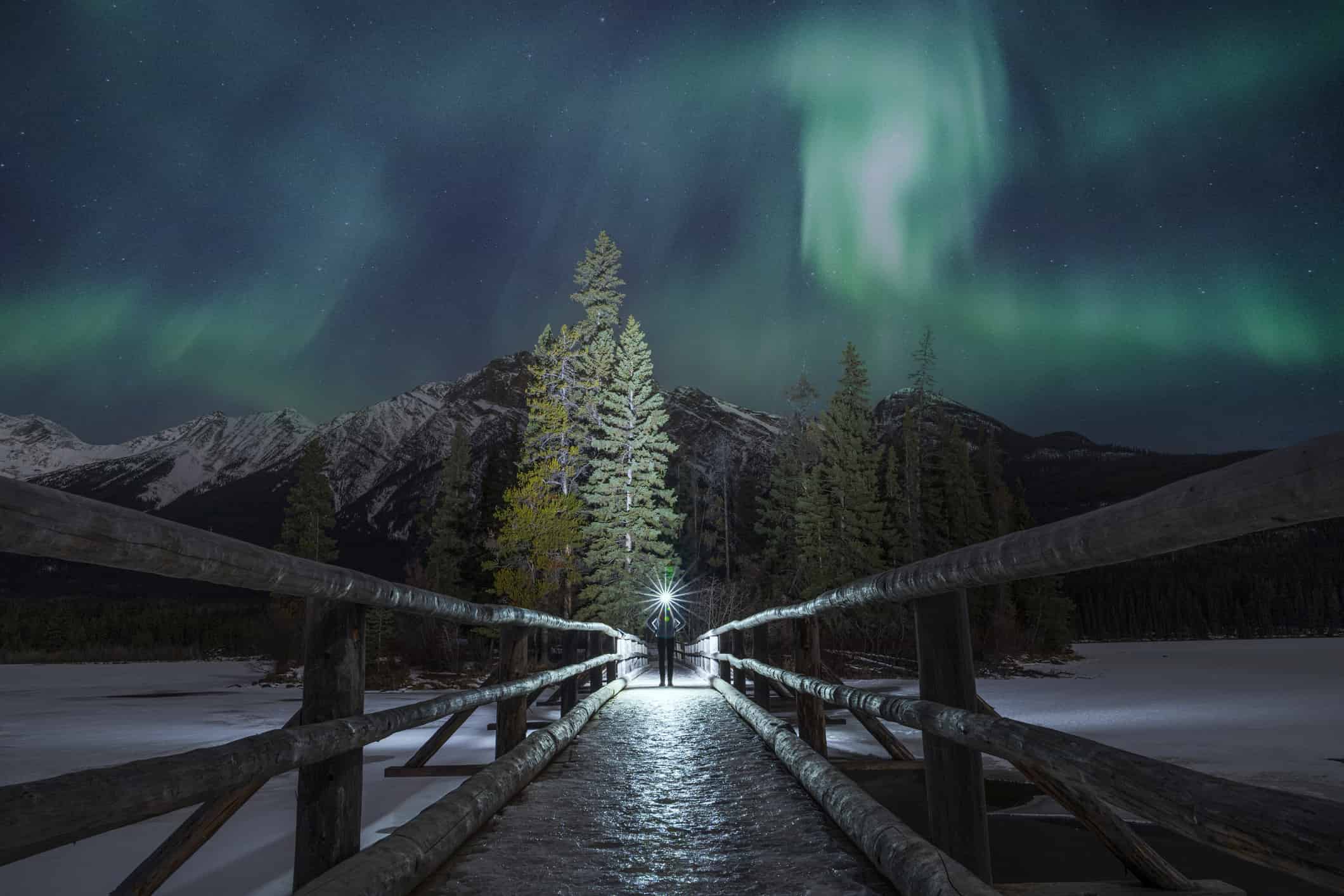 Drive up to Maligne Lake and explore
Further out from Maligne Canyon one of the things to do in Jasper National Park in winter is visit Maligne Lake – about a 40-minute drive from Maligne Canyon.
The drive up to Maligne Lake during the winter is a beautiful sight – and you might even see wildlife on your way or once you arrive at the lake since there's typically plenty of snowfall.
Some of the wildlife you might spot are bighorn sheep, moose, grizzly bears or bald eagles.
At Maligne Lake scenic trails await you, so drive up to Maligne Lake and put your snowshoes on to explore the surrounding areas!
Snowshoe Medicine Lake
Although not the most popular destination during the winter, Medicine Lake should be on your list.
On your way to Maligne Lake, Medicine Lake is a great stop along the way.
Medicine Lake may look like a regular lake during the summer, but it's a 'disappearing lake' during the winter, becoming a mudflat. This happens because the water moves out through sinkholes in the ground.
Where does the water go? Through caves in Maligne River.
Once spring comes around again, the lake fills with water from the nearby streams.
Why should I visit if I can't see the lake during the winter? You still have a lot to explore, and you can snowshoe on the lake which isn't possible during the summer. You might even see wildlife such as elk, moose, black bears, or horn sheep!
So put on your snowshoes and go and explore!
---
Read also: A Guide To Transportation In Canada For Newcomers
---
Don't leave out the Athabasca Falls!
Don't miss Athabasca Falls on your trip to Jasper during the winter!
During the winter it's a sight to see since a lot of the water surrounding the cascade turns to ice – which is truly a piece of art.
The falls may or may not be completely frozen when you visit during the winter, it's all weather dependent.
You may still see some gorgeous colours despite the frozen water, such as blue, green and turquoise.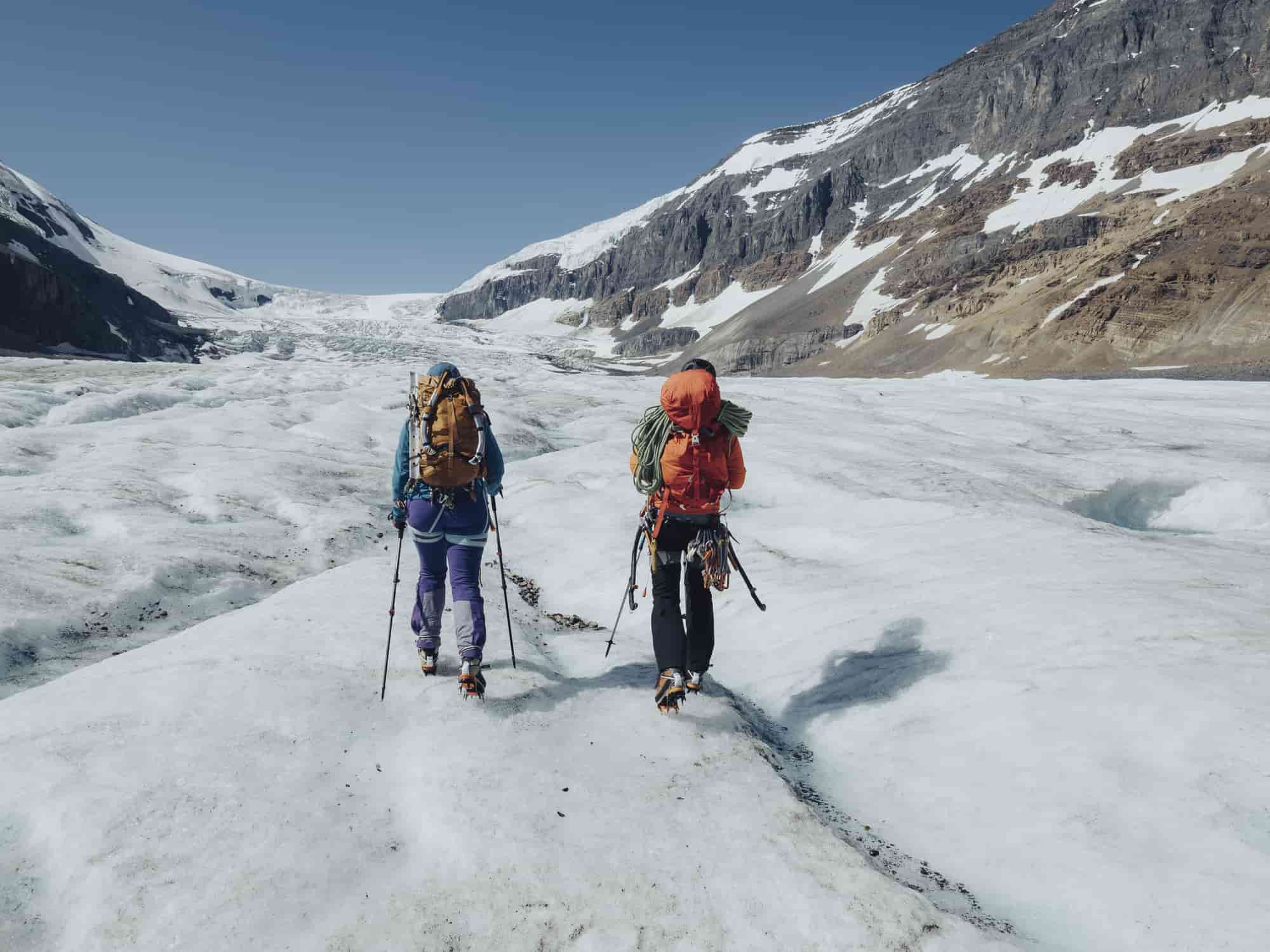 Athabasca Falls has a trail you can walk along! Note that the trail is rated as easy, however, during the winter it can be icy so ensure you have either shoes with good grip or ice cleats on your shoes.
When there's a good bit of snowfall, it's better you snowshoe.
Behind the falls you'll see Mount Kerkeslin, making for a wonderful picture!
Hike Old Fort Point Loop
Another one of the best things to do in Jasper National Park, Canada is the Old Fort Point Loop.
Note that there are some steep parts to this hike so it's not so easy.
The loop is around 3.5 km long and it takes approximately one and a half to two hours to complete.
On your hike you may see bighorn sheep – absolutely beautiful beings!
Then once you reach the top you have amazing views of:
Pyramid Mountain
Lac Beauvert
Mount Edith Cavell
Victoria Cross Range
Hit the slopes at Marmot Basin
Skiing is one of the most popular things to do in Jasper in winter, so for a full experience hitting the Marmot Basin slopes is a must!
The great thing is that it's only around a 30-minute drive from Jasper, with gorgeous views! If it's a clear day you may even see Pyramid Mountain from the chairlifts.
More so it's one of the best places to go skiing in Canada and it's also the highest base ski elevation – 1698 metres high.
Typically you can ski and snowboard here from the middle of November to the beginning of May, and don't worry about your experience level, there are slopes for all skill levels in Marmot Basin – from beginner to advanced.
There's also a rental shop in case you don't have your own equipment.
Not into any of the activities here? You can simply come here and cozy up in the chalet where you can grab some food and drinks.
You may also be in luck when you visit and get to experience some events that are on, such as the end-of-season party!
Ice skate at Lake Mildred
The ice skating Winterland is at Lake Mildred!
It's actually one of the free things to do in Jasper in winter.
However, if you don't have skates, you can rent them at the Jasper Park Lodge.
Best part? The ice skating ring has lights during the night, so you can go for a night skate. How beautiful!
Oh and there's ice hockey – so whether, with family or friends, you're in for a good time!
They are also known for serving free hot chocolate here, so you'll be sure to stay warm!
Embrace our galaxy at Jasper Planetarium
Jasper National Park is a "Dark Sky Preserve" as stated by the Royal Astronomical Society of Canada.
It's actually the second largest Dark Sky Preserve worldwide. Wood Buffalo National Park is first, but it's over a 12-hour drive from Jasper National Park.
The reason it's a dark sky preserve is because there is not much light pollution – so it's ideal for stargazing!
To make it even better there's the Jasper Planetarium, which is a 50-seat theatre in Jasper Park lodge.
In the Rockies, this Planetarium has one of the largest telescopes, giving you a close-up of our galaxy – truly one of the best things to do in Jasper in winter!
On your visit to the Planetarium, you can take a virtual tour provided by guides on our galaxy, they will explain natural phenomena like the aurora borealis, share Canadian Indigenous constellation stories and more!
What's more, if you make it to Jasper in October, there's the Drak Sky Festival – for 2023, it'll be on from October 13 to 22. This is a celebration of Jasper's Sky Preserve, which includes music, workshops on taking the perfect night sky picture, and sharing your love of nature with others!
Stargaze in Jasper National Park
For a closer-to-nature experience of stargazing in Jasper National Park, you can simply look up at the sky to see the stars above you.
If you'd like to walk to see the stars at night, some great points to stargaze from are:
Pyramid Lake
Medicine Lake
Lake Annette
Even better, you can camp in Jasper National Park, and especially during the winter, it's a magical and memorable experience.
Note that you can't camp anywhere, instead, you've to camp in designated areas, such as Wapiti.
You could possibly camp in a tent, but it would be cold, so a campervan may be a better option.
So get your campervan and get cozy with a hot chocolate for a surreal experience!
See the Sunwapta Falls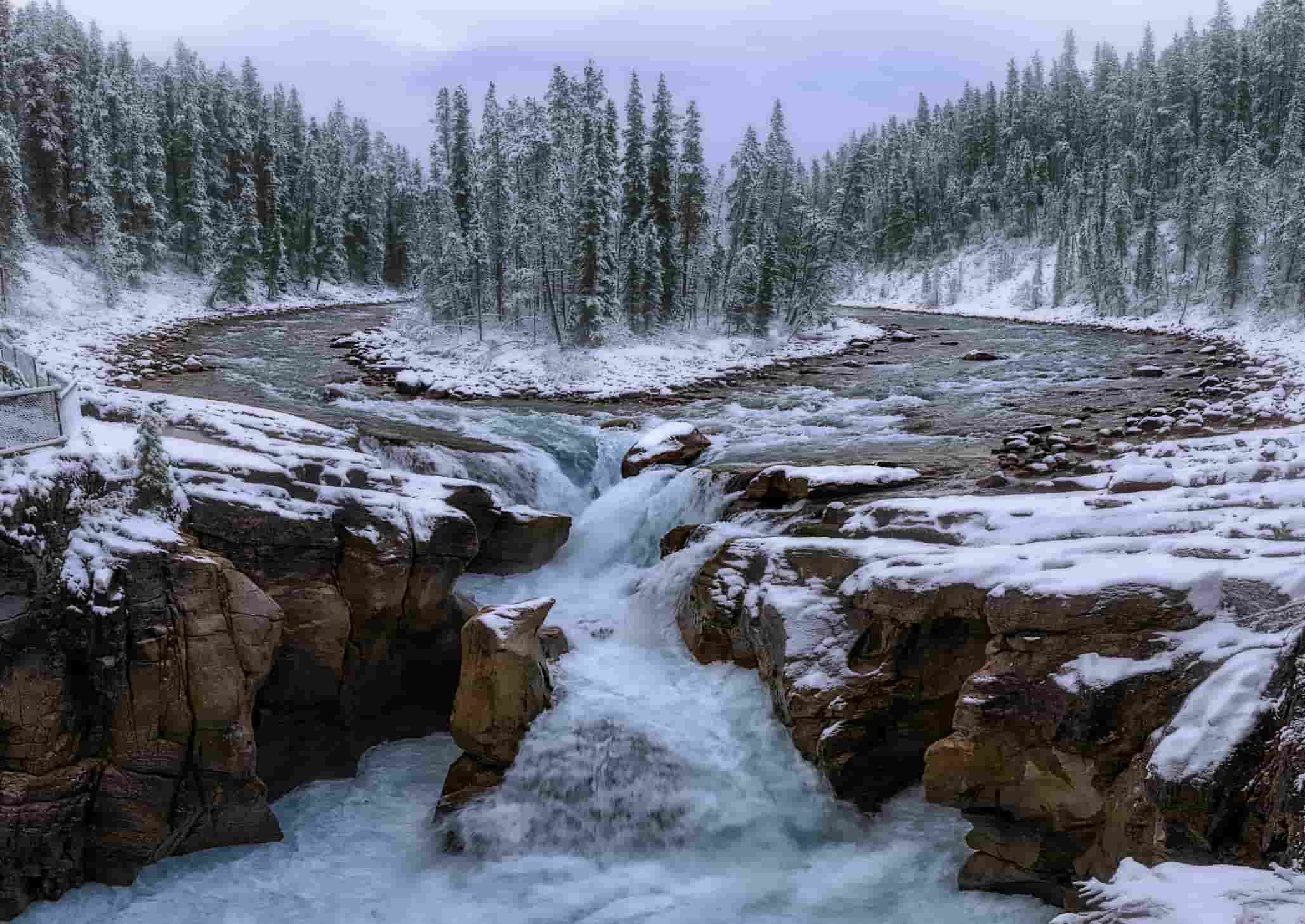 Another famous fall that must not be missed is the Sunwapta Falls.
The falls are a 40-minute drive from Jasper town and a 10-minute drive from Athabasca Falls, so if you're going to see one of these falls you might as well hit two birds with one stone and see the two!
The falls have more than 60 feet drop, including a lower fall which is beautifully frozen during the winter and a lower fall which looks like it still has water flowing during the winter although it's frozen.
Around the falls, there are trails you can hike, but to ensure you can get through the snowy path, it's best to wear snowshoes.
For a longer stay in Sunwapta Falls, you can stay overnight at Sunwapta Falls Rocky Mountain Lodge.
Visit Jasper Yellowhead Museum and Archives
Interested in the history and culture of Jasper's past? Then Jasper's Yellowhead Museum and Archives is for you!
This is one of the winter things to do in Jasper – it won't only get you out of the cold but you'll also learn about the history of Jasper, such as the railway, fur trade, and early exploration and tourism of Jasper's National Park through the different exhibitions.
You'll see informative displays, photos, artefacts, and documents showcasing the history of Jasper.
After your visit, you can get some souvenirs from the gift shop – the great thing is that some of these are made by local artists.
Opening times are from Thursday to Sunday from 10am to 5pm.
Join the winter wildlife tour
As you can already imagine, Jasper is home to various wildlife – meaning you have the chance to see them!
To increase those chances and also learn about the wildlife here, the winter wildlife tour in Jasper is ideal!
There's the Sundog Tour – which involves being driven around nature in Jasper to spot wildlife. The tour guide also runs through some of the history, geology and ecology of the area.
One of the interesting things you'll learn about is how the wildlife here contributes to Jasper's National Park.
Don't hesitate to ask the tour guide questions that spark your curiosity about wildlife!
Some of the wildlife you may see includes:
Deer
Elk
Moose
Wolfs
Cayotes
Goats
Sheep
The types of animals you will see depend on the weather, season and time of the day. Of course sightings of wildlife are not guaranteed since they are in the wild.
Note that you can request pick-ups and drop-offs from your accommodation in Jasper.
The tour starts at 9am and takes between three and a half hours.
Don't worry about this tour being strenuous, as there is only a small amount of walking involved.
Bringing your camera is a must here as you can capture magnificent pictures on this tour!
Drive through Icefields Parkway
The Icefields Parkway also known as Highway 93 drive is one of the top 10 most picturesque drives worldwide according to National Geographic. Therefore, it's one of the best things to do in Jasper, Canada even during the winter!
This highway is 232km long, connecting the two national parks – Jasper and Banff.
It's three to four hours long drive – that's without stops. So it's best to allocate a day to this drive because there will be plenty of irresistible scenery that'll make you want to stop, explore and take pictures!
On this drive, you'll see plenty of waterfalls, lakes, as well as tall mountains – so have your camera ready (not while you're driving of course!)
Also keep your eyes peeled as you may spot wildlife along the way, such as bears, elk, sheep and more!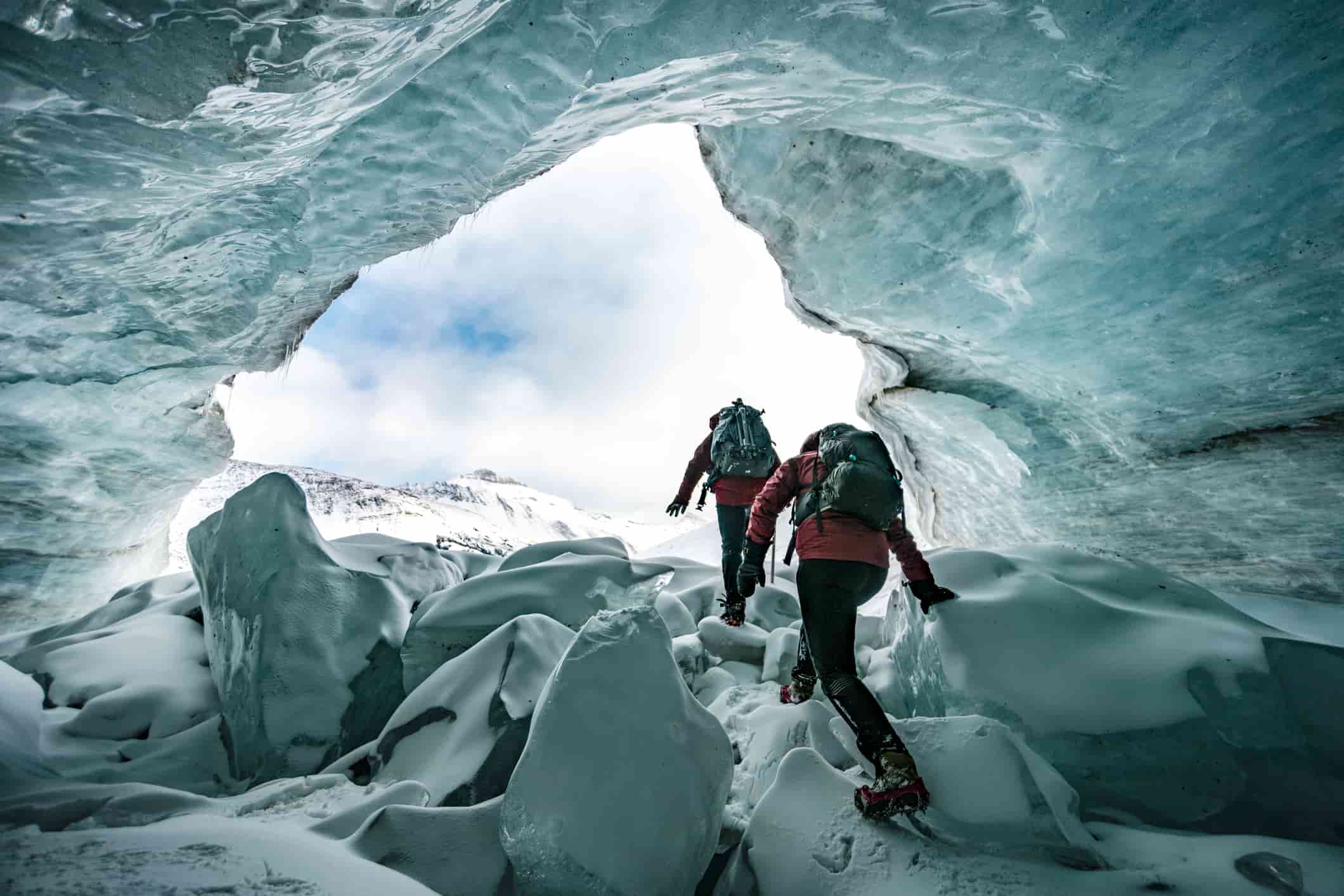 Some of the best stops along the way are:
Peyto Lake
Bow Lake
Valley of the Five Lakes
Waterfowl Lakes
Athabasca Falls
Tangle Creek Falls
Sunwapta Falls
Bridal Veil Falls
Athabasca Glacier
Crowfoot Glacier
Mistaya Canyon
Weeping Wall
Before setting off on your journey from Jasper ensure you:
Have winter tires for the car
Have enough gas – along this route, you'll only find one other gas station in Saskatchewan River Crossing and it's quite pricy
Check the road status because due to heavy snow the road may sometimes be closed
Cozy up with a warm drink by the fire at Jasper Park Lodge lounge
What better way to spend your evening after a cold winter day in Jasper than at Jasper Park Lodge lounge?
Definitely add this one to your list as one of the things to do in winter in Jasper!
The stone fireplace will warm you up and you can sip on a hot chocolate while looking out on Beauvert Lake from the lodge – sounds like the perfect evening, right!
You can also grab a bite to eat here.
Opening times for the lodge are typically between 11am and 12am.
It's one of the best lodges in Jasper to wind down with a warm drink, so definitely try and make it to this lodge during the winter in Jasper.
Warm up in an outdoor hot tub at Jasper Park Lodge
The Jasper Park Lodge is even more special than you thought. They have an outdoor hot tub during the winter!
Yes, the outside is cold but the hot tub is sure to warm you up!
It's also a great way to relax after taking part in the winter activities Jasper has to offer.
Whether or not you're staying at Fairmont Jasper Park Lodge, the outdoor hot pool is a must!
They also have spa treatments you can book – a nice treat for your visit to Jasper.
Opening times for their spa services are as follows:
Monday to Thursday – 10am to 7pm
Friday to Sunday – 8.30am to 7.30am
Although the Jasper Park Lodge has one of the best hot pools you'll find in Jasper, there are others that you can also consider, such as Pyramid Lake Resort.
Ice Skate and hike at Lac Beauvert
The same lake you can see from Jasper Park Lodge lounge, you can also explore – this is Lac Beauvert.
Lac Beauvert is popular amongst both tourists and locals.
During the winter, if it is safe to do so, you can hike Lake Beauvert Loop which takes around an hour and a half to two hours to complete.
You'll have beautiful views on the hike of the surrounding mountains and Emerald Lake. There are plenty of points you can get beautiful lookouts from.
Once again on Lake Beauvert Loop seeing wildlife on the trail is possible, such as deer or elk. However, if you do see wildlife ensure you keep your distance.
Then another popular thing to do at Lac Beauvert is to ice skate. The rink is lit up at night – so you can skate away despite the night settling in.
The skates can be rented at Fairmont Jasper Park Lodge, and you can also rent hockey sticks here if you'd like to play hockey.
Do the Jasper Culture Food tour
If you're a foodie, this one's for you – you walk around Jasper experiencing some of the food while learning about the history of Jasper and the food there.
The tour usually includes a small group and you go to different restaurants to taste the food.
As well as tasting the food, you also get four alcoholic beverages – you have to be 18 or over for this of course!
Doing this tour is also a great way to meet people!
Note that you have to have your own means of transport to the meet-up location which is 500 Connaught Dr, Jasper, AB T0E 1E0, Canada.
With this tour, you're in for a fun time and lovely conversations!
Stay for a night in one of Jasper's cabins
One of the best things to do in Jasper in winter is to stay in a cabin – this will give you a full experience of Jasper's winter wonderland!
For a traditional, rustic experience in a cabin, you should go for one of the Pochahontas cabins. These cabins are out of Jasper town so it'll be a peaceful winter wonderland if you can stay here.
However, as mentioned, it's out of Jasper town so it may not be very convenient. Although it's a 30-minute drive from Jasper town, transport isn't so readily available to get you there.
Not to worry though, the Fairmont Jasper Park Lodge that we mentioned previously also has some cabins you can stay in. Although not as rustic as the Pochahontas ones, it has plenty of amenities for a relaxing time.
Note that not all the rooms in Fairmont Jasper Park Lodge are cabins, so contact the Lodge to ensure you book the experience you'd like.
The great thing is that It's only a 10-minute drive to Jasper town.
Have a baked good and a coffee at Bear Paw Bakery
One of the best cafes in Jasper is Bear Paw Bakery – it's popular for its fresh baked goods!
There are two locations – one in Jasper and one on the outskirts of Jasper. One of them is 'Bear's Paw Bakery' and the second one is 'The Other Paw Bakery Cafe.'
They've got European-style pastries as well as Canadian-style cakes – plenty to try!
So pop in here for some breakfast and a warm cup of coffee before setting off on the rest of your day in Jasper.
Some baked goods to try here are:
Raspberry white chocolate scone – a popular choice!
Apple pie
Cookies
Carrot cake
Muffin
Have a burger and a beer at Jasper Brewing Company
For a complete visit to Jasper, you must go to the Jasper Brewing Company!
Three of the founders of Jasper Brewing Co. are actually locals.
Why go here? They've got great craft beer on tap and on top of that they also serve tasty food!
The price for a craft beer is between $6.00 and $10.50 depending on the size, etc. Then for a main course, it's between $18 to $35.
For drinks, they also have cans and bottles of beer as well as cocktails and wine.
And not to worry, there are vegetarian options on the menu as well as vegan, for example, a falafel burger.
Opening times are as follows:
Sunday to Wednesday – 11.30am to 12am
Thursday to Saturday – 11.30am to 1am
Go for lunch in the Spice Joint Lounge – a Jamaican cafe
A delicious place to grab a bite to eat is the Spice Joint Lounge. It's a Jamaican cafe located in the centre of Jasper town.
Their food revolves around salads, sandwiches and wraps so perfect for lunch. They also have lovely coffee!
The Spice Joint Lounge also has vegetarian options available.
Price-wise, you would typically pay around $15 for a meal.
Many claim it's one of the best food places in Jasper – so make sure to try it for yourself!
Opening hours are as follows:
Monday to Wednesday – 12pm to 3pm
Thursday to Sunday – 4pm to 9pm
Try the local made sweets in Candy Bear Lair
Next up as one of the things to do in Jasper in Winter is to sweeten yourself up at Candy Bear Lair.
Candy Bear Lair is a candy store in Jasper town, so if you've got a sweet tooth or would like to enjoy local sweets, you're in the right place!
Why is this candy store special? They make their candy right in front of you in the store!
But be aware as the smell of sweets will take over once you walk into the shop and you'll certainly want to indulge in some treats.
The fudge, caramel and candy apples are made in-store. Then you also have other candy and chocolate – plenty to try!
It's also bear-themed so you can buy teddy bears, bear pillows, bear puzzles, and more.
This cute, sweet-smelling candy store is well worth the visit.
Opening hours are as follows:
Monday to Thursday – 11am to 7pm
Friday – 11am to 8pm
Saturday – 10am to 8pm
Sunday – 10am to 7pm
Go fat tire biking – rent one at Bench Bike Shop
You can't end your trip in Jasper during the winter without giving fat tire biking a try!
The reason it's called fat biking is because of the wide tires – they're about twice as big as the typical tires.
This means that instead of having to push through the snow with the bike (struggling), you're essentially staying on top of the snow, so it's suitable for snowy terrains!
There are plenty of places for fat tire biking in Jasper, some trails you can find at Athabasca Falls, Maligne Lake and Pyramid Lake.
You can rent fat tire bikes in the following places is Jasper:
Location: Patricia Street Jasper

Location: Old Lodge Road, Jasper

Location: Patricia Street Jasper
Whether you're trying it out or using it as a way to get around Jasper to cover more ground and see more places in less time, don't miss out on fat tire biking in Jasper!
With this, we have come to the end of our list of incredible things to do in Jasper in winter. You certainly won't get bored – quite the opposite!
Planning a working holiday or a vacation to Canada and need a visa?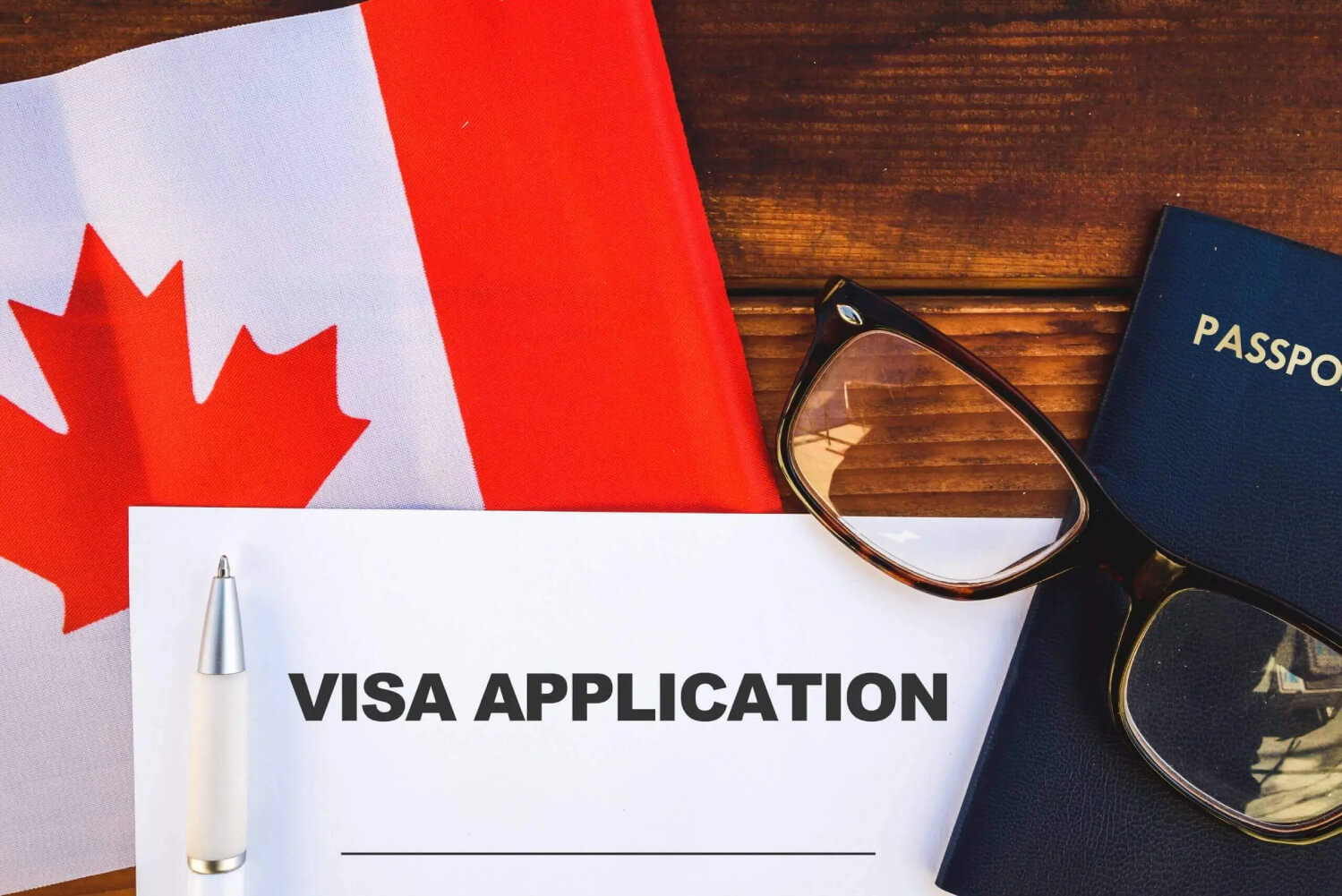 You can of course apply on your own for a visa to Canada.
However, if you feel you need guidance and someone to take the stress off your shoulders, Visa First, a group of visa experts, have got you covered!
They can help you apply for either the:
When you apply for your visa with Visa First, you'll be guided throughout the application process by one of the agents and they will also do all the paperwork for you.
All you've got to do is provide them with the correct documents!
How do I know Visa First is right for me?
Yearly they organise more than 10,000 visas for people worldwide
It's a fast and easy service
Their customer satisfaction is over 96%
Qualified visa specialists will take care of the paperwork and increase your chances of a successful outcome