Wondering what Vancouver neighbourhood is right for your working holiday?
Well, then you've come to the right place…
One of the best things about Vancouver is, there really is something for everyone.
If you're a nature lover, fond of early morning hikes, you have easy access to lots of great forests and mountainous areas.
If you're a beach bum during the Summer months, you can catch some rays on one of Vancouver's beaches.
If you live for the lively vibes of a buzzing city, then Vancouver has tonnes of great restaurants, cafes, galleries, live music and bars so you can meet with friends, people watch or just chill in some of the coolest neighbourhoods in Canada.
If you've recently moved to Vancouver, or you're planning on moving there and you're not familiar with the areas, don't worry, we've broken the city down by neighbourhood to make your life easier!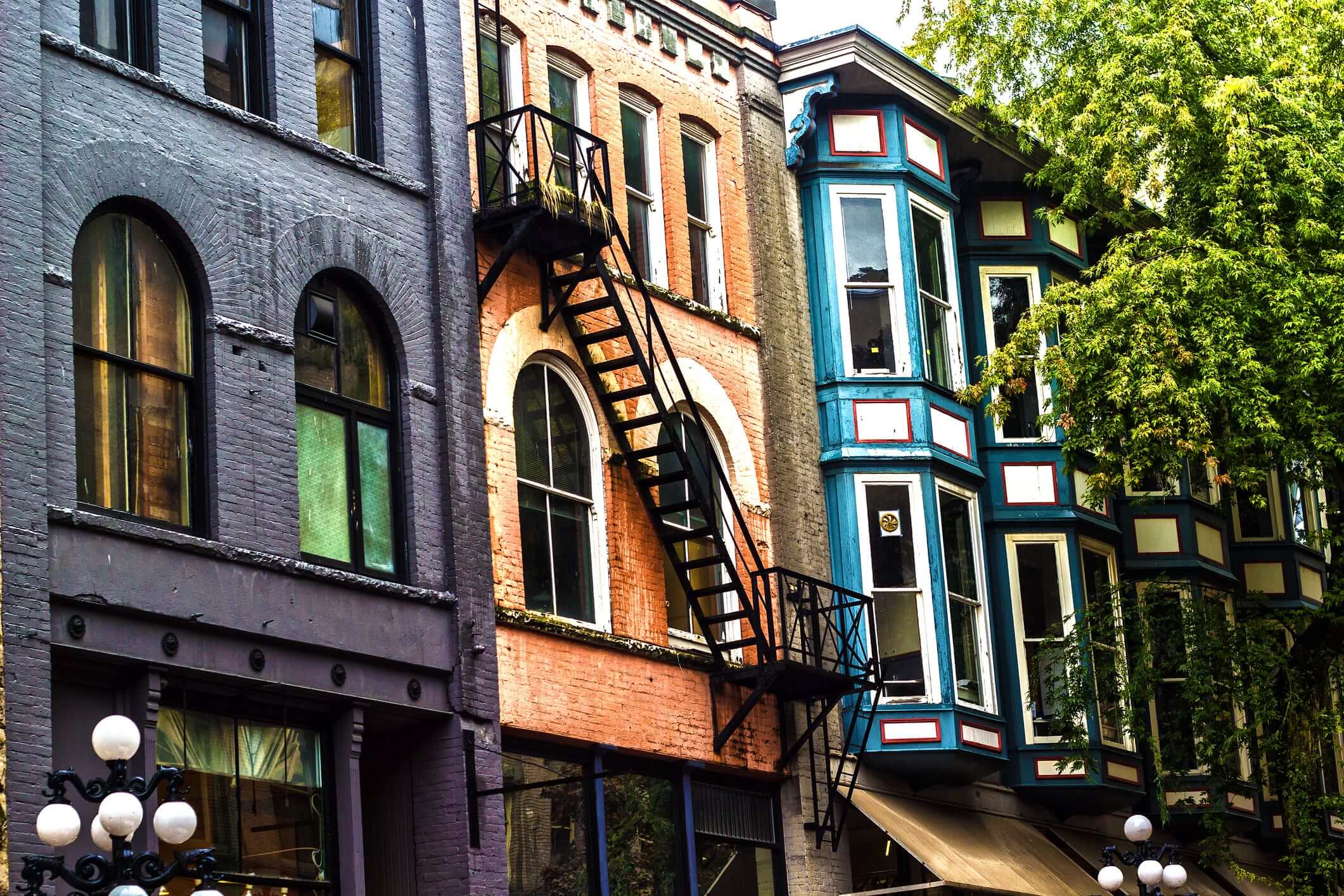 Downtown – West End, Yaletown, Gastown & Coal Harbour
It's safe to say that if you choose Downtown Vancouver, you'll likely be living in a high-rise residential unit.
Rent in this area can be kind of pricey when you're not earning a whole lot.
If you give yourself enough time, you can probably find an affordable apartment for rent in the Downtown area but they are hard to come by.
You'll be a few minutes away from Vancouver's main shopping district (Pacific Centre Mall and Robson Street), the entertainment district and the business district.
The gorgeous 'sea wall' and Stanley Park are also a stone's throw away.
West End
This is the most affordable of all the downtown locations.
The West End is surrounded by Downtown, Stanley Park and English Bay Beach and Sunset Beach Park.
It's one of Vancouver's most culturally diverse locations.
There's a mix of Canadians, international residents and immigrants from all over the place, of all backgrounds and ages.
The West End is also a popular spot with Vancouver's LGBTQ community.
There are different types of accommodation in Vancouver available from duplexes to town-homes to high rises.
There are also a whole bunch of eateries to choose from.
Oh, and it won't cost you an arm and a leg!
If you opt for one of the older residential towers, there are lots of one-bedroom apartments available for rent at around $900-1,100 per month.
Studio apartments will cost around $750-$900 and two-bedroom apartments usually cost around $1,200-$1,600.
You'll also find a duplex apartment from around $500-$900.
Yaletown
Here's a little factoid for you – Yaletown used to be a rail yard way back in the 19th Century.
It's located in the southeast Downtown area.
The railway loading docks have now been converted into restaurants and patios for cafes.
Warehouses have also been converted into lofts.
There are a lot of fancy upscale restaurants, nightclubs and boutique stores for you fashionistas out there.
This area won't be for everyone, mainly because it's very pricey.
You're not going to get the best value-for-money in Yaletown, that's for sure. If you can afford it and you want to be in the middle of one of Vancouver's trendiest areas, surrounded by the elite, then sure, Yaletown is a good choice.
So, what is the rent like in Yaletown? You'll typically pay around $1,800-$2,500 per month for a two-bed condo (a high-rise apartment). Yikes.
---
Read Also:
TAXES IN VANCOUVER, CANADA
---
Gastown
Gastown has a reputation for being kind of a seedy area. It was established in 1867.
It is home to the Vancouver police museum and is pretty close to one of Vancouver's most poverty-stricken neighbourhoods.
Despite this, it can be kind of pretty, especially at night when the lamps and fairy lights linking Water Street are glowing.
Gastown is the only place in Vancouver with a cobblestone street.
Gastown is currently experiencing a revival so it's a good time to find affordable accommodation in an up and coming area.
If you prefer somewhere a bit of character, then this is the place for you!
Gastown offers a nice mix of old and new.
It's a popular tourist spot during the day because of its historic charm. It's also known for its restaurants and bars.
Gastown's rent costs are more reasonably priced than Yaletown but are still expensive.
You'll be looking at paying around $1,700-$2,200 per month for a two-bedroom condo.
Coal Harbour
This area is in Northern Downtown Vancouver.
It's a quiet location with much of the residential population made of retirees and older professionals.
If you're looking for somewhere quiet, you should consider Coal Harbour.
It's close to the sea wall and the Northern marina.
You'll pay around $1,600 – $2,500 per month or a two-bedroom condo in a high rise unit.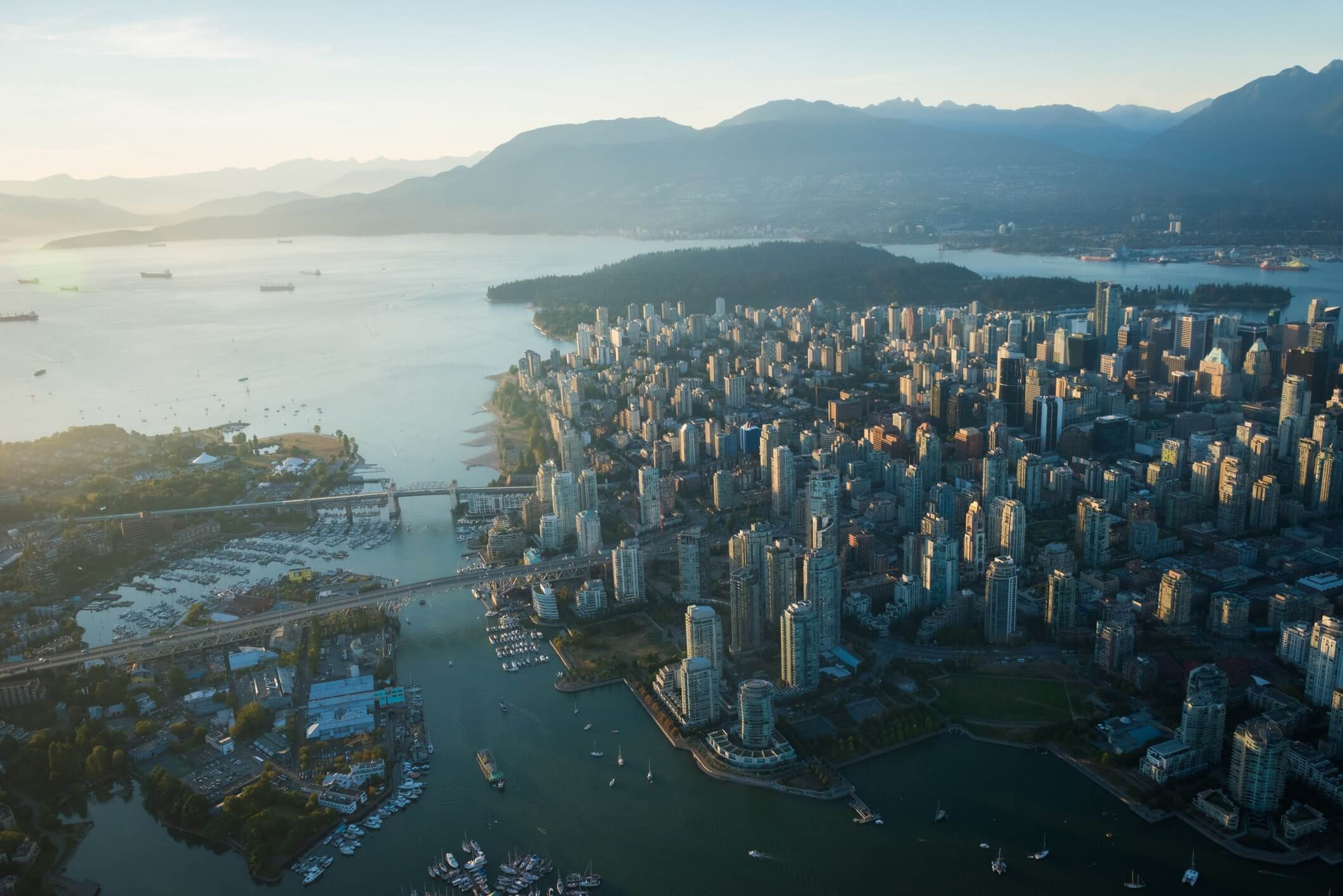 East Vancouver – Main Street, Commercial Drive
If you're new to Vancouver, bear in mind that the area around East Hastings and the Downtown Eastside is notorious for drug use, crime, poverty, prostitution, and homelessness.
Yes, there is also a strong sense of community amongst locals, a history of social activism and cheaper rental prices than a lot of Vancouver's neighbourhoods but it's good to know what to expect from this area.
If you venture further east, you'll find some eclectic neighbourhoods with reasonable prices.
If you find the 'slick' Downtown Vancouver vibe boring as hell and you'd like somewhere with a more down-to-earth vibe, this is probably for you.
A lot of young couples, families, students and blue-collar workers choose this area as it has more affordable apartments than the Downtown area.
Main street
Main Street is sometimes compared to Brooklyn NY.
It begins in Gastown and runs all the way through Chinatown and the Downtown Eastside.
It then continues running South.
It's full of diverse eateries, affordable places to do your grocery shopping, interesting art, cool restaurants, and cafes.
It's a popular place for artists and designers which brings a bit of vibrancy to the area.
Hidden in amongst the upscale restaurants are family-run restaurants, unusual eateries, and stores selling handmade crafts and unusual accessories.
---
You May Also Like:
Tips For Spending Your First Week In Vancouver as a Working Holidaymaker
---
Commercial Drive
Commercial Drive aka 'The Drive' as locals like to call it, is an area in East Vancouver close to the Downtown area.
It has a community kind of vibe to it and affordable rent prices.
It's also a great place to access transport since it's right beside Commercial-Broadway SkyTrain station and lots of high-frequency bus routes. Sweet!
This is another neighbourhood that's bursting with culture.
You'll find everything from artists and musicians to pensioners taking salsa classes.
During the summer months, you can even sit outside and enjoy a nice glass of wine or espresso in one of the many cafes or bars.
There are lots to choose from when it comes to ethnic or vegetarian restaurants.
Commercial Drive is a great mix of residential and commercial.
It has lots of eateries, businesses and social housing. It's always been a choice destination for generations of immigrants.
This means there's lots of diversity with the residents.
You'll find Asian, Latin America, Italian, East Indian and African communities scattered around this neighbourhood.
Of course, this kind of ethnic diversity can only mean one thing – all kinds of restaurants with food from all over the world!
So if you fancy yourself a foodie, this is the perfect neighbourhood for you!
The area is full of Edwardian era heritage buildings and if you're keen on finding somewhere with a garden, you'll have a better chance here than most other neighbourhoods.
You should note that in this area, houseshares are the most common living situation so you'll likely be taking a room in a house with other people.
This will cost you around $500-700 per room, per month or around $1,000 for a basement suite.
South Granville
South Granville is located south of Downtown and right across the Granville Street bridge.
There is accessible, frequent public transport with express bus lines that run to various Vancouver neighbourhoods and to the University of British Columbia, East Vancouver, and the airport.
The apartments are a bit cheaper than downtown and there's a better selection of places to grab a snack or a drink.
You can hop on a bus and be in Downtown within 5 minutes and it's just a 15-minute walk to Granville Island.
This island is in the middle of the city and has loads of cool galleries, theatres, studios, waterfront restaurants and an amazing food market.
It's a pretty part of town with all the amenities you need.
There is high-rise and low-rise accommodation available all over.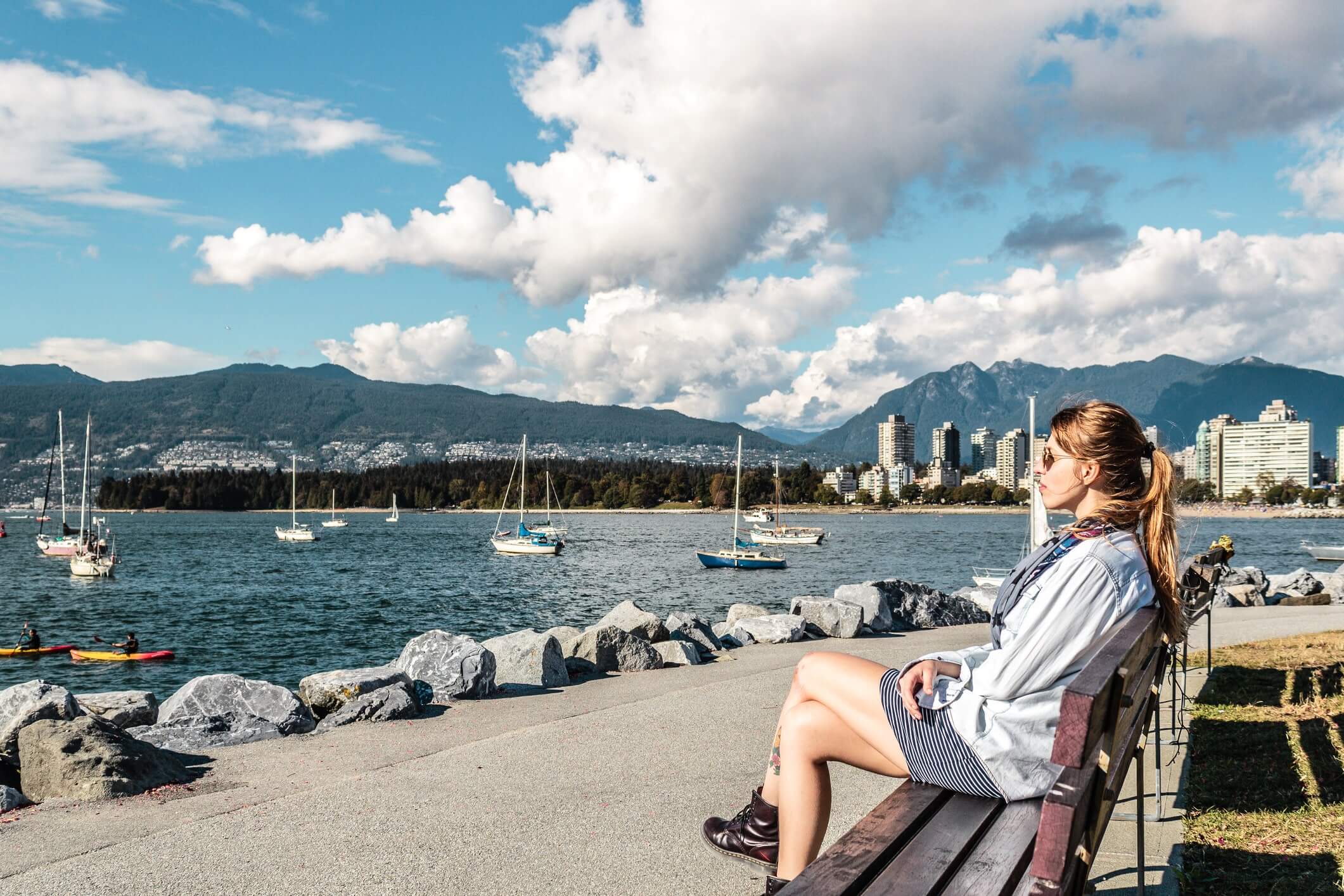 Kitsilano (Kits)
Kitsilano is located on Vancouver's West Side. It's home to many students and young families.
It's a popular spot for beach lovers because it's right beside two of Van's best beaches; Kits Beach and Jericho Beach.
It also has really nice views of Downtown and the North Shore mountains.
Kitsilano is buzzing with activity in the summer months.
There are organic markets where you can pick up the freshest produce, yoga studios, cafes, and Vancouver's Greektown.
Rent can be pricey around the Kits beach area but as you go further west, you'll notice the prices drop rapidly.
Try searching around south below West Broadway Street (9th Avenue).
The rents vary quite a bit in this area you could be paying around $550-$850 per month for a room in a two-bedroom house depending on where you look.
Burnaby
Burnaby is pretty much a city just east of Vancouver.
You'll find a significant immigrant population and an abundance of ethnic communities.
It's accessible to Downtown Vancouver via public transport and there are much cheaper rents than most of Vancouver.
The SkyTrain system crosses Burnaby from the east to the west in two different places. The Expo Line also crosses the south along Kingsway.
North Vancouver
Neighbourhoods in North Van are growing significantly in popularity, especially with new arrivals to the city.
Much like Burnaby, it's almost a city in itself.
North Vancouver is a family-friendly area with cheaper rents.
It's easy to access the North Shore Mountains if you like biking or snowboarding.
People working in the mountains usually stay in North Van which makes it a popular Canadian working holiday destination.
There's lots of accommodation and services available in North Vancouver, particularly around Lonsdale Avenue.
There is also Marine Drive, the main east-west route and Lynn Valley which is around 30mins from the seafront.
There is transport to downtown on the SeaBus which leaves around every 15mins on-peak or 30mins off-peak.
---
You May Also Like:
Traditional Canadian Dishes
---
Kerrisdale
Kerrisdale is south of Kitsilano and is home to mostly students and retired elderly.
You can tell that many of the shops are targeted towards Vancouver's affluent seniors.
Don't let this put you off!
Kerrisdale still has a lot to offer when it comes to affordable apartments since it's popular with students.
You can get to the Kitsilano area in 15-20mins or to Downtown in less than 30mins.
South Vancouver (Marpole)
Even further south, you'll find Marpole. This area offers reasonably priced apartments as well as decent public transport.
It's a bit more family-orientated than other neighbourhoods, so there isn't much in the way of restaurants or nightlife but that being said you'll find much bigger bedrooms and nice gardens.
If you're looking to move in with friends and you need an empty house with a few different bedrooms, this is a good place to look.
So, that's it, each of Vancouver's neighbourhoods broken down.
We know Vancouver isn't cheap so be sure to give yourself plenty of time to shop around for a suitable place.
You don't want to take the first thing you come across and realise that the neighbourhood doesn't suit your needs or that you're paying more than you should be.
We hope that this post helped you narrow down which of these awesome neighbourhoods is right for you and your Canadian working holiday and we wish you luck with your house-hunting!