Updated on 14/01/2021
Get your Travel on!
Canada is a BIG country… don't believe us? Come & check it out! Whether there are on a working holiday visa or want to travel as a tourist, make sure to tick a few of these off the bucket list!
Vancouver, BC
Vancouver is a beautiful city to visit; on the west coast of Canada, with lots of sandy beaches and beautiful scenery. In particular, Stanley Park is a great place to visit – it's known as the Central Park of Vancouver (but we think it's better!), with food, train rides, a water Park, beaches, an aquarium and an awesome seawall which is perfect for a cycle on a sunny day!
Vancouver offers some incredible food too – you can find any ethnic food you desire, as well as some top-notch Italian and French restaurants. What's more, it's a nice distance from Whistler, making it easier to travel the West Coast of BC.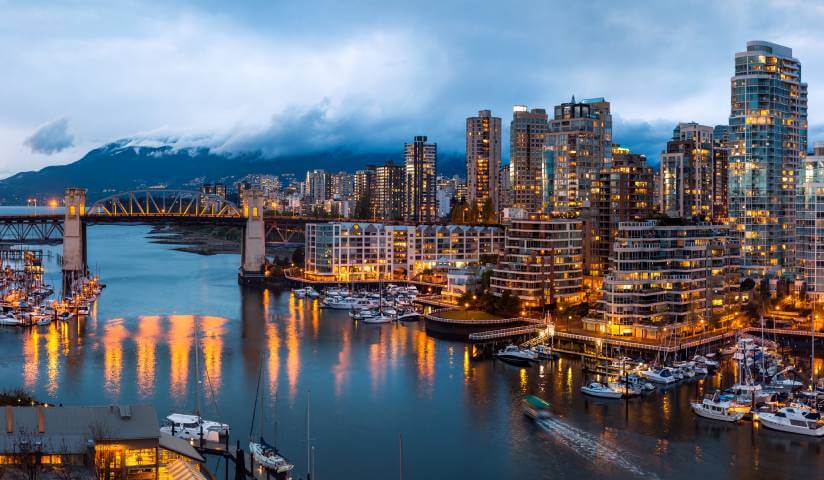 Whistler, BC
Whistler is a stunning ski resort village in BC with an abundance of year-round activities on offer. It's hard to choose when to visit, summer and winter are incredible here.
Summers brings hiking, floating down the lazy river, and the Peak to Peak gondola. Winter equals snowboarding, skiing, sledding, ice skating, and I haven't even started talking about the nightlife!
---
Read Also:
CANADIAN LAKES THAT WILL MAKE YOU SWOON
---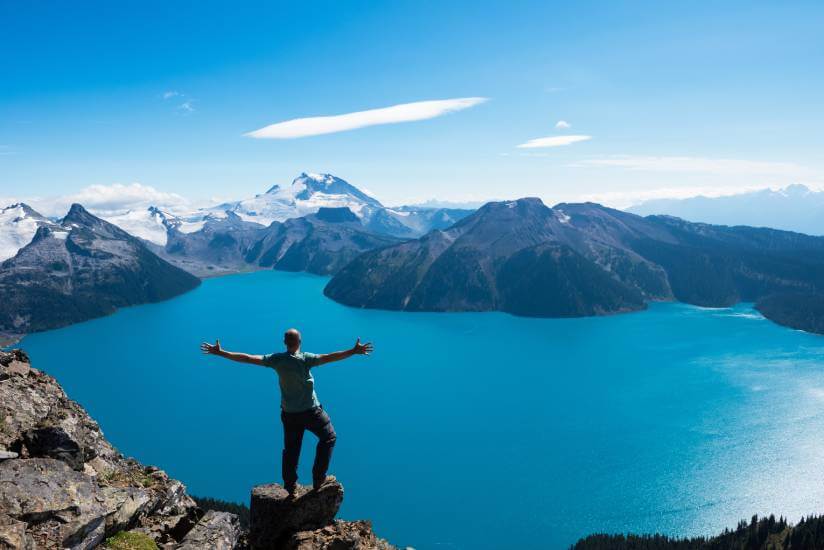 Banff, AB
Banff offers a gorgeous view of the Canadian Rocky Mountains. It's one of the most beautiful places in Canada – and once you go there, you'll understand why!
There are many places to visit in Banff, such as the many lakes in the national park, and the sightseeing gondola.
If you happen to be in Banff during the winter season there are 3 ski hills surrounding the small town that is known for their gorgeous views and amazing skiing.
The summer season is even better, with incredible hikes and emerald lakes! It's a must-see. Travel to Banff and you won't regret it 😉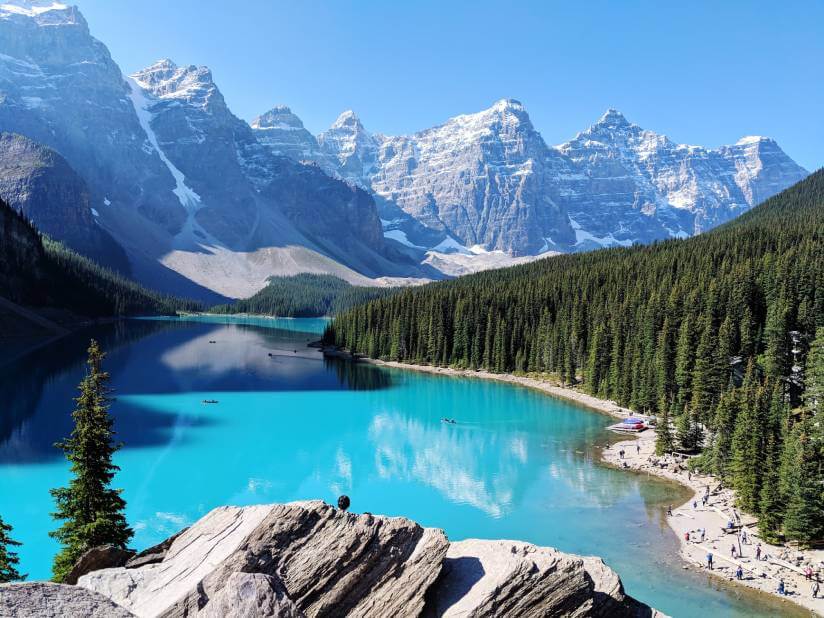 Saskatoon, SK
Saskatoon is not a typical place for tourists as the capital of the province is Regina.
But Saskatoon has a lot to offer as well, it is in central Saskatchewan, and is divided by the Saskatchewan River.
There are many activities to do in Saskatoon – their outdoor activities include canoeing, hiking, and skating.
Some other activities to look into in Saskatoon would be to explore Wanuskewin Heritage Park or check out the University of Saskatchewan for the beautiful architecture.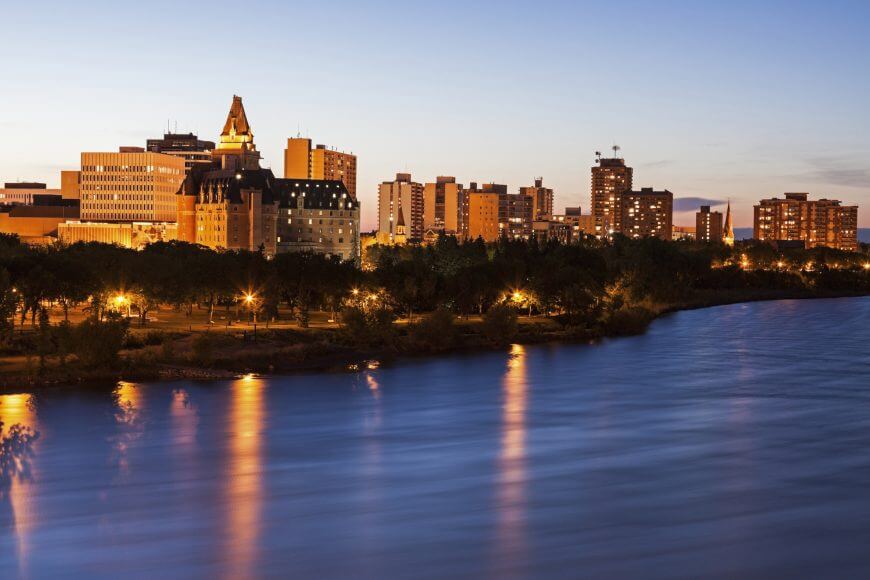 Churchill, MB
Churchill is in northern Manitoba and is on the shore of Hudson Bay. Churchill is best known for the polar bears that inhabit the area in the fall.
The prime time to see the polar bears is in October and November.
There are nature tours that you can book where you can see beluga whales, wildflowers, polar bears and bird watching.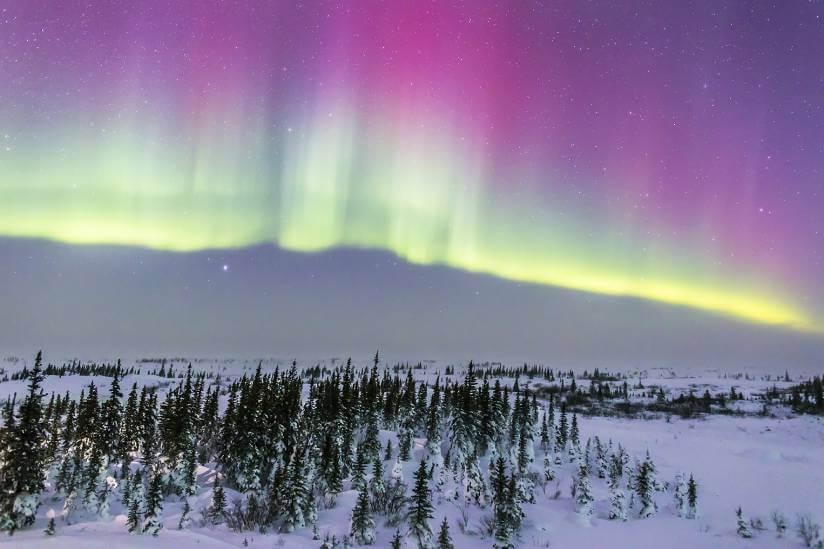 Niagara Falls, ON
Niagara Falls is located right on the border of Canada and the USA.
You've probably heard about it before – it's one of the most famous landmarks in the world! It's a beautiful waterfall, but there are many other attractions surrounding the falls that are worth checking out too.
The Hornblower is a ferry boat that brings you right beside the falls for a beautiful view – and the Journey Behind the Falls, also an amazing attraction that brings you behind the falls for a different perspective.
Don't forget to stick around and watch the falls illuminated at night with beautiful colours.
---
Read Also:
TOP 15 CANADIAN WATERFALLS YOU SHOULD VISIT DURING YOUR WORKING HOLIDAY
---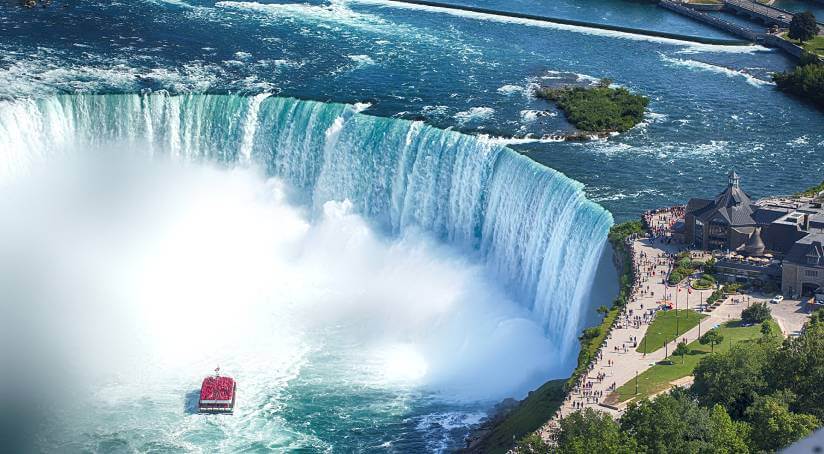 Ottawa, ON
Ottawa is situated on the south bank of the Ottawa River in Ontario. It's the capital of Canada, in case you didn't know!
This is a beautiful city with old architecture overlooking the Ottawa River.
There are many attractions in Ottawa – in the winter the Rideau Canal freezes over and it becomes a large skating rink for locals and tourists.
Ottawa is also known for its white water rafting on the Ottawa River. No matter what time of year Parliament Hill is a beautiful place to visit and wander around.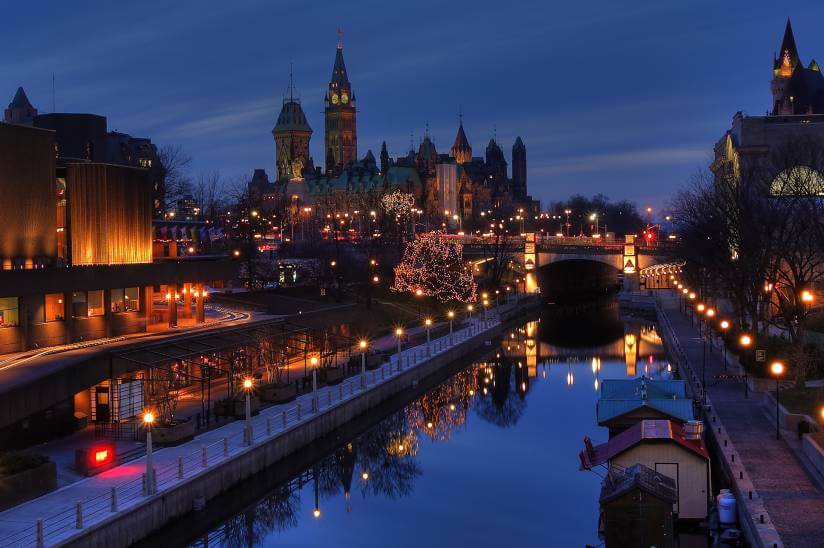 Quebec City, QC
Quebec City is a predominately French Canadian speaking city; this city sits on the Saint Lawrence River.
One of the more well-known things to do in Quebec City is the Old Quebec Historic Walk – on this walk you will be charmed by the beauty, history, and quaintness.
Montmorency Falls is a natural phenomenon that should not be missed – here you can take a gondola ride, hike, or cross the cove of the falls on the double zip line.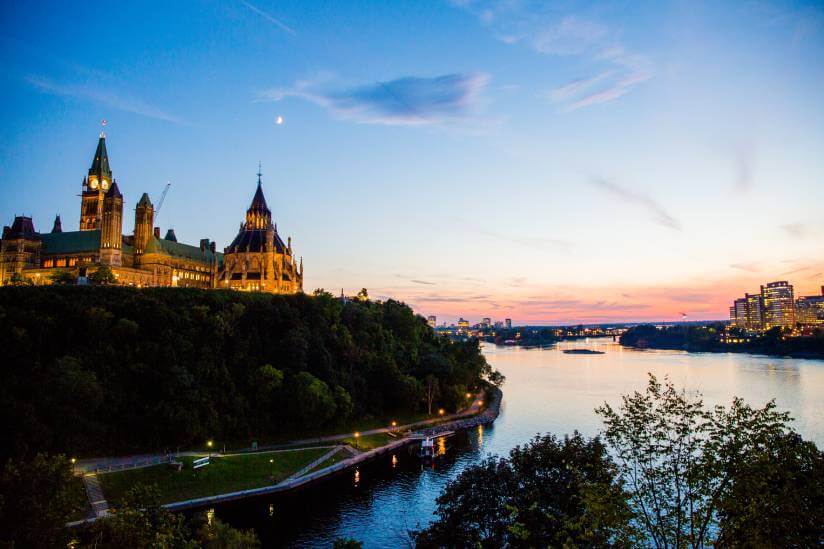 Cape Breton Island, NS
Cape Breton Island is on the Atlantic coast of North America. The Cabot Trail is a gorgeous drive around the island; it brings you along the shore of the Atlantic Ocean.
The Fortress of Louisbourg is something to check out as well. It is a historic site that was settled over 300 years ago by French colonists.
This place will offer you beautiful views as well as a quick history lesson.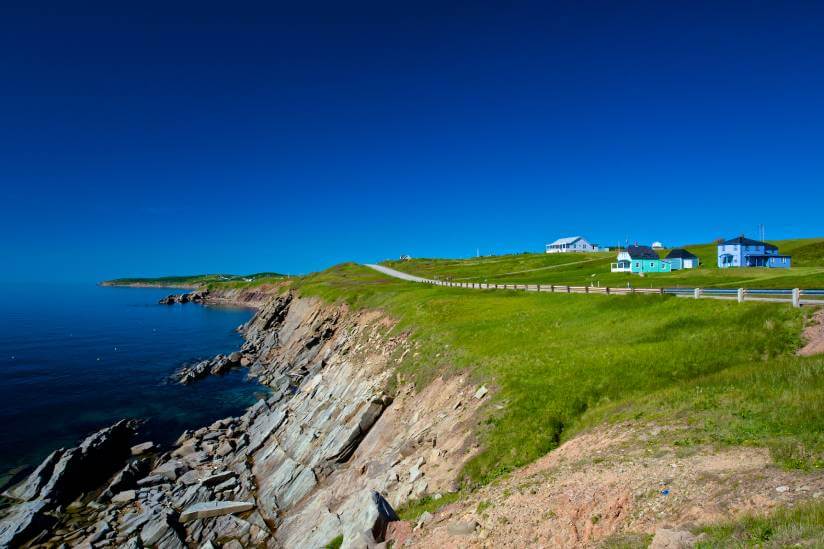 Cabot Beach Provincial Park, PEI
Cabot Beach Provincial Park is the largest park in western PEI and is located in Malpeque Bay.
This park has beautiful red sandstone formations and a beautiful beach.
It has a large day-use area with playgrounds and also has supervised swimming in the scenic bay.
---
Read Also:
48 BEAUTIFUL CANADIAN NATIONAL PARKS YOU SHOULD VISIT ON YOUR WORKING HOLIDAY!
---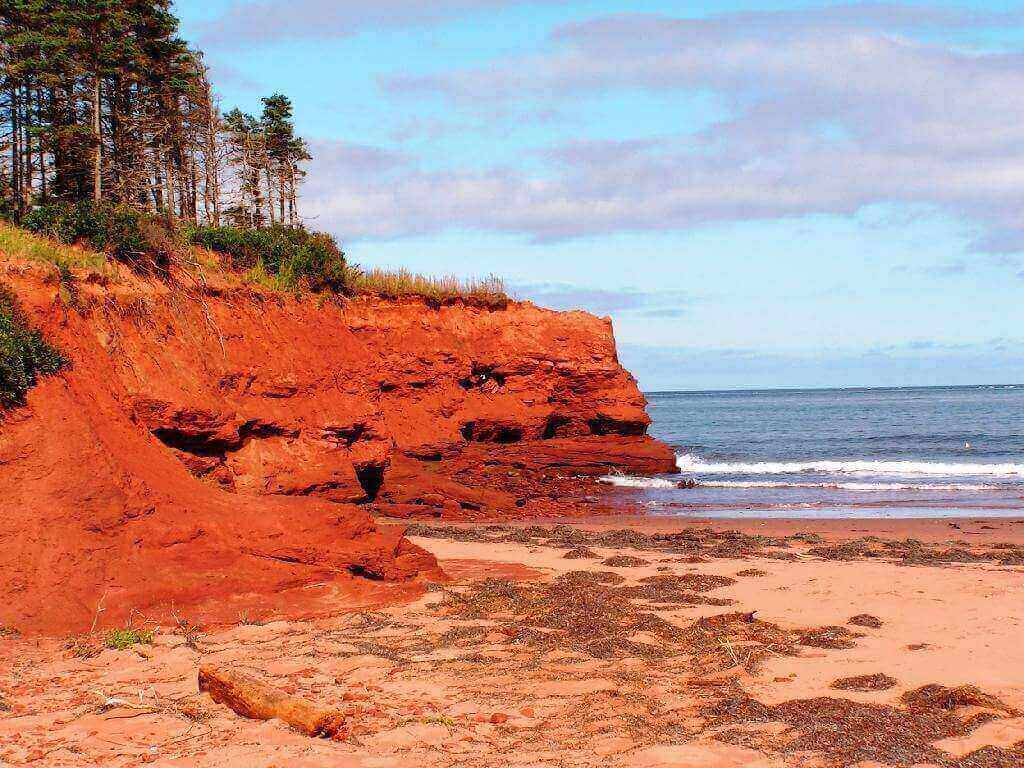 Toronto, ON
As Canada's largest city, Toronto feels like a Canadian New York.
Located right on Lake Ontario, the city is a fantastic place to visit, a multicultural hub and the country's hot spot with opera, symphony, ballet and Broadway shows.
During the summer, just outside the city centre, you can go to the beautiful beaches while in the winter, there are unique winter events, like the popular Winterlicious.
You can add extraordinary shopping, galleries, museums and restaurants to this list, while there is no end to the entertainment.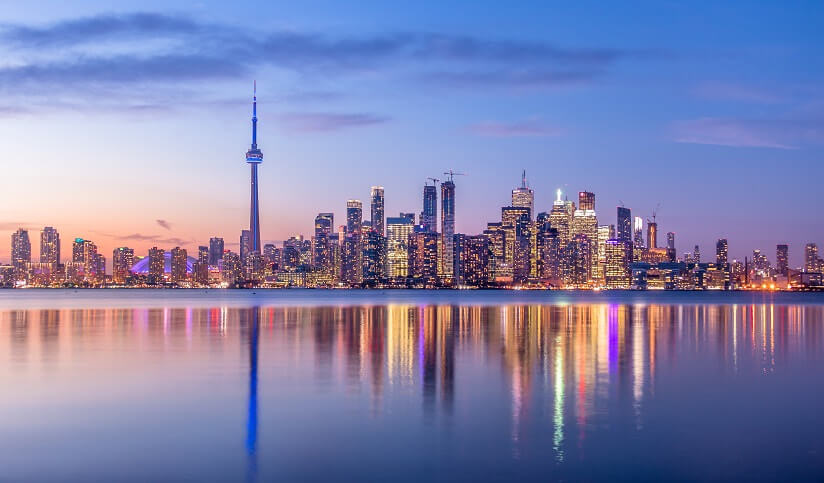 Montreal, QC
Montreal is the biggest city in the Quebec region and is a top destination for tourists with a beautiful historic district and a modern city centre with underground shopping.
The city is a cosmopolitan hub of trade and communications and the museums, architectural wonders, landmarks, the Montreal jazz festival and nightclubs provide plenty of entertainment.
This classic and modern city is everything but boring. In December, it is a winter wonderland with Christmas markets and treats and is one of the best places to visit for winter cheer!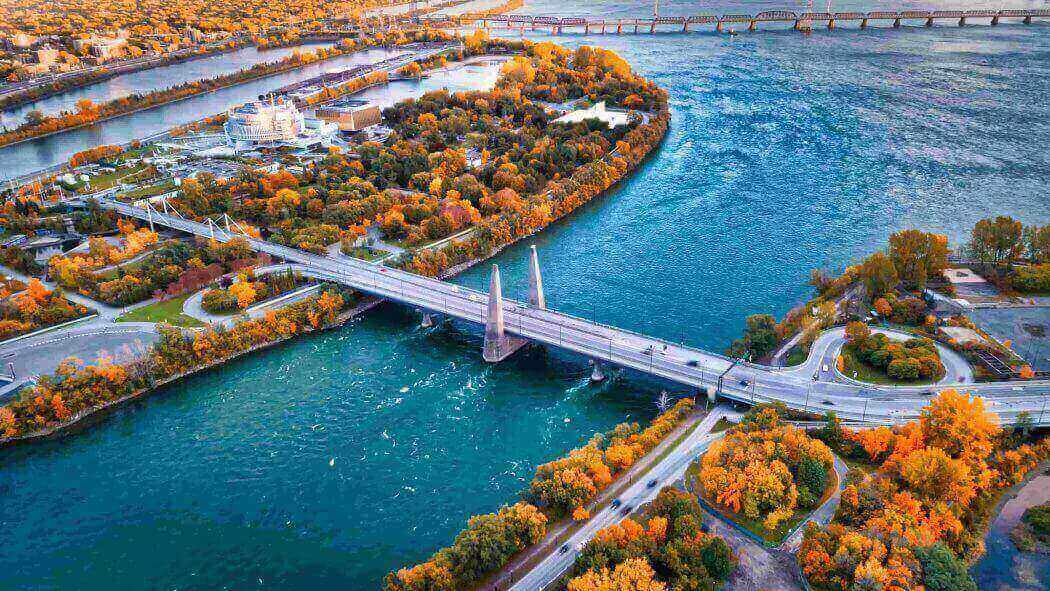 Haida Gwaii, BC
The Haida Gwaii islands are mesmerizing. Formerly known as The Charlottes, the mysterious islands are so heavily protected that only 12 people at a time are allowed to step ashore.
The serene, mysterious and thrilling peaks of Haida Gwaii rise from the waves like magical kingdoms, home to rare species, found nowhere else on earth and people whose rich culture developed in isolation for more than 12,000 years.
This UNESCO world heritage site is located in the far western part of Canada and is formed by the islands of Graham, Moresby and 400 smaller islands.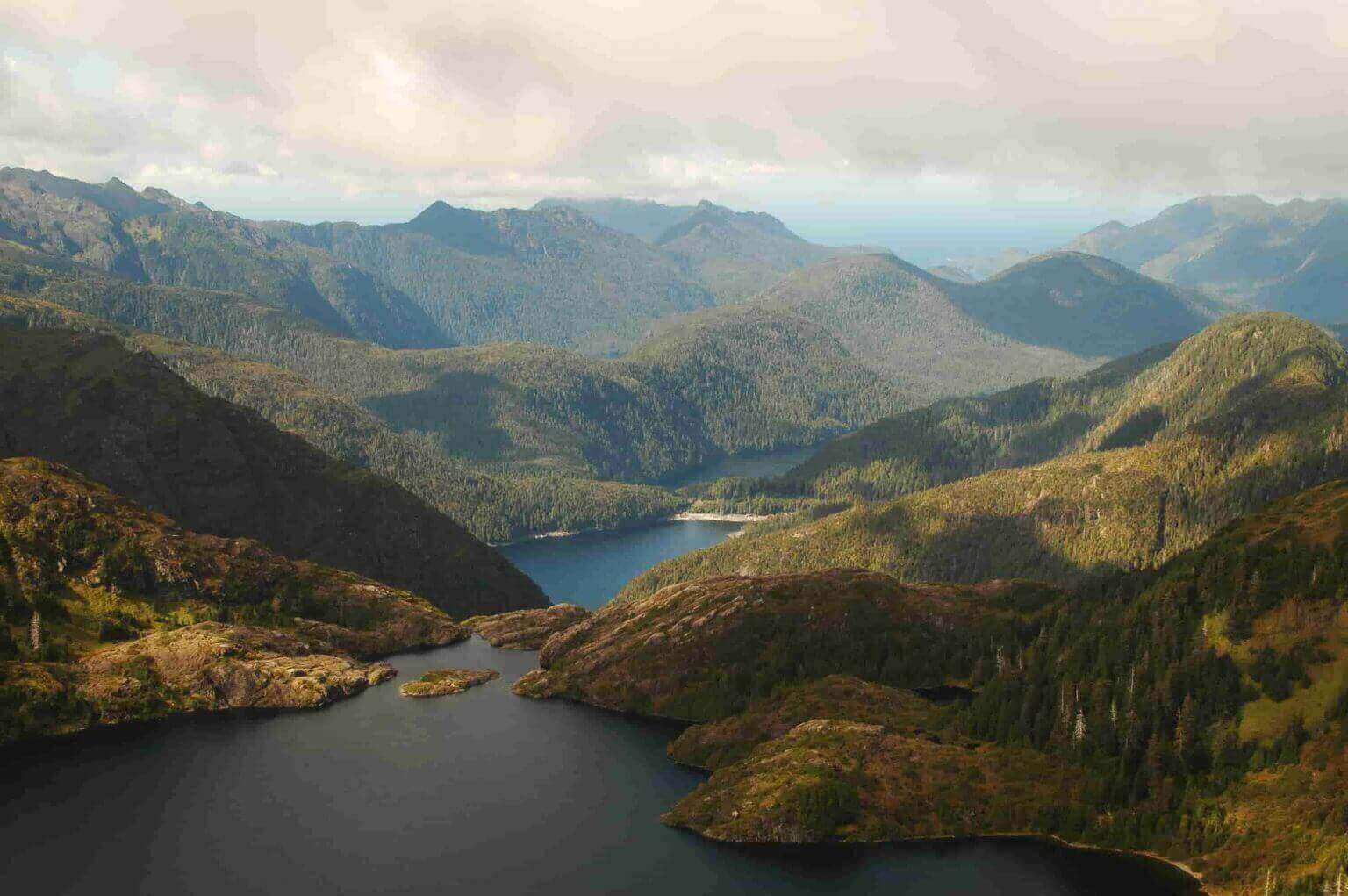 Jasper National Park, AL
The Canadian national park was established in 1907 and is the largest national park in the Canadian Rockies, part of UNESCO's Canadian Rocky Mountain Parks World Heritage Site.
It is internationally renowned for wildlife viewing, hiking and skiing at Marmot Basin.
It is home to some of North America's rarest animals, including moose, caribou, grizzly bears and wolves.
The best time to visit Jasper national is from March to May and from September until November.
---
Register for your WHC Jobs Kit for lists of the top ski resort employers in BC and Alberta, our working holiday jobs search tool and much more!
---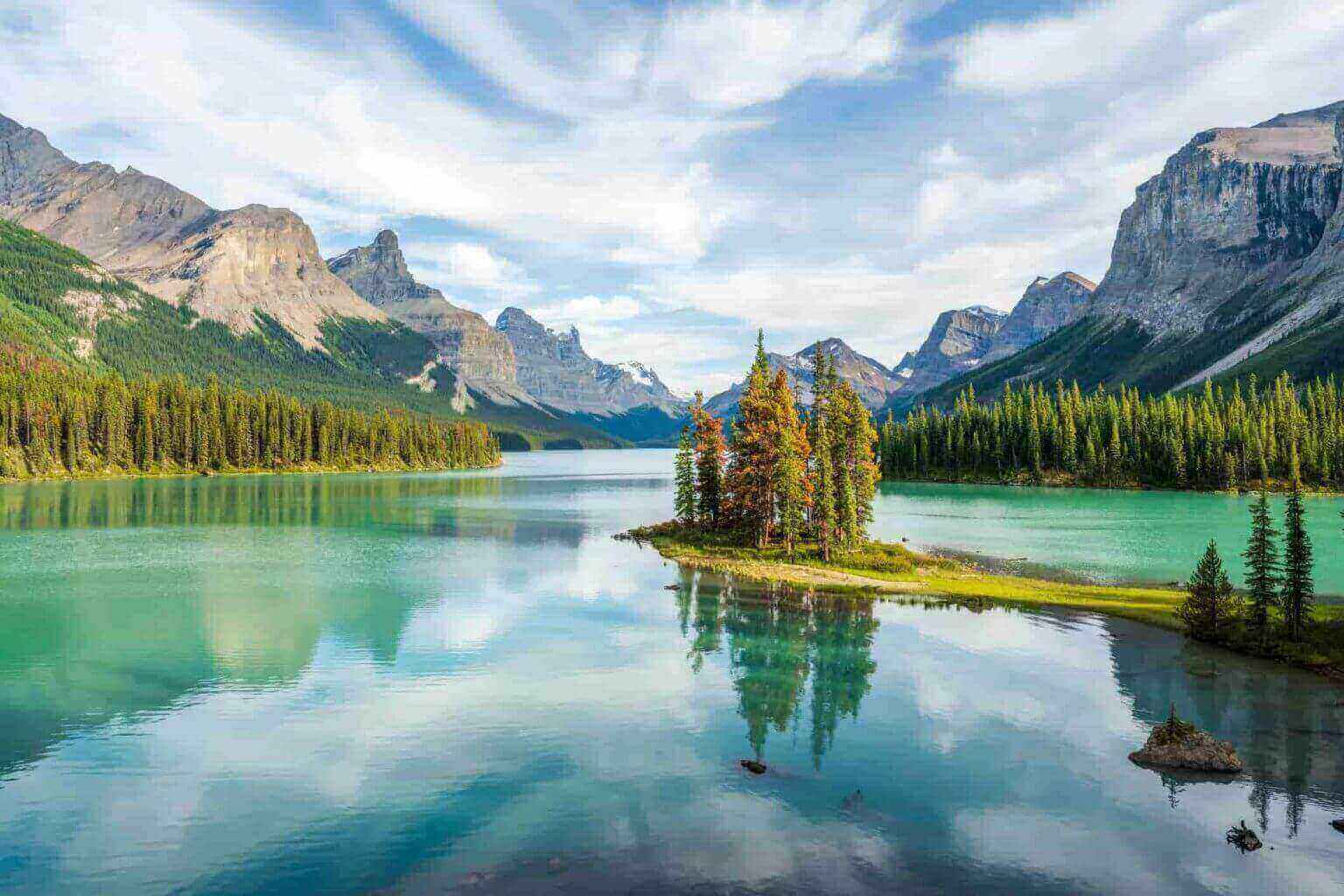 St John's, NL
The capital city of Newfoundland and Labrador is the oldest city in North America!
The city of St. John's is a great place to enjoy various activities, learn more about different cultures and innovations at any time of the year.
It played an essential role in the development of Canada as a whole and as a result, has a rich history and this makes it one of the top ocean-side tourist destinations in the world.
What's more, the architecture of this unique city is different from the rest of the country.
With views over the harbour, the colourful buildings line the streets that run along the hills.
The city has some stunning landscapes and is home to historic sites, parks and museums.
St John's is the perfect combination of traditional small-town charm and big-city luxury.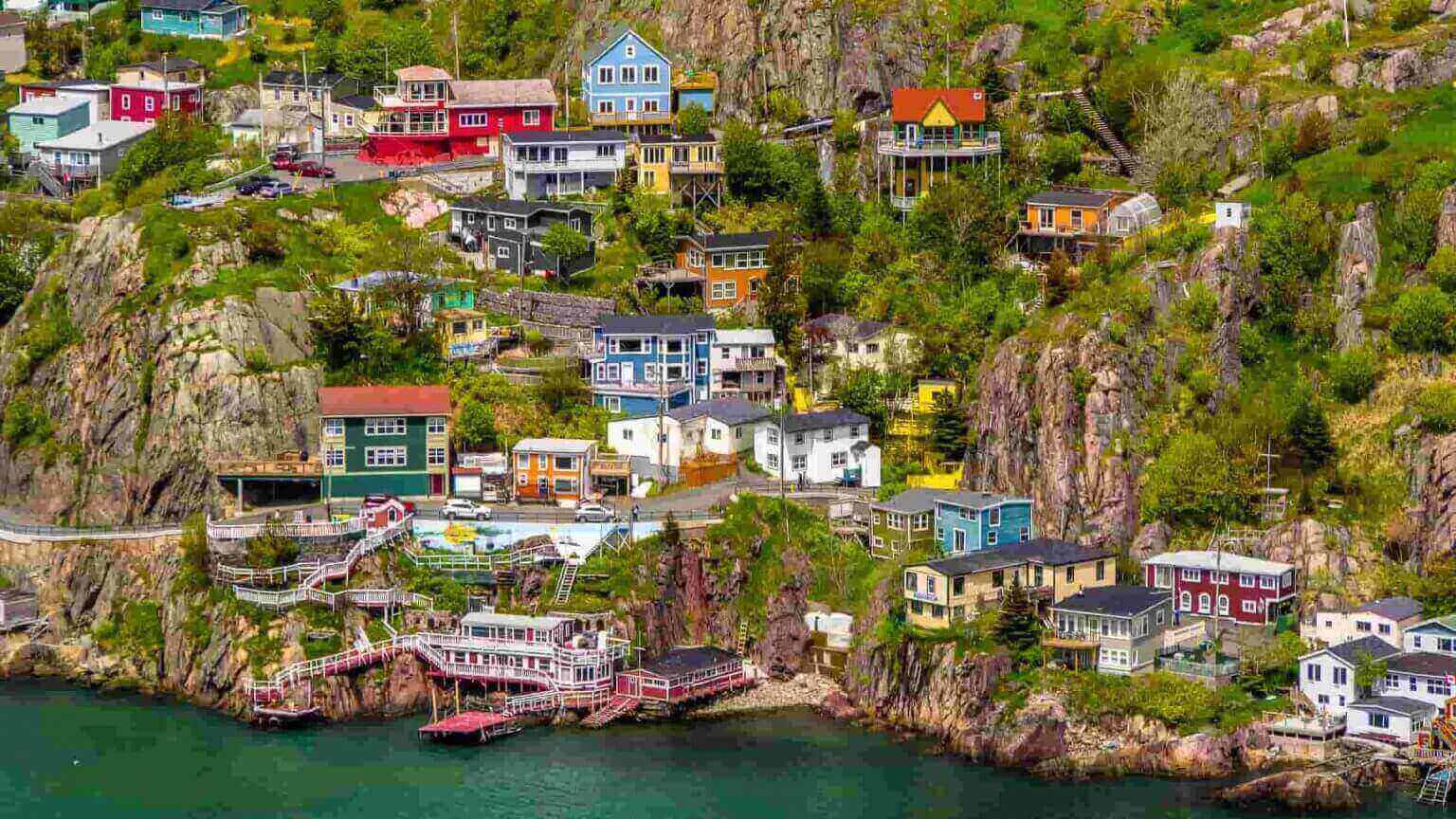 Victoria and Vancouver Island, BC
Victoria, the capital of British Columbia is located on the beautiful Vancouver island named after the British explorer George Vancouver.
It is one of Canada's most picturesque cities, home to colourful gardens, dramatic mountain and ocean vistas.
Victoria has magnificent architecture and a rich British ancestry that can be seen through its tearooms, horse-drawn carriages and double-decker buses.
The city has the mildest climate in Canada and is an international hub of art, culture and food.
Vancouver Island is filled with impressive waterfalls, glacial mountains, glistening lakes and magical fjords.
Here you can discover remote lodges in the rainforest and soak up in nature.
Small towns and villages are spread around the island and here you can enjoy the slower pace of living and the stunning landscapes.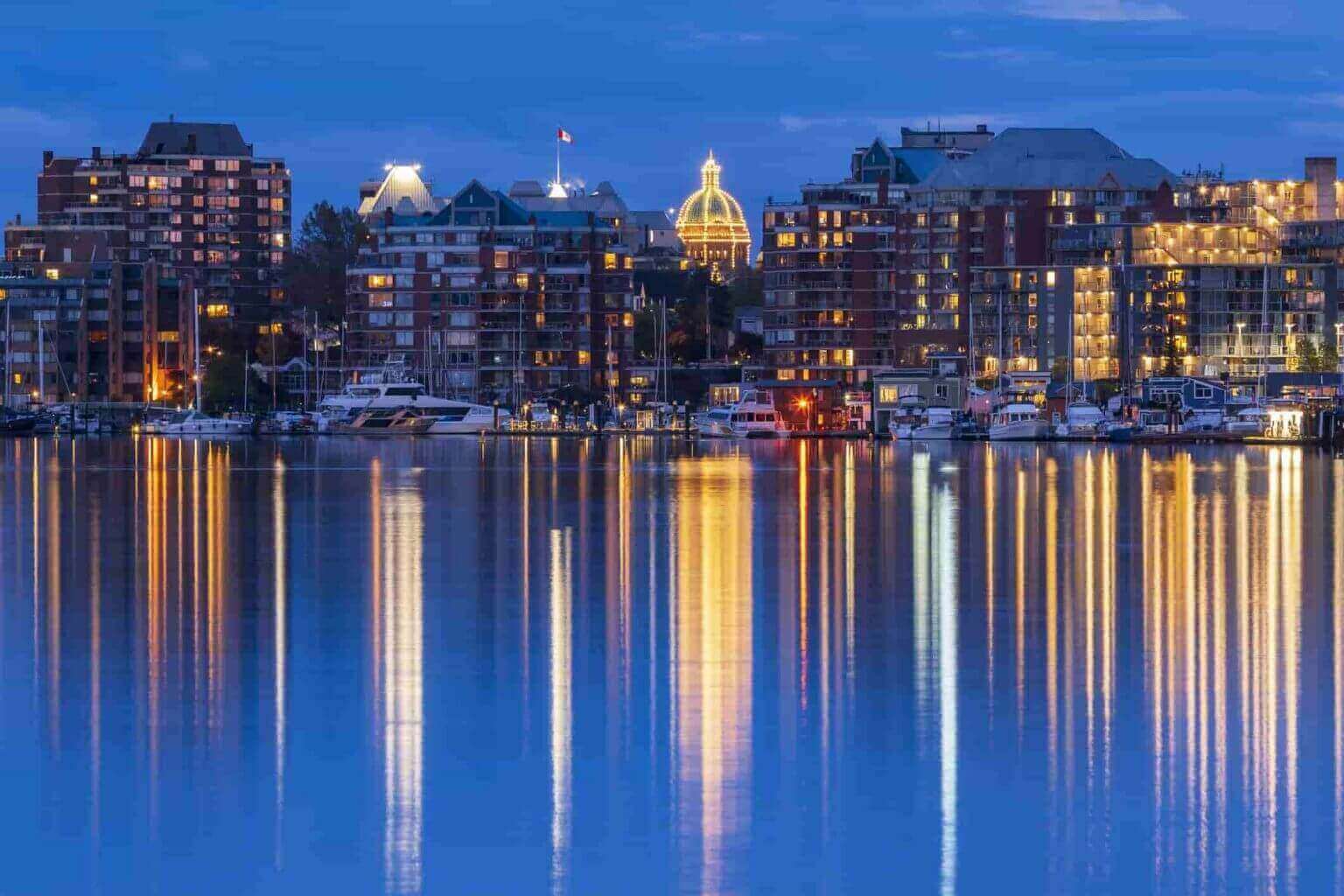 Butchart Gardens, BC
Victoria's world-famous gardens are a must-visit!
Butchart Gardens is the best place to explore and enjoy with a camera in hand. It attracts nearly one million visitors each year.
There is a lot to see and do here that will make your trip vibrant – an enchanting display of flowers, night illuminations, fun boat tours and more.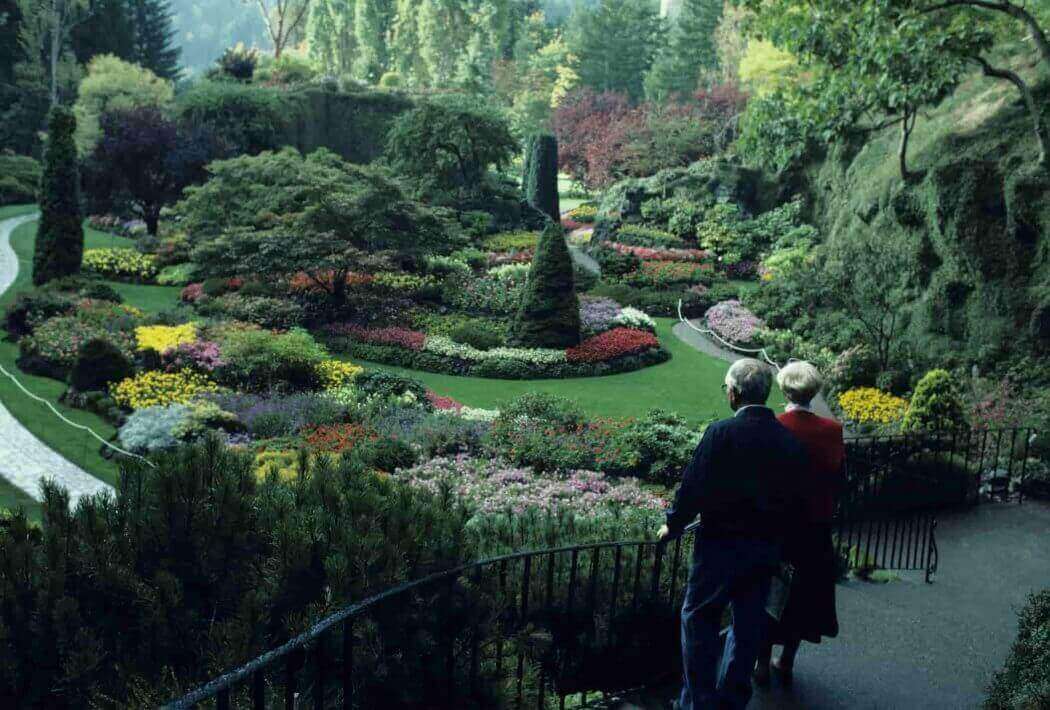 Prince Edward Island, P.E.I.
The author Lucy Maud Montgomery in the opening chapter of her classic "Anne of Green Gables" describes the island as the "prettiest place in the world".
Prince Edward Island located in eastern Canada is covered by rolling patchwork fields in every shade of green, red cliffs, dazzling white lighthouses, golden sand beaches and charming seaside villages.
In Prince Edward Island you can immerse yourself in fascinating history to discover while enjoying the beautiful coastline, delicious food or the island's golf courses.
Long after you've said goodbye to its rocky red shores, you will most likely be begging for more.
The island is a seasonal destination and most attractions are open from June to September.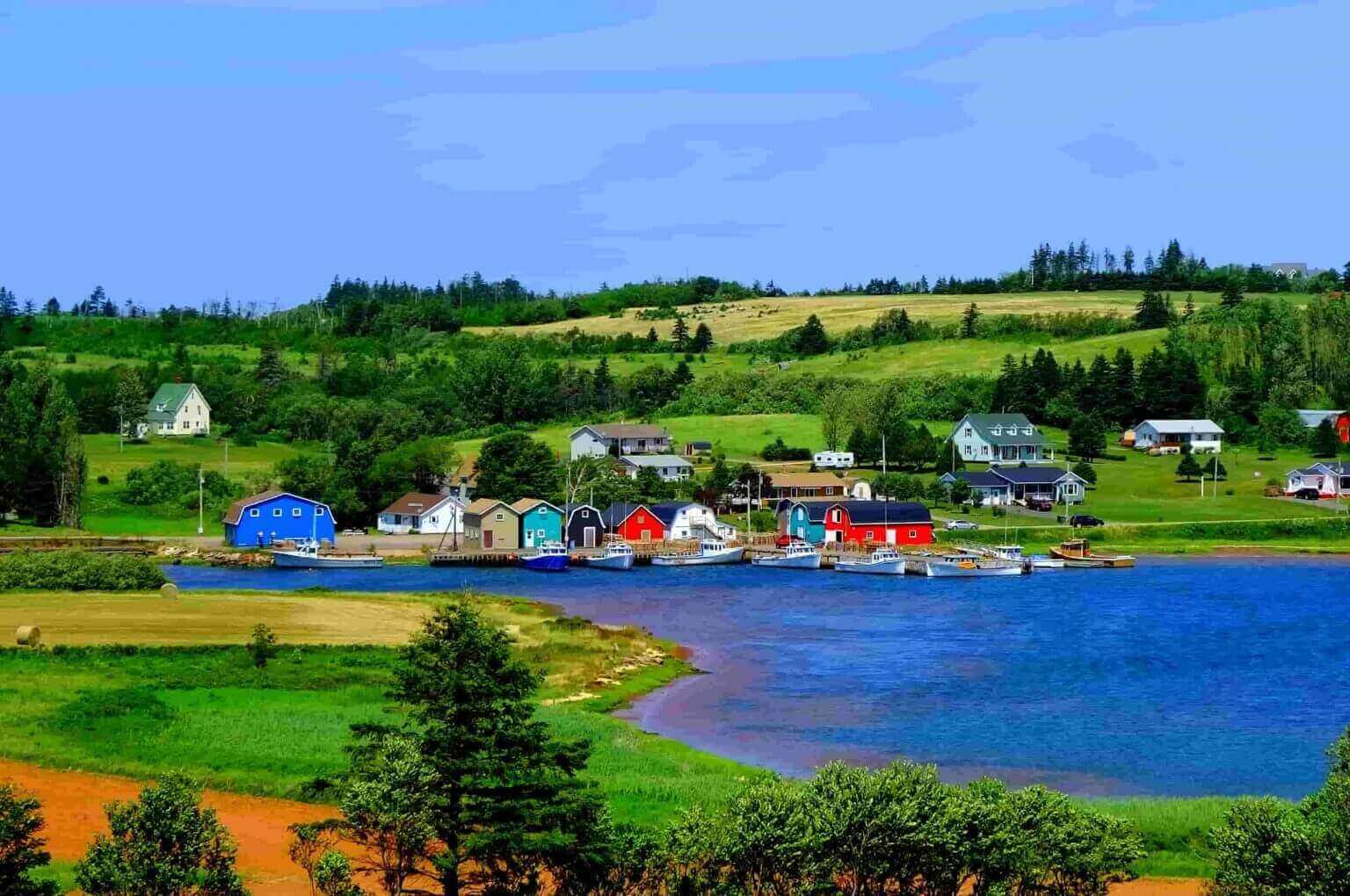 Whitehorse, YN
If you think that Whitehorse is a small sleepy town, you'd be wrong. It's the biggest city in Yukon, home to 27,000 people and in recent years, it has grown into a major centre for culture and arts.
The lively main street is blessed with colourful buildings and is surrounded by mountains. The beautiful surroundings draw an adventurous and artistic crowd.
For adventurous travellers, there are a lot of things to do. Whitehorse has spectacular scenery along with interesting historical sites and outdoor activities.
Our absolute highlight of things to do in Whitehorse is the canoe trip down the Yukon River but you can also try the biking trails.
There are cafes, galleries and shops selling locally made products and you can stock up on beautiful, tasty goodies.
For the lucky ones, the night sky will come to life with a display of northern lights.
---
Read Also:
TOP 10 NATURAL CANADIAN HOT SPRINGS TO VISIT
---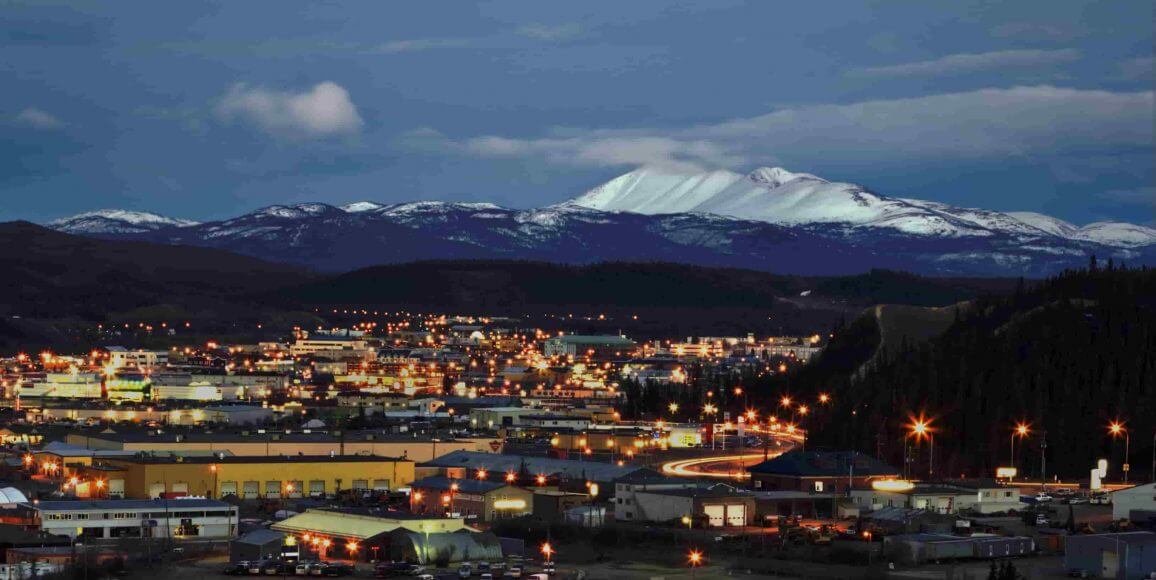 Tofino, BC
The surfing capital of Canada is the small town of Tofino on Vancouver Island.
This is a place which attracts a mixed crowd of visitors who come here to appreciate nature, relax at a seaside resort, see wildlife or simply to enjoy surfing.
What gives a special character to the town are the coffee shops, a handful of stores and galleries.
Many prefer to come here during spring and fall rather than the busy summer season. During the winter, people come here to escape crowds and take advantage of the tranquillity.
Despite the town's small size, there is so much to see and do that the area feels big.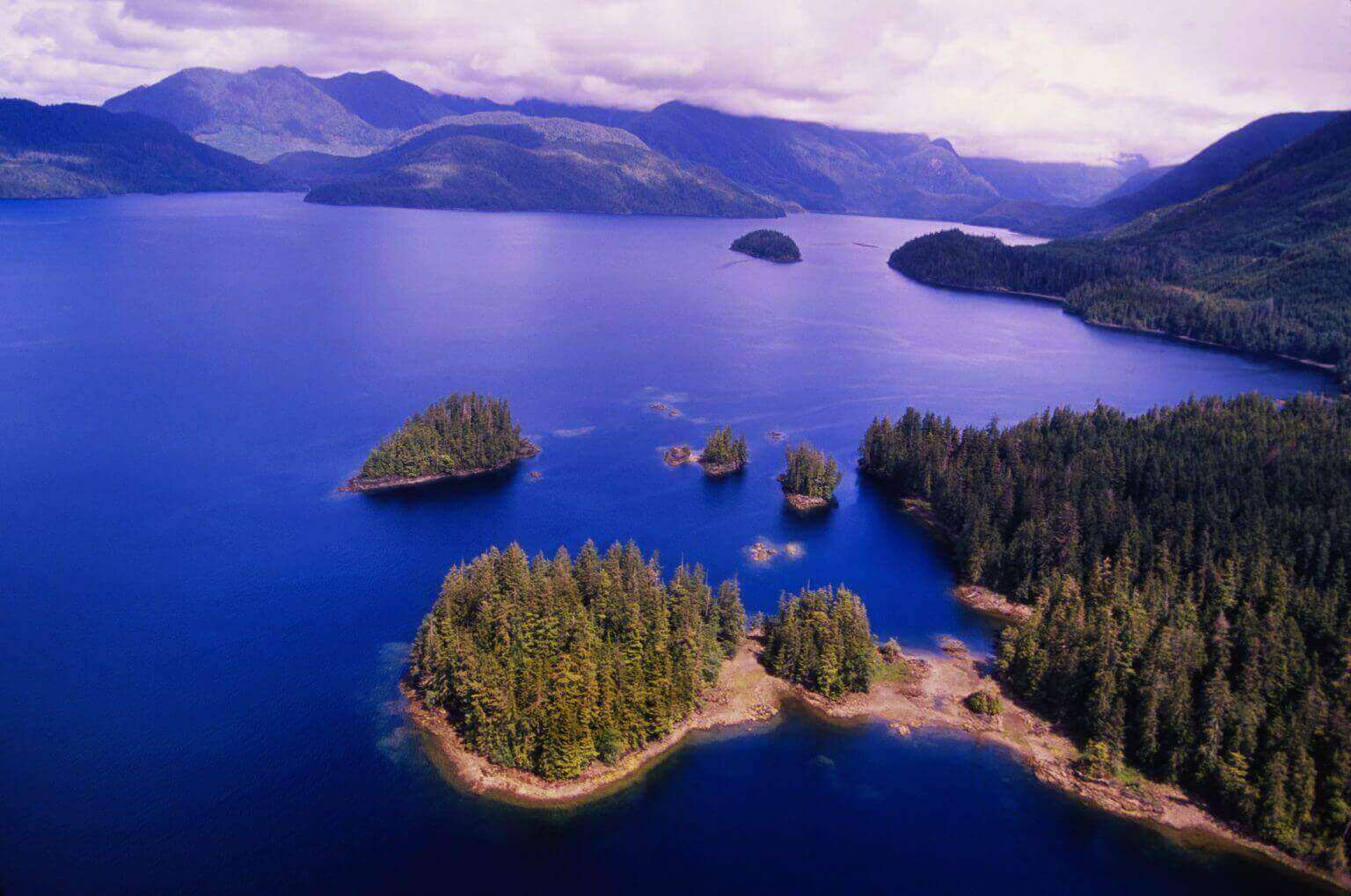 Okanagan Valley, BC
The Okanagan valley is a scenic area in southern British Columbia. This is a paradise for tourists and is one of the best places to visit in Canada. It is known for its fruit orchards and lush vineyards but there is much more to this laid back region than grapes.
Hiking, biking, swimming, skiing, golfing and great dining are some of the things to do in this area.
Here, you can also find a stunning waterfall that is twice the height of Niagara Falls. You can also find a real desert here but there is plenty of water beyond it.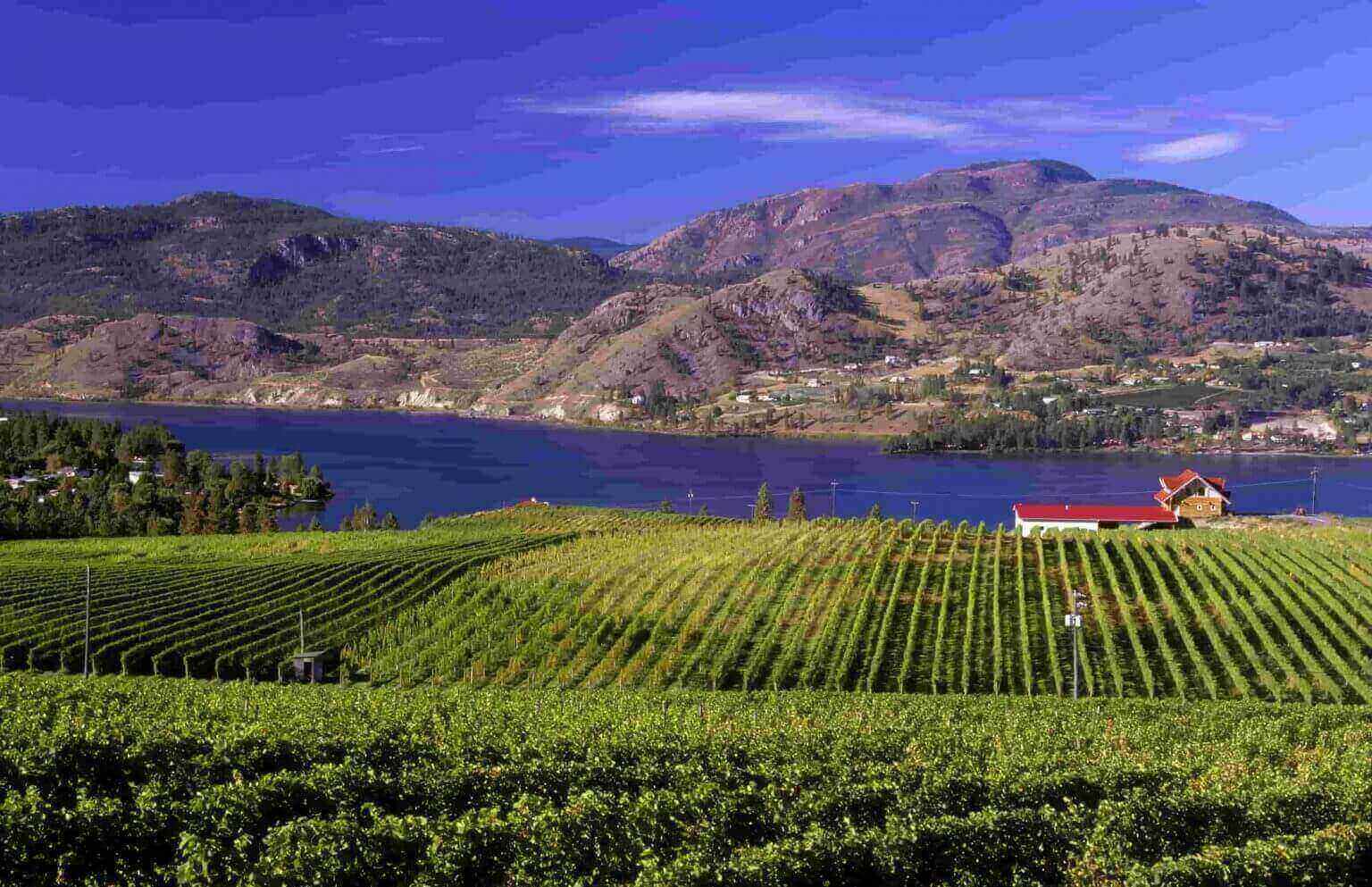 Looking for a job in Canada? Register for our Jobs Kit & get access to jobs across Canada, Resume templates and the Top 100 employers for International workers!