Looking for things to do in Hamilton? Well, you have come to the right place.
We have put together this guide to help make your decisions on what to see and do in Hamilton that bit easier.
What is Hamilton, Ontario most known for?
Ontario's fifth most populated city, Hamilton is located less than an hour away from Toronto and has plenty of outdoor activities on offer.
We know it can be hard planning what to do during your trip.
It can be even more difficult to decide what outdoor activities to choose when visiting Hamilton as there are so many options!! But, not to worry, we have got you covered. Check out our top ideas below!
What are the best outdoor activities in Hamilton, Canada?
1. Visit the Royal Botanical Gardens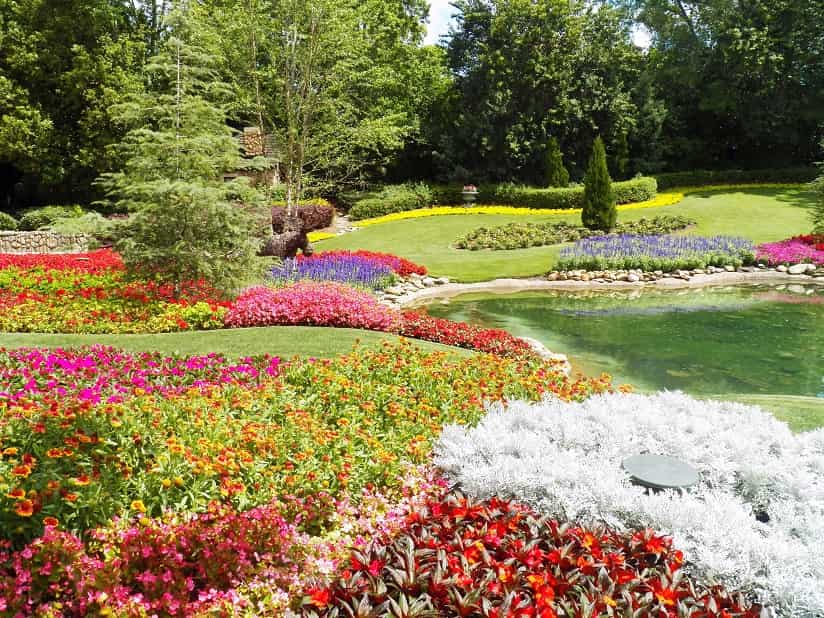 With over 27 km of nature trails, 300 acres of cultivated gardens, and more than 2,400 plant species on show, the Royal Botanical Gardens in Hamilton makes for a great day out.
The gardens are a National Historic Site and are part of the Niagara Escarpment World Biosphere Reserve.
The open-air museum comprises of five cultivated garden areas that hold all kinds of picture-perfect plant collections, displays, and seasonal exhibitions.
Why not head out on one of the gardens' two-hour guided tours, or grab a bite to eat in one of the two restaurants or tearooms on site.
Alternatively, you could bring a picnic and explore the beautiful scenery in your own time.
---
Register for your WHC Jobs Kit for lists of the top ski resort employers in BC and Alberta, our working holiday jobs search tool and much more!
---
2. Enjoy a picnic in Hamilton's parks
If you are looking for some fun and interesting outdoor activities in Hamilton, Ontario, a classic picnic is always a great shout.
There are plenty of parks and outdoor areas in Hamilton which make it the ideal location for a summer picnic. We have recommended some of our favourites so be sure to check them out.
Bayfront Park
Bayfront Park is located in downtown Hamilton right on the harbourfront.
The park is popular with both locals and tourists alike for its convenient location, and a vast amount of green space.
Be sure to pack a picnic and enjoy it at one of the many picnic benches as you watch the world go by.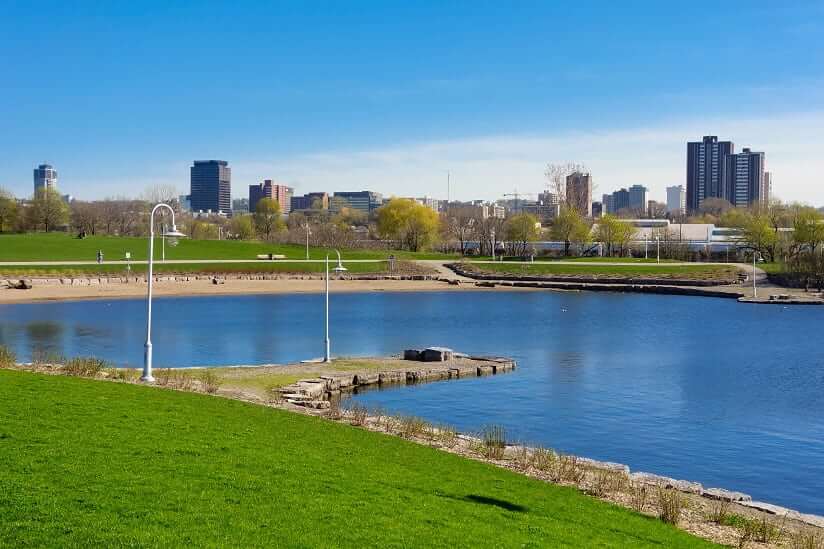 Sam Lawrence Park
Looking for panoramic views of Hamilton harbour and the city skyline?
Located on the edge of the city's escarpment also known as the 'mountain brow', Sam Lawrence Park is a great place to enjoy a picnic with exceptional views.
Victoria Park
Victoria Park can be found in the heart of the Strathcona neighbourhood and is a popular spot for picnics as there is plenty of space.
If you are looking for some outdoor activities there are tennis courts, a swimming pool, and a baseball field all within the park grounds.
---
You May Also Like:
48 Canadian National Parks To Visit
---
3. Explore Hamilton's waterfalls
Home to more than 100 waterfalls, no wonder Hamilton picked up the nickname 'city of waterfalls'.
The majority of the waterfalls are located along the Niagara escarpment which runs through Hamilton.
We recommend you spend a day exploring some of Hamilton's most popular waterfalls seen, as there are so many located so close together.
Webster's Falls
The largest waterfall in the region is the beautiful Webster falls.
The falls can be found within the Spencer gorge conservation area, one of Canada's earliest industrial communities.
The 22-metre curtain waterfall is one of the most popular falls in Hamilton and a must-see if you are in the area.
For those looking for a bit more of an adventure, take advantage of the 10 kilometres worth of biking trails that surround the falls.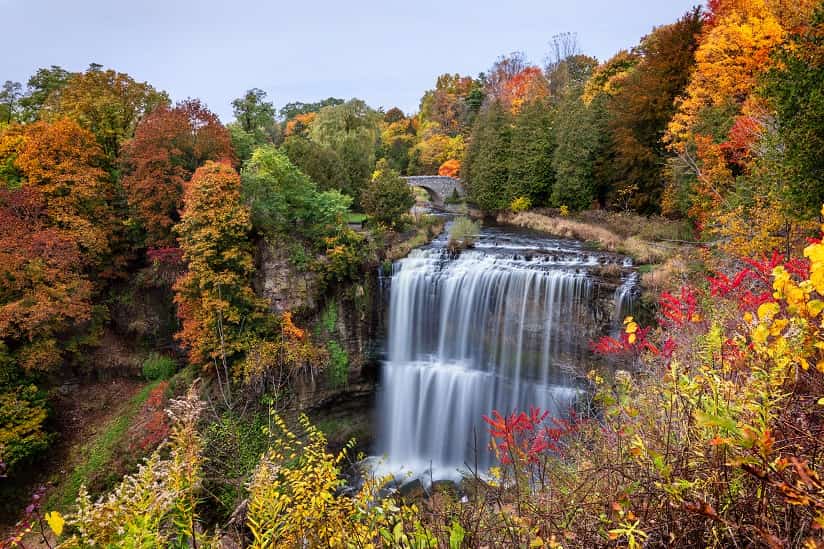 Tew Falls
Another falls located in the Spencer gorge conservation area is the breathtaking Tew Falls.
The falls flow down 41 metres of rockface, making it the tallest waterfall in Hamilton.
It is easily accessible through the staircases that lead directly to the viewing platforms where you will get unbelievable views of the falls.
If you carry on hiking past the second viewing platform, you will make it to Dundas peak where you will be met by breathtaking views of the spectacular Dundas valley.
Devil's Punchbowl
The devil's punchbowl is a 33.8-metre ribbon waterfall at Hamilton's east end.
The unique multi-coloured gorge is one of the most remarkable natural formations along the Niagara escarpment.
The waterfall flows over a horse-shoe-shaped cliff that displays layers of colourful rock segments.
Head to the nearby lookout, where you can enjoy great views of Hamilton harbour. On a clear day, you may even get a glimpse of the Toronto skyline.
---
You May Also Like:
TOP 15 CANADIAN WATERFALLS
---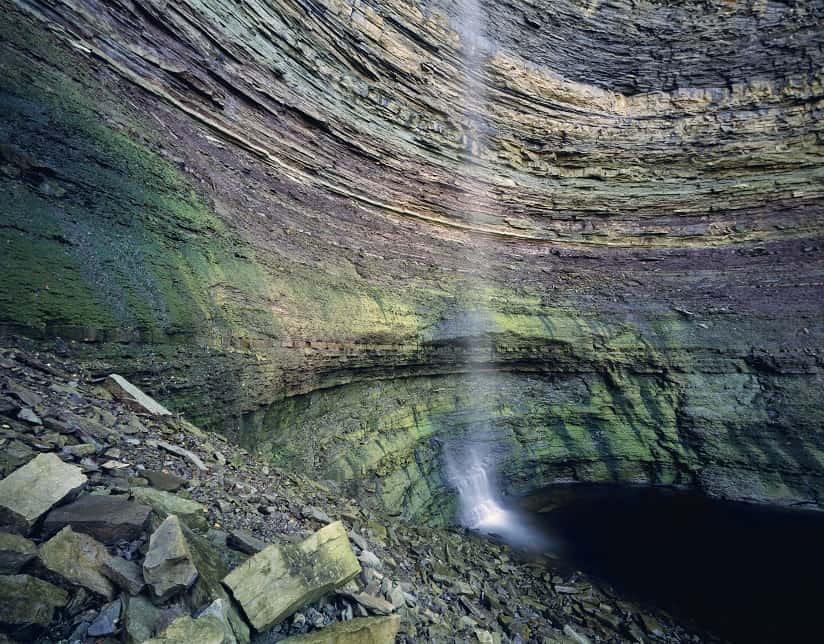 4. Hike the historic Bruce Trail
The Bruce Trail is a 900km hiking route that runs from the Niagara River to the tip of Tobermory, Ontario.
The trail happens to be Canada's oldest and longest marked footpaths!
For the most part, the hiking trail follows the edge of the Niagara escarpment but there are almost 400km worth of side trails to explore.
The part of the Bruce trail that starts near Hamilton is known as the Iroquoia section and is 122km long.
If you are feeling adventurous, you can hike the section over several days or pick a shorter trail and just go on a day hike. You are guaranteed spectacular views either way.
Don't just focus on the Bruce trail tho. There are plenty of other beautiful trails in Hamilton waiting to be explored.
Christie Lake Hike
The Christie lake conservation area has something for everyone from hiking and swimming to boating and biking.
The lake offers a 10km trail system that will suit both beginners and experts alike. On top of the well-maintained walking trails, there are a number of mountain bike trails for those looking for a bit of a thrill.
The 360-metre sandy beach is perfect for those who are looking to kick back and relax after a long hike.
The Dundas Valley Trail System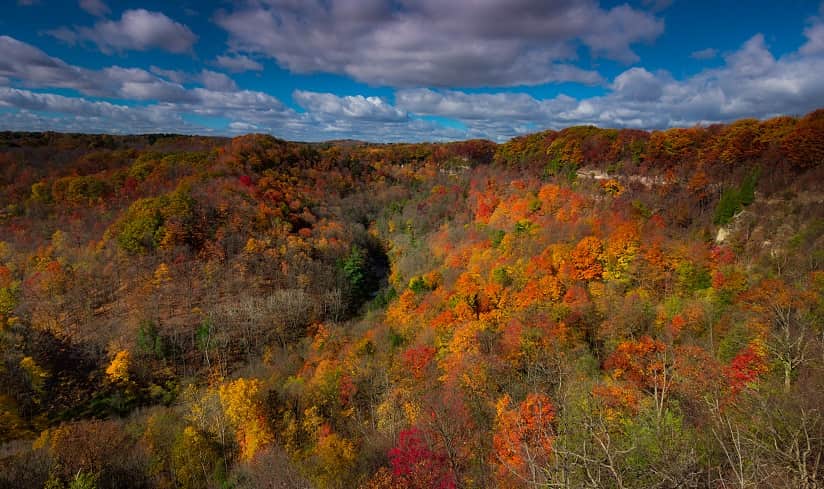 This beautiful, hilly forest is home to over 40 km of hiking trails, colourful meadows, and cold water streams.
The main loop trail is 3.4 kilometres long and passes by the restored hermitage ruins. Alternatively, the heritage trail is only 1.8 kilometres long and leads you straight to the stunning Canterbury falls.
If you are looking for a bite to eat after your hike head to downtown Dundas for some food and drinks.
The Escarpment Rail Trail to Albion Falls
This multi-use trail was developed on an old CN rail line in 1993, and runs from downtown Hamilton to Albion falls and above.
The main route is easily accessible, as it is paved and on a gradual slope which makes the trail perfect for every age group.
5. Cycling spots in Hamilton
Hamilton's landscape has everything from green forests to urban routes and panoramic waterfronts, all of which can be seen on two wheels.
With around 150 kilometres of scenic cycling routes to explore and a relatively flat landscape, Hamilton is an ideal city for cycling.
The Hamilton Waterfront Trail
The 7.5-kilometre waterfront trail runs alongside Burlington Bay towards Princess Point and Cootes Paradise.
Make sure to check out the impressive staircase at Cootes Paradise for some great views from the amazing lookouts.
The cycling route is a great activity for families but just a warning it can get busy at weekends especially when the weather is good.
The Hambur Loop Cycling Trail
The Hambur loop is a 50-kilometre cycling loop that connects already existing trails from Hamilton to Burlington.
This trail makes for a great day trip and will take you along the shores of Lake Ontario, and through some of the region's forested areas.
Dofasco 2000 Trail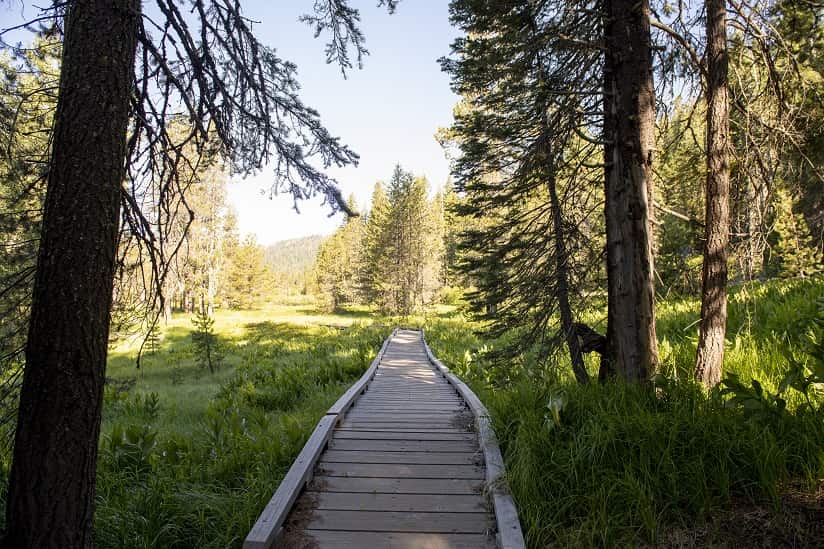 The Dofasco 2000 Trail is a much more rural cycling trail compared to the others.
The 11.5-kilometre multi-use trail passes through the beautiful rural countryside of Stoney creek.
Beginning at the Devil's punchbowl, the trail joins with the Bruce Trail before connecting with the boardwalk section of the trail that runs through the Vinemount south swamp.
The picturesque trail is a must for anyone looking for a pretty cycling route, with natural waterfalls and green gardens.
6. Enjoy The Best Hamilton Beaches
If you're looking for a way to kick back and relax during your trip, we recommend you hit up some of Hamilton's glorious beaches.
Binbrook Conservation Area
This man-made lake has everything from walking trails to exciting water sports and sandy beaches.
This beach is great for anyone looking for affordable outdoor activities for all the family.
With over 25 inflatable obstacles and wakeboarding on offer, you are guaranteed hours of entertainment.
For some added fun you can try the nearby treetop walk and zip-lining park.
Valens conservation area
If camping is something you're interested in, Valens conservation area has over 200 campsites and rental cabins on offer.
It's the perfect location for a fun weekend in Hamilton and is a haven for lovers of the outdoors.
Spend some time fishing in the reservoir or swimming in the lake before enjoying a meal by the campfire.
Fifty Point Conservation Area
This swimming spot is located on lake Ontario close to Stoney Creek.
The 80-hectare park has a magnificent marina, amazing camping facilities, and an easily accessible trail loop.
Take an evening walk along the beach and make sure to grab a few photos in front of the Fifty point lighthouse.
With so many fun and exciting outdoor activities on offer, you are spoilt for choice in Hamilton.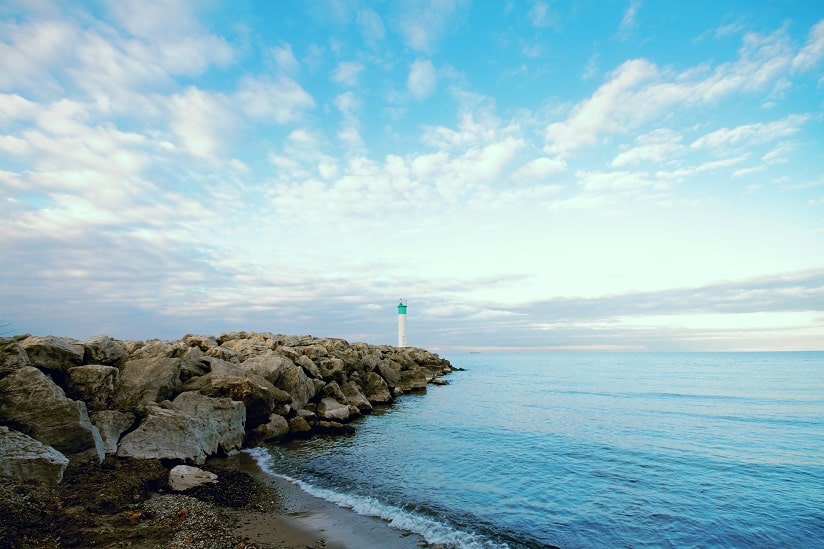 Who can help me apply for my Canadian visa?
If you feel inspired to visit and explore all of the mentioned spots or at least some of them, you'll need a visa for your trip to Canada.
Visa First can help you secure your Canadian visa so you can explore everything Hamilton has to offer.
With over 17 years in the visa application process, you can trust Visa First to complete all your forms and documents correctly.
The visa experts will guide you through the tricky application process boosting your chances of a successful outcome.
Head to Visa First now to begin your visa application process.