Powder; Gnarly; Shred; Air; Fresh Tracks.
If most of these terms mean nothing to you, it's probably about time you spend a season working up a mountain at one of the ski resorts in Canada.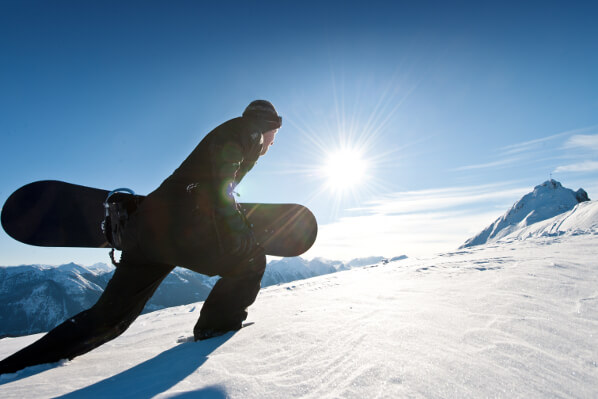 For many Aussies, it has almost become a right of passage to "do a season" up in Whistler and you will also find many British Chums and other nationalities there too.
Keep in mind that nobody is going to make a fortune working in any of the Canadian ski resorts.
It is well known that people who choose this lifestyle do so for their love of the great outdoors, fresh 'Pow' and their snowboard/skis.
Most jobs will be casual work on close to minimum wage but it will be enough to pay your rent, buy your groceries and the odd case of beer. See more on this in our Ski Resorts Jobs section.
What are the main Canadian ski resorts in BC?
Most large Canadian ski resorts are located in British Columbia and Alberta. There are also some smaller resorts in Quebec, such as Mont Tremblant.
Therefore, it's worth doing a bit of research on them to see which setting you would like most and where you think you would more easily get yourself a job.
In BC, the main resort is Whistler, host of the 2010 Winter Olympic Games along with Vancouver. It generally takes on in the region of 1,000-2,000 international workers every season.
It is one of the world's best ski resorts, and routinely gets over 10 metres of snow a season.
2010/11 was the second snowiest season on record for Whistler, with 1579cm falling.
It was truly an epic season, with so many powder days and so much terrain to explore.
NOTE: Some employers give staff the day off for big powder days.
Other ski resorts in BC include:
Big White – Still very popular with working holiday makers and there are jobs if you know where to look. It offers a large area of off piste terrain with gladed tree runs and boasts the lightest powder snow in the country.
Silver Star – Again, this is a bigger resort and popular with working holiday makers. You will find a job if you get there early enough (October) and it is a compact and friendly resort.
Revelstoke – This has some of the steepest gnarliest skiing in Canada and is worth looking into for your season on the hills.
Kicking Horse – This is a smaller but beautifully scenic resort in the Rockies.
Many more small resorts take people on for the winter season too, such as Fernie and Panorama.
What ski resorts are located in Alberta?
In Alberta, there are three main resorts located around Banff – Sunshine Village, Norquay and Lake Louise.
Each one of them is located within a few miles of the beautiful town of Banff and you are truly spoilt with terrain both on and off-piste.
You may even encounter a grizzly bear while travelling.
Banff and all the surrounding resorts are indeed located within the Banff National Park of Canada. There many types of wildlife roaming around, including grizzlies, black bears, moose, elk, deer and cougars. You have been warned!
So, if you up for a year of high adrenalin action-packed outdoor pursuits and après nightlife, you cannot go wrong with a trip to a Canadian ski resort.
---
Register for our free WHC Jobs Kit with lists of top Canadian ski resort employers and all the latest jobs.
---
Check out our sections on Ski Resort Jobs and Accommodation below.