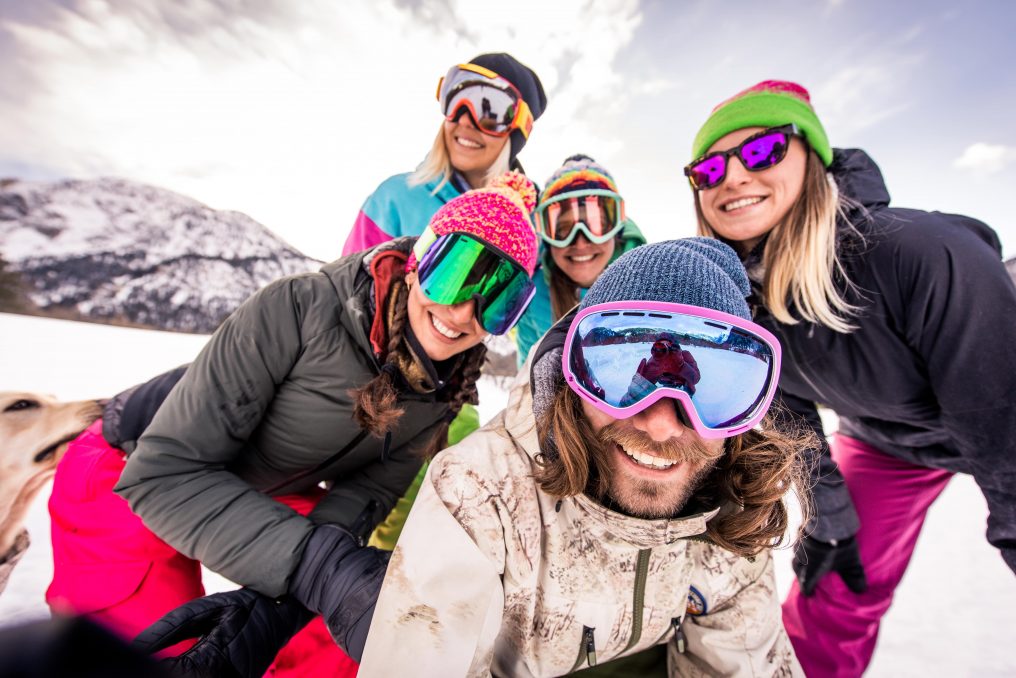 Updated on: 31/01/22
Do you want to work and ski in Canada?
And do you wanna know the top-rated ski resorts?
You may live the alpine dream at one of Canada's magnificent retreats that can be found all across the country.
However, the best skiing is in British Columbia and Alberta's mountains. There are also some smaller places in Quebec, such as Mont Tremblant.
The snow-covered peaks of the Rocky Mountains and the Coast Mountains are home to world-class ski resorts that draw visitors and working holidaymakers from all over the world, as well as smaller camps popular with residents.
Every year, they employ hundreds (if not thousands) of seasonal workers.
It's worth doing a bit of research on them to see which setting you would like most, and where you think you would more easily get yourself a job.
For many Aussies, it has almost become a right of passage to "do a season" up in Whistler. You will also find many British Chums, and other nationalities there too.
It is well known that people who choose this lifestyle, do so for their love of the great outdoors, fresh 'Pow', and their snowboard/skis.
In this blog post, we will outline some of the best Canadian ski resorts for working holidaymakers.
---
You May Also Like:
HOW TO FIND ACCOMMODATION IN SKI RESORTS IN CANADA
---
Whistler, British Columbia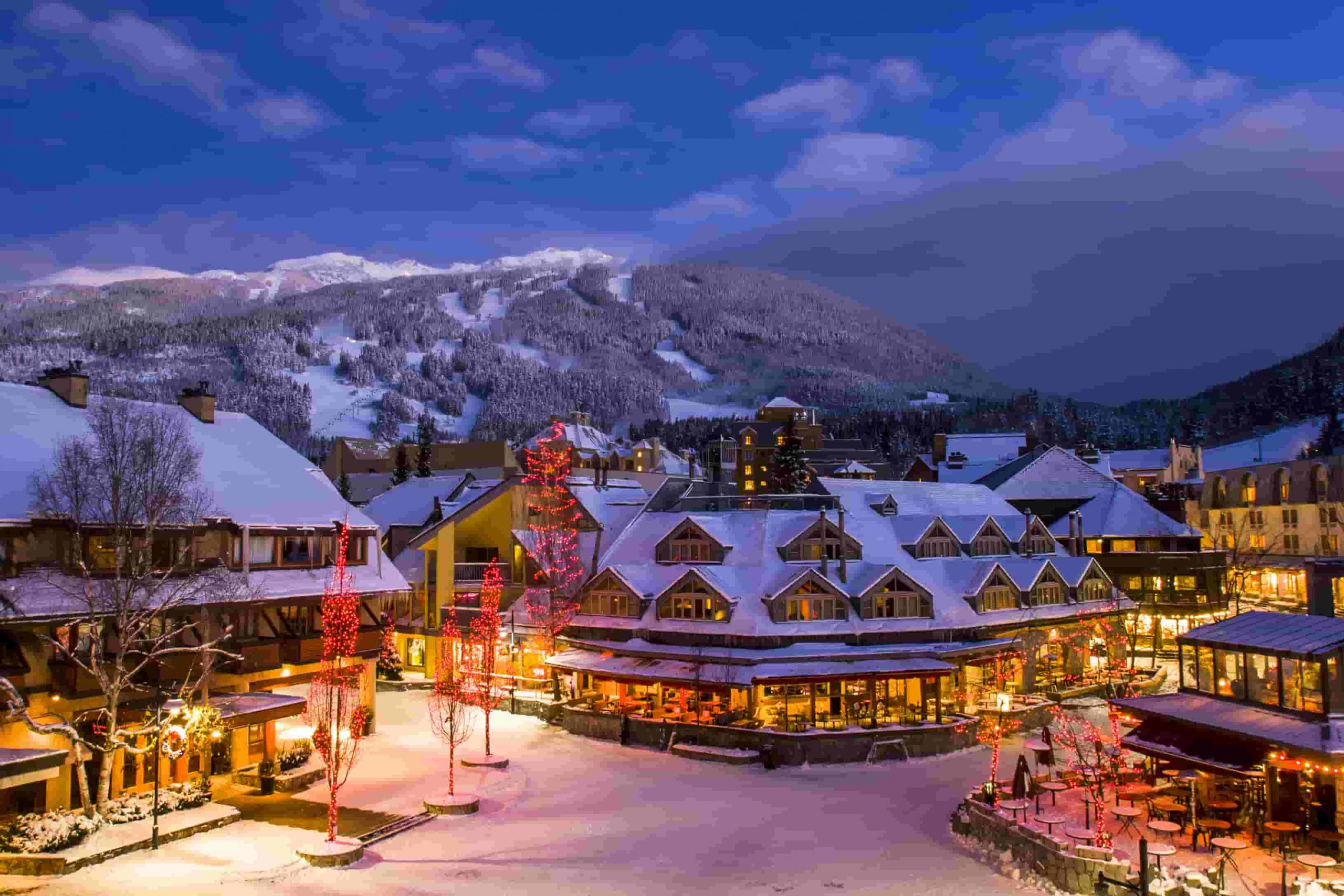 So, which is the biggest ski resort in Canada?
British Columbia is home to Canada's largest ski resort, Whistler, as well as a bustling village with hundreds of bars and restaurants.
It is only a two-hour drive from Vancouver on the Sea to Sky Highway.
It is one of Canada's best ski resorts (or even one of the best in the world), and routinely gets over 10 meters of snow a season.
Whistler is without a doubt North America's best overall resort, and it is still the most popular one to work a season. It generally takes on about 1,000-2,000 international workers every season.
There you will find a massive terrain, some of the best parks that you can imagine, non-stop energy in the village throughout the season, a thriving nightlife, and staff from all over the world.
There are numerous accommodation options in Whistler Village, as well as many spas, a plethora of shops, and Whistler restaurants.
There are also a variety of non-skiing activities and tours available in the area.
Despite the fact that it is crowded and expensive, Whistler is nothing short of amazing, and even the experts rave about it.
Revelstoke, British Columbia
Even though it's a little bit more secluded (2.5-hour drive from Kamloops, BC, 7 hours drive west of Calgary, Alberta, and 7 hours drive east of Vancouver), Revelstoke is developing every year with more things to do and places to eat and drink.
With only a few lifts, you could be forgiven for believing that Revelstoke's terrain isn't particularly impressive on paper.
It has some of the steepest gnarliest skiing in Canada and is worth looking into for your season on the hills.
The resort is expanding to become one of Canada's largest and best places for skiing.
If the secret was not revealed yet, it is now – Revelstoke is one of Canada's holy grails for seasonal workers.
Revelstoke has evolved from a hidden gem for seasonal workers to one of the most sought-after ski job destinations in Canada.
Even though it offers competitive wages, jobs in Revelstoke, on the other hand, are quite competitive.
The resort attracts experienced seasonal workers, as well as the best in the ski industry. There are probably simpler areas to get work if this is your first ski season, such as Lake Louise, Sunshine, Whistler, or Fernie, which have more job positions.
Banff, Alberta
Banff National Park is about a 90-minute drive from Calgary, and a 40-minute drive from Canmore.
It is one of North America's most photographed destinations, and you'll understand why as soon as you arrive.
It is home to three ski resorts: Sunshine Village, Lake Louise, and Mt. Norquay, all of which are less than 30 minutes away.
Each one of them is located within a few miles of the beautiful town of Banff and you are truly spoiled with terrain both on and off-piste.
Sunshine Village and Lake Louise are extremely tranquil villages, and Banff on the other hand has the best nightlife and entertainment.
It offers one of the most vibrant nighttime scenes of any ski resort in Canada, second only to Whistler. Lounges, clubs, pubs, taverns, and restaurants may be found all across town.
Working at one of the resorts, or in Banff itself at a local business are two options for working a season in the region.
Getting a job for one of the resorts entitles you to a free season pass, as well as staff accommodation.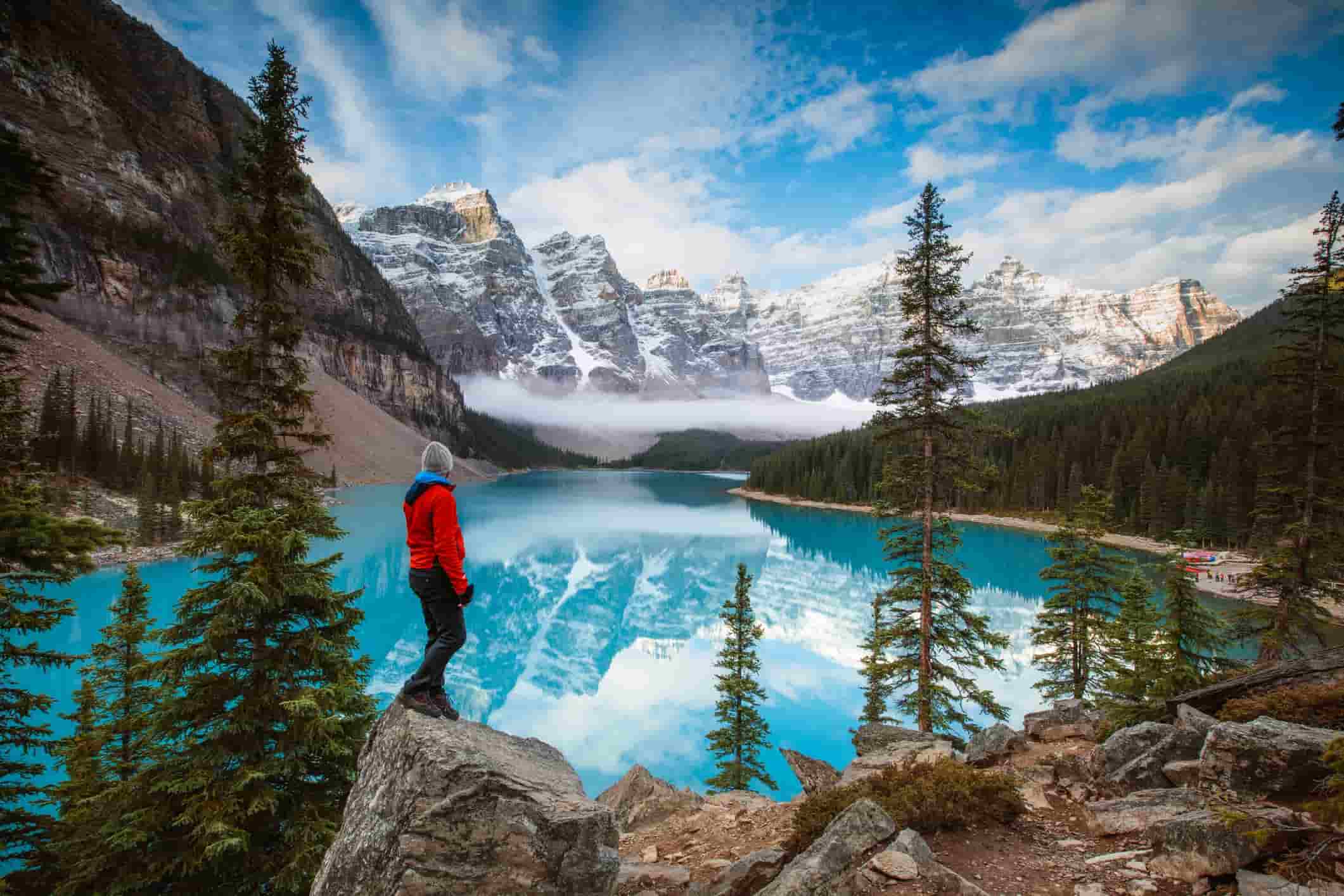 For many people, this is a huge benefit because it eliminates the trouble of finding a place to stay.
Finding work can be more challenging due to the large number of people who arrive each season and pass out resumes.
Because so many walk-in applicants visit each season in Banff, businesses do not need to post job openings online.
Locals who have worked there for several seasons also get a lot of good jobs. Be prepared to go without employment for a few weeks, and have enough money to get by during that time.
Many working holidaymakers visiting Banff for the season are not employed by one of the resorts. Instead, they opt to work in a restaurant, bar, or shop in Banff, or to pursue a professional career such as accounting.
Banff and all the surrounding resorts are indeed located within the Banff National Park of Canada. There are many types of wildlife roaming around, including grizzlies, black bears, moose, elk, deer, and cougars. You have been warned!
You may even encounter a grizzly bear while traveling.
So, if you are up for a year of high adrenalin action-packed outdoor pursuits and après nightlife, you cannot go wrong with a trip to Banff.
Big White, British Columbia
It ranks among the best in the world.
Big White Ski Resort, approximately 50 kilometres east of Kelowna, B.C., was recently ranked second in Condé Nast Traveler's list of Canada's top five ski resorts, as part of the magazine's 2021 Readers' Choice Awards.
Still very popular with working holidaymakers, and there are jobs if you know where to look.
It offers a large area of off-piste terrain and boasts the lightest powder snow in the country.
The mountain itself contains terrain for riders of all skill levels, but it is more appropriate for beginner/intermediate riders than resorts like Whistler-Blackcomb and Revelstoke, which we already discussed.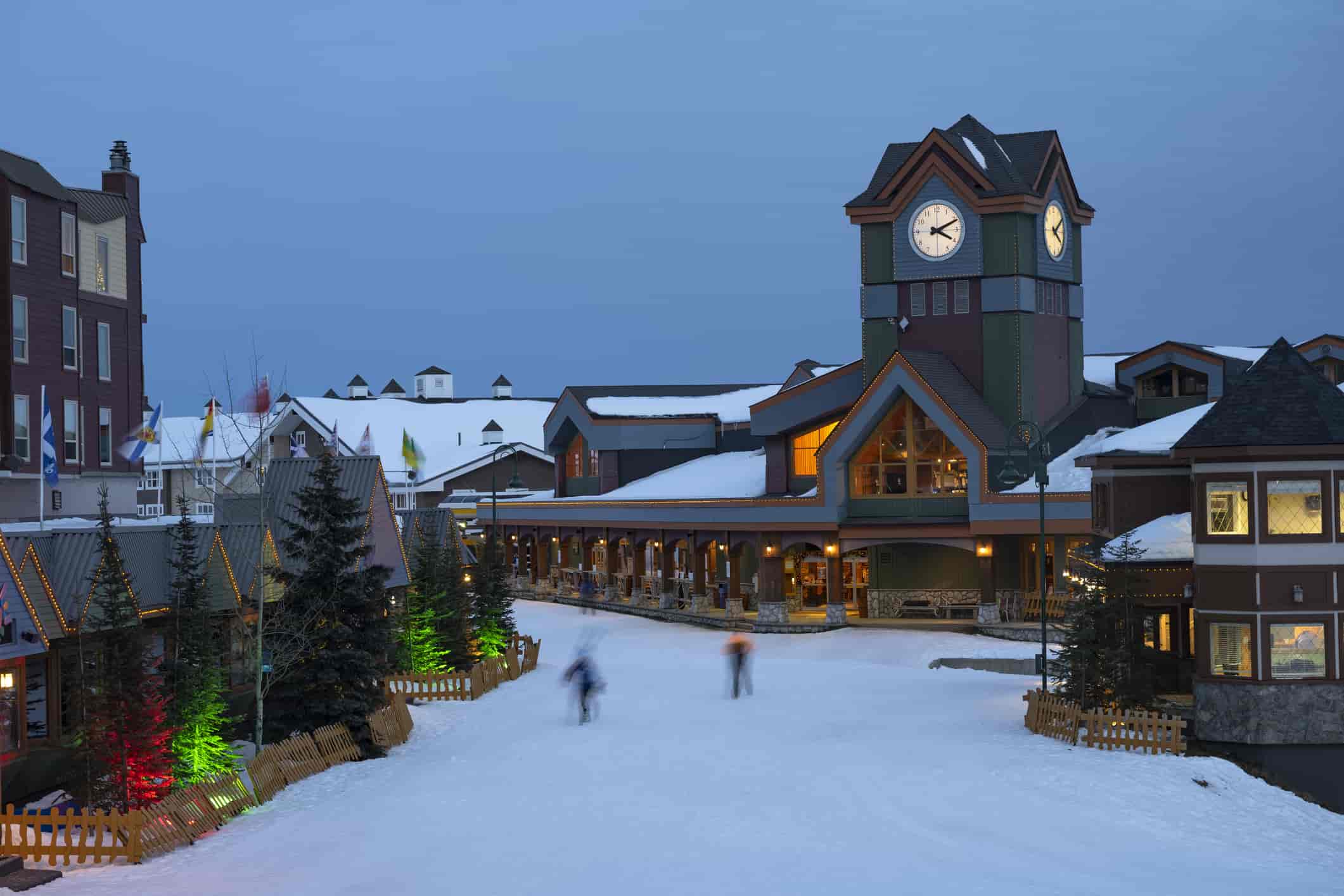 It is also one of North America's most family-friendly ski resorts.
Because it is a much smaller town than the other resorts listed, job opportunities are more scarce.
The staff is quite international, and for those coming from abroad, the fact that so many international workers pass through there each season means they are well set up to accept working holidaymakers from all over the world.
The resort is packed with 23 fantastic restaurants, bars, lounges, cafes, and snack shacks.
There is also plenty of retail shops, a ski school, and a variety of activities to keep you active (ice climbing, tube park, snowmobiling, ice skating, snowshoeing, dog sledding, and more).
If you work during the day, don't worry about missing out because they also offer night skiing!
If this sounds like a resort where you'd like to work, don't wait too long to apply because it will fill up quickly.
---
Register for your WHC Jobs Kit for lists of the top ski resort employers in BC and Alberta, our working holiday jobs search tool and much more!
---
Kicking Horse, British Columbia
This is a smaller but beautifully scenic resort in the Rockies.
Kicking Horse, located about 14 kilometres outside of Golden, British Columbia, has some of North America's top lift-accessed terrain.
Golden has a more industrial character than the other towns on this list. It lacks the artificial feel of some tourist villages.
Instead, you'll find all of the services of a small town, such as groceries, banking, mechanics, and a post office.
Most of the staff that works in Kicking horse live there because the resort does not offer housing for workers.
However, Golden has a very unique vibe and a variety of bars, restaurants, and pubs with many seasonal employees during the winter.
Tourism is becoming an increasingly important aspect of Golden's existence, and the town is drawing working holidaymakers who want to experience an authentic British Columbia community in a natural, unspoiled mountain setting.
If you want to spend a season working in a mountain paradise, working in Kicking Horse Mountain Resort could be the perfect adventure for you.
Fernie, British Columbia
Fernie Alpine Resort is located in the East Kootenay region of British Columbia, Canada, near the Elk Valley, and is a great employer in British Columbia.
Fernie is a small, historic mountain town, with a modern-day lifestyle and experiences, completely surrounded by the breathtaking peaks of the Rocky Mountains.
It's a picturesque mountain town with a historic downtown, countless outdoor activities, and clean air.
To tempt the taste buds, there are cozy cafes, innovative restaurants, a craft brewery, and distilleries.
The resort has everything you may want – long mogul runs, terrain parks, wide groomers, and also five alpine bowls that catch the windstorms and can be full of wonderful snow.
You will be able to get away from the frenetic pace of heavily populated cities and find a better work/life balance.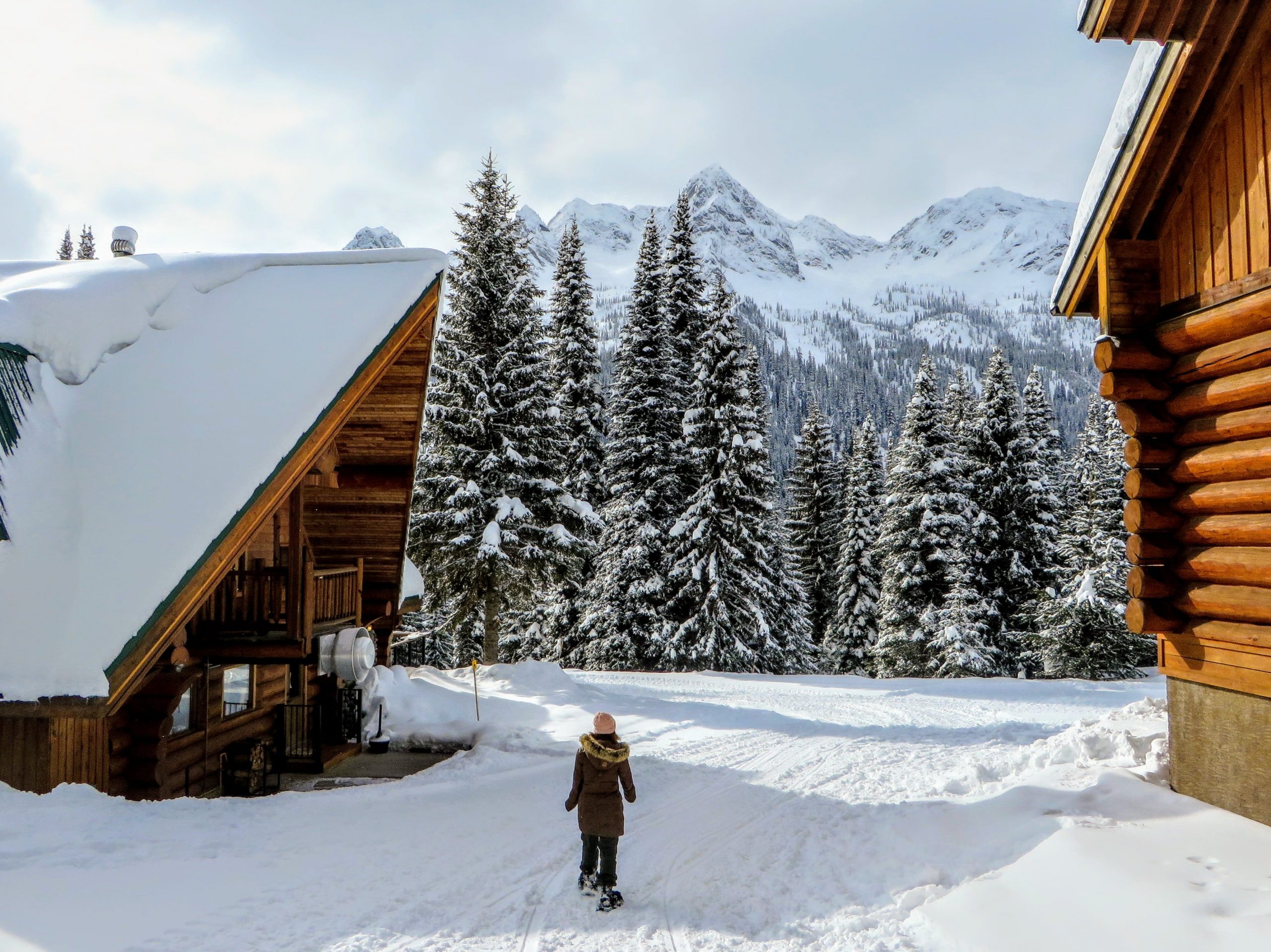 You can also explore the beautiful landscapes of mountains, rivers, and valleys.
Right outside your door, there are epic hiking and bike routes, a lovely golf course, and the pristine Elk River for paddle boarding, fishing, and rafting.
You will discover a wonderful mountain lifestyle and a wide range of careers in the breathtaking Canadian Rocky Mountains.
What's more, as a staff member, you will not only be able to attend the notorious staff parties (which are so legendary that non-staff members always try to sneak in), but you will also get a front-row seat!
Dinner, dancing, prizes…oh, we can't give too many staff party secrets; you'll have to go experience it for yourself.
Silver Star, British Columbia
Silver Star Mountain Resort is located in Silver Star Provincial Park, just minutes outside Vernon.
It is known as British Columbia's premier, a family-oriented, all-season mountain resort.
Silver Star has the charm of a small town and is a welcoming spot for working holidaymakers.
Silver Star has a variety of employment positions available and provides a somewhat complete lifestyle all within walking distance.
If you're searching for a location to relax and make money, or even just work and party, this is the place to go.
We are sure that you will appreciate the easy access to the breathtaking scenery and cozy mountain village.
Despite the small-town atmosphere, the mountain is large enough so that you'll never get bored.
You will find a job if you get there early enough (October) in this compact and friendly resort.
Jobs appear also even during the season, therefore have a look even if the season has begun, since there may be job openings.
Silver Star conducts interviews by phone, face-to-face, Skype, and in-person internationally.
Winter and summer jobs, as well as seasonal and year-round roles, can be found at: skisilverstar.com