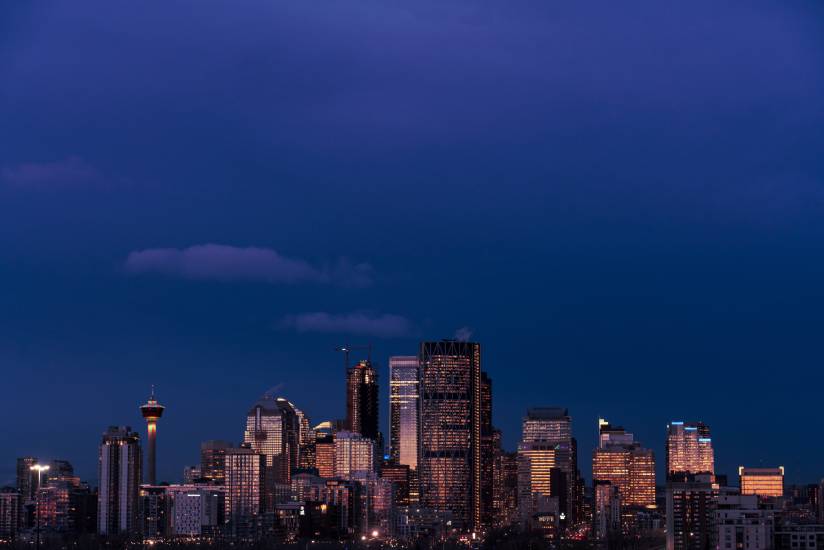 Il est facile de comprendre pourquoi quiconque choisirait Calgary comme destination de travail,,en,la ville classée quatrième dans le magazine Economist,,en,liste des villes les plus habitables du monde,,en,Calgary est la plus grande ville de l'Alberta,,en,avec une population de plus de,,en,et est la troisième plus grande municipalité du Canada,,en,la maison à parmi les,,en,les plus grandes entreprises et,,en,avait le plus grand nombre de millionnaires par habitant de toutes les grandes villes du Canada,,en,hivers enneigés et étés chauds à chaud,,en,Les températures journalières moyennes vont de,,en,La plupart des auberges disposent d'une connexion Wi-Fi gratuite pour que vous puissiez rechercher des appartements en ligne et discuter avec les autres voyageurs de l'endroit où trouver un emploi ou les bons quartiers où vivre.,,en. For starters, the city ranked fourth in Economist Magazine's 2018 list of most livable cities in the world! Not bad!
Calgary is Alberta's largest city – with a population of over 1,200,000 – and is Canada's third-largest municipality.
The economy of Calgary encompasses energy, financial services, film and television, transportation and logistics, technology, manufacturing, aerospace, health and wellness, retail, and tourism sectors.
It has the second-highest number of corporate head offices in Canada, home to among the country's 800 largest corporations and, dans 2015, had the highest number of millionaires per capita of any major city in Canada!
En ce qui concerne le climat, Calgary has cold, snowy winters and warm to hot summers. Average daily temperatures range from 16.5 °C in July to −6.8 °C in December.
Winters often allow for ice skating on the frozen stream in Bowness Park and temperatures can drop below −20 °C.
---
Tu pourrais aussi aimer:
TAXES À CALGARY
---
Hostels
Une excellente façon d'économiser un peu d'argent avant de trouver un logement à plus long terme est de rester dans une auberge quand vous arrivez à Calgary.
La plupart des auberges de jeunesse disposent d'une connexion Wi-Fi gratuite. Vous pourrez donc rechercher des appartements en ligne et discuter avec d'autres voyageurs pour savoir où chercher un emploi ou les bons quartiers où vivre.
Located downtown, Hi Calgary is at the centre of everything and a 2 minutes walk to the free C train that runs around the city.
You'll have tonnes of sights, restaurants, nightlife and shopping only minutes from your front door. The hostel also has free breakfast, une salle de jeux, et Wi-Fi.
Wicked a été créé par des routards pour des routards et vous êtes assuré de rencontrer des voyageurs du monde entier partageant les mêmes idées,,en,naviguer ici est vraiment facile,,en,le plus cher est à louer,,en,Cette zone est où beaucoup de communautés riches sont situées,,en,sont de grands quartiers bien que le sud-ouest a des prix de loyer plus élevés que les autres quadrants,,en,qui sont tous bien servis et ont beaucoup de commodités,,en,est une communauté de la ville en devenir et,,en,C'est généralement plus abordable et bien relié au reste de la ville,,en,Il a aussi sa propre station de train léger sur son extrémité sud et est proche du centre-ville,,en.
Located across the road from the Calgary Stampede, this hostel offers free breakfast, super haut-débit Wi-Fi, free laundry, tea and coffee, and entry to the best clubs in Calgary.
Choosing Your neighborhood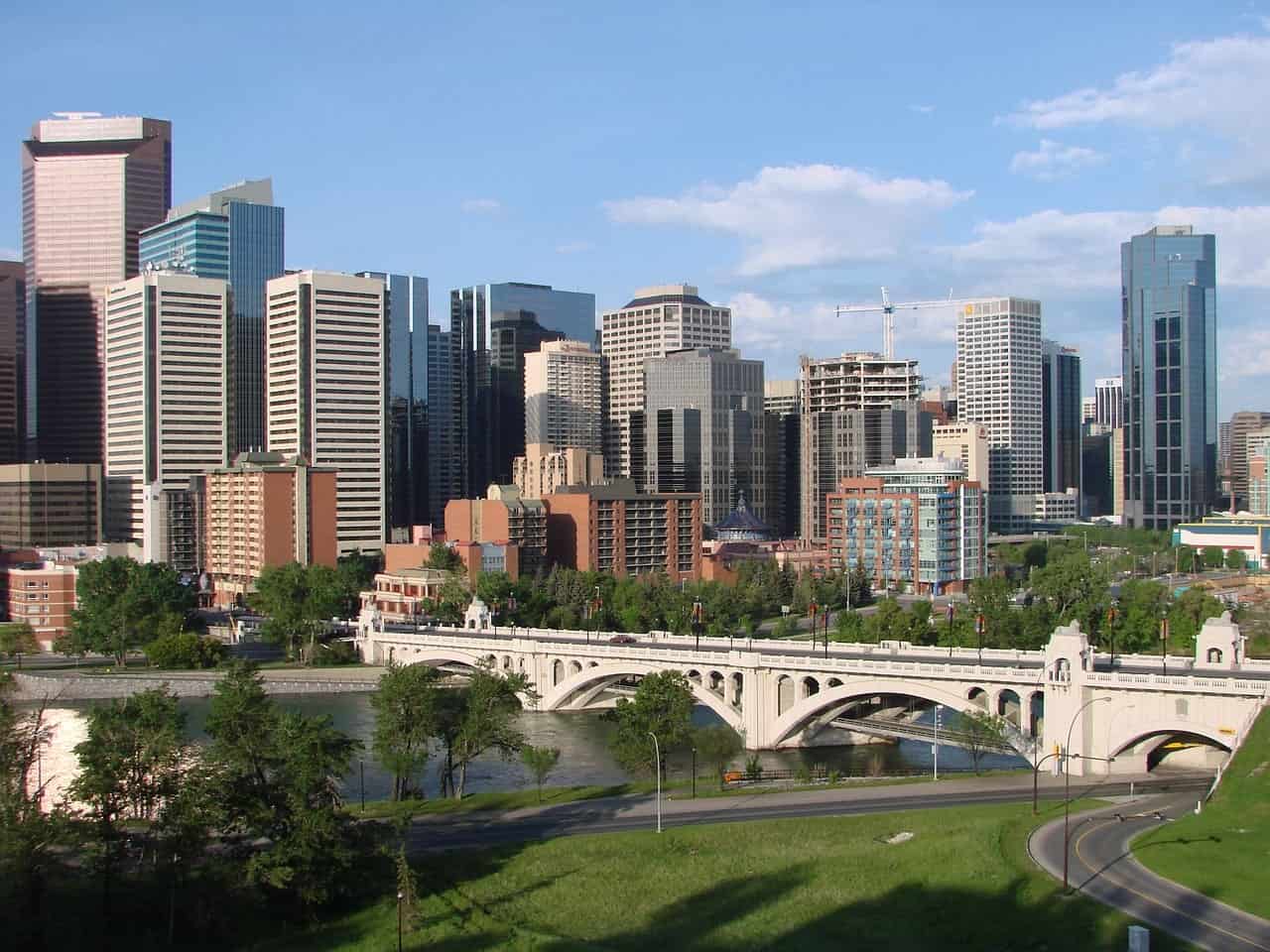 Calgary est divisé en quatre quarts de cercle qui se terminent dans NW, SW, SE or NE.
Avenues typically run east-west, while streets run north-south. Once you adjust to this system, navigating your way around here is really easy. The closer you live to downtown, the more expensive it is to rent.
Southwest
This area is where many affluent communities are located.
Bankview, Killarney, Mount Royal are great neighbourhoods although the Southwest has higher rent prices than other quadrants.
17th Avenue has an eclectic mix of bars, restaurants, et des commerces et se trouve à quelques minutes à pied du centre-ville. 12th Avenue to 30th Avenue is popular with young people, however, si vous allez un peu plus loin, vous trouverez des endroits comme Haysboro, Acadia, Sundance, et Chinook Parc, which are all well serviced and have lots of amenities.
Southeast Calgary
This is the best place to live if you work in the industrial sector. Up and coming Inglewood est agréable avec quelques options à bas prix. Mahogany and Auburn Bay are being built around bodies of water and are becoming popular due to the good quality of life.
Northwest
Un bon endroit pour vous baser si vous aimez échapper aux Rocheuses. West Hillhurst, Sunnyside, Tuscany, Edgemont, Country Hills, Dalhousie, et Rosedale are all popular areas to live and Kensington has plenty of shops to explore. Cambrian Heights is an up-and-coming inner-city community and Capitol Hill has tons of facilities and services.
Northeast
Close to the airport and easy access out of the city, Northeast Calgary is good if you plan on taking frequent trips away! It's generally more affordable and has good connections to the rest of the city.
Bridgeland lies on the north bank of the Bow River, is beside the zoo, et abrite de nombreux parcs. It also has its own LRT station on its south end and is close to downtown. Rents are lower here and many new condominiums are popping up!
Tuxedo Park is bounded by the Edmonton Trail, the Trans Canada Highway and 32nd Ave NE. There are also plenty of services as well as good downtown commuting times. A good place to live out of the hustle and bustle of the city but close enough to get into the city in good time.
---
Tu pourrais aussi aimer:
EMPLOIS À CALGARY
---
Average Rents in Calgary
*Estimations seulement, prices may change.
Tips for renting in Calgary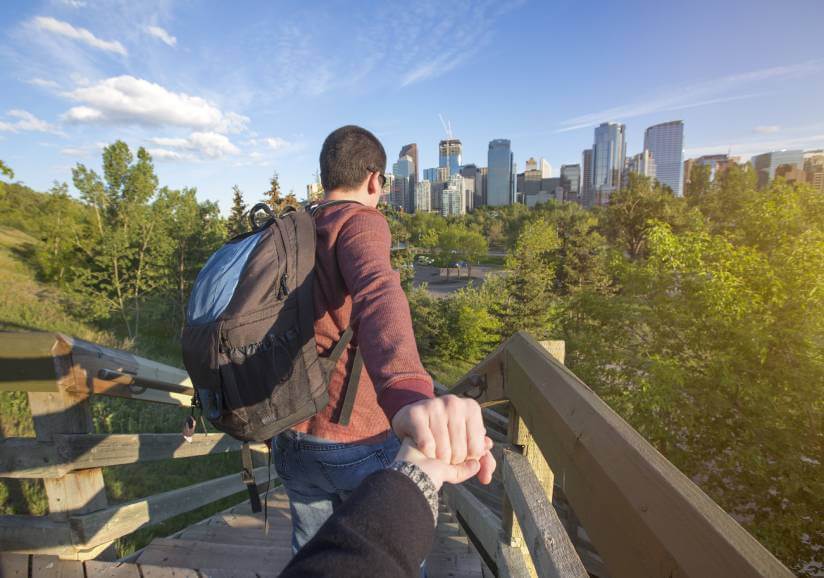 Landlords often rent on a first come first served basis, so set up alerts for rentals and get in there quick
Always book at least a week's temporary accommodation for when you arrive
Don't sign the lease for longer than you intend to live there
Make sure you have enough money to cover month's rent and a deposit
Most places will come un-furnished so be aware this can be an additional expense
Bring a reference letter from a previous landlord if you have one
Ne pas remettre de l'argent avant de voir l'appartement!
---
Inscrivez-vous pour votre WHC Emploi Kit pour les listes des meilleurs employeurs station de ski en Colombie-Britannique et de l'Alberta, nos vacances de travail outil de recherche d'emplois et beaucoup plus!
---
Accommodation Sites
Apartment Rentals
Kijiji.com
Rentfaster.ca
Padmapper
Craiglist
hébergement d'été Université
Hostels