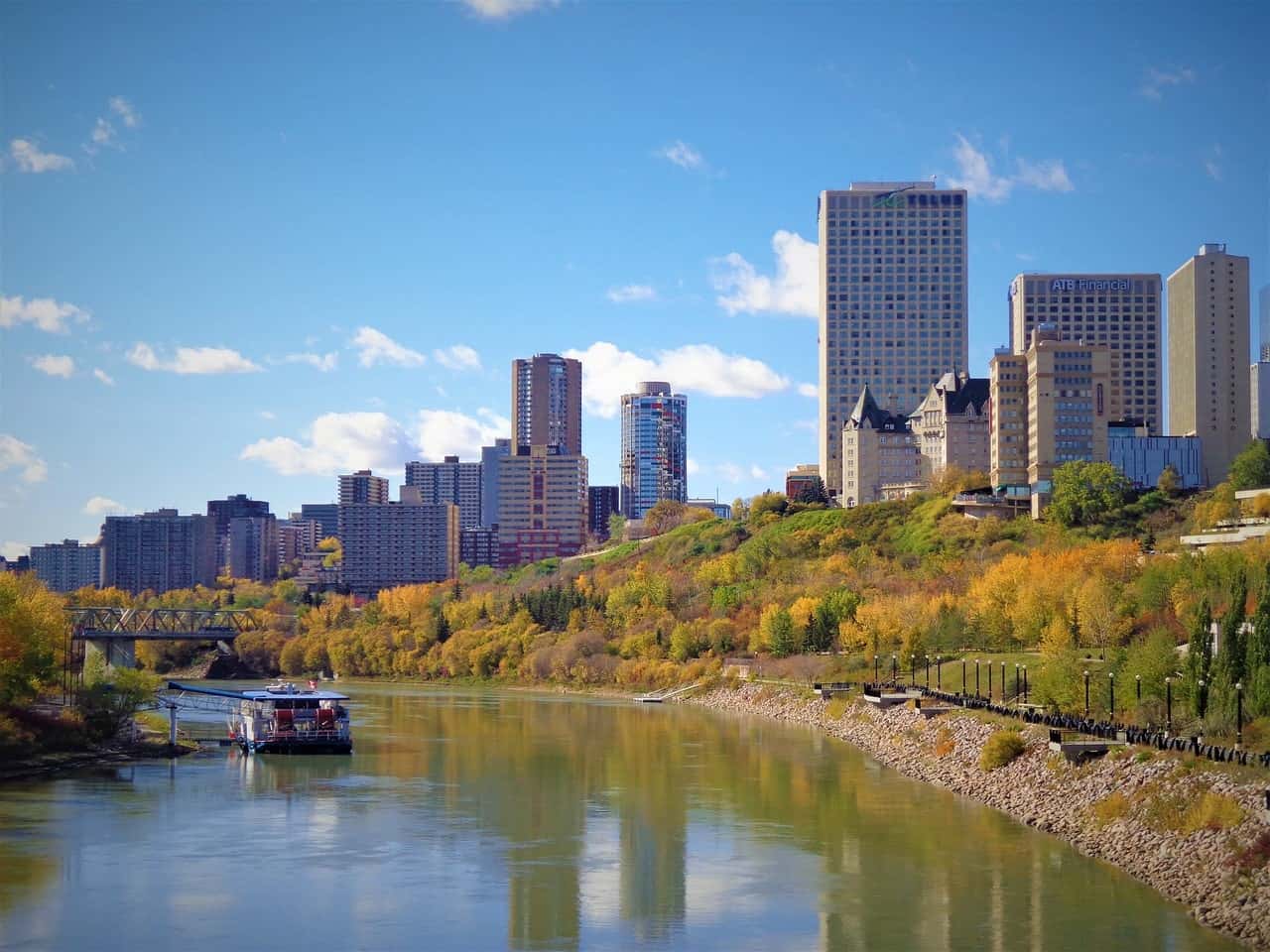 The capital city of Alberta, Edmonton, lies on the North Saskatchewan River and has a population of around 1,300,000, ce qui en fait la deuxième ville de l'Alberta.
The city is the staging point for large-scale oil sands projects in northern Alberta and diamond mining operations in the Northwest Territories.
It's also a centre for culture, government, and education, and hosts year-round festivals, earning it the nickname «La ville des festivals du Canada'.
It also has North America's largest mall, West Edmonton Mall, and Fort Edmonton Park, Canada's largest living history museum.
Edmonton has a humid continental climate and some of the coldest winters in Canada. Les températures quotidiennes moyennes varient entre un minimum de -10 ° C en janvier et un maximum moyen de 23 ° C en juillet..
Temperatures can even exceed 30°C anytime from late April to mid-September and fall below −20°C in winter. ​​​​​​​

Auberges de jeunesse à Edmonton
When you first arrive in Edmonton, vous devriez avoir un logement à court terme réservé afin d'avoir un endroit chaleureux où séjourner tout en recherchant quelque chose à long terme comme un appartement.
Les auberges de jeunesse sont un lieu de séjour idéal et vous trouverez des voyageurs partageant les mêmes idées qui peuvent vous conseiller sur l'emploi et trouver un logement.
Hi Edmonton is located just off Whyte Avenue and is a good home base close to the city's eclectic arts and entertainment scene. Vous avez seulement une courte distance à pied du système de parcs de la vallée de la rivière, North America's largest continuous urban parkland, et c'est un trajet rapide en bus jusqu'au West Edmonton Mall.
Every room has free Wi-Fi and you can book into a dorm or a private room. There's a BBQ, free linen and towels. a washing machine, outdoor terrace, and games room.
---
Inscrivez-vous pour votre WHC Emploi Kit pour les listes des meilleurs employeurs station de ski en Colombie-Britannique et de l'Alberta, nos vacances de travail outil de recherche d'emplois et beaucoup plus!
---
It's more of a cheap hotel than a hostel but still acts as a good base for newcomers to Edmonton. It's also located a short walk from the Ice District including Rogers Place and Grand Villa Casino, The Art District with the Citadel Theatre, Winspear Centre, and Royal Alberta Museum.
Each room has air conditioning, blackout curtains, a Flat Screen TV, Wi-Fi, une salle de bain privée, and a coffee maker.
Staying in a hostel long-term is not a great option, so unless you get a job with accommodation provided, you will have to look for an apartment or house to live in.
Another good short-term option for you might be university accommodation. L'Université d'Edmonton propose des chambres de style dortoir de mai à août avec:
High-speed internet access (Wi-Fi)
Refrigerator & sink (dans la cuisine commune)
Cable television (dans le salon commun)
Free local calls (dans le salon commun)
You could even stay here for the whole summer!

Choisir son quartier à Edmonton
South Edmonton
The south end of Edmonton has some lovely areas such as Haddow, Henderson Estates and Ogilvie Ridge. Ces quartiers ont des taux de criminalité comparativement faibles et sont généralement favorables à la famille et sûrs.
Old Strathcona is the main arts and entertainment district, a shopping hub, and is close to the University of Alberta.
The popular Whyte (82ND) Avenue buzzes with an eclectic array of shops, bars, and restaurants and runs through Garneau, Queen Alexandra, Strathcona, et Bonnie Doon.
Plus de 100,000 people live in Mill Woods, qui est comparativement moins cher que de nombreux autres quartiers du sud.
Summerside, Ellerslie in the southwest of the city is a quiet residential area with many new houses and apartments. The bus service is great, although many people choose to get around by bike during the summer.
Lake Summerside is a man-made lake with a playground and boats. You'll be swimming in the summer and skating in the winter!
Downtown
Just west of the centre of Downtown lies Oliver, one of the city's oldest neighbourhoods.
Jasper Avenue, Edmonton's main street, cuts through Oliver and is lined with shops and restaurants.
Cloverdale est principalement résidentiel, ce qui signifie qu'il est calme et qu'il est situé sur la vallée de la rivière. In the summer, Cloverdale hosts The Edmonton Folk Music Festival and it's also home to the distinct Muttart Conservatory pyramids and Edmonton's oldest ski hill.
Another old part of the city that's great to live in is The Boyle Street area. It's just east of the downtown core and is a melting pot of cultures.
West
Here you'll discover West Edmonton Mall where there are plenty of places to shop, eat and hang out. Safe, friendly areas to look at include Glenora, Parkview, et Crestwood.
Central-west Westmount may be one of the more desirable neighborhoods in Edmonton. Originally developed in 1910, it still retains its old-world charm. There are lots of shopping areas in this district, including 124th Street and 102nd Avenue.
---
Inscrivez-vous pour votre WHC Emploi Kit pour les listes des meilleurs employeurs station de ski en Colombie-Britannique et de l'Alberta, nos vacances de travail outil de recherche d'emplois et beaucoup plus!
---
North
With its own shopping district and golf club backing onto the River Valley, The Highlands is a popular choice for people settling in North Edmonton.
Crime is concentrated in some northeastern neighbourhoods such as Abbotsfield, Beverly, Hermitage and Norwood. Downtown also experiences some problems at night, particularly in the Chinatown and McCauley areas.
However Northwest areas such as Castledowns and Oxford are considered safe and friendly areas to live in, and nearby communities such as Beaumont, Stony Plain, St. Albert, Sherwood Park, et Leduc are popular as housing costs are lower than within the city.
Depending on where your job takes you, it shouldn't add more than about 20 minutes to your drive!
Average rents in Edmonton
| | | | |
| --- | --- | --- | --- |
| Bedrooms | Average | Minimum | Maximum |
| n/a | $852 | $499 | $1,649 |
| 1 | $992 | $405 | $2,195 |
| 2 | $1,220 | $700 | $4,000 |
| 3 | $1,403 | $900 | $3,000 |
*Ces tarifs sont susceptibles de changer.

Tips for renting
N'oubliez pas de réserver un logement temporaire à Edmonton à votre arrivée
Don't sign a lease for longer than you intend to live there
Have enough money for a month's rent and a deposit
Accommodation is often un-furnished so be aware this can be an additional expense
Bring a reference letter from a previous landlord if you can
Check out boards in hostels and outside buildings
Ne pas remettre de l'argent avant de voir l'appartement
Sites Web pour l'hébergement à Edmonton
Apartment Rentals
Kijiji Canada
Rentfaster
Padmapper
Rentboard
Craigslist
Summer University Accommodation
Hostels
Going on a working holiday to Canada? Get tips on finding a job, the top employers and more by inscrivez-vous à notre kit d'emploi gratuit.
Lire aussi:
Jobs in Edmonton