Good things come to those who wait:
Well there's no sign of the visas yet, which is causing a lot of heartache. Although we have had some contact from International Experience Canada, the whole process is beginning to get the better of us…….
Here's how it has gone so far:
| | |
| --- | --- |
| Friday 23rd Dec | We applied direct through the IEC website |
| Friday 13th Jan | Confirmation mail for receipt of application from IEC London |
| Monday 16th Jan | Email -We have been provisionally accepted – payment requested – email a copy IMM 1295 form to the Canadian Visa section. |
| Friday 20th Jan | Email – Our payment was verified – We are through to the next round – Woo Hoo |
| Monday 23rd Jan | Fingers crossed something happens this week, cause I'm getting confused with all this messing |
I had a bit a fright before emailing the IMM 1295 form, as this form needs to be validated before saving, i.e. it has a unique barcode number. So it was important to send the exact form that was originally posted. However, I managed to misplace my memory stick where I had it saved. I had a mild panic attack, during which I just caused a major mess looking for it. On my 3rd attempt of searching my car, I eventually found it under my driver's seat.
Phew…Disaster averted……….
All that siad, we are trying to remain positive by contemplating the amazing opportunities we have ahead of us. Once we get to Canada, we can begin to enjoy the delights a new country brings: the excitement of the unknown; the initial partying ("settling in") period; meeting fellow travellers and locals; experiencing a new culture for a first time; discovering new pubs and nightclubs. The possibilities are endless. Hopefully the ski season will still be in full flow too as we are planning to head to Whistler for a 2 week, blow a load of cash, drink a lot of beer and have a lot of fun type holiday. Maybe we'll even stay there.
Check out how much fun we had living in Oz in 2008. Can you spot us…?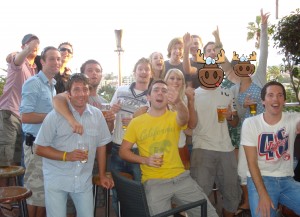 It's all these unknowns that make the whole experience interesting – The fear of giving up your job, the fear of going to a new country and starting from scratch with no friends or connections. Will I get a job? Will I like the Canadian people / culture? Will I end up in Kelowna or Kamloops or some other place I have never heard of?
Some people are frightened off by these uncertainties, but for me and most other travellers you see out there, this is what makes the whole thing amazing. The freedom to do what you like and not knowing what amazing adventure lies ahead from day to day.
I'm getting that crazy exciting feeling in my belly now thinking about all the madness ahead.
Come on Visas…. Come on…
Here are 10 reasons we chose Canada:
1. Vancouver may just be able to rival Dublin for the best city in the world status. (TBC)
2. Snowboarding, Skiing, Heli-boarding, Whistler Blackcomb – Grouse Mountain.
3. Mountain Biking Mecca – Endless places to explore
4. Beer, Ice Hockey and Partying
5. The Rocky Mountains,
6. Bears and other mad wildlife
7. Niagara falls
8. The Arcade Fire
9. The Calgary Stampede
10. Calgary, Vancouver & Toronto were all in the top 10 most livable cities in the world list for 2011
Anyway for the moment, I must try to stay focussed in work and keep on top of things. January is a busy period and a lot of people are relying on me for various reasons. It is difficult lying to all my co-workers and speaking about working toward the future and building the business blah blah blah, when you know you're trying to get out ASAP. It's amazing the amount of lies one must tell in this situation, it will be a big relief for both of us when we can finally hand in our notice and get into some serious planning.
Let's hope that, come next week's blog post- visa application will be a distant memory.
Wish us luck,
The Loose Moose