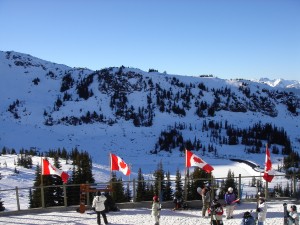 So you have spent all winter practicing your skills on the Canadian slopes.
Now is the time to show off your best tricks and turns on Whistler Blackcomb Mountain.
Every April Canada's number one ski destination is flooded with the best of the best in the ski and snowboard world, taking part in the World Ski and Snowboard Festival.
This awesome festival is the world's premier event for all things ski and apres ski related. This years festival will take place from April 10 – 19.
There is something for everyone in the programme; from rollerderby, a comedy showdown to the Twisted Tea Slush Cup.
There are so many events to choose from that we needed to break down the programme and cover our top picks for newcomers if you are planning a visit to Whistler for this years festival:
1. Opening Night
DJ Pump and DJ Illo kick off the festival in style on April 11th at the Bearfoot Bistro. This will be a party to get you pumped for the 10 days of fun ahead. Tickets are $35.00 per person.
2. Monster Energy Shred Show Shootout
This event will get your heart pumping. Taking place on Saturday night this spectacular display is known to attract large crowds.
This is an invitational rail battle between the chosen riders.
The grand prize is a whopping $22,000. The crowd gets to watch this one for free but the standing space will be limited as it is first come first serve for spectators.
3. Gibbons Plazapalooza
Gibbons Life will host a variety of artists at the skiers plaza on Saturday night, including: Neph, Swollen Members and Matt the Alien.
Skiers Plaza is always full of life throughout the festival and this night will be no exception.
Other entertainment includes dancing and fire spinners.
4. Olympus 72hr Filmmaker Showdown
This is the 4th year of the Filmmaker showdown at the Whistler Ski and Snowboard festival.
It has become an annual 'date in the diary' for all of the residents in Whistler and visitors will get the chance to see inside info on all the Whistler life has to offer.
Enthusiasts are required to shoot, edit and produce a 3 minute short film, competing for the final prize of $10,000.
The screening of all of the films will take place on Thursday, April 16 at the Whistler Conference Centre. Tickets are $10.00 per person and worth every penny.
5. Twisted Tea Slush Cup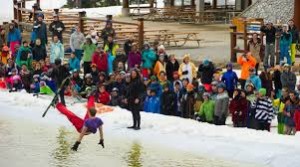 This is a fun free for all event. Eager participants are asked to dress-up before they attempt to use their ski and snowboard skills to clear a massive slush pit.
If you have never heard of a shush cup check out a clip of last years event here to see what all the fuss is about.
Look like fun? We think so.
There are so many gnarly events taking place; the Silent Disco, the Whistler Dogfest, the Shred Show, we could have went on and on.
Remember to bring your dancing shoes and check in with our friends at Longhorns Saloon for some of the best nightlife on offer in Whistler.
Over and out 🙂