While Canada may not be renowned worldwide for its Christmas markets, it can certainly compete with the best of them! If you're in Canada this winter, then there is no better way to get into the Christmas spirit than to visit one of these top 5 fantastic markets!
1. Vancouver Christmas Market, Jack Poole Plaza, Nov 26-Dec 31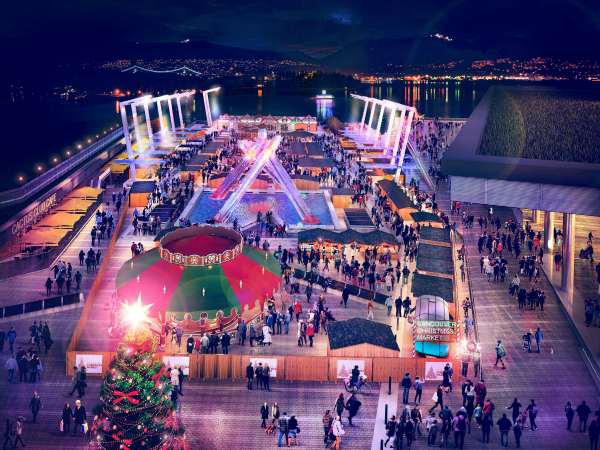 Vancouver Christmas Market is now open at a seaside location at the Jack Poole Plaza along the Coal Harbour coastline. The market is full of vendors selling everything from German crafts to chimney cakes. Along with stalls selling crafts, clothes, and food, there's plenty of entertainment for everyone from young to old!
If you're with children or just a big kid, go see Santa at the photo hut. If he's not in his hut, you might catch him roaming around the market so don't forget to wave! Acts include the Smile band, singer Des Larson, Xmas Factor and more.
You can check out the schedule of events on their website here.
2. Toronto Christmas Market, Distillery Historic District, Nov 18-Dec 22

Ranked as one of the top 10 Christmas markets in the world, the Toronto Christmas market will not disappoint those in search of some festive fun. If you fancy a tipple you can chill in one of the heated hospitality lounges and enjoy a beer or mulled wine.
After a nice refreshment you can enjoy dinner from one the stalls or restaurants serving everything from seafood to noodles and German waffles. The market costs $6.00 to enter from Friday 5pm-Sunday due to high numbers but is free on weekdays. Visit www.torontochristmasmarket.com.
3. The Jacques-Cartier Region Christmas Market, Borough of La Haute-Saint-Charles, Stoneham, QC, Dec 2 to 4 and 9-11
The annual Jacques-Cartier Christmas market hosts over 50 local producers including artists and craftspeople selling their wares. As well as a huge choice of gifts to buy, there are wandering entertainers, shows, creative workshops and outdoor activities. It's a great way to support local arts and craftspeople and really get into the Christmas spirit.
Find out more here.
4. German Christmas Market, Quebec City, Dec 1-18

No-one beats the Germans at Christmas markets and thanks to Quebec's old-world charm, it's the perfect setting for a traditional German Christmas market. Dotted everywhere with wooden kiosks decorated with twinkling fairy lights, vendors sell all sorts of German Christmas delights from bratwurst to gingerbread. The market also hosts performances including carol singing, beer tasting and activities for children. Find out more here.
5. Longueuil Christmas Market, Longueuil, Quebec, Dec 2 – Dec 4, Dec 9 – Dec 11, Dec 16 – Dec 22

The perfect place to find a gift or simply browse stalls packed with handmade arts and craft, the Longueuil Christmas Market also has live music, demonstrations, tastings, a small train and of course Santa! The European style Christmas market is the perfect place to awaken your festive spirit and has the snowy weather to boot!
Explore the old school brightly decorated wooden houses filled with all varieties of goods and gift, then enjoy some of the specialty local food and refreshments. The market opens Fridays through Sundays from Dec. 2 to 22 at St. Mark Park, between St. Jean and St. Sylvestre in Longueuil. The grand opening event begins at 5:30 p.m. on Dec. 2.