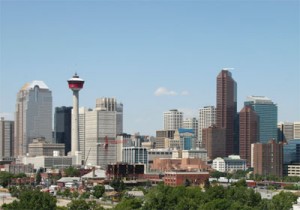 We had to make a big decision here at WHC when writing this section. After writing our pieces on Toronto, Vancouver and Ski Resorts, we knew we would never be able to cover every Canadian city for the purposes of this site. This doesn't mean we dislike people from Halifax, St.John's, Saskatoon, or any other Canadian city, and we are not discounting these places as destinations for a working holiday visa – just bring your banjo if you go there!!!
That left us with four cities we will cover briefly in this section. Where possible, we have included links to other sites that have more robust information on these cities. They are Montreal, Ottawa, Calgary and Edmonton.
Montreal:
Montreal is Canada's second largest city (4 million), full of cultured, fashionable and lively Francophones who are all very welcoming and love a good party. Along with Vancouver, this city ranks as one of the best places to live in the world and is also rated as one of the happiest places to live by the Lonely Planet.
The first language spoken here is French and while you will get by with English as a tourist, brushing up on your "Bonjours" before going here on a working holiday is very advisable. You would also want to be prepared for cold winters which get down below the Canadian average, but summers can get up to 25 degrees Celsius.
For entertainment, you will always find something to do at the weekend in Montreal as it seems like there is a constant line up of festivals from jazz and beer to comedy and film. If you want to get out of the city you also have Mont Tremblant just two hours up the road if you fancy a bit of skiing.
Ottawa:
Ottawa is the official capital of Canada and now one of the fastest growing cities in North America with a population now of 1.1 million. It is situated along the Ontario River and is also home to the Rideau Canal. During the winter you will see many locals getting their ice-skates on to "take the river" to work.
Quebec is only across the river from Ottawa so although English is the first language here, it is a bilingual city with French being widely spoken. Having "un petit peu" will definitely increase your job prospects. Government buildings and international embassies are all found here too so if you are looking for a career in the public service arena – Ottawa is a good place to start.
On your weekends, again, there is plenty to do. We believe its mind set rather than location that make a place entertaining to live in. Ottawa has parks, rivers and outdoor sports in abundance, not to mention its many festivals throughout the year. If you get bored of all that, Ottawa also has the benefit of being close enough to Toronto and Montreal for easy weekend visits.
Calgary:
Oil, whiskey and the Olympics! Calgary is the 4th largest city in Canada with 1.1 million people. Its rapid growth and size are due mainly to a large oil industry which has fuelled jobs and immigration since the 1950s. However, more interestingly, it was founded by the mounted police in 1876 as they needed a base from which they could keep an eye on the increasing numbers of whiskey traders swapping liquor for furs with the natives.
Here you will have short but sunny summers (23C) and long cold winters (-15C), however, if you weren't expecting to get cold in Canada, you probably need to rethink your destination. Calgary hosted the 1988 Winter Olympics and offers plenty of mountain resorts for you to shred some powder on. Jasper and Banff are only and hour or two away in the car so make a perfect weekend getaway.
Edmonton:
Edmonton is the capital of Alberta with a population of about 1.1million, and is also known as the Oil Capital of Canada. Much like Calgary, its growth and size came after the discovery of vast oil sands in the late 1940s, bringing jobs and migrants in large numbers.
It is situated on the North Saskatchewan River and is famous for its river valley park system which offers 100kms of outdoors adventures such as skiing, hiking, biking and walking. Long cold winters offer plenty of winter sports opportunities, while the long days of summer bring the festivals – giving rise to another of Edmonton's nicknames, "The Festival City" of Canada.
Finally, if you have had too much of the fresh air and outdoorsy vibe, you will find plenty to do in North America's largest mall – the West Edmonton Mall. This is a monster! It has an indoor swimming pool and water park, one of the world's largest indoor roller coasters in its own amusement park, and after that you can still have a go at becoming Canada's latest NHL star on the local ice-skating rink.
Choosing your City
Average Costs