What do you think of when I say Canadian kitchen? What's the most popular food in Canada you ask?
Poutine? Salmon? Bacon? Caesars? Lobster?
Canada is a large country with a wide variety of food options.
Canadians love their maple syrup – so much that they consume 6 times more maple flavored items than any other country in the world, and 4 times more actual syrup.
Coffee is another favorite, especially Tim Hortons!
Subway is one of the favorites for a quick bite, and waffles, pancakes and bacon (with maple syrup) is the given breakfast choice.
Canadians love to BBQ, and they prefer to put smokies and ribs on the grill.
Globe and Mail conducted a survey on Facebook, asking Canadians what they believe is their country's most iconic food item. Here are the Top 5:
Poutine (51%)
Montreal-style bagels (14%)
Salmon jerky (dried smoked salmon) (11%)
Pierogi (10%)
Ketchup flavored chips (7%)
So as you can tell – Canadians love their food! But let's have a look at each province and what they have brought us!
Starting on the west coast we have British Columbia and their seafood – think crab, prawns, mussels and salmon! Vancouver has a large Asian community and the food culture is very much influenced by this meaning you can find everything from top notch Indian, sushi and ramen restaurants to newer innovations such as "JapaDogs" which are Japanese Style hot dogs. The most famous sweet item is by far the Nanaimo bar – a graham, coconut and walnut base with a layer each of vanilla custard and chocolate.
Bannock is a First Nation's traditional fried, doughy flat bread.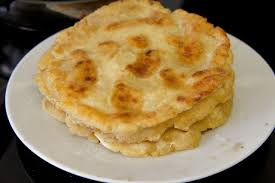 From Saskatchewan comes the Saskatoon Berry, which is similar to blueberries and what's used as filling in the Saskatoon Berry Pies.
Alberta Beef is well known, but from this province we also get Kielbasa Sausages and Perogies, eastern European food brought here by immigrants in the 17th & 18th century.
Ontario has a very international food scene with strong European influence and you can find German sausages next to Canadian Beavertails.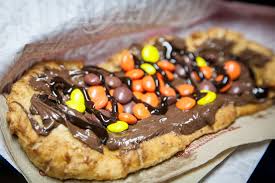 In Quebec they love their poutine, maple syrup and smoked meat – ever heard of Montreal Steak Spice?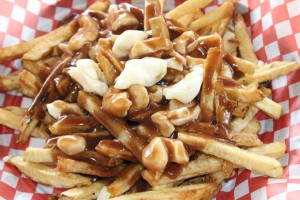 Of course there are a few items that are equally popular across thecountry such as bacon, cabbage rolls and Ceasars, so whatever you feel like; sweet, savory, heavy or light – the Canadian kitchen has something for everyone!