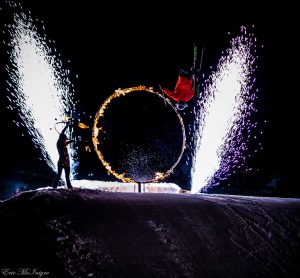 Canada is a world famous destination for skiers and snowboarders from all around the world.
Everyone from beginners to experts can enjoy these huge mountains and long snowy winters.
But what if you're not that into skiing or snowboarding?
Surprise, surprise – there's still plenty of fun adventures for you!
ICE SKATING
Frozen lakes and ponds are perfect for some skating or pond hockey! Several public arenas and rinks across the country offer ice skate rentals for those wanting to go for a skate.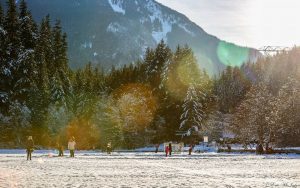 DOG SLEDDING
This is a unique way to discover the Canadian landscape – you race across snow covered terrain, hearing nothing but the dogs running and the musher calling out commands. You can either sit down bundled up in blankets and enjoy the ride, or learn how to handle the dog sled by yourself!
CROSS COUNTRY SKIING
I know – we said non-skiing activities. However, cross country skiing, also known as Nordic Skiing, is a great way to get fresh air, exercise while having fun and hanging out. You can go day and night, on groomed trails or sometimes even straight out from your own front door. There are loads of great trails all across Canada and well worth checking out!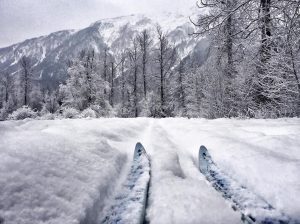 SNOWSHOEING
Snowshoes allow you to in the snow explore trails you hike in the summer. Make it a mellow walk around the lake or a more intense trek up a mountain to enjoy the views – snowshoeing is a great way to explore your surroundings. Not sure where to go? Several resort towns across Canada such as Whistler, Banff & Lake Louise offer guided tours.
TUBING & TOBOGGANING
It's fast, fun and for everyone! Hit up your local tube park, or any nearby hill, slide down for fun or race your buddies. Tobogganing is a Canadian classic enjoyed by both young and old.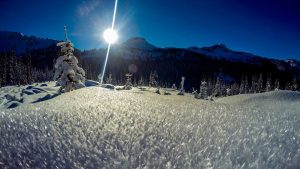 SPA
Looking for a slightly more relaxed way to spend your day? There are several spas across the country, offering everything from steam room and saunas to year round outdoor hot and cold pools. Warm up in the sauna before taking a cold plunge – this will leave you both relaxed and refreshed!
SNOWMOBILING
This is a fast, fun and thrilling way to see this country in the winter. There's something for everyone; from guided tours for the beginners to the experts breaking trail in the back country. Long snowy winters and endless terrain is a winning combination – snowmobiling in Canada is something extra!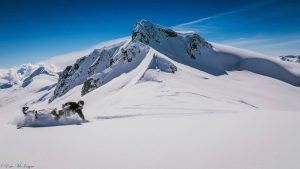 So there's plenty of fun to be had – which activity would you choose?