Top tips for enjoying a working holiday in Banff without breaking the bank
Ah Beautiful Banff! The perfect place to ski, sip, scoff, and have an all-round great time.
No wonder so many people set up a base here for their working holiday. What better place to enjoy the slopes, nightlife and earn a few bucks on the side?!
But it seems Banff's beauty comes at a price. Staying here is not cheap.
But with a thrifty mind-set, and some careful planning, you can save a lot of cash without compromising on the good times!
Here's 5 top tips for doing exactly that.
(1) Getting here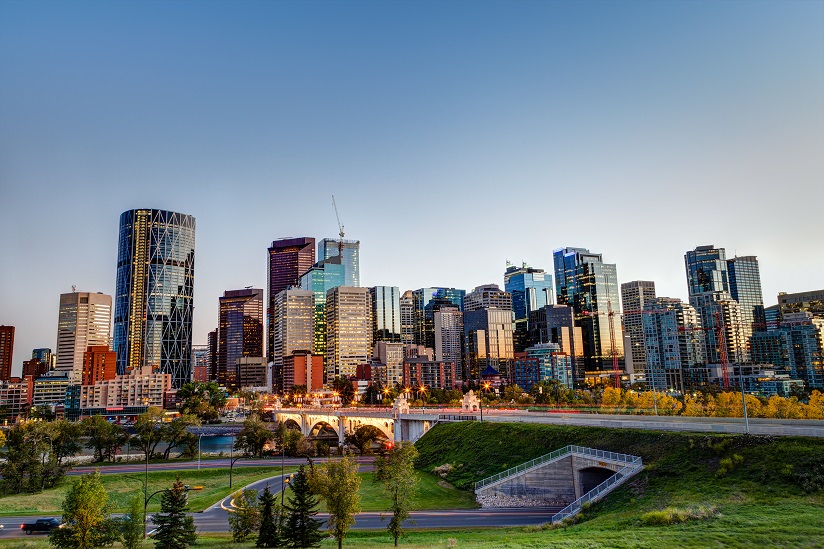 Downtown Calgary
In truth, Banff is not the easiest place in the world to get to.
The nearest airport is 140km away in Calgary. If you're renting a car, the drive to Banff will take roughly 90 minutes along the Trans-Canada Highway. If you don't fancy driving yourself to Banff, let someone else do all the driving for you! Frequent airport transfer services are available between Calgary International Airport and Banff. Although, you may be able to find some cheaper bus options to Banff if you depart from Calgary city centre, rather than the airport.
Frequent direct flights connect Calgary International Airport (YYC) to many cities across Canada, the US, UK, and the rest of the world. But if you can't land here, the airports in Edmonton (393km) and Kelowna (473km) are four – five hours away. Who's up for a road trip?!
(2) Where to stay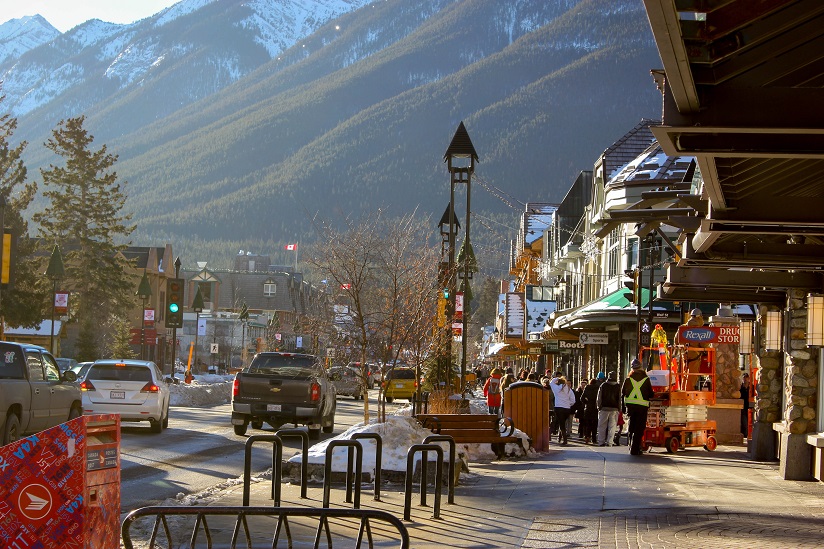 If you're hoping to set up a base in Banff for the duration of your working holiday, you will need to schedule the timing of your arrival carefully. The early bird catches the worm! Long term accommodation options are not plentiful in the area. And if you arrive at peak ski season, you may find it difficult to get a suitable option and end up having to pay over the odds.
The best solution is to try to find employment which offers staff accommodation. But beware, most jobs will be filed by October, even if the employment doesn't begin until December.
If it's not possible to find a job that offers a place to stay, you should arrive with enough money saved up so that you can afford to stay in more expensive lodgings until you can find something more permanent at a good price.
(3) Getting a Ski pass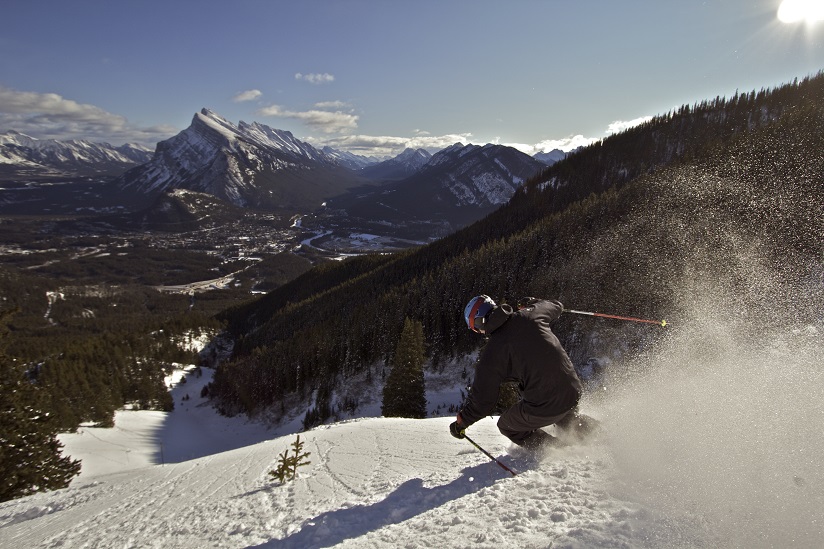 Most people come to Banff to enjoy the slopes. But there's one problem. To get on the slopes you're going to need a ski pass. And to get a ski pass you're going to need quite a bit of money. A full season pass for 'the big 3' (Sunshine Village, Mount Norquay and Lake Louise) comes in at $2,199!
So how can you save money on your pass if you're strapped for cash?
Some employers offer a ski pass as part of their job offerings. Be sure to keep this in mind when you are applying for a role as you could save yourself a lot of money.
Failing that, there are also some cheaper ski pass options to consider. If you're happy to ski on just one of the three slopes (Sunshine Village is the most popular) a three month pass can typically set you back roughly $400.
Also, Students are entitled to discounts. So don't forget your ID!
(4) Things to do away from the slopes
If you've no interest in 'shredding the pow', Banff still has a lot to offer you.
There's a tonne of entertainment options away from the slopes and a lot of them will be appealing if you're on a tight budget.
The first thing you should do is visit the Visitor Information Center in Banff Avenue. It's jam-packed with free brochures, maps, attraction information and flyers about the area. Staff there will advise you on great value tours and attractions in the area.
Here are 5 of our top recommendations:
See the sights!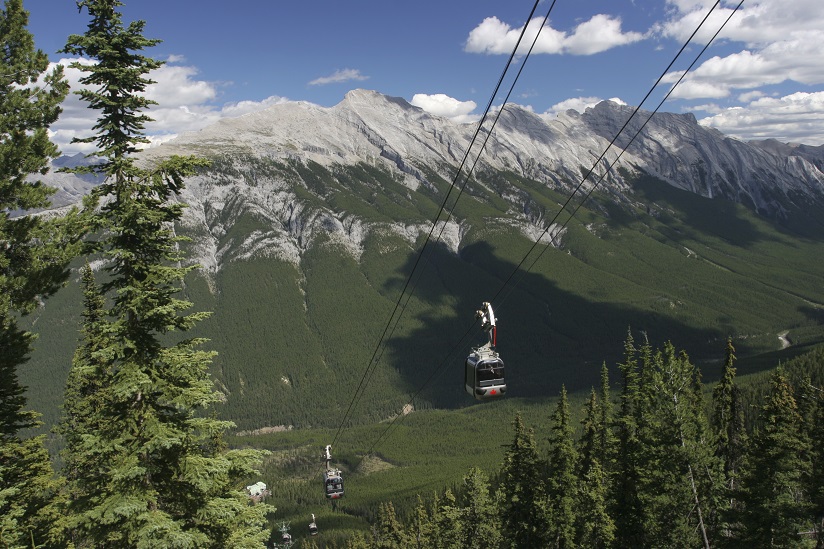 What: The Banff Sightseeing Gondola
Where: Sulphur Mountain (5 minutes from the town of Banff)
Cost: $62 (adult ticket)
More info:
This is a must do before you leave Banff!
Take a ride in the glass enclosed gondola and travel on an eight-minute journey to the mountain summit. Here you will have a breath-taking 360 degree view of the town and six scenic mountain ranges from 2,281m (7,486 ft) above sea level.
When you reach the observation deck on the summit, you'll also have a chance to take a stroll on the Banff Skywalk – 1km self-guided interpretive walkway. So be sure to wear your hiking boots.
Take a scenic spin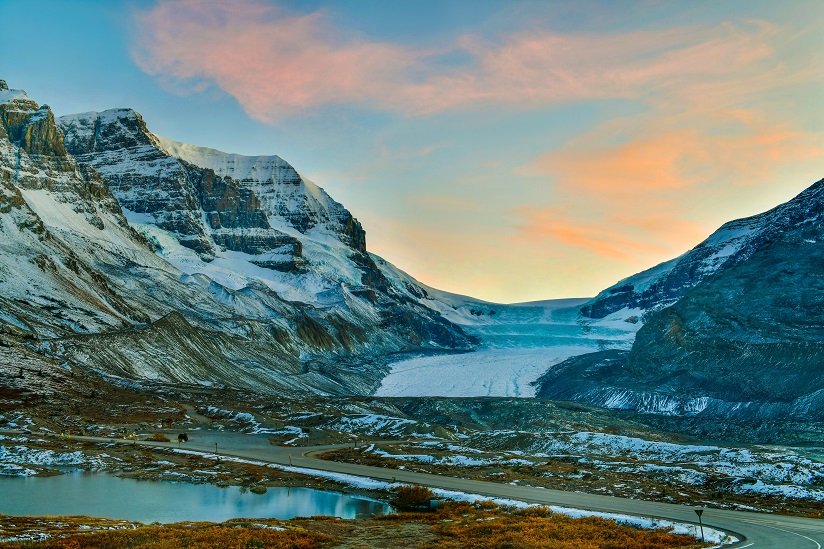 What: Columbia Icefields Parkway
Where: You can start your drive from Lake Louise or Jasper
Cost: Free (not counting gas!)
The Columbia Icefields Parkway is one of the world's most scenic mountain drives. Stretching 232kms between Lake Louise and Jasper, this drive should be added to the 'must not miss' list of every visitor to Banff.
As you drive along the parkway you can enjoy incredible views of some of the highest mountains in the Canadian Rockies. There are also over a hundred visible glaciers along the drive and one of them is within walking distance of the parkway.
There's access to numerous hiking trails, pristine turquoise lakes, sweeping valleys and waterfalls. It's almost impossible to finish the day without a perfect photograph!
Spot some wildlife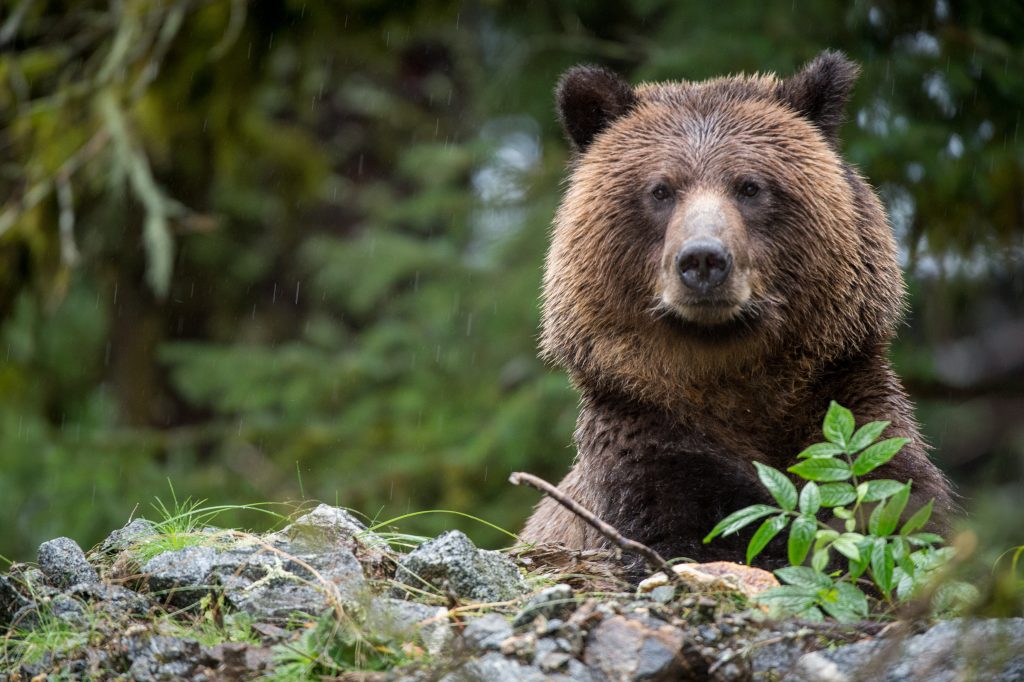 There's no shortage of wildlife around Banff. Bears, coyotes, wolves, cougars, elk, porcupine, chipmunks and lots more all call the area their home.
The best time of the year to see wildlife in the Canadian Rockies is during the spring, fall and winter. Fall is also the time when bears are actively foraging. By late October most of the bears have gone back into hibernation.
Of course, many of the animals that can be spotted in Banff – like bears and wolves – are dangerous. You're safety is far more important than the perfect photograph, so be sure to keep your distance.
Where to view wildlife in Banff
Around the town of Banff – elk and mule deer can be seen in the grass of the town parks, along the river and even sitting in resident's lawns!
Vermillion Lakes – elk, mule deer and white tail deer can be seen here in early spring. Elk can also be seen in the rutting season of Sept/October.
Bow Valley Parkway – while driving along this road you'll have a good chance to see mule deer, wolves, coyotes, black bear, grizzlies, bighorn sheep and elk. The best time to spot something is near sunrise and sunset.
Fenland Trail – a short walking trail to the north of the town, this is a great place to spot elk during the rutting season.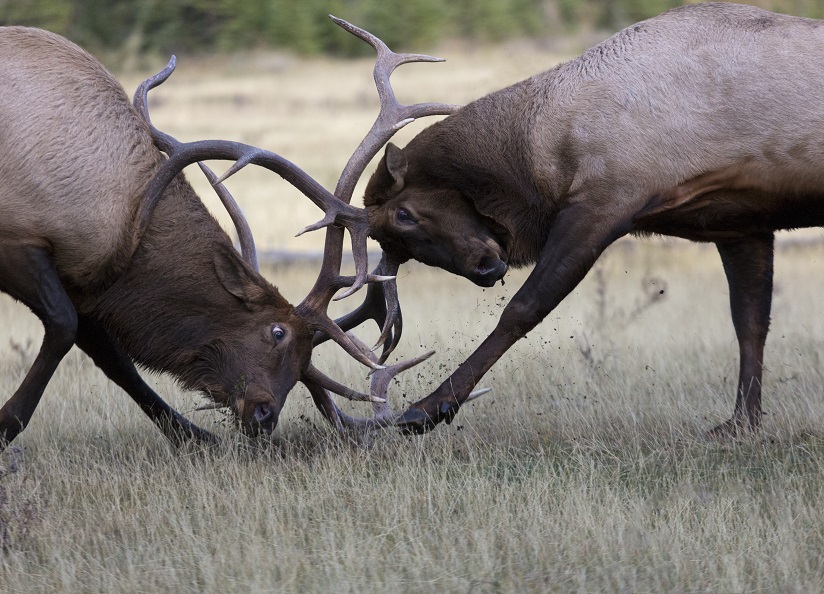 Minnewanka Loop – wildlife (such as elk, coyotes and wolves) can often be spotted along the roadside and in the open meadows.
Norquay Road – Bighorn sheep, elk, coyote, mule deer and rare sightings of cougars can occur on this road.
Fairmont Banff Springs golf course – be careful when teeing off! Elk are often seen on the greens!
The road to Sunshine ski area – cougars and the occasionally grizzly bear have been spotted along this road.
Round em up!
What: Banff Trail Riders
Where: Banff National Park
Cost: starting from $62
Ever dreamed of saddling up and galloping off on your own Wild West adventure? If so, you're in luck! At Banff Trail Riders you can learn how to lasso before tucking in to a delicious steak on the banks of the Bow River. And if you're not interested in horse riding, you can enjoy a private, horse-drawn carriage tour of Banff.
Catch a movie
What: Lux Cinema Banff
Where: 229 Bear St, Banff
Cost: $14.99 (with drink and popcorn) on Tuesdays
More info:
Dying to see the latest Hollywood blockbuster? Head along to Wolf & Bear Mall for great value on every Tuesday.
(5) Cheap food and drink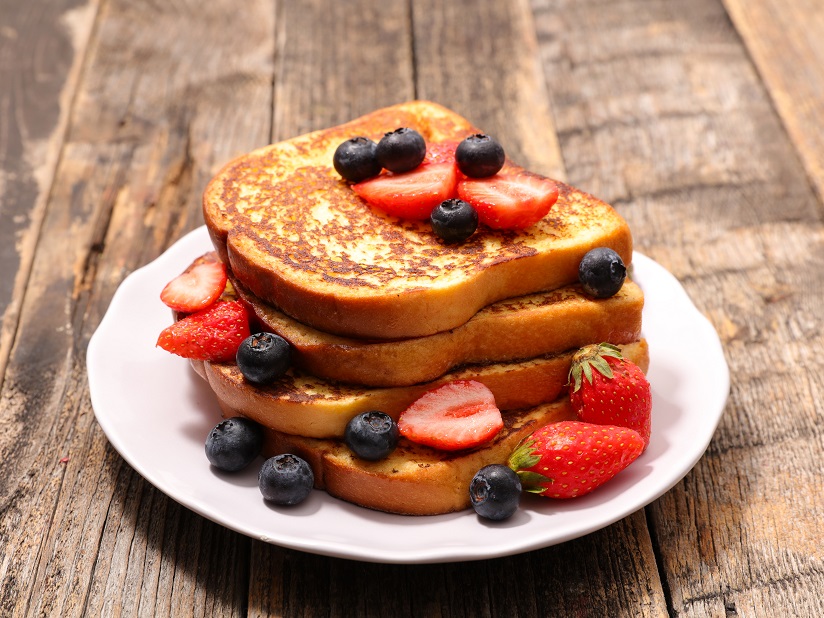 After a busy day on the slopes or exploring the sights in Banff, no doubt you'll have worked up a considerable appetite. Fortunately there are some great food and drink options if you're operating on a strict budget.
Here's a selection to whet your appetite.
Combining pins, pints, and pizza, High Rollers is the perfect place to enjoy an old-school Saturday night. The Banff hotspot boasts six bowling lanes, 48 beers on tap, and New York slices 'as big as your head'.
Check out the website for their list of weekly specials.
If you're looking for good value food and drink (mains start at $15), the Rose and Crown will definitely appeal to you. Live music is a regular occurrence and in the summer you can sit back and relax on the rooftop patio.
Here you'll find a fantastic menu full of 'made from scratch' meals that won't hurt your wallet too much. Upstairs you can enjoy a drink with locals in Mel's sports bar.
This is a classic Irish bar offering solid pub grub at a reasonable price. They have live entertainment on a Friday and Saturday night.
Look no further for a tasty breakfast at a good price. The French toast and Huevos Rancheros go down a treat!
Finally, keep an eye on Taxi Mike's Dining Guide. It's full to the brim of great value food and drink options in Banff.