British Columbia's Back Country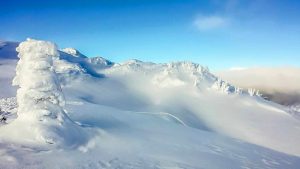 British Columbia is well known for being a great destination for skiing and snowboarding. BC has famous resorts such as Whistler Blackcomb, Big White and Silver Star as well as amazing back country terrain. With its huge mountains and big snowfalls, BC can offer some of the most spectacular back country riding in the world.
So what is back country skiing?
Also known as ski touring, back country riding is when you "earn your turns" by climbing up a mountain or a hill. Why would you choose that over a chairlift some may ask? Well, because of the reward – fresh snow in untouched terrain, sometimes with no one except your touring buddies around!
Imagine escaping the crowds by going deep into BC's four major mountain ranges: the Rockies, Columbia Mountains, Caribou Chilcotins and Coast Range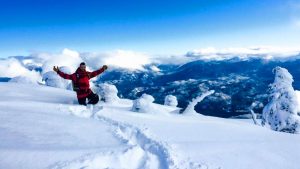 How does it work?
Despite the name, ski touring is not only for sk iers. Snowboarders can climb up and ride down using a split board which comes apart and becomes a pair of skis for the climb. You attach skins to the bottom of your skis/split board which will enable you to climb uphill. Touring climbing skins are made from fibers that stop skis from sliding backwards down the slope during a climb. When the skimoves in the direction of the fibers, you slide. When it moves against the direction of the fibers, it holds you in place.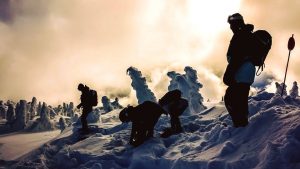 I want to get into this sport – what do I need?
You'll need some touring skis if you're a skier, or a split board if you're a snowboarder. You'll want to get bindings that fit your skis/board as well as skins to climb, and poles (telescopic or collapsible).
The most important pieces of equipment that you won't want to go without is avalanche safety gear; beacon, probe and shovel.
A comfortable backpack with capacity and room to store all your gear is also a must-have. Light weight Gore-Tex clothing is your best bet to stay warm and dry, and having a thin down mid-layer in your backpack is great for when you need to stay warm.
Also, if you have never been in the backcountry and don't know how to use this kind of equipment – take an Avalanche Safety Course, known as AST1 & make sure to always go with a buddy or two!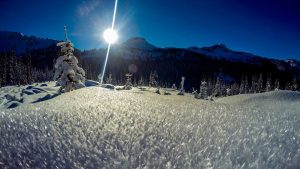 So, I have my gear and done my course – where do I go?
Anywhere – your experience and comfort level is the limit! You can get some incredible laps in all over BC, just make sure to check the avalanche bulletin & weather forecast, plan and prepare for your trip and read up on your destination to make sure it suits your level of riding ability.
Have fun & stay safe out there!