Its easy to see how Whistler is so popular throughout the world and although its a huge commercial entity and everything is pretty expensive, this town has managed to capture the mountain town magic and maintain a certain small town feel. As you walk down the main streets, the shops and restaurants are all built of cabin styled wooden structures, and the absence of any sort of high rise, allows spectacular views in all directions. You could spend hours walking around, in and out of shops, cafes restaurants or bars, that is, if you have hours to spare! Which is rare in whistler because once you arrive here, there is only one place you want to be; as high up that mountain as possible, be it for snowboarding mountain biking, zip lining, hiking, fishing or snowshoeing. Life in Whistler is all about bringing yourself back to the raw, stripping away life stresses and expectations. Once you arrive your on Whistler time. People snowboard before work, after work, during work and during the summer, they replace the board for the MTB. So instead of choosing somewhere differnt to explore, we took the easy option and headed up the sea to sky highway for a weekend of adventure and madness.
So we got the 3 pm Greyhound bus to Squamish on Friday, where we got picked up by Tim of "Tim & Rochelle' – our amazing hosts for the weekend. Free accommodation was a god send and their company was, as always, top notch.
The sea to sky highway is an eventful display of scenery jam packed with lakes, inlets, mountains, islands, waterfalls and wildlife, like nothing I've witnessed in my life before (and I've been to New Zealand!!!). It's purely majestic. If this wasn't enough, we saw 3 bears at the side of the road, although as hard as we tried we just couldn't find Goldilocks (thanks for that one Mr Sharpe). So to celebrate, we hit Dusty's Bar for a few pitchers and $22.00 dollar ribs (40% off wit the coupons in the free Pique magazine).
The next morning we got up early and headed for the slopes. The weather was unbelievable, with temperatures of up to 27°C. It is hard to imagine how we could even think of snowboarding in that heat. But sure enough, we arrived on the mountain to endless fields of snow. It was taking us all a while to oil the creeks in our knees and get our nerve back, so we headed for a nice lunch in Rendezvous restaurant where we had arranged to meet Sid and Cyrus from Switzerland and New-Zealand, friends of Tim and Rochelle. So now out numbered by New-Zealanders we noticed the intellect of conversation begin to slip!!!!!!!!!! So we promptly suggested heading back to the slopes (Joke).
For the 1st time since I started snowboarding I was in a group where everybody was a similar level. Ruth has really improved and is starting to keep up the pace. I have never experienced this kind of riding before. One person finds a jump, and the rest follows over, the odd 180 thrown in here and there more often than not ending in a head over heals dramatic crash and burn (something I'm well too fond of). The runs on Blackcomb were apparently built with snowboarders in mind and therefore have no flat spots where the board has to be taken off and walked. It was amazaballs (amazing), for want of a better word!!! We decided to finish on the park, where Tim landed a huge jump but was brought right back to earth, when he back ended into a log while attempting a rail. We all then finished on the half pipe which is daunting to look at, but left us all wanting another go once we finished. It might sound like we are all experts doing the terrain park, jumps and half pipes, but we are far from it and all is done in moderation. There are big jumps, medium jumps, small jumps and humongous jumps. So its all about starting small and working up, if you have patience that is, unlike me who generally tries to run before being able to walk.
The last run of the day always gets the heart going as you have to descend the whole mountain in one go, I love this and tend to get lost from my friends. There is just fields and fields of snow, so once you follow the signposts to end up in the pre-determined bar (Merlins at Base 2 in this case) you can just let loose and get lost in your own thoughts and bomb down, sometimes racing the next guy, sometimes looking for jumps, sometimes just practicing your weaknesses. Regardless, everyone arrives at the bar with a pep in their step and memories that will last a lifetime.
The bar was followed by dinner and then by another bar, with a quick pit stop home to change clothes. The Dubh Linn bar was our final destination on the Saturday and proved to be a great choice, live band, snakebites, dancing and Irish coffee proved a good combination.
Exhausted and home in bed by 1 am left loads of hours for sleep before a fry breakfast in Tim & Rochelle's before we headed up the mountain again, this time we left the boards at home and opted for the mountain bikes. With a network of mountain bike trails that would give the roman empire a run for its money, we opted for a blue cross country trail considering the MTB lifts were still closed (opened today). After a couple of hours getting lost in the mountainside, we were finished up with a swim in Lost Lake to prove our manliness and withstand the recently melted freezing water.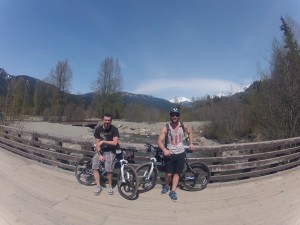 As I considered the summer ahead of me and the subsequent winter, I realized for the first time in my life, Im actually looking forward to the winter. Its like this " I can't wait for the summer"……….."oh but the winter will be better" ……….
Life is good at this stage,
The Loose Moose